The all-women's contingent of the Indian Army, Navy and Air Force stole the show at the 66th Republic Day parade.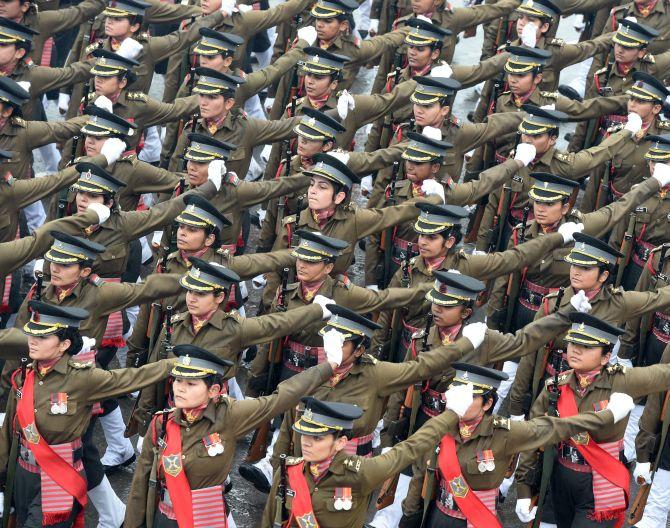 Women from the army march at the Republic Day parade. Photograph: PTI photo
It was a historic day for Indo-US ties, but it was also a day to remember for the women of the country whose empowerment remained the central theme of the Republic Day parade on the ceremonial boulevard.
From the women contingent of the three armed forces who marched in the parade for the first time to state tableaux depicting women at the forefront, the event left the women members in the crowd emotional and proud.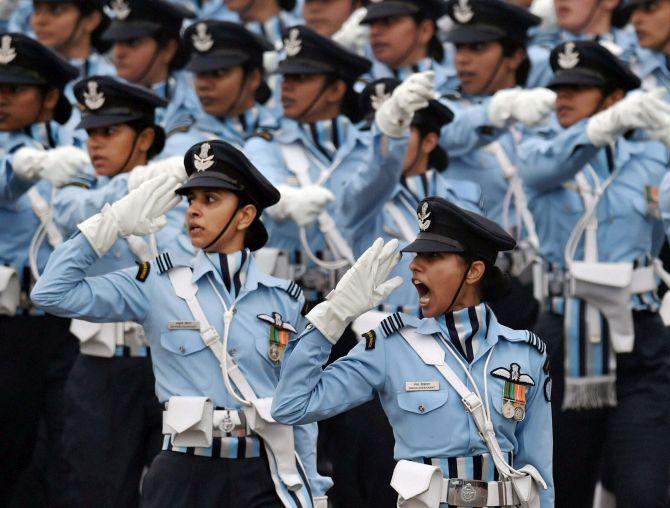 This was the first time that an all-women's contingent from the three services marched at the parade. Photograph: PTI photo
As the women contingent of the Army led by Captain Divya Ajith marched past the ceremonial dais, the crowd broke into applause.
Ajith earlier had created history by becoming the first women in the history of the army to have won the coveted 'Sword of Honour', awarded to the best cadet, in 2010 at the passing-out-parade ceremony at the OfficersTrainingAcademy in Chennai.
The women contingents of Navy and Air Force marching proudly from Raisina Hill to the India Gate too left the crowd ecstatic.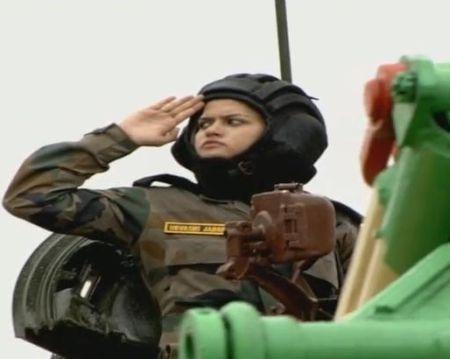 Capt Urvashi of 114 Armoured Engineer Regiment commanding a T-72 tank at the Republic Day parade Photograph: DD National/Twitter
Reenu Dabas, Gurgaon-based web designer, who had come along with her entire family to witness the occasion said, "Besides seeing US President Obama, it was the idea of empowerment of women that delighted me more."
"I, as a women, felt happy and proud to see the marching contingents from our gender. Also, the tableaux that spoke of saving girl child. It was an emotional moment," she said.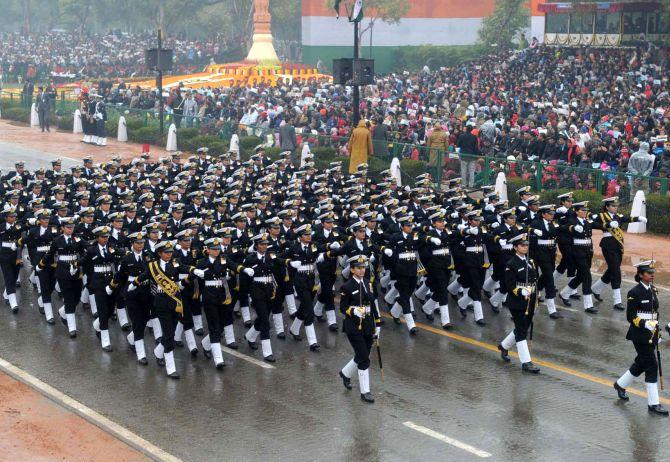 The naval women's contingent marches on at Rajpath. Photograph: PIB
With 'Women Empowerment' being the theme of the 66th Republic Day, where US President Obama was present as a chief guest, tableaux showcasing the subject drew much attention.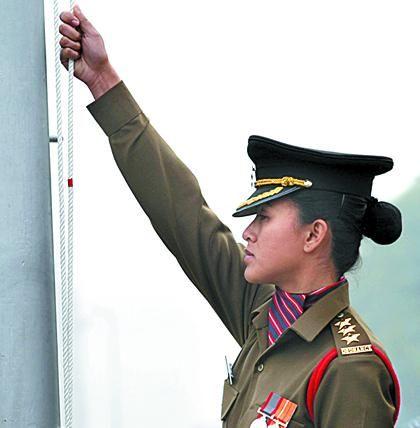 Lieutenant Haobam Bella Devi unfurls the national flag at Rajpath. Photograph: ANI/Twitter
The Naval tableau titled 'Bhartiya Nau Sena aur Nari Shakti' led by Lt Commander Swetha Kapoor and Lt Varthika Joshi portrayed the extraordinary accomplishments of four of India Navy's women officers, who braved the vagaries of the seas and participated in an ocean voyage from Goa to Rio de Janerio onboard Indian Naval sailing vessel 'Mhadei'.
Stories of conquests kept coming along as a tableau on women personnel summiting the Mt Everest drew perhaps the loudest cheer from the crowd, with many saluting the brave officers from the stands.
REDIFF RECOMMENDS: