"I heard a thud, turned round and there was a man lying about 10 yards away from me."
Members of the public recount the moment terror struck the heart of London, which left five people dead and at least 40 people injured.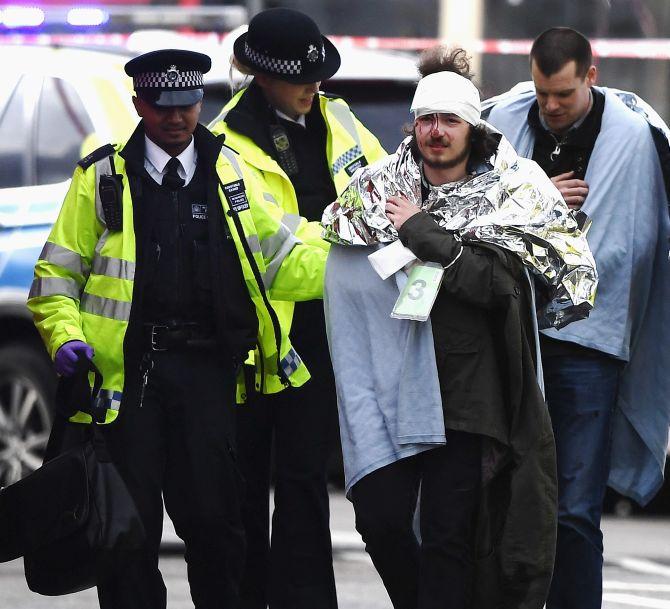 IMAGE: Police and ambulance officials help the members of the public near the Westminster Bridge and the Houses of Parliament. Photograph: Carl Court/Getty Images
"We were taking photos of Big Ben and we saw all the people running towards us, and then there was an Asian guy in about his 40s carrying a knife about seven or eight inches long.
And then there were three shots fired, and then we crossed the road and looked over. The man was on the floor with blood.
"He had a lightweight jacket on, dark trousers and a shirt.
"He was running through those gates, towards Parliament, and the police were chasing him.
"There was a stampede of people running out.
"You saw the people and you thought 'what the hell is going on'," said Jayne Wilkinson.
Kathy Casatelli, 58, saw a car rammed into the front gates of the palace and a man being treated on the floor.
She said: "We were coming up from the Tube and we walked out and there were officers there with their guns drawn.
She said: "I saw this car that was smashed into the gate. It was a grey BMW, it looked like a nice car. The whole windshield was smashed.
"There was a man on the ground, it looked like he was moving. I don't know if he was the driver."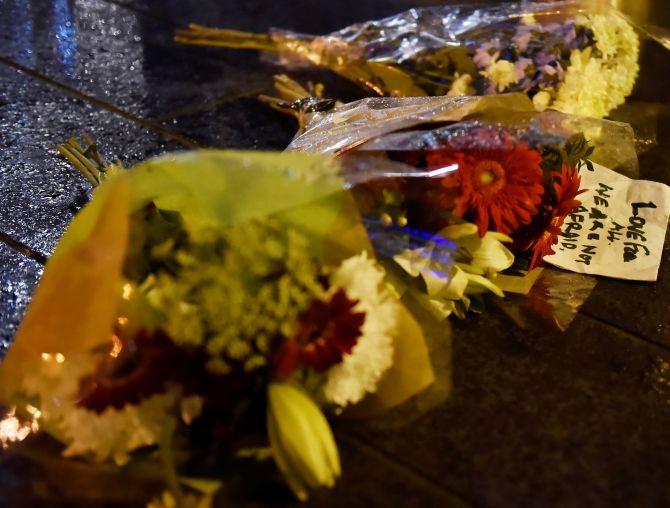 IMAGE: Flowers are laid at the scene after an attack on Westminster Bridge in London. Photograph: Hannah McKay/Reuters
Michael Adamou, 25, was driving the 453 bus when he saw a grey Hyundai heading towards the Houses of Parliament and hitting pedestrians on the bridge.
"As I turned left out of Whitehall, so turning left to go over the bridge, I saw a car knock two people over," he was quoted telling the BBC.
"Initially I thought he's lost control of the car, but then I saw quite a few people rushing into parliament and police trying to stop everyone.
"After a few seconds I just heard gunshots. Everybody on my bus was panicking."
He added: "I did not see him coming over the bridge but I saw everybody laying on the bridge, not moving."
Steve Voake was another person who witnessed the attack on the bridge.
He said: "I was just walking across the bridge and suddenly a bus stopped and everybody started screaming and people came off the bus and they seemed very upset.
"And then I saw what appeared to be a trainer by the side of the road and then on the other side of the road there was a body.
"When I looked further up there was another body and then when I looked over the side of the bridge there appeared to be a body in the water as well."