The annual 'People's Choice' for Royal Air Force image of the year has opened for public voting.
Members of the public are now able to choose one of nine contestants to receive the award as part of the RAF Photographic Competition 2017.
The winners will be announced on September 21.
BLOWIN' IN THE WIND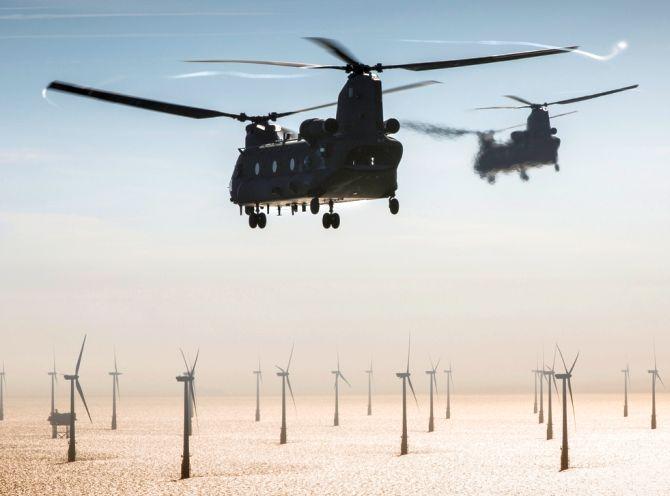 Two RAF Mk6 Chinooks transit over North Sea wind farms during a training exercise to prepare pilots and aircrew for contingency operations. The exercise included low-level flight training, troop extractions, evasive maneuvers and tactical formation flying.
Photograph: SAC Nicholas Egan RAF
MOHAVE MAYHEM
An RAF Mk4 Chinook inserts troops onto a mountain-top in the Mojave Desert during Exercise Black Alligator. Working alongside the British Army Air Corps and 40 Commando Royal Marines, the RAF Odiham crews trained for various roles, in challenging environmental conditions.
Photograph: SAC Nicholas Egan, RAF Halton
THE STARRY NIGHT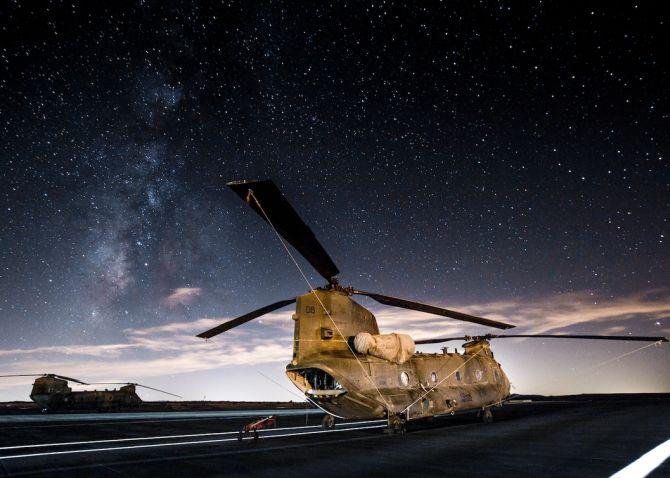 Two Mk4 Chinooks sit beneath the Milky Way in the Mojave Desert during Exercise Black Alligator. Chinook crews operated day and night out of Twenty nine Palms Marine Corps Air Ground Combat Center, working alongside the British Army Air Corps and 40 Commando Royal Marines. The training exercise tested interoperability between all elements, in an austere, challenging desert environment.
Photograph: SAC Nicholas Egan, RAF Halton
LIFE ON MARS
Gunners from 15 Squadron RAF Regiment, advance across Dartmoor Training Area during a section attack, using light provided by orange parachute flares. Assault troops, supported by mortar and heavy weapons teams, worked together to defeat the enemy.
Photograph: SAC Will Drummee, RAF Honington
GOING HOME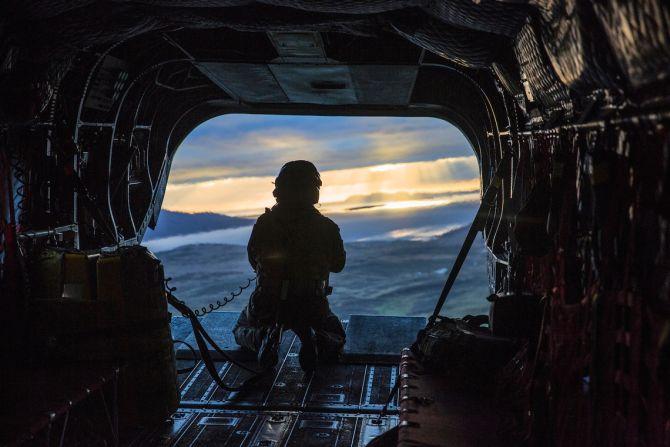 A member of the aircrew on board an RAF Chinook on one of its many sorties over the Falkland Islands. On this occasion, the helicopter was returning from the western side of the island to Mount Pleasant Airfield.
Photograph: Sgt Pete George, RAF Leeming
KL CITY WRAP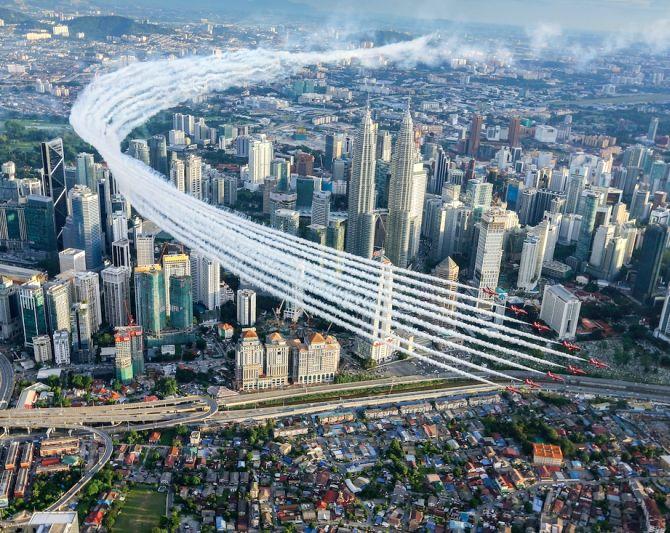 The Red Arrows perform a flypast over the Petronas Twin Towers in Kuala Lumpur city centre during their two-month tour of the Asia-Pacific and Middle East regions. The tour saw them complete more than 20 displays.
Photograph: Cpl Steve Buckley, RAF Scampton
CLOSER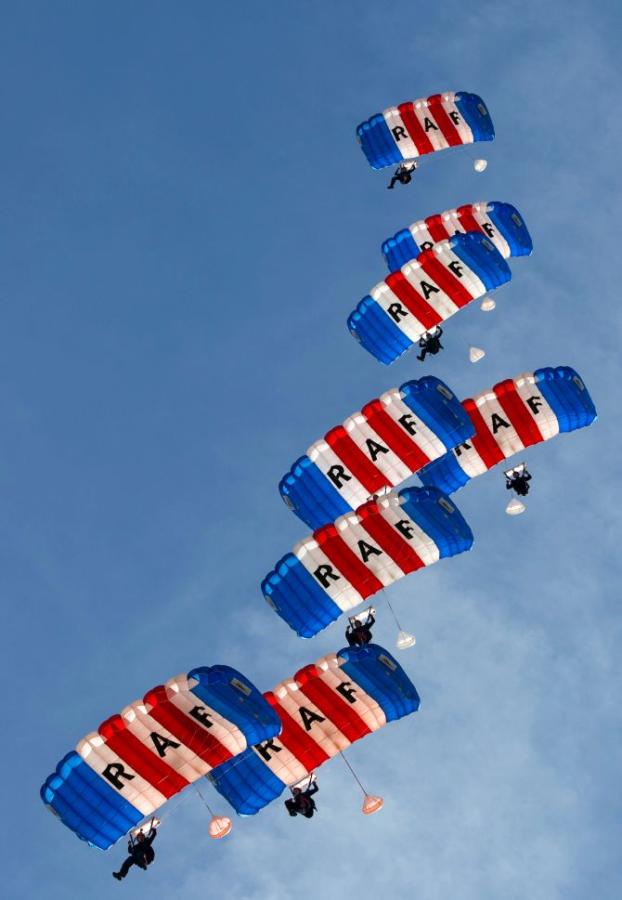 RAF Falcons Display Team practice jumps at Lake Elsinore Sky Diving Center, California. The RAF Falcons reside at RAF Brize Norton and often train outside of the UK to help with training and develop their unique skills to the RAF.
Photograph: SAC Matt Aherne, RAF Brize Norton
SEAT WITH A VIEW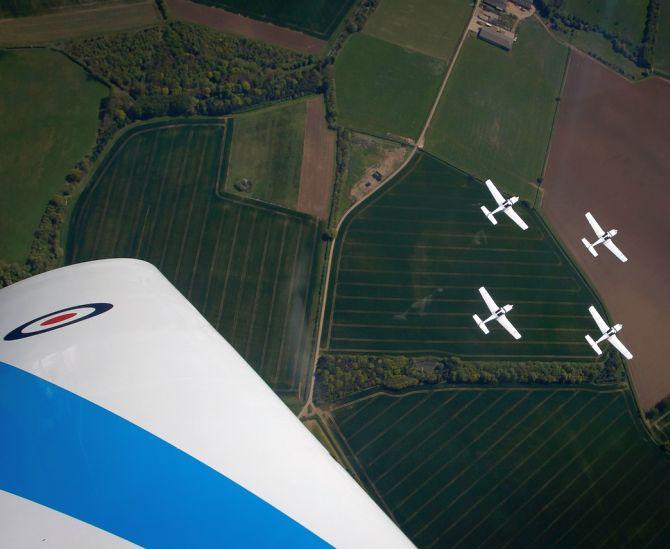 RAF Tutor M1 aircraft of No 6 Flying Training School, based at RAF College Cranwell, in four-ship formation over Cambridgeshire.
Photograph: SAC Matty Smith, RAF Wittering
DRILL CHECK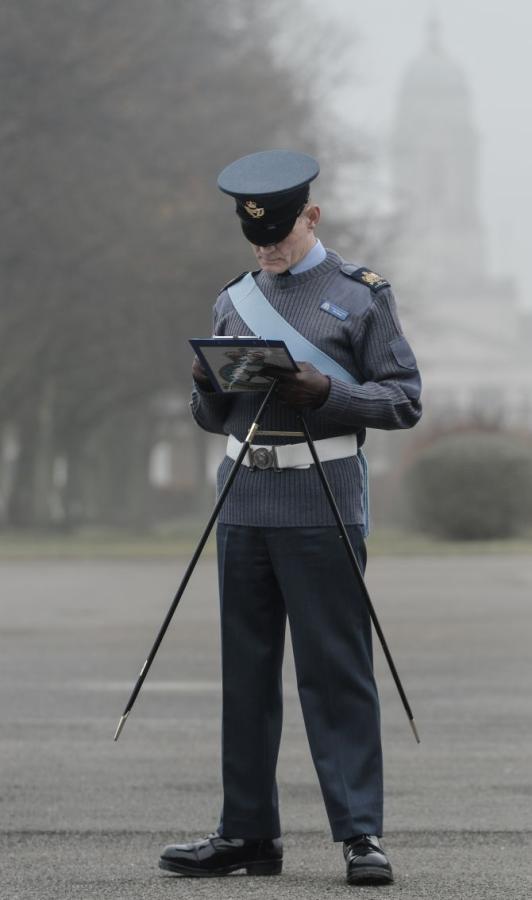 Warrant Officer Chris Shaw, the College Warrant Officer amends his notes having just finished assessing the first drill check of Initial Officer Training Course 49, C Squadron, on Number 1 Parade Square at RAF College Cranwell.
Photograph: Mr Laurence Platfoot, RAF Cranwell