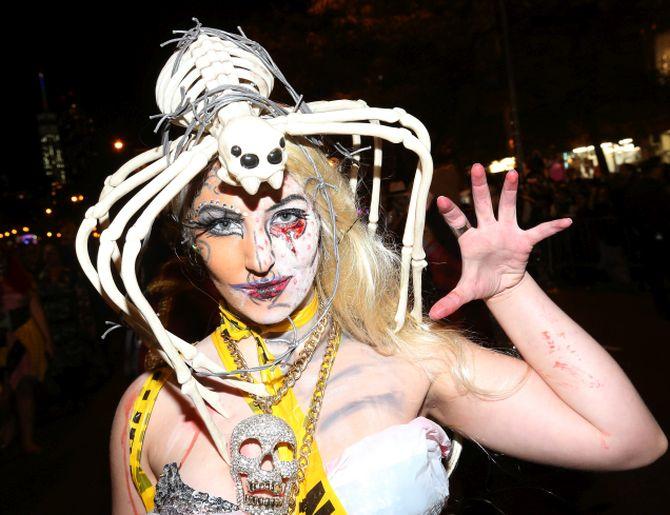 Come Halloween, the cities and towns across the world were flush with revellers as fancy dress parades and firework displays as a mark of the celebrations of the All Hallows' Evening.
As Halloween approaches, funny and strange costumes choices seem to come out in full force, populating social media.
From The Mask by way of Batman to Star Wars via Doctor Doom the festivities saw young and old dress up for the convivialities.
Rediff.com takes a look at the crazy but heartfelt world of Halloween revelers.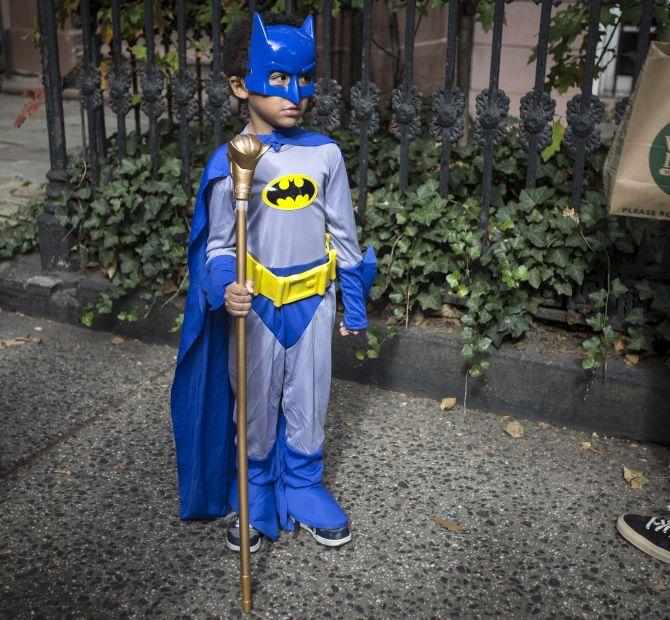 Image: A child dressed as Batman takes part in the Children's Halloween day parade at Washington Square Park in the Manhattan borough of New York. Photograph: Carlo Allegri/Reuters
---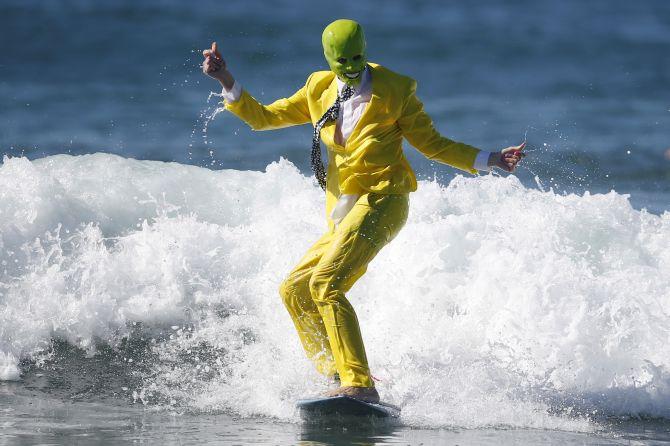 Image: David Nicholson, 21, surfs as "The Mask" during the ZJ Boarding House Haunted Heats Halloween Surf Contest in Santa Monica, California, United States. Photograph: Lucy Nicholson/Reuters
---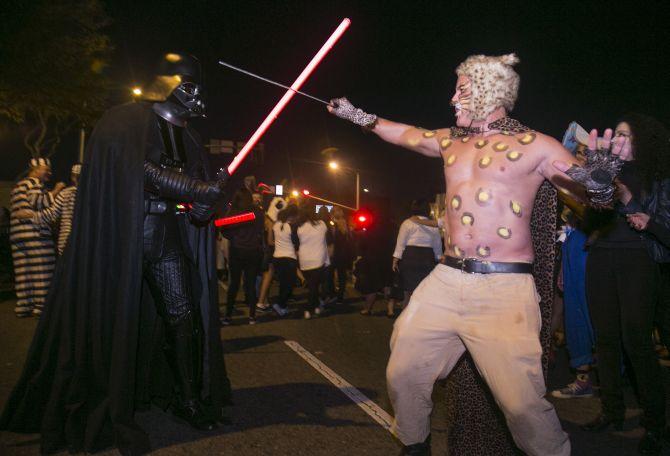 Image: A man dressed as Star Wars character Darth Vader fake duels with a man at the West Hollywood Halloween Costume Carnaval, which attracts nearly 500,000 people annually, in West Hollywood, California. Photograph: Jonathan Alcorn/Reuters
---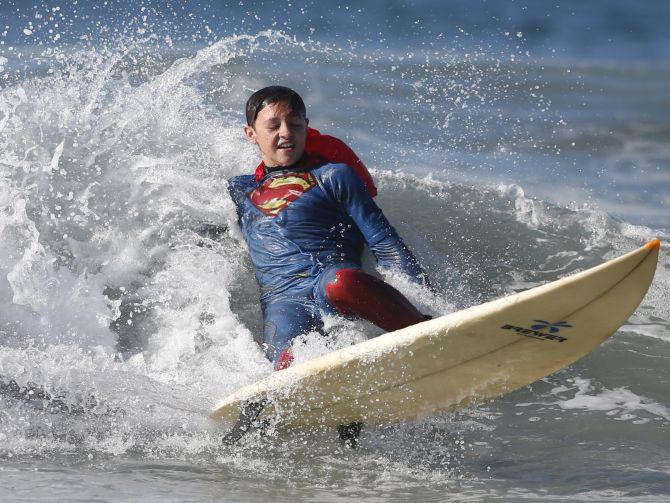 Image: Catello Dannunzio, 14, surfs as Superman during the ZJ Boarding House Haunted Heats Halloween Surf Contest in Santa Monica, California, United States. Photograph: Lucy Nicholson/Reuters
---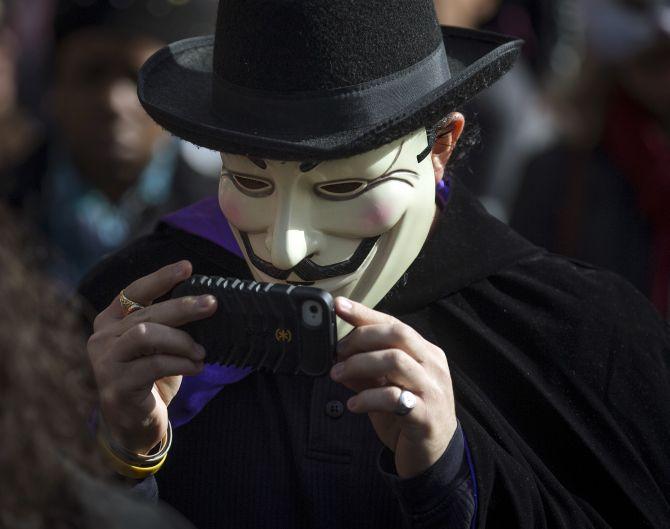 Image: A person dressed in a Guy Fawkes mask takes part in the Children's Halloween day parade at Washington Square Park in the Manhattan borough of New York. Photograph: Carlo Allegri/Reuters
---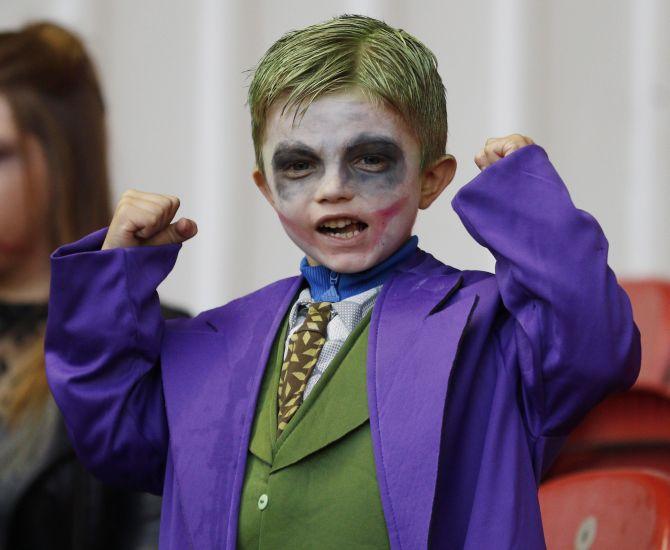 Image: A young boy clothed in a Halloween fancy dress at the Riverside Stadium. Photograph: Craig Brough/Reuters
---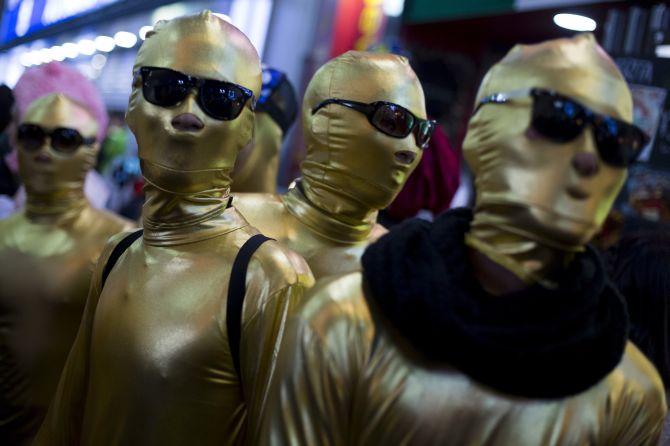 Image: Revellers wearing morphsuits mingle during Halloween celebrations in the Shibuya district in Tokyo, Japan. Photograph: Thomas Peter/Reuters
---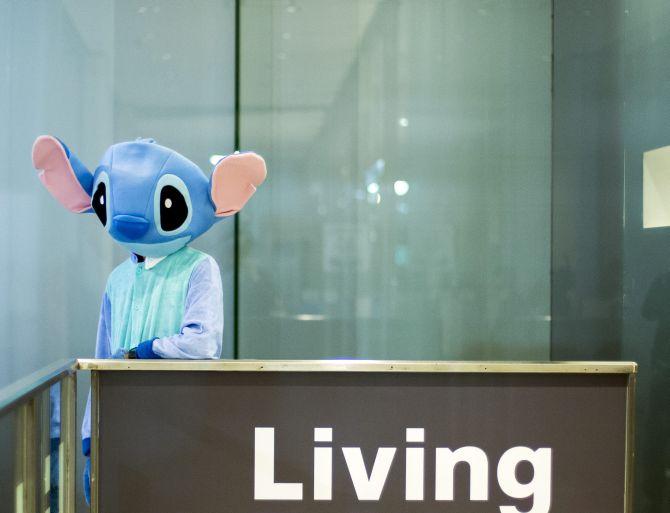 Image: A person dressed up as Disney character Stitch stands outside a shopping centre during Halloween celebrations in the Shibuya district in Tokyo, Japan. Photograph: Thomas Peter/Reuters
---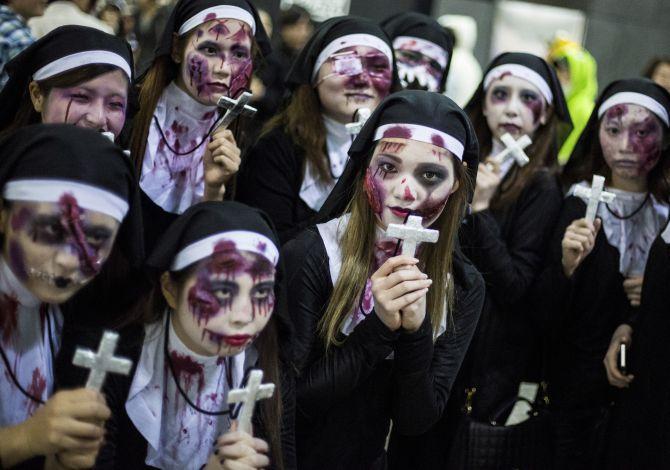 Image: Women dressed as nuns pose for pictures during Halloween celebrations in the Shibuya district in Tokyo, Japan. Photograph: Thomas Peter/Reuters
---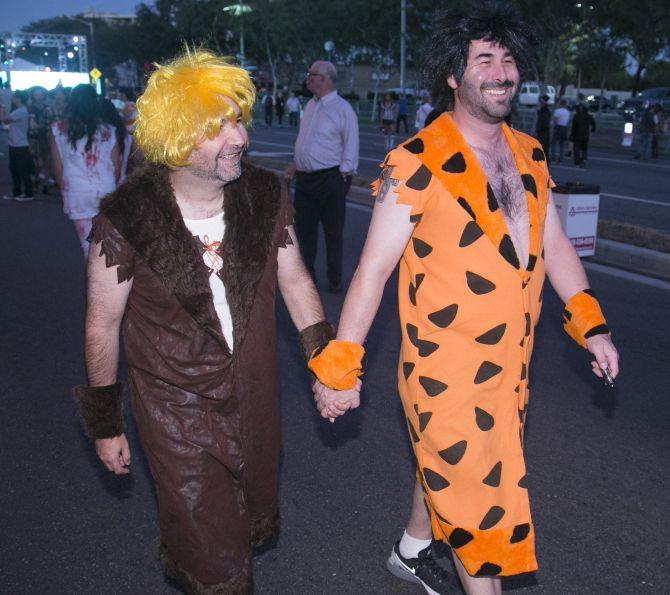 Image: Allejandro Barba (L) and Mike McCourt dressed as Barney and Fred from The Flintstones at the West Hollywood Halloween Costume Carnaval, which attracts nearly 5,00,000 people annually in West Hollywood, California. Photograph: Jonathan Alcorn/Reuters
---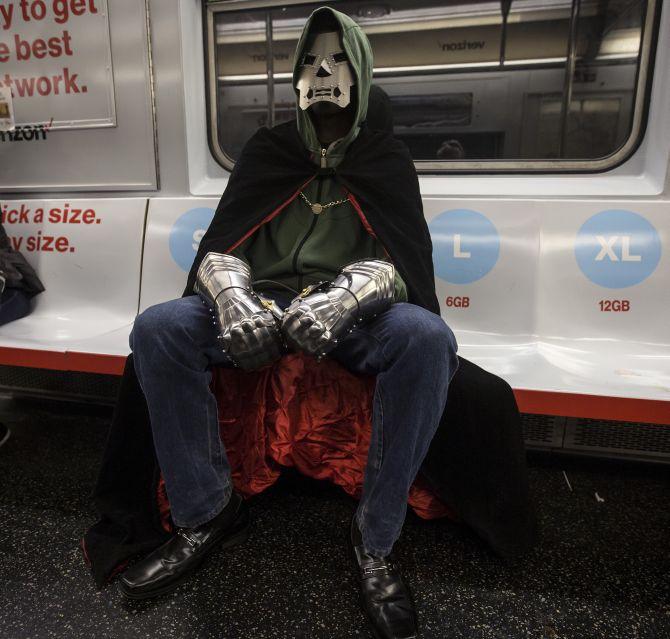 Image: A man in costume rides the shuttle subway from Times Square to Grand Central Terminal in the Manhattan borough of New York. Photograph: Carlo Allegri/Reuters
---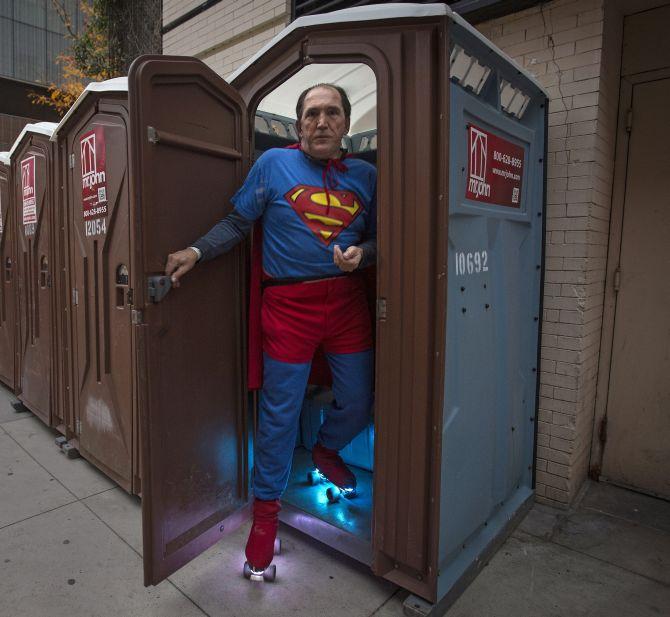 Image: A man dressed as Superman walks out of portable bathroom before the Greenwich Village Halloween Parade in the Manhattan borough of New York. Photograph: Carlo Allegri/Reuters
---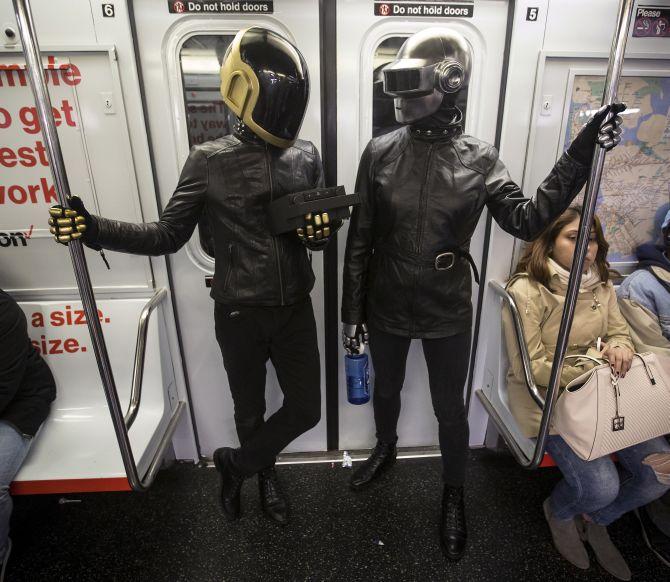 Image: A couple dressed up as musical act Daft Punk ride the shuttle subway at Times Square station in the Manhattan borough of New York. Photograph: Carlo Allegri/Reuters
---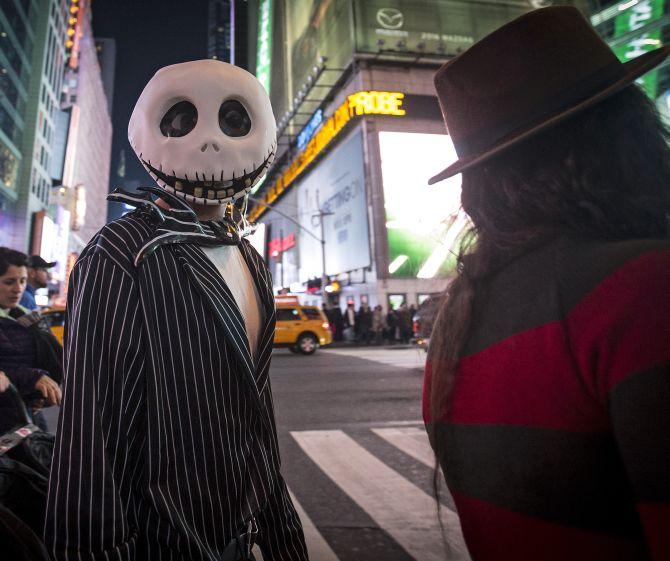 Image: A reveller dressed up for Halloween walks through Times Square in the Manhattan borough of New York. Photograph: Carlo Allegri/Reuters