Talk about Lady Luck smiling down on you!
A series of dramatic pictures show the moment a woman's life was saved after she was battered by a huge swell in Sydney's eastern suburbs.
The powerful images show the ordeal from beginning to end as the female swimmer begins to struggle in the huge waves at Bronte Beach on Thursday morning.
Surf lifesaver Andrew Reid, who helped save the swimmer, said she was extremely lucky.
Take a look at the entire episode.
All photographs: Jenny Evans/Getty Images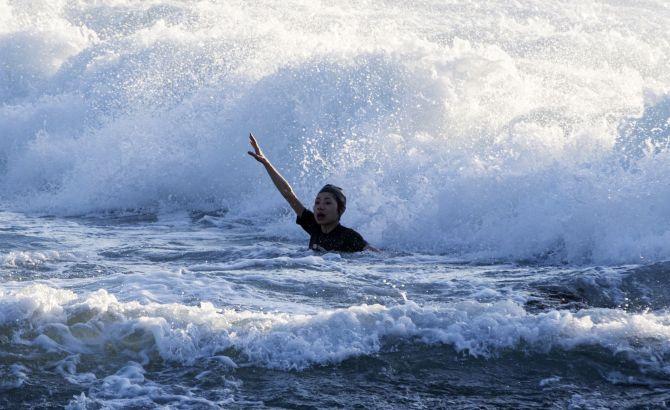 The horror of it all began when the woman, who has not been named, went into the waters at Bronte Beach for a morning swim, not realising how big the waves were. The distressed swimmer is said to have been a regular on the beach, but nearly perished as a result of the deadly conditions.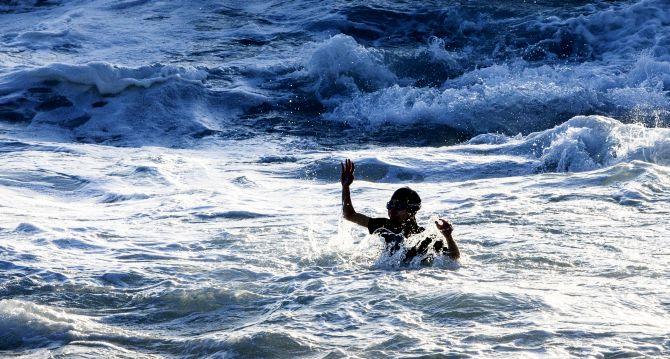 Describing the events that unfolded, Andrew Reid was quoted as telling Daily Mail, 'We were actually just looking out and checking the conditions to see how we would set up the beach and a massive set rolled in and I I actually joked I wouldn't want to be out in that today."
It was at this moment that the struggling swimmer was noticed in the surf. "I started running down and saw she was in a precarious spot copping 10-foot sets, she looked tiny and all I could think was how did she get out there?"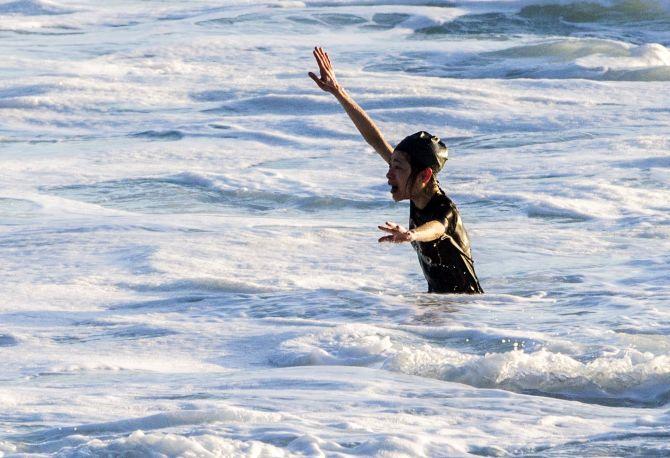 She is barely able to breathe as the lifeguards rush out to save her from the massive swells.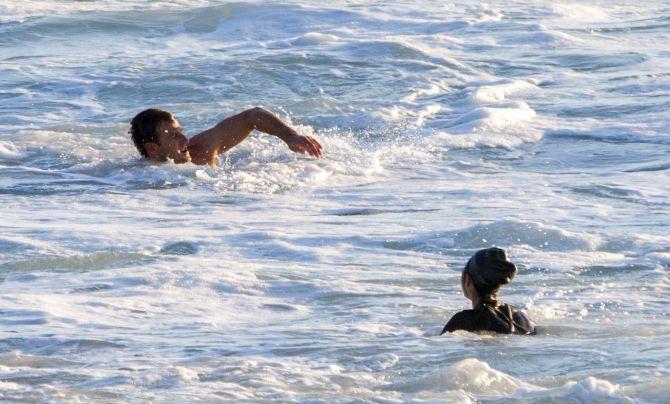 The lifeguards made it to the flailing woman just in time to save her. One of the lifeguards, Troy Stewart, used the rip current to get to the swimmer and reached her just as she was sinking below the surface.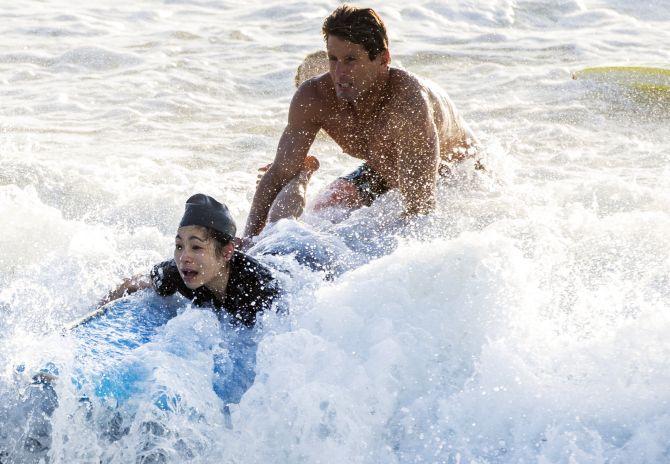 The swimmer is then put onto a paddle board, and taken to safety.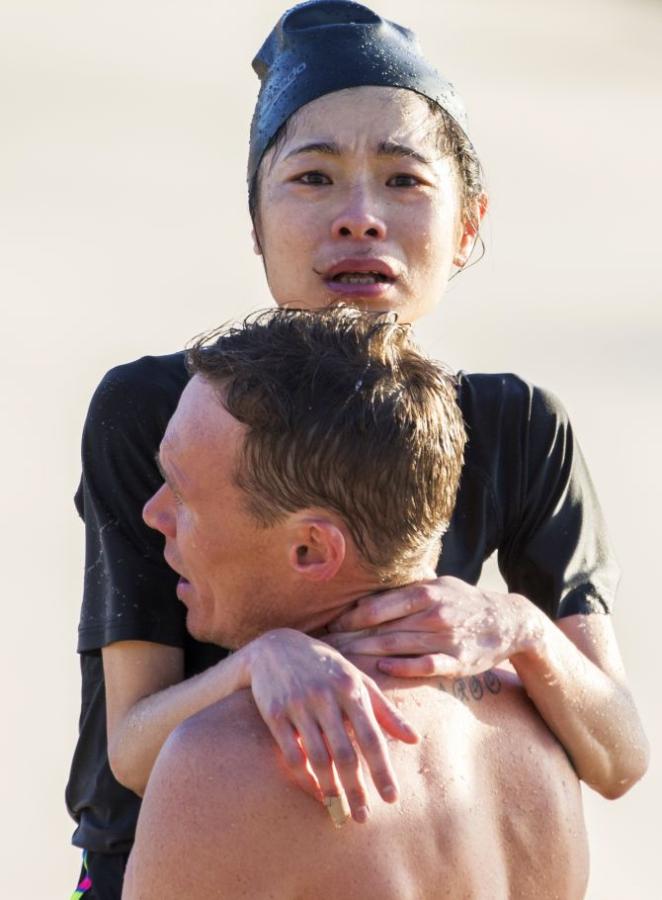 Her relief was obvious as she was taken back to the beach after her near-death experience.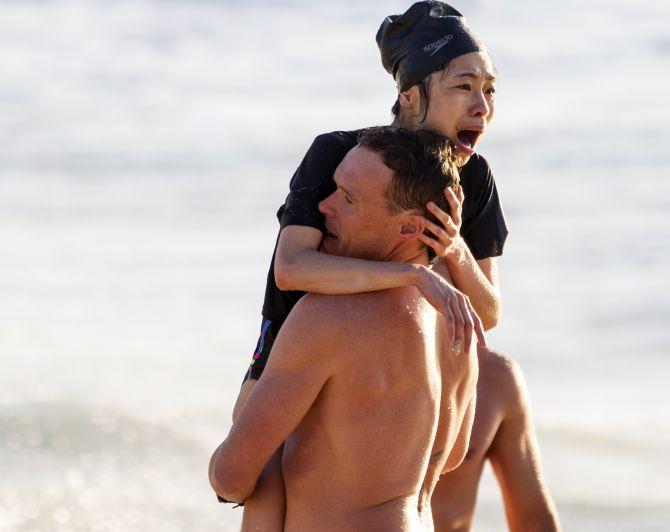 The lifeguards said the woman was extremely grateful once she had been rescued. "She expressed so much gratitude', one of them said. "I carried her up the beach and she was saying 'thank you so much'. I believe she truly thought she was going to die out there. She gave me a big hug and a kiss on the cheek."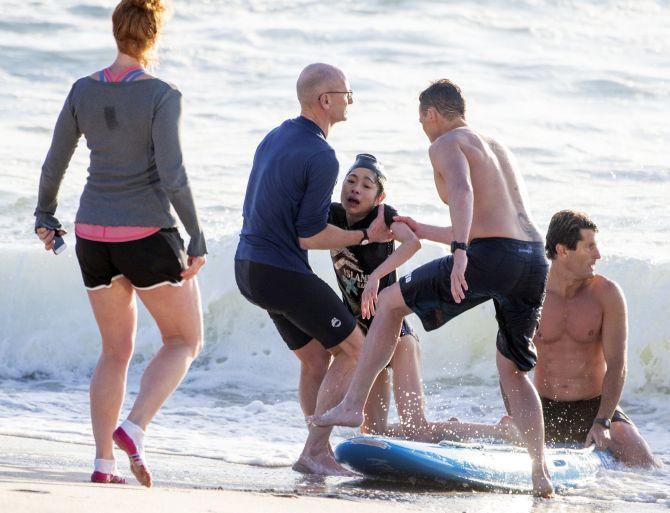 Once they reach the shore the sheer exhaustion of fighting a wild sea is obvious as the woman collapses under her own weight while being caught by lifeguards and witnesses.