From traditional Nepali thali to Gujarati basundi with jalebi, it was a lavish vegetarian spread of cuisines laid out for the SAARC leaders as they met in the cooler climes of exotic Dhulikhel resort for a retreat session.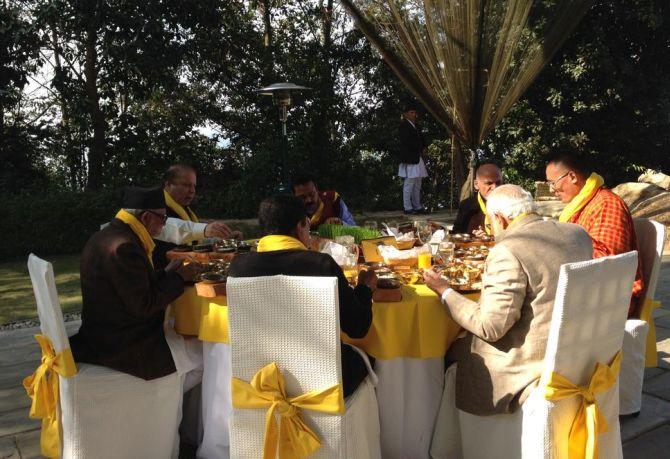 SAARC leaders enjoy a delicious vegetarian meal during the SAARC retreat. Photograph: MEA/Twitter
The leaders, including Prime Minister Narendra Modi, arrived at the resort, around 30 kilometres from Kathmandu, in the morning and held talks in informal settings with most leaders seen in a relaxed mood.
All the heads of states and governments wore long yellow scarves and posed for photographs besides engaging in chit chat as salubrious air from the Himalayas freshened the environment. Bangladesh Prime Minister Shiekh Hasina could not join her counterparts at the retreat as she was unwell.
Foreign Ministers of SAARC countries, including External Affairs Minister Sushma Swaraj and Pakistan Prime Minister's advisor on Foreign Affairs and National Security Sartaj Aziz, were also present at the retreat.
The starter at the lunch, hosted by Nepal Prime Minister Sushil Koirala, included dumplings infused with spinach, seasonal vegetables and home-made cottage cheese. It was served with Himalayan spicy tomato pickle.
The main course included Nepali thali, cauliflower curry, cottage cheese curry, zuccini curry, spiced mushroom curry, lentil kofta, sauted palung greens, organic rice and chapatis.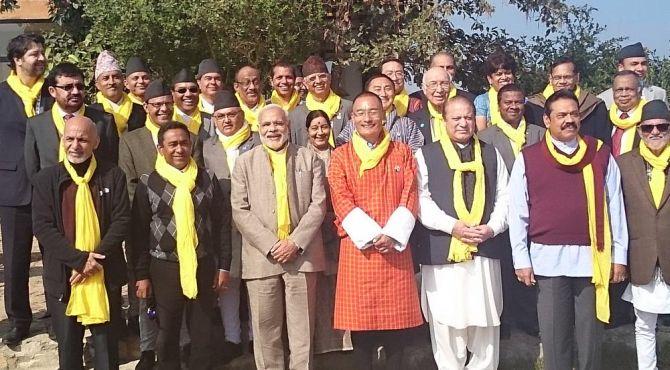 Wearing yellow scarves, the SAARC leaders enjoy an informal setting at the Dhulikhel resort. Photograph: MEA/Twitter
The salad served at the launch comprised cucumber rolls filled with avocado, cheese and mizuna greens topped with fenugreek, fruit and edible flower and molasses. Nettle and fenugreek soup was served with home-made assorted breads.
The deserts were picked up from all the eight member countries. From India, it was Gujarati basundi with jalebis while Baklava from Afghanistan was also laid out.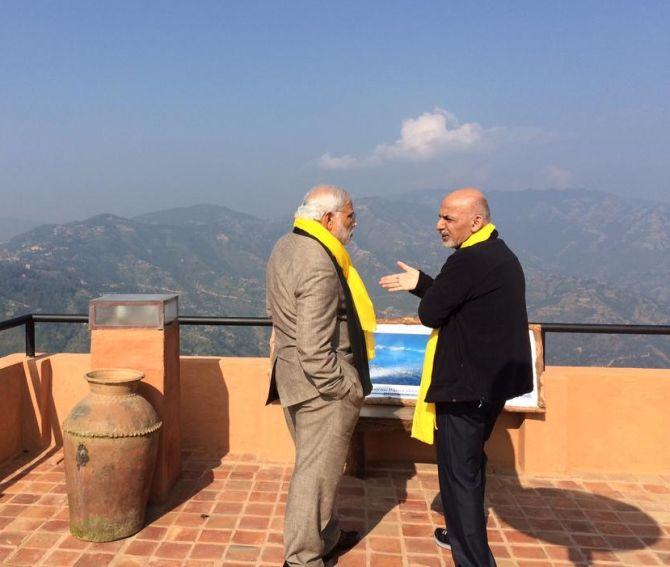 Prime Minister Narendra Modi has a conversation with Afghanistan President Ashraf Ghani during the retreat. Photograph: MEA/Twitter
The desert from Bangladesh was Rasbari while Shahi Tukra from Pakistan was also served. The Maldives' Pirni, Nepal's Sikarni and Bhutanese desert Daisee and Waterlappan from Sri Lanka comprised the desert.
Modi is a vegetarian and has been having simple food with less spices and less oil during his stay.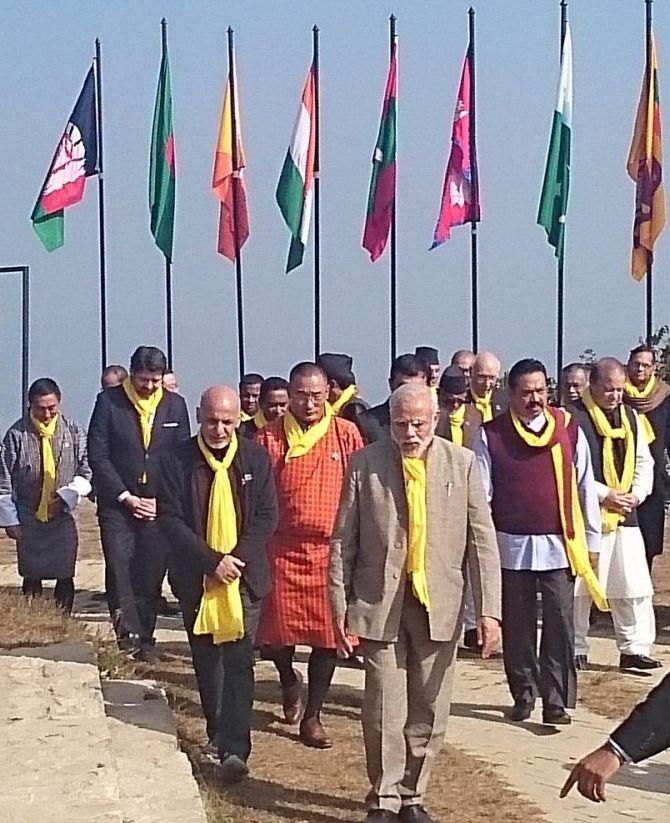 The meet at the resort came a day after the SAARC talks. Photograph: MEA/Twitter
The retreat session came a day after leaders addressed the 18th session of the SAARC.