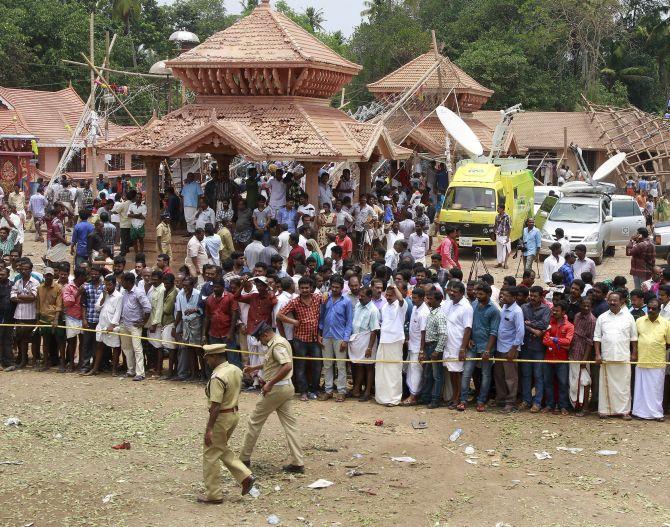 Conflicting versions are emerging on permission being granted for conduct of fireworks display at the 100-year-old Puttingal Devi temple complex where at least 102 lives were lost in a major fire on Sunday.
While the office of Kollam District collector A Shainamol's office said that no permission was granted to conduct the fireworks display, local people claimed the ban was lifted later in the night.
They claimed a ban had been imposed on a complaint by one Pankajakshi, a resident near the temple complex against holding fireworks display.
Pankajakshi alleged that temple authorities had threatened her after the complaint was filed.
Local people in the area said that late at night, the ban was lifted following a 'mutual agreement'.
However, Kollam City Police commissioner P Prakash, said police did not given permission for the display of fireworks.
"The locals said they had received oral permission. The temple authority did not have the permission and we did not give them any permission," he said.
"A case has been registered and a team from Forensic Science Laboratory, Thiruvananthapuram will be reaching here," he said.
Fire force Director General of Police Loknath Behara said "the incident will be treated as a criminal act".
A special team from fire force will also probe into the incident, said Behara, who visited the spot.
Image: Policemen cordon off the area after a fire broke out at a temple in Kollam in Kerala, India, April 10, 2016. A huge fire swept through a temple after a fireworks display. Photograph: Sivaram V/Reuters