An estimated 78.05 per cent voter turnout was recorded in the fourth phase of West Bengal assembly election covering 49 constituencies on Monday, in sync with the high polling trend in the previous three rounds.
Overall, 78.05 per cent voter turnout was recorded for 49 seats in the two districts after polling began at 7 am, officials said.
Till 5 pm, 79.16 per cent voters exercised their franchise in North 24-Parganas district while the figure in Howrah was 75.46 per cent.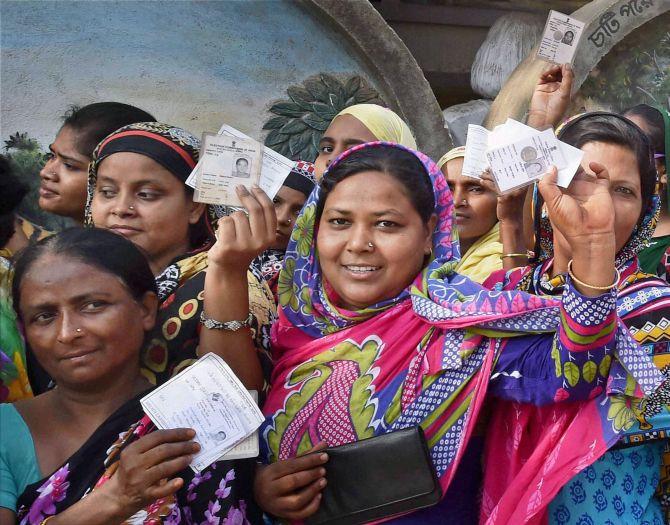 IMAGE: Women show their voter cards during the fourth phase of state assembly elections in North 24 Pargana. Photograph:

Ashok Bhaumik/PTI
Polling went on till 6 pm and the final figures will be known only on Tuesday.
An FIR was lodged against Bharatiya Janata Party leader-actress Roopa Ganguly for allegedly pushing and obstructing a woman Trinamool Congress activist and her mother from casting their votes in Howrah district after a heated altercation.
TV cameras showed Ganguly pushing the hand of Soma Das outside a poll booth.
In her complaint, Das alleged that she was assaulted and told by Ganguly, who is fighting from Howrah North seat, not to cast vote.
Ganguly, who had shot to fame for the the role of 'Draupadi' in the popular serial 'Mahabharat', denied the allegations, claiming it was the Trinamool workers who pushed her.
Additional Director General of Police (law and order) Anuj Sharma said that during the day 229 arrests were made, out of which 207 were preventive ones.
A presiding officer in a booth of Baranagar was removed from duty after it was found that web camera was kept in the wrong direction.
Another presiding officer was replaced in Minakha for partisan behaviour while a polling officer in Baranagar was removed on being found that he is a voter of the same constituency.
A departmental inquiry has been initiated against all of them, Chief Electoral Officer Sunil Gupta said.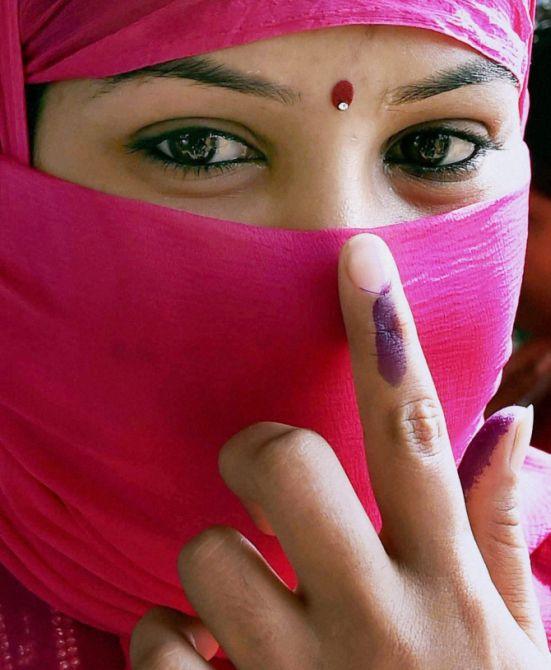 IMAGE: A woman shows off her inked finger in Howrah after she cast her vote. Photograph: PTI
In Dum Dum North constituency, Communist Party of India-Marxist candidate Tanmay Bhattacharya suffered injuries on his hand after stones were hurled at his car.
Four persons were arrested and an FIR has been filed against seven persons, Sharma said.
In Beejpur seat in North 24-Parganas district, a family of CPI-M supporters alleged that their three-and-half-year-old girl was beaten up last night, following which two were arrested, he said.
A person called Titu Samajpati and his minor grand-daughter were beaten up and injured, Sharma said.
CPI-M's Barrackpore candidate Debasish Bhowmick alleged that he was heckled by Trinamool workers, following which eight persons were arrested, the police said.
West Bengal CPI-M secretary Surya Kanta Mishra said "unnerved TMC goons are targeting all. From the 3.5-year-old child to the Left candidate. Even women were not spared. People will give a rebuff by ousting TMC".
BJP candidate Locket Chatterjee was engaged in a war of words with a polling agent in Ariadaha where she went to cast her vote.
The EC received over 4,100 complaints during polling most of which were related to booth-capturing, false voting, intimidation of voters and malfunctioning of EVMs.
In Howrah's Joypur area, a house was attacked with bombs which left two injured. One person was arrested later on, the police said.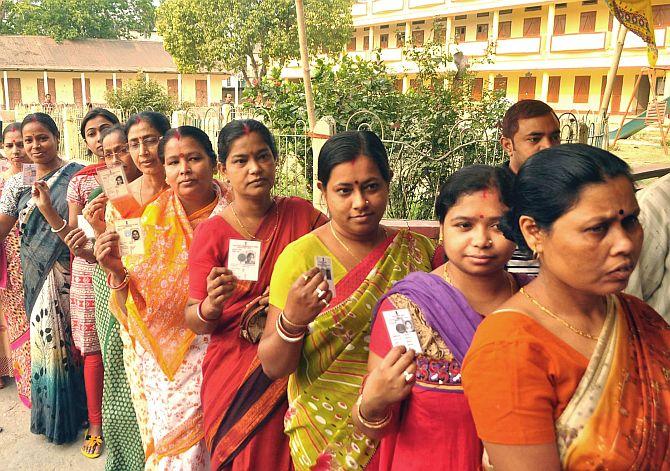 IMAGE: Women voters stand in a queue to cast their votes at a polling booth during the 4th phase of polling in West Bengal. Photograph: PIB Photo
In the crucial fourth phase, electoral fate of several state ministers will be decided, including those of Finance Minister Amit Mitra, Agriculture Minister Purnendu Basu, Law Minister Chandrima Bhattacharya, Tourism Minister Bratya Basu, Food and Supplies Minister Jyotipriyo Mullick and Agriculture Marketing Minister Aroop Roy.
Former minister Madan Mitra, who has no voting rights as he is in judicial custody in connection with the Saradha chit fund scam, is defending his Kamarhati constituency on a Trinamool ticket.
Other leading names include former BCCI president Jagmohan Dalmiya's daughter Vaishali, former Bengal cricket captain Laxmi Ratan Shukla, footballer Dipendu Biswas and Bidhannagar Mayor Sabyasachi Dutta.
An estimated 1.08 crore voters were eligible to exercise their franchise in the polls that will decide the fate of 345 candidates, including 40 women.
Voters queued up before 12,500 polling stations since morning to avoid the sweltering heat.
Providing some relief, temperature in Kolkata was down by a couple of notches at 36.6 degrees. The discomfort level was, however, quite high owing to the high level of humidity.
Unprecedented security arrangements had been made and about 90,000 security personnel, including central armed forces, have been deployed by the Election Commission.