The Valley witnessed a paltry 8.3 per cent, whereas Jammu and Ladakh recorded an over 65 per cent voter turnout.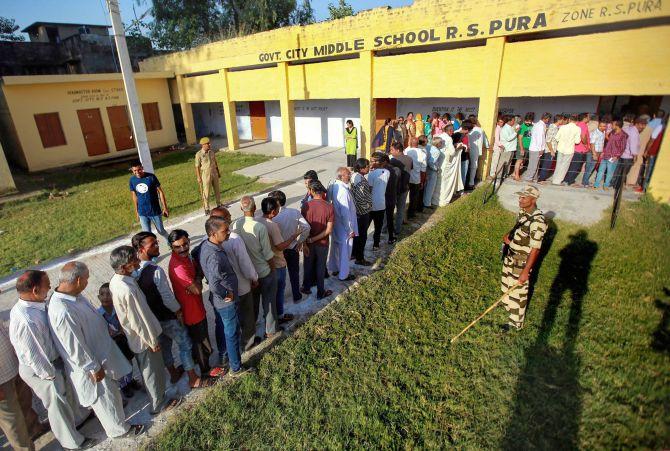 Threats from terrorist groups kept a majority of people away from polling booths in Kashmir Valley where the turnout was a paltry 8.3 per cent, whereas in Jammu and Ladakh divisions over 65 per cent of the electorate voted in the first phase of urban local body polls on Monday, officials said.
Polling on Monday was by and large peaceful in the four-phase election to urban local bodies, which has been boycotted by two main regional parties -- the National Conference and the Peoples Democratic Party.
In Kashmir Valley, Bandipore recorded the lowest turnout at 3.3 per cent and Kupwara the highest at 36.6 per cent.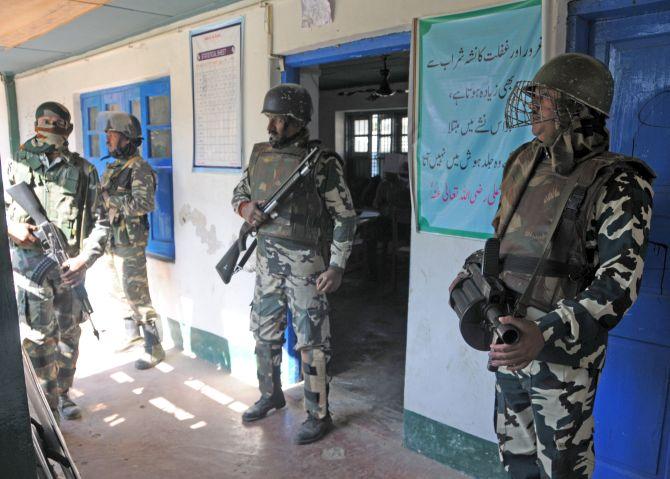 With no election rallies taking place before the first-phase polling in 58 wards in Kashmir Valley, the fear of terrorist groups was evident as many of the booths wore a deserted look and at certain places people tried to hide themselves from the assembled mediapersons.
In the election to 238 wards in Jammu division, the turnout was recorded at 65 per cent. In Ladakh divisions Leh and Kargil districts, 55.2 and 78.1 per cent of the electorate respectively cast their votes till 4 pm, when the voting ended. Polling began at 7 am.
Groups such as Hizbul Mujahideen had threatened to "throw acid" at candidates and asked people to remain indoors and not cast their ballots. Streets in Kashmir Valley wore deserted look and shops and business establishments were shut.
Two National Conference workers were gunned down last week, barely two days before elections.
However, there was no poll-related violence reported in any part of the Valley barring a small incident in which a Bharatiya Janata Party candidate was caught in a minor stone-pelting incident.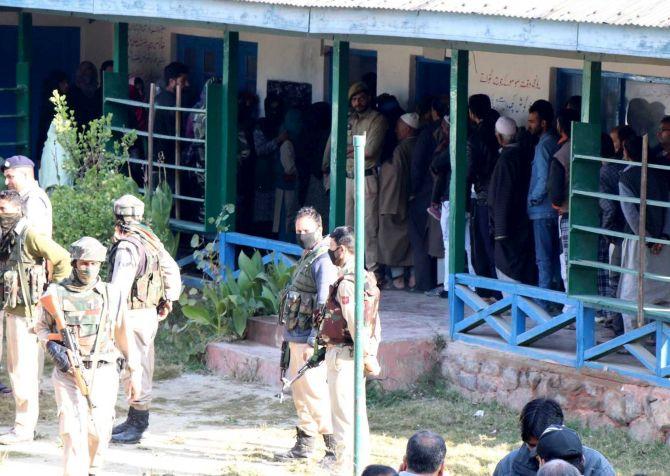 "Only 7,057 voters of the 84,692 eligible persons turned up to vote in the wards which went to polls (in Kashmir Valley) on Monday. The polling was by and large peaceful," one of the officials said.
The polls to urban local bodies in Jammu and Kashmir will be held in four phases.
In North Kashmir, Kupwara Municipal Committee recorded a high voter turnout of 36.6 per cent, while 27.8 per cent of the electorate exercised their franchise at wards of Handwara Municipal Committee.
Out of the 30,074 voters in three wards of the Srinagar Municipal Corporation, 1,862 turned up at heavily-fortified polling stations.
Budgam recorded a turnout of 17 per cent, Anantnag 7.3 per cent, Baramulla 5.7 per cent and Bandipora 3.3 per cent, the officials said.
Of the 150 polling stations in Kashmir division, 138 polling stations were categorised as "hypersensitive".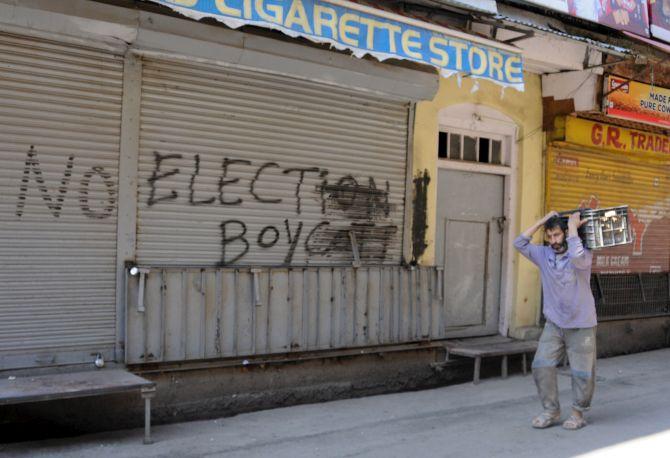 The polls were announced last month but two major political parties -- the National Conference and the Peoples Democratic Party -- boycotted the elections accusing the Centre of not taking a firm stand on the protection of Article 35A of the Constitution which is facing a legal challenge in the Supreme Court.
Article 35A accords special rights to permanent citizens of Jammu and Kashmir.
Terrorist groups had issued threats to anyone participating in these polls, prompting candidates to stay away from campaigning and not hold rallies.
In several wards, especially those in south Kashmir, no candidate filed nomination papers for the polls.
For ensuring security of candidates, they were moved to safe locations and their details were not made public.
The election authorities also kept the identities of the contesting candidates from the valley secret due to security reasons, prompting the people to term these polls as "secret elections".
In Jammu, which witnessed elections to 238 wards, saw 56.7 per cent of polling with 3,32,255 exercising their franchise.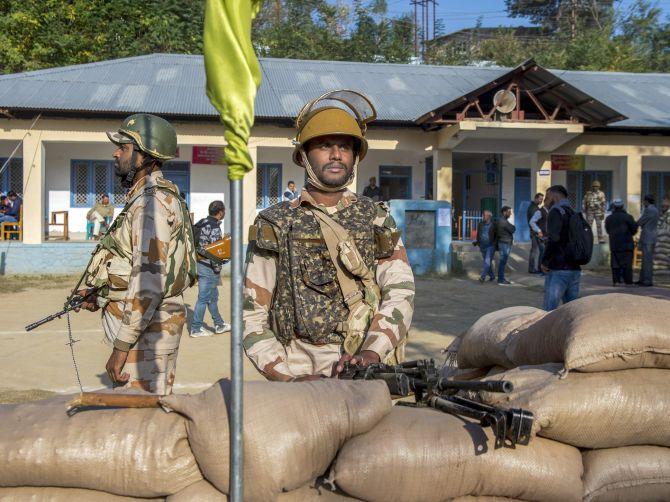 The second phase covering 384 wards is scheduled for October 10, the third covering 207 wards on October 13 and the last phase covering 132 wards on October 16. The counting of votes will be done on October 20.
The last election to the municipal bodies in the state was held in 2005 through secret ballots and the five-year term expired in February, 2010.
Expressing satisfaction on the successful outcome of the first-phase polling, Union Minister Jitendra Singh said that time is running out for politicians and political groups who thrived on militancy.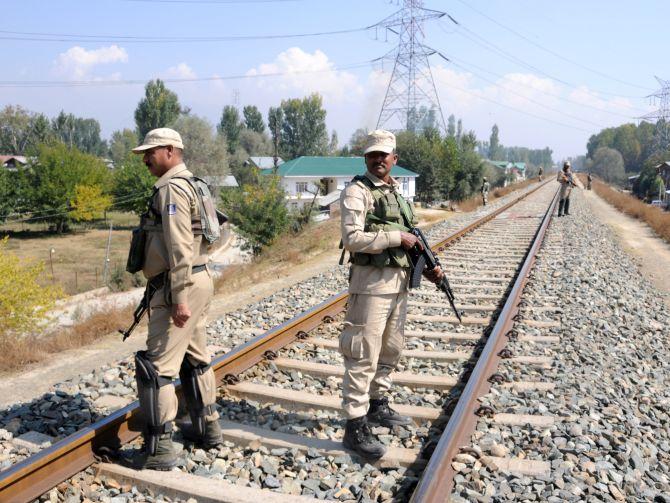 "The leaders who have been dissuading people from participating in the election process are the ones who have, over the last several decades, sought to project their indispensability by intimidating the genuine democratic forces. Nevertheless, however much they may try to thwart this phenomenon, even though unsuccessfully, there is going to be no looking back now," Singh, Minister of State in the Prime Minister's Office, said in Delhi, in apparent attack on the NC and the PDP.
He said the common people, particularly the youth, including those from Kashmir Valley, have seen through the hypocrisy and duplicity of such leaders who demand "dynastic" autonomy for themselves, but do not support "democratic" autonomy for duly-elected local representatives.