Violence continued to rage in Haryana on Monday with stone-pelting mobs attacking security personnel trying to clear a road blockade and torching government vehicles even as the death toll in the nine-day old Jat quota stir was put at 19.
As protesters continued to block some roads including the arterial Delhi-Ambala Highway, the Centre directed security forces to use force to clear blockades.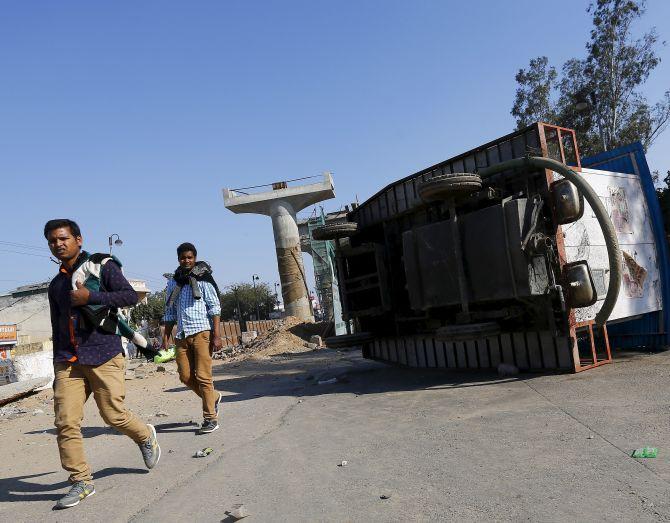 People walk past an overturned mobile urinal during a demonstration by members of the Jat community in Bahadurgarh in Haryana. Photograph: Adnan Abidi/Reuters
"The security forces were asked to use force to clear all the places where the protesters were squatting affecting communication network and water supply," a Union government official said in Delhi.
The All India Jat Aarakshan Sanghursh Samiti later in the evening announced lifting of its dharnas on national and state highways in view of the Bharatiya Janata Party setting up a committee under a central minister to examine the quota demand for the Jat community.
Besides Sonipat, fresh incidents of arson and violence erupted in several districts including Rohtak, Kaithal and Hissar.
Sonipat Deputy Commissioner Rajiv Rattan said personnel of army, paramilitary forces and the police who were trying to clear a road blockade in the district were attacked by the mob, which pelted stones on them and also used lathis. Some security pesonnel were also injured.
"Yes, there are casualties, may be one or three, but I can't give any exact figure immediately," he said.
The mob went berserk setting on fire government vehicles, indulging in vandalism and attacking the security forces, the DC said, adding there was tension in the entire area.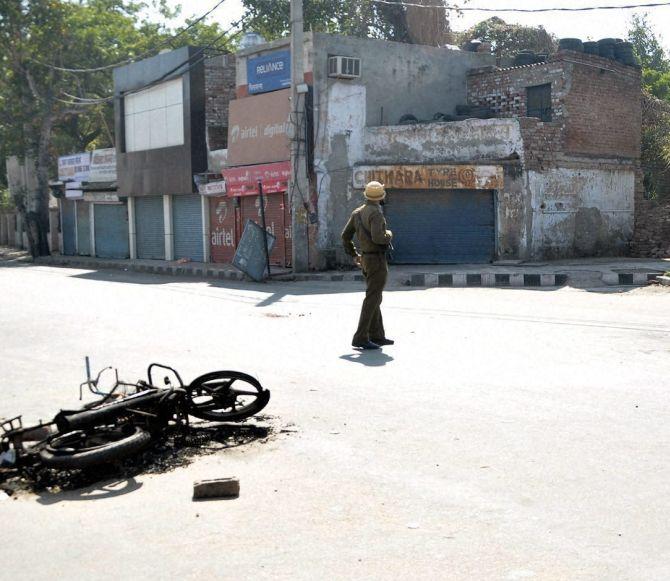 Charred remains of a two-wheeler set on fire by Jat agitators demanding reservation, in Rohtak. Photograph: PTI
The latest incident came within hours after two columns of the army comprising around 150 personnel, besides Central Reserve Police Force and Haryana Police contingents took control of the Munak canal around 4 am on Monday from protesters who had cut off the water supply to Delhi, from Akbarpur-Barota in Sonipat.
Following fresh incidents of arson and violence, curfew was reimposed in five villages of Hansi sub-division, Hissar city limits and Kaithal. Curfew was imposed in five villages of the district and shoot-at-sight orders issued following a face-off between Jats and other community members.
Senior Haryana Minister Ram Bilas Sharma told reporters after a cabinet meeting chaired by Chief Minister Manohar Lal Khattar that 16 people have died in the ongoing Jat agitation.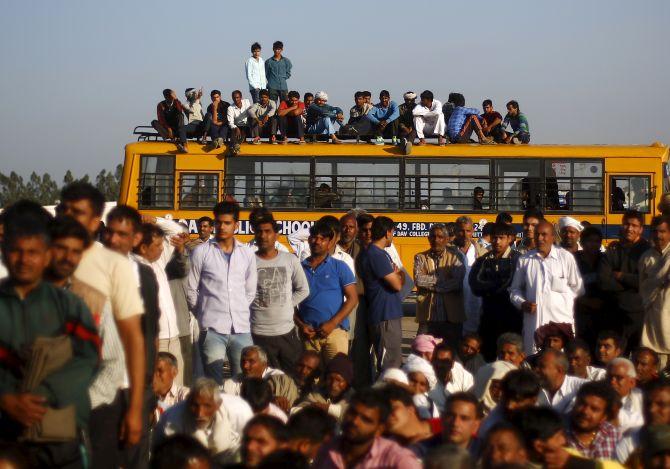 Demonstrators from the Jat community sit on top of a school bus as they block the Delhi-Haryana national highway during a protest at Sampla village in Haryana. Photograph: Adnan Abidi/Reuters
Making a fresh appeal for an end to the agitation, Sharma said a bill will be brought in the coming assembly session of on the Jat reservation issue.
When asked what will be the shape of the bill, he said the date for the commencement of the assembly session was yet to be decided and did not elaborate on the details.
The Jat protesters also continued to block some roads including in Rohtak, Hissar and Bhiwani districts.
Road traffic on various national and state highways from Hissar to various destinations, including Delhi, Chandigarh, Sirsa, Siwani and Bhiwani remained suspended.
Railway traffic from Hissar to various destinations including Delhi, Ludhiana, Bhiwani and Sadulpur also remained suspended.