Three knife-wielding attackers in fake suicide vests unleashed a terror rampage in the British capital, plowing a van into pedestrians on the iconic London Bridge before stabbing revellers in a nearby market, killing seven people for which Prime Minister Theresa May blamed the "evil ideology of Islamist extremism".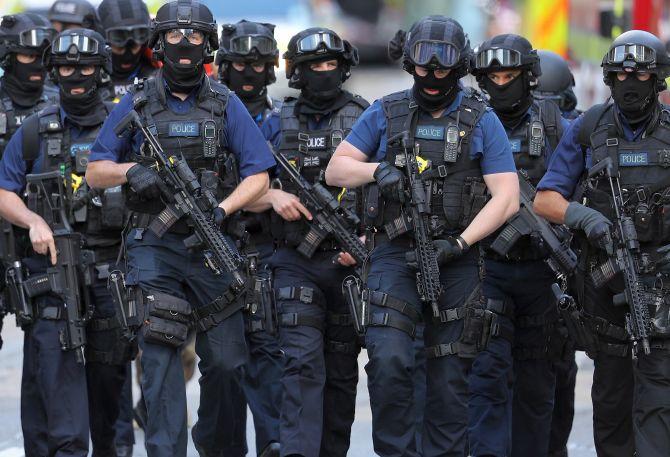 IMAGE: Counter terrorism officers march near the scene of Saturday night's London terrorist attack. Photograph: Dan Kitwood/Getty Images
At least 48 people were also injured in the attack that took place on Saturday night at around 10 pm, the third to hit Britain in less than three months and just days before the general election on June 8.
Three attackers drove a white van into crowds on busy London Bridge and then fled the van wielding large knives and attacked people indiscriminately at bars and restaurants in nearby Borough Market shouting "This is for Allah", police and witnesses said.
At least seven people were killed in the attack and 48 were taken to hospital, the Metropolitan police said.
The attack unfolded quickly as armed police rushed to the scene and within eight minutes shot dead the three male attackers who were wearing what looked like explosives which later turned out to be fake.
"The suspects were wearing what looked like explosive vests but these were later established to be hoaxes," said Mark Rowley, Met Police Assistant Commissioner and the UK's anti-terrorism lead.
"We are treating this as a terrorist incident and a full investigation is already underway, led by the Met's Counter Terrorism Command," he said, urging people with information and images to contact the police.
There was no immediate claim of responsibility for the latest attack to hit Britain. No details have been released about the suspects and detectives are investigating whether they acted alone.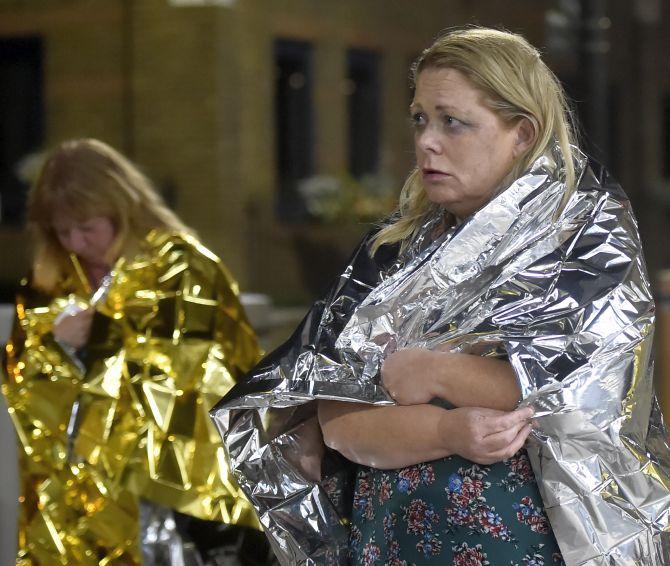 IMAGE: Distraught people leave the area wearing foil blankets after an incident near London Bridge. Photograph: Hannah Mckay/Reuters
British counter-terrorism police said they had arrested 12 people in Barking, in east London, in connection with the van and knife attack.
The arrests followed a raid by police at a flat owned by one of the three attackers.
Police said that "a number of addresses" in Barking were still being searched.
National campaigning for the June 8 general election was suspended for the day in respect to the victims, but Prime Minister Theresa May insisted that the elections would go ahead as planned.
Speaking outside Downing Street after she chaired the emergency COBRA meeting with senior security chiefs, May said said, "Violence can never be allowed to disrupt the democratic process."
She said "it is time to say enough is enough" and called for tougher measures to contain Islamic extremism in Britain.
She said the recent terror attacks in Britain, while not directly linked, "are bound together by the single evil ideology of Islamist extremism."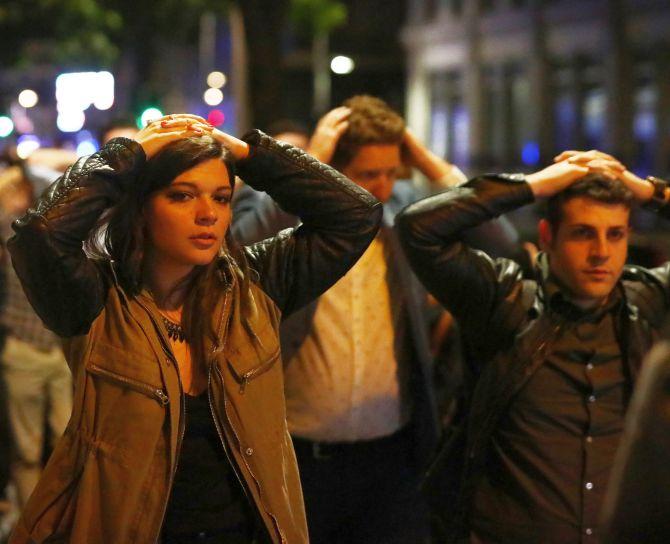 IMAGE: Some Londoners praised the police for their prompt action. Cops were able to shoot the three suspects who were responsible for the mayhem within eight minutes of receiving the information. Photograph: Hannah Mckay/Reuters
"It is an ideology that is a perversion of Islam and a perversion of the truth. Defeating this ideology is one of the great challenges of our time."
"We believe we are experiencing a new trend in the threat we face as terrorism breeds terrorism," she said.
The prime minister said attacks are now inspired "by copying one another and often using the crudest of means of attack".
"We cannot and must not pretend that things can continue as they are," she said.
She revealed that the UK's security and intelligence services have disrupted "five credible plots" since the Parliament attack in London in March.
The British Prime Minister announced that she plans to review the UK's counter-terror legislation.
"There is far too much tolerance for extremism in our country," she said.
British Transport Police said one of its officers was seriously injured and hospitalised with non-life-threatening injuries after being stabbed as he responded to the incident.
The area that came under attack on Saturday night is one of the London's most popular hangout areas for a weekend with bars, restaurants and clubs.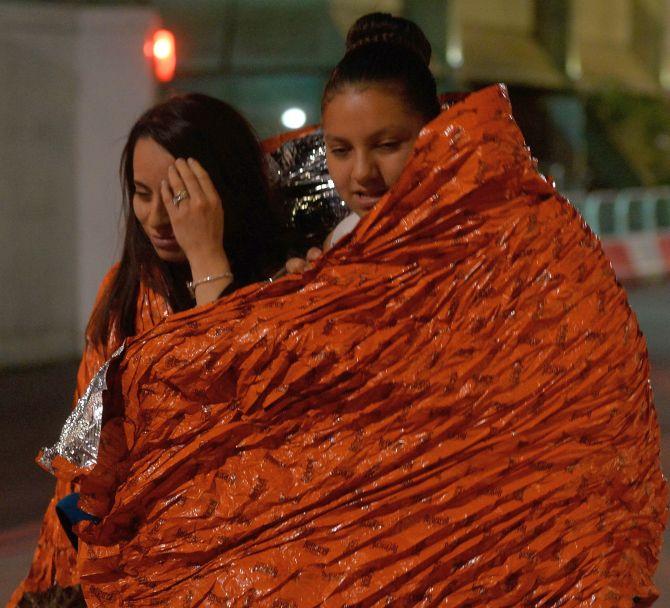 IMAGE: People flee as police attend to an incident near London Bridge in London, Britain.
Photograph: Hannah McKay/Reuters
The area has been cordoned off for investigations, led by the Met Police's Counter Terrorism Command, working with British Transport Police, City of London Police, the London Ambulance Service and the London Fire Brigade.
"We are reviewing and planning to strengthen our policing stance across London over the forthcoming days, and there will be additional police and officers deployed across the capital," Rowley said, calling on the public to remain vigilant.
The flag at Downing Street is flying at half-mast as a mark of respect to the victims of the attack and the ruling Conservative party has announced that it has suspended its national election campaign for Sunday, with plans to review during the course of the day.
London Mayor Sadiq Khan called it "a deliberate and cowardly attack on innocent Londoners".
"We will never let the terrorists win or cower our citizens," he said.
The Indian high commission in London has set up a Public Response Unit for any Indians caught up in the attack.
"Any Indians injured/affected during the London Bridge 'major incident' and at Borough Market may reach off-office hours Public Response Unit. We shall endeavour to extend all possible assistance to all affected and to their families and friends in this difficult hour," an Indian high commission statement said.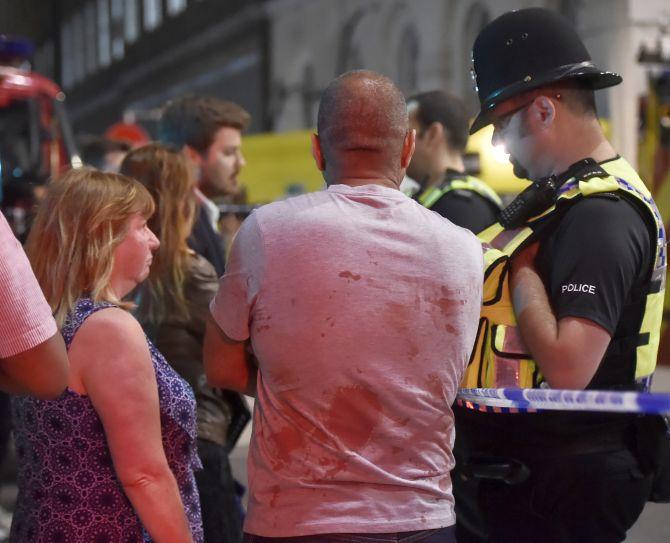 IMAGE: People speak with police officers after the incident which saw several people being rushed to hospitals. Photograph: Hannah Mckay/Reuters
Gerard Vowls told The Guardian newspaper that he saw a woman being stabbed by three men at the south end of London Bridge. He said he threw chairs, glasses and bottles at the attackers in a bid to stop them.
"They kept coming to try to stab me. They were stabbing everyone. Evil, evil people," he told the newspaper. "I want to know if this girl is still alive. I've been walking around for an hour and a half crying my eyes out. I don't know what to do."
Bartender Alex Martinez said he hid in a garbage bin for a half hour when a man stormed the restaurant where he worked, which was nearly full.
"I saw that man with a knife in his hand and after that a man started screaming so I knew something wrong was happening," he said.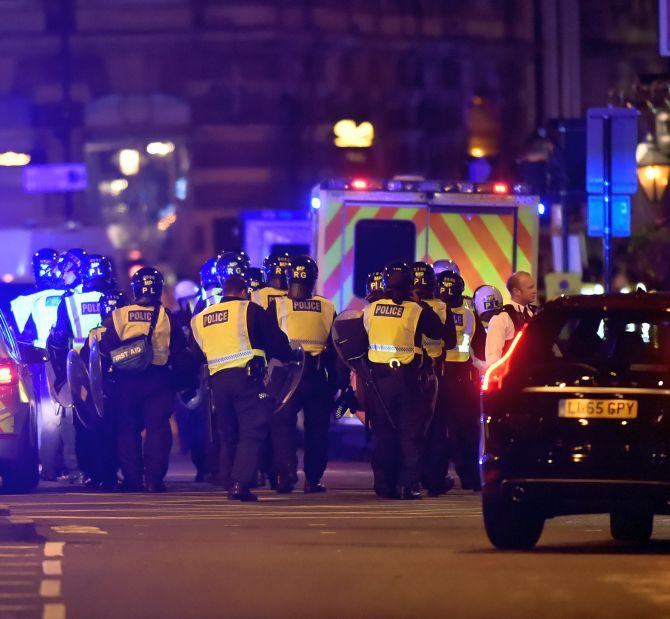 IMAGE: Police rushed to the scene after reports of a van ramming into people on London Bridge.
Photograph: Hannah Mckay/Reuters

Simon Thompson told Sky News that he was just outside Borough Market when he saw crowds fleeing.
"We ran for like 100 metres and then saw loads of police cars turned up and there was kind of a period of quite intense gunfire," he said. "I hid in a restaurant basement for about an hour. … Police told us to get out and then there was more gunfire."
United States President Donald Trump called Theresa May on phone to offer condolences over the "brutal" terror attacks and offered full support in bringing perpetrators of the heinous acts to justice.
Trump also offered the US' "full support" in investigating the two terror attacks at the iconic London Bridge and Borough Market in the heart of the UK's capital.
"He praised the heroic response of police and other first responders and offered the full support of the United States Government in investigating and bringing those responsible for these heinous acts to justice," the White House said in a statement after the phone call between the two leaders.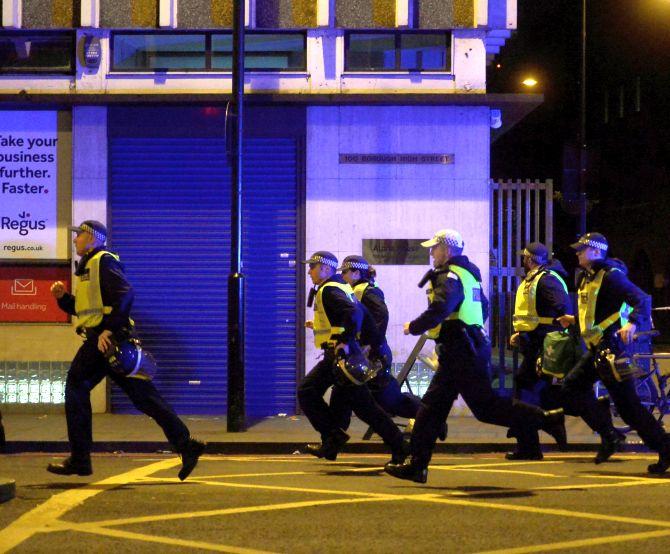 IMAGE: Police are calling the describing the two episodes as 'terror incidents'. Photograph: Hannah Mckay/Reuters

Prime Minister Narendra Modi also condemned the attacks in London, terming them as "shocking".
"Attacks in London are shocking & anguishing. We condemn them. My thoughts are with families of the deceased & prayers with the injured," the PM said in a tweet.
The latest terror attack, just four days before the general election on June 8, comes less than two weeks after a suicide bomber, Salman Abedi, targeted a Manchester concert on May 22, killing 22 people.
The Manchester attack stopped election campaigning for three days as troops were deployed to the streets and the UK's terror threat level was raised to "critical", meaning an attack was "imminent".
Britain's terror threat was later lowered back to "severe", which meant that an attack was highly likely.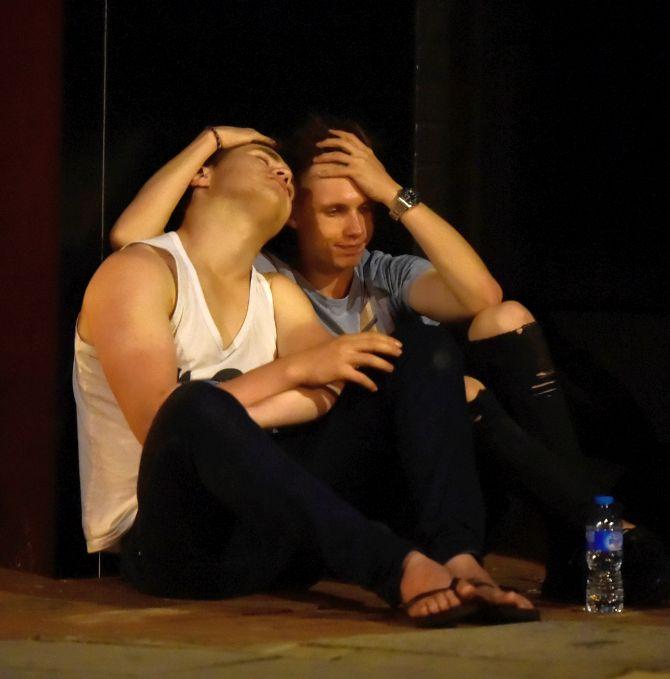 IMAGE: The attack comes almost two weeks after 22 people died in a suicide bombing at a concert in Manchester

. Photograph: Hannah Mckay/Reuters



Jeremy Corbyn, the Opposition Labour leader, tweeted, "Brutal and shocking incidents reported in London. My thoughts are with the victims and their families. Thank you to the emergency services."
Tim Farron, the Liberal Democrat leader, said: "Tonight's horrific incidents in London remind us how much we owe our emergency services. My thoughts and prayers with everyone affected."
Nicola Sturgeon, the Scottish First Minister and SNP leader, wrote on Twitter: "Dreadful news from London. My thoughts are with all those affected."
© Copyright 2021 PTI. All rights reserved. Republication or redistribution of PTI content, including by framing or similar means, is expressly prohibited without the prior written consent.