Six police officers were injured and more than 200 protesters were arrested as brick-throwing vandals torched a vehicle and damaged half-dozen stores after a series of protests marring Donald Trump's inauguration ceremony gave way to violent street clashes in the United States.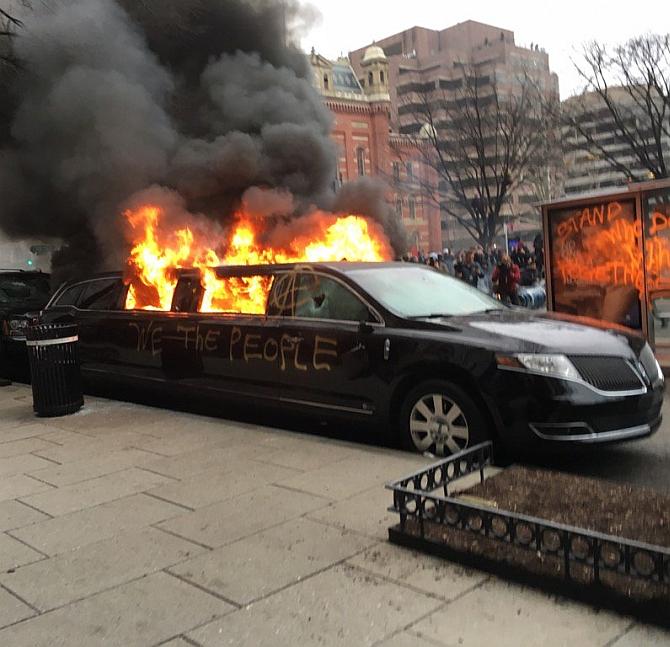 Image: A limousine set on fire by protestors while demonstrating against US President Donald Trump on the sidelines of the inaugural parade. Photograph: Twitter
At least two police officers and another person in downtown Washington were taken to hospital after run-ins with protesters, Fire spokesman Vito Maggiolo told CNN.
Acting DC Police Chief Peter Newsham said the officers' injuries were considered minor and not life threatening. About 217 protesters were arrested.
A large number of protesters had gathered in the national capital since early morning on Friday to voice their anger and hold demonstrations against what they alleged were the divisive policies of the new Trump administration.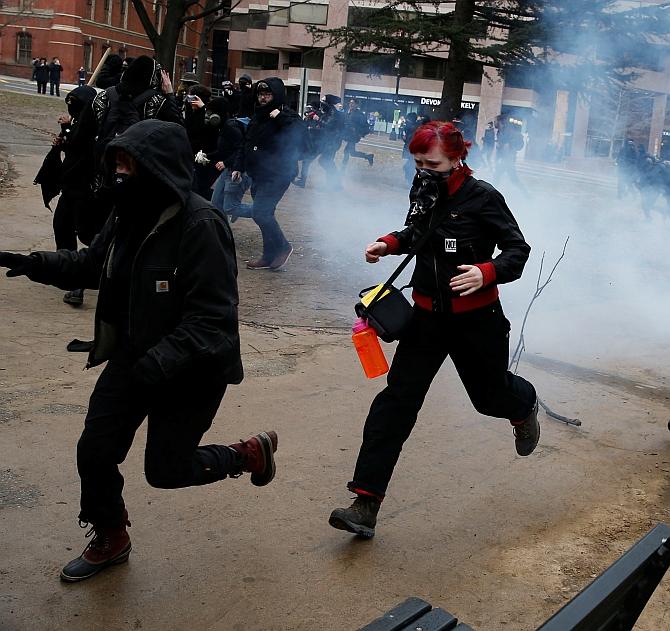 Image: Activists race after being hit by a stun grenade while protesting. Photograph: Adrees Latif/Reuters
A group of protesters clad as 'antifascist' smashed storefronts and bus stops, and broke windows of a limousine just blocks away from the inaugural parade route. Some also threw rocks at police manning the streets near the US Capitol.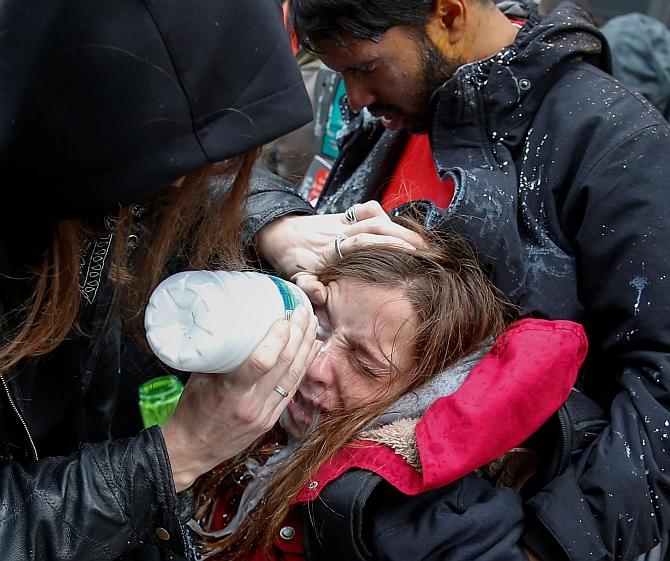 Image: An activist is helped after being hit by pepper spray on the sidelines of the inauguration. Photograph: Adrees Latif/Reuters
Police had to use crowd-dispersing sprays and flash-bang devices to push back the protesters and large crowds. "Pepper spray and other control devices were used to control the criminal actors and protect persons and property," they said.
Anti-Trump protests also broke out in cities across the US, including New York, Seattle, Dallas, Chicago and Portland, Oregon. Authorities in Seattle said one person was in critical condition at a hospital with a gunshot wound.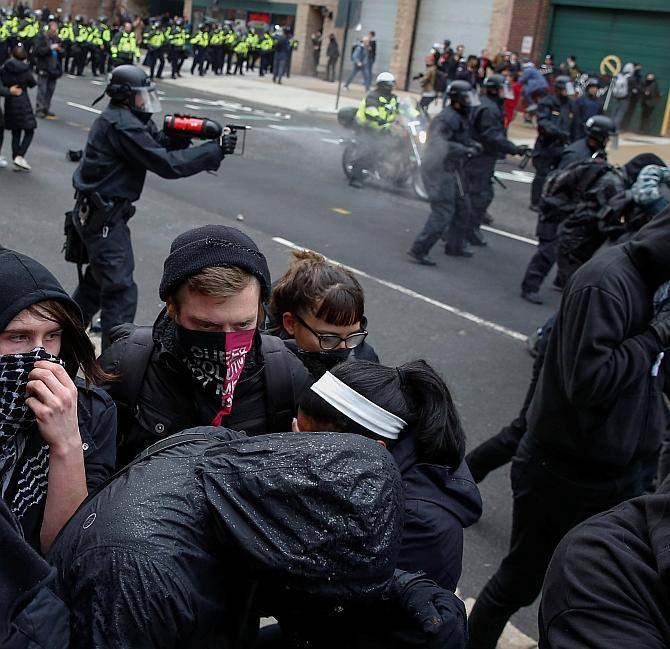 Image: Protesters demonstrating against US President Donald Trump take cover as they are hit by pepper spray by police. Photograph: Adrees Latif/Reuters
Newsham told the American television network that the several hundred demonstrators who confronted police were outnumbered by the thousands of nonviolent protesters who had descended on the nation's capital for Inauguration Day and Saturday's Women's March.
"We have been pointing out all along that this is a very isolated incident, and by and large, everything is going peacefully and a lot of folks have come to the city to enjoy this historic day, not only the Capitol but walking all around the city," he said.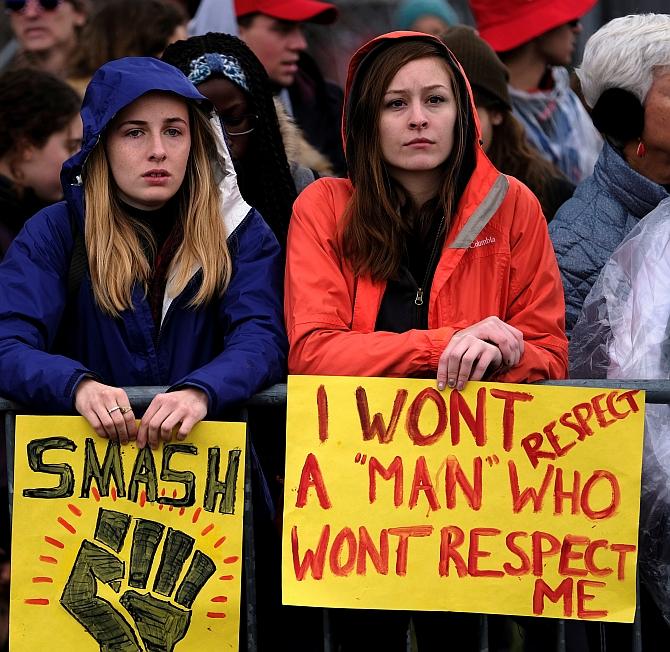 Image: Lilly Price of Chapel Hill, North Carolina, (left), and Sara Owre of Washington, DC, (right), react as US President Donald Trump finishes his inaugural address. Photograph: James Lawler Duggan/Reuters
The report said nine people were arrested in New York for disorderly conduct while five people were arrested at a protest in Dallas, six in Chicago.
In Seattle, people threw bricks and other items at officers during a demonstration at University of Washington campus, city police said.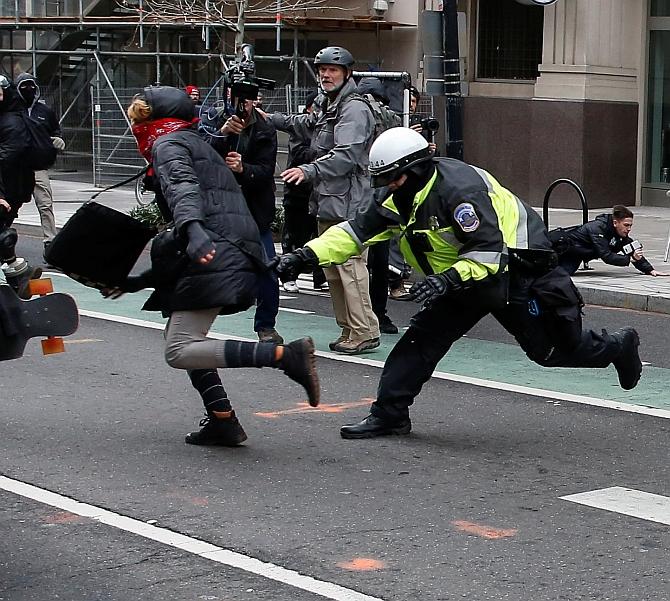 Image: A police officer tries to tackle a protester demonstrating against President Trump. Photograph: Adrees Latif/Reuters
The protests are not expected to end with the inauguration as nearly a quarter million participants are expected for the Women's March in the nation's capital, considered the largest protest ever following an American President's inauguration.
"We're really trying to set a tone of resistance for the coming years," Lacy MacAuley, a DisruptJ20 organiser, told CNN.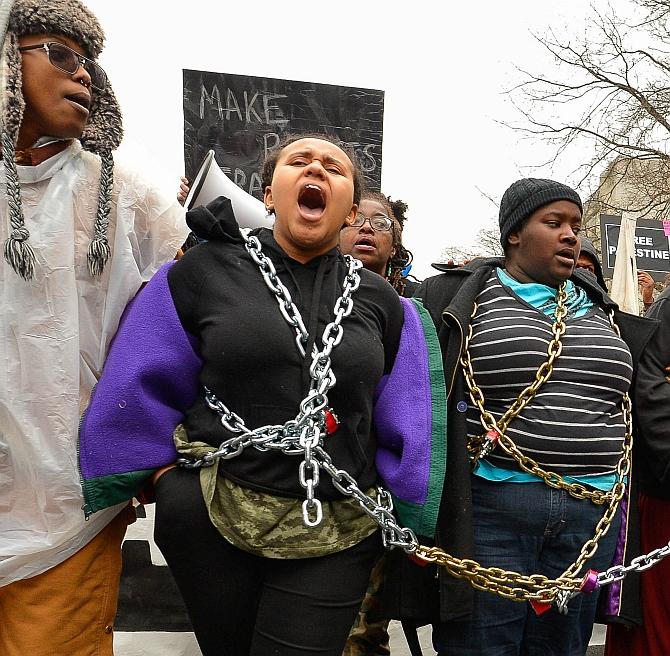 Image: Protesters link arms to block an entry point prior to the inauguration. Photograph: Bryan Woolston/Reuters
"Donald Trump represents a shift in our politics in a dangerous, harmful, exclusionary direction. We oppose those policies of hate."
The march, which began with a modest Facebook call in the aftermath of the election, has grown in to what could be one of the larger political demonstrations ever in DC.