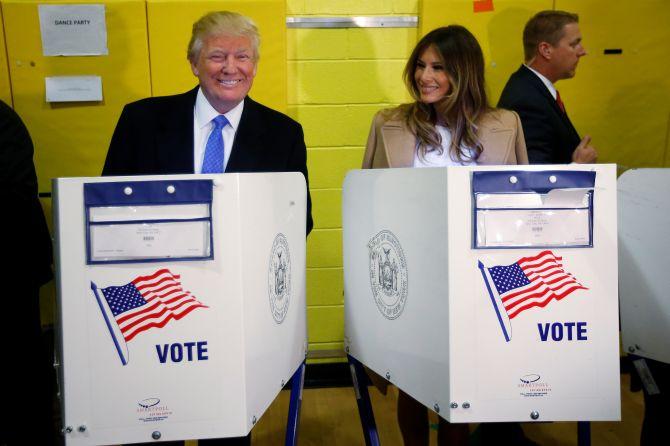 IMAGE: Republican presidential nominee Donald Trump and his wife Melania vote at PS 59 in New York. Photographs: Carlo Allegri/Reuters

Republican Donald Trump and Democrat Hillary Clinton cast their ballots on Tuesday in the United States Presidential elections 2016.
Trump, 70, cast his ballot in the basketball court of Public School 59 Beekman Hill International near his New York home. He was accompanied by wife Melania, daughter Ivanka and her husband Jared Kushner and the couple's daughter Arabella.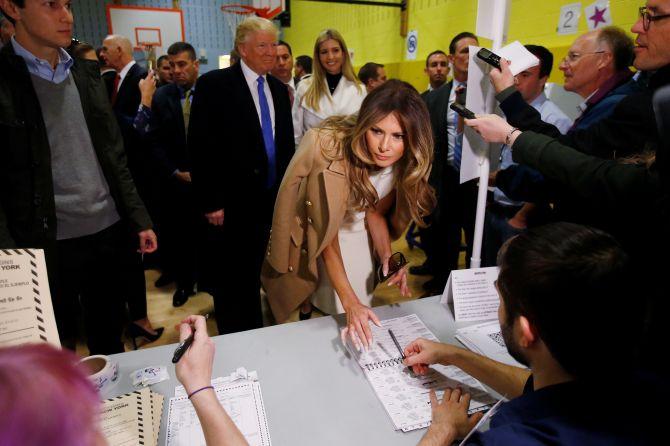 IMAGE: Melania signs her name before voting.
After casting his vote, he quipped to reporters that it was a 'tough decision' to make his voting choice.
"It's looking very good. Right now it's looking very good. It will be an interesting day. Thank you," he said.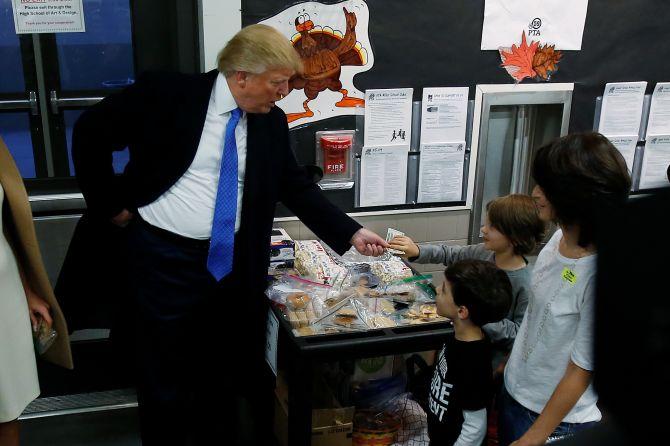 IMAGE: Trump hands money to a child at a bake sale table before voting.
When asked whether he would concede if the election were called for Clinton, he said, "We'll see what happens."
Outside the polling station, some people shouted 'New York hates you!'
IMAGE: US Democratic presidential nominee Hillary Clinton and her husband, former US President Bill Clinton, arrive to vote at the Grafflin Elementary School in Chappaqua, New York. Photograph:

Mike Segar/Reuters



Clinton, 69, was joined by husband Bill when she voted at an elementary school near their home in Chappaqua in New York state on Tuesday morning.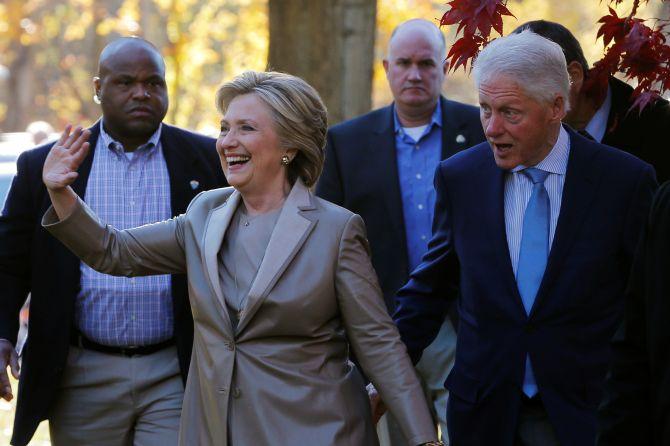 IMAGE: The Clintons greet supporters after casting their ballots. Photograph: Brian Snyder/Reuters

"I'm so happy, I'm just incredibly happy," said Clinton as she emerged from the polling station, shaking hands, chatting with her supporters amid chants of 'Madam President'.
Trump also said that if he is defeated by Clinton, it would be a 'tremendous waste of money, energy and time'.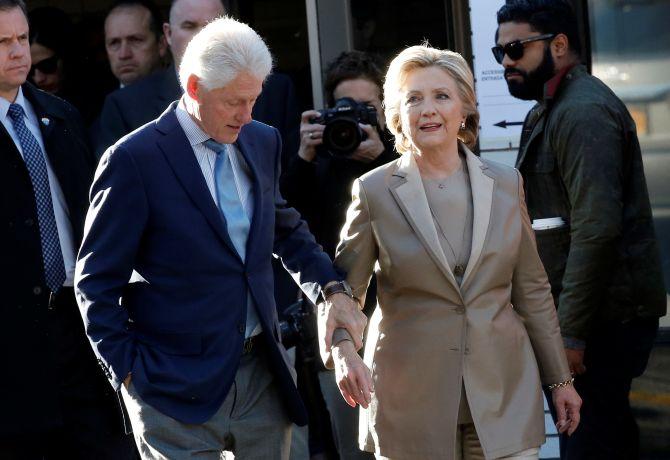 IMAGE: The Clintons leave after voting. Photograph: Mike Segar/Reuters

"I will not consider it great if I don't win," the 70-year-old Republican nominee said.
Trump said that the election campaign has 'been a beautiful process'. He said running for president has 'changed' him.