United States President-elect Donald Trump has arrived in Washington to kick off his inauguration festivities.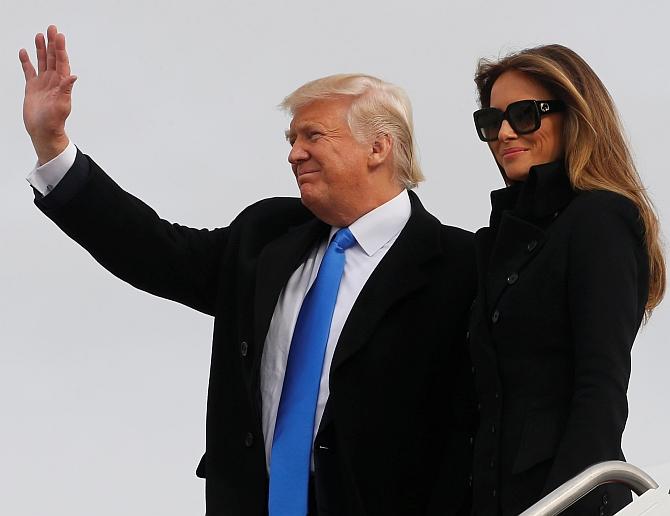 IMAGE: US President-elect Donald Trump and his wife Melania Trump arrive aboard a US Air Force jet at Joint Base Andrews, Maryland, US January 19. Photograph: Jonathan Ernst/Reuters
Trump arrived in a military plane, without media on board, just after noon Thursday at Maryland's Joint Base Andrews. He was joined by his wife, Melania, and other members of his family.
Joined by his family, wife Melania, daughter Ivanka and sons Don and Eric, Trump will take the oath of office as the leader of the world's most powerful nation on Friday as hundreds of thousands of people descend on Washington to both support and protest his inauguration.
Trump, who enters the White House with the promise of transforming US politics over the next four years, began his day with tweeting: "The journey begins and I will be working and fighting very hard to make it a great journey for the American people. I have no doubt that we will, together, MAKE AMERICA GREAT AGAIN!"
Trump's swearing-in on Friday noon, a date and hour set by the US Constitution, will be attended by his unsuccessful Democratic challenger Hillary Clinton, three former presidents and numerous other dignitaries.
The Republican billionaire has no previous political or military experience and has never held a public office before.
Following his election last November, his advisers had hinted that he could split his time between the White House and New York City, returning to his Trump Tower in Manhattan for the weekends.
His wife Melania, however, will stay on in New York with their 10-year-old son Barron as he finishes his school year in the city.
Trump's daughter Ivanka and her husband Jared Kushner will move to Washington with their children, as Kushner takes the role of senior adviser to the President.
IMAGE: Workers prepare for the inauguration of US President-Elect Donald Trump at the US Capitol in Washington, DC. Photograph: Brian Snyder/Reuters
The 35-year-old businessman-turned-political strategist played a key part in his father-in-law's presidential campaign.
Ivanka, touted to be the most powerful First Daughter, has said she plans to take time to settle her three young children into their new home and schools in Washington.
"When my father takes office as the 45th President of the United States of America, I will take a formal leave of absence from The Trump Organisation and my eponymous apparel and accessories brand," she had said. "I will no longer be involved with the management or operations of either company."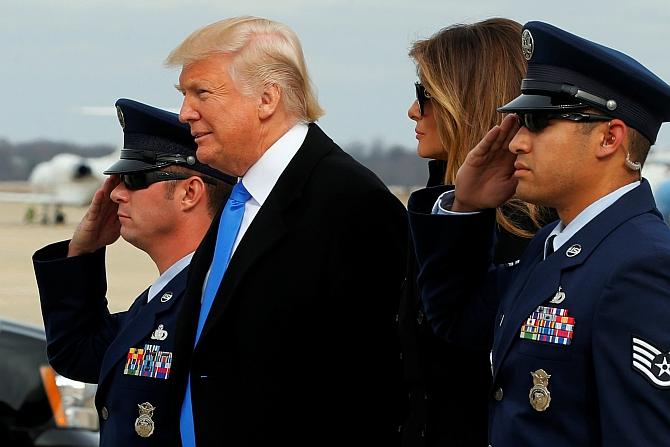 IMAGE: Sources close to Trump said that his inauguration speech will last about 20 minutes, the same as Obama's first inaugural in 2009. Photograph: Jonathan Ernst/Reuters
Just hours before Trump departed New York City, for the final time as a private citizen, he took to Twitter to quote a American Christian evangelist Reverend Franklin Graham to say he is not the one to have divided the country and pledged to work hard for the American people.
"'It wasn't Donald Trump that divided this country, this country has been divided for a long time!' Stated today by Reverend Franklin Graham," Trump tweeted quoting the evangelist and missionary.
After taking over from outgoing US President Barack Obama, Trump is widely expected to sign a number of decrees on Friday and then on Monday, on issues ranging from immigration, Obamacare to environment.
Sources close to Trump said that his inauguration speech will last about 20 minutes, the same as Obama's first inaugural in 2009.