A new billboard in Phoenix that depicts United States President Donald Trump as Hitler surrounded by dollar sign swastikas is raising some eyebrows.
Artist Karen Fiorito reportedly designed the billboard on Grand Avenue which shows Trump and red nuclear explosions surrounded by the hate symbols.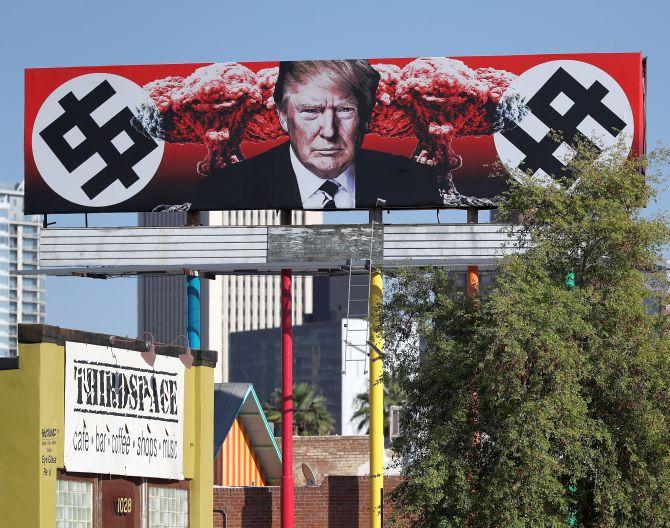 IMAGE: The billboard on Grand Avenue shows Trump with the swastikas. Photograph: Christian Petersen/Getty Images
Unsurprisingly, the post has attracted mixed reactions.
Some people thought this was a fair use of artistic expression and an important warning whereas others thought it was completely out of line and disrespectful to the 45th president.
"I think this is the greatest thing that I've seen in a long time," Mike Bolenbach told Fox 29.
"I think everything Donald Trump is doing is destroying America from the inside."
Nearby resident Jeff Whiteman had a completely different point of view.
"Take it to your house," he told the broadcaster.
"I live right here, I have to wake up to this every day. Disrespectful."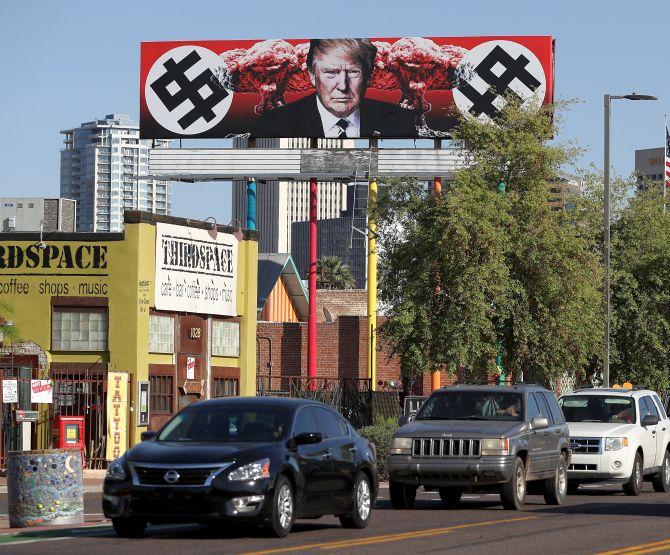 IMAGE: The artist behind the billboard said that the piece was an attempt to give people a voice. Photograph: Christian Petersen/Getty Images
The artist Karen Fiorito was quoted by Fox 29 saying there was "a lot of tension right now in the air and I'm trying to express that for a lot of people who feel they don't have a voice right now".
This isn't the first billboard she's done that's garnered some attention.
In 2004, she partnered with the owners of the billboard another time to create a billboard depicting then-President George W Bush and some of his top officials. It said "Dear America, We lied to you for your own good. Now trust us."
ALSO SEE: