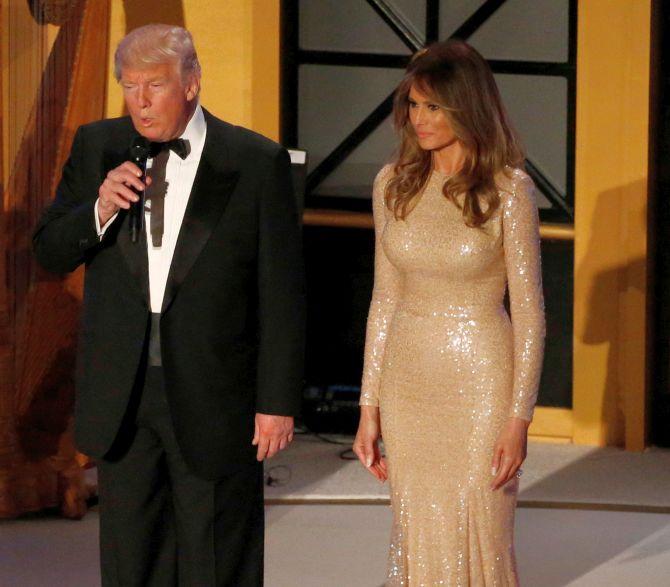 Even before assuming the United States President's office, Donald Trump has boasted about his election victory, his re-election prospects, re-prided himself for picking a "great" Cabinet and showered confidence on the capabilities of his son-in-law to broker peace in the volatile Middle East.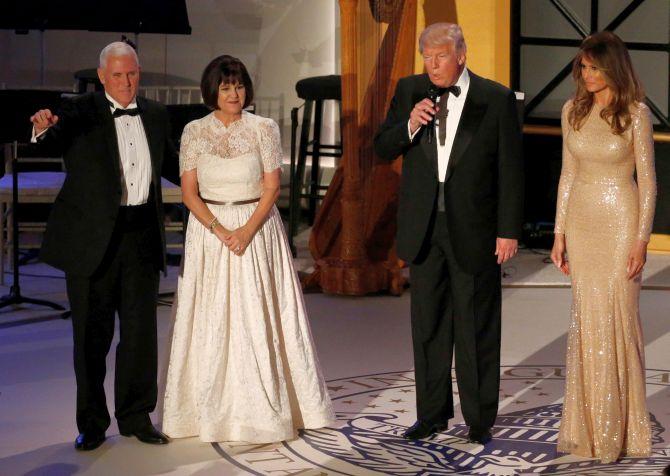 IMAGE: US President-elect Donald Trump and his wife Melania take the stage with Vice President-elect Mike Pence and his wife Karen at a pre-inauguration candlelight dinner with supporters at Union Station in Washington. Photograph: Jonathan Ernst/Reuters
"The entire country practically, other than a couple of little points, was red. That was some big victory. Records were set that haven't been beaten since Ronald Reagan from the Republican side," Trump said, using the colour to denote the counties and states the Republican party won in the election.
Addressing guests at the Campaign Donors Dinner in Union Station late Thursday evening, he said he will be re-elected after four years in the "old-fashioned way" after the nation sees how well his administration performed in the first term.
"The next time, four years from now, we are going to win the old-fashioned way. We are going to win because we did so well, because it was so overwhelming the thing that we did, because of how great our Cabinet has performed," Trump said, amid loud cheers and applause from the gathering, which included his family members, Vice President-elect Mike Pence and House Speaker Paul Ryan.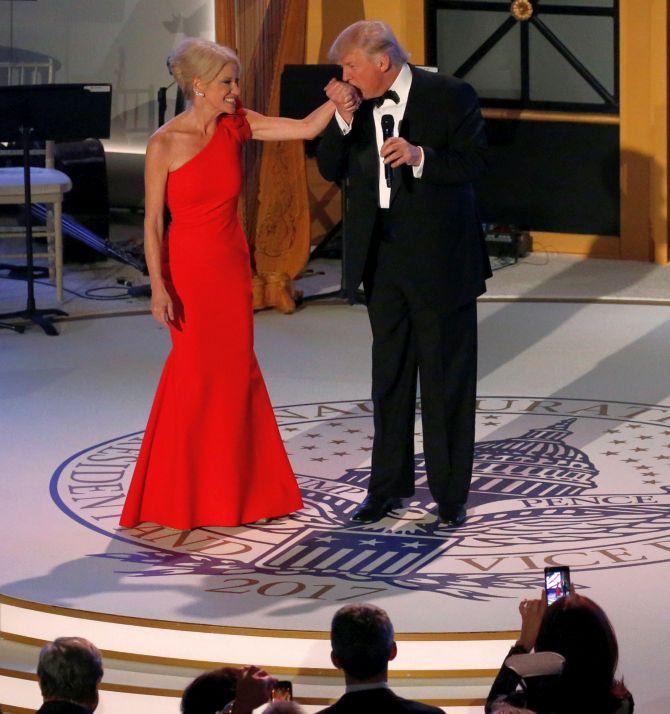 IMAGE: Trump kisses his campaign manger Kellyanne Conway's hand at a pre-inauguration candlelight dinner with donors. Photograph: Jonathan Ernst/Reuters
Trump also thanked his family for their support, giving a special shout-out to his daughter Ivanka, "a very special person who worked very hard and married very well."
He said he "stole" her husband Jared Kushner from her, choosing him to be his senior advisor in the White House.
"I sought of stole her husband. (Kushner) is so great. If you can't produce peace in the Middle East, nobody can. All my life I have been hearing that's the toughest deal in the world to make. I have a feeling Jared is going to do a great job," he said.
Giving another shout-out to his Cabinet nominees, Trump said "We have a Cabinet, I believe, the likes of which has never been appointed. There has never been a cabinet like this. I will say the other side is going absolutely crazy, they are going crazy," he said.
Trump said his Cabinet picks have been doing a "fantastic" job at their Senate confirmation hearings.
Referring to his pick for Defence Secretary General James Mattis, he said Mattis's was the shortest senatorial interview he has ever seen.
"I think they are afraid of him," he said.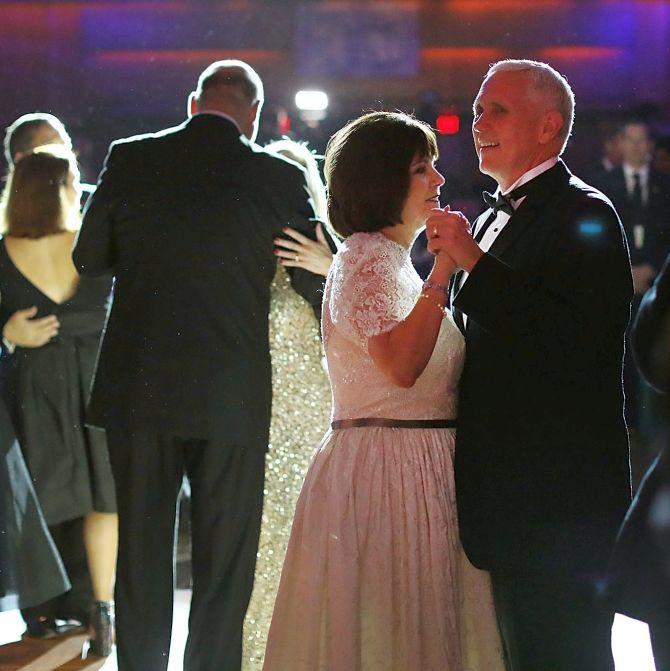 IMAGE: Vice President-elect Mike Pence and his wife Karen Pence take the first dance at the ball. Photograph: Spencer Platt/Getty Images
"The Cabinet members are doing really fantastic. They have really done a good job. I am very, very proud of my picks. There is not a pick that I don't love. If there was, I'll tell you right now," he said.
On his pick for Department of Homeland Security, Trump said General John Kelly "is a judge of our borders."
Filling in all his cabinet positions, he tapped former Governor Sonny Perdue as Secretary of Agriculture, describing him as "a great, great farmer" who loves the farms, knows everything about farming and about agriculture.
He said several "politically correct" people had met him seeking that job, but he asked them if they had "any experience with farms or agriculture" or if they had "ever seen a farm."
He reminded the crowd that border patrol agents and customs officials had endorsed him during the presidential election.
He also took a jab at American news network CNN and sarcastically at some donors who, he said, donated "very generously" the day after he won the presidential election.
Referring to cable TV network Fox, he said, "Fox has treated us very well. When I say well, I mean fairly."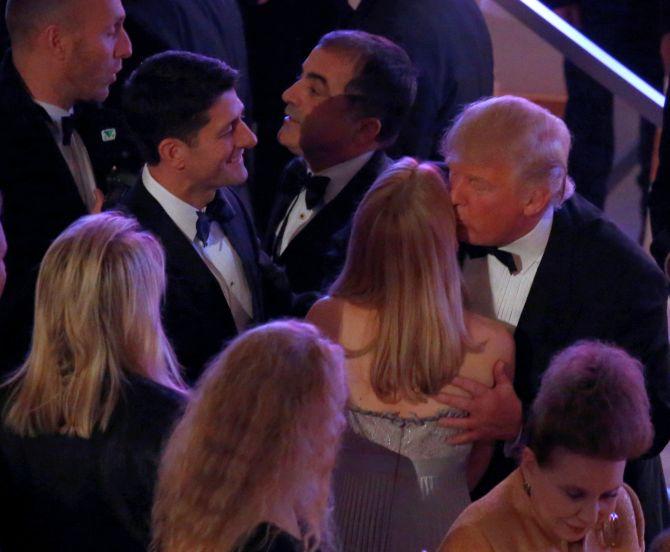 IMAGE: Trump greets US House Speaker Paul Ryan and other guests at a pre-inauguration candlelight dinner. Photograph: Jonathan Ernst/Reuters
Trump said his opponents predicted that his loss will be the "greatest" in political history but he "outworked" anybody "who ran for office." "This is a celebration of victory. We needed this victory," he said, adding that his party will register huge wins in elections in 2018 Senate elections.
Trump repeatedly asserted that there was a huge turnout at the various inaugural events scheduled during the day, from the Arlington Cemetery, where he laid a wreath in honour of the fallen solider to the concert at Lincoln Memorial.
"Tens of thousands of people were there at the Lincoln Memorial. (The crowd) went all the way to the back. They never had so many people and very few people ever had a concert at the Lincoln Memorial."
With predictions of rain during Trump's inauguration, he said he doesn't care.
"If it really pours, that's OK because people will realise it's my real hair. That's OK. Might be a mess but they are going to see it's my real hair," he said to laughter from the crowd.
Trump told the guests he wrote his inauguration speech.
Earlier, introducing Trump, Pence said in him the US will have a president with "strength, vision, determination and leadership qualities that will 'make America great again'".