Things are bound to get worse in New York state which is under the grip of a massive snow storm.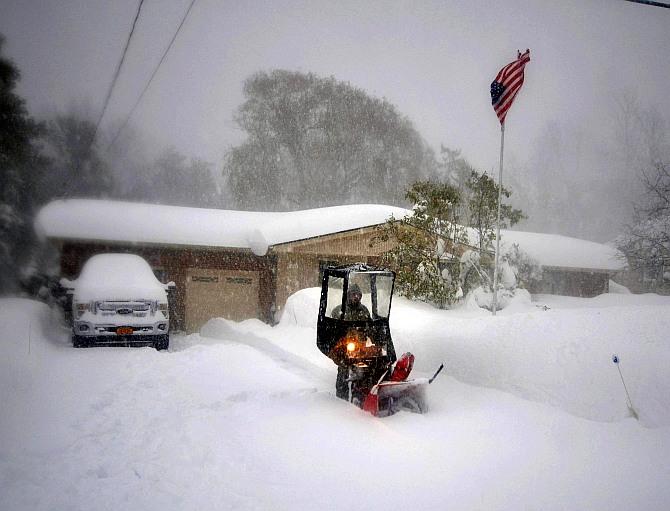 Norbert Schnorr attempts to remove some of the five feet of snow from a driveway on November 20, 2014 in the suburb of Lakeview, Buffalo, New York. Photograph: John Normile/Getty Images
According to the Independent, another wave of stormy weather is forecast to sweep across the city of Buffalo in New York state, bringing the total snowfall this week up to levels normally expected over an entire year.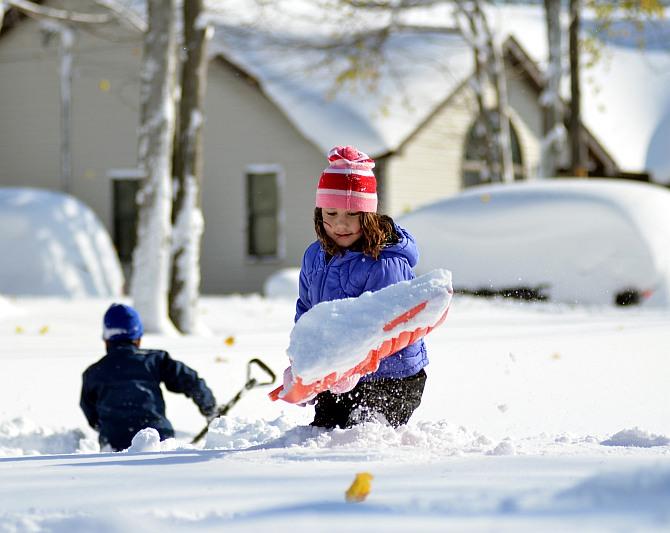 Olivia Ahmed makes her way through nearly five feet of snow on November 19, 2014 in the Lakeview neighborhood of Buffalo, New York. Photograph: John Normile/Getty Images
The new fall will undermine the efforts of many who started digging out of their homes, and another three feet (1 metre) of snow is forecast.
On top of the 5.5 feet (1.68 metres) already there in some places, it could become the heaviest 24-hour snowfall on record in the mainland, beating the 75.8 inches (192 centimeters), which fell at Silver Lake, Colorado, in 1921.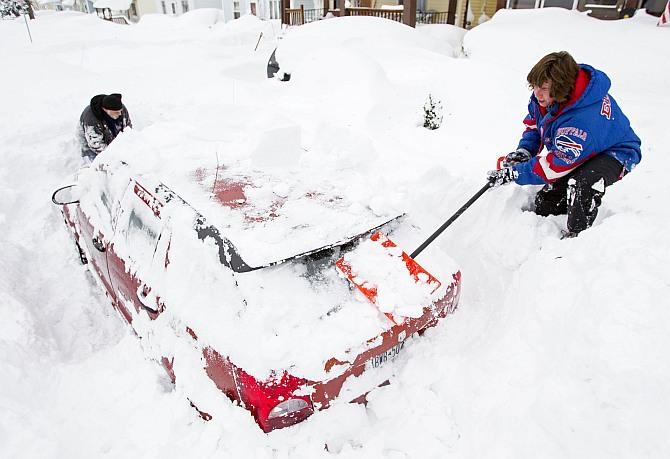 Lori and Bob Weishaar, shovel snow from around their vehicle following an autumn storm in Buffalo, New York November 20, 2014. Photograph: Aaron Lynett / Reuters
The death toll from a rare pre-winter snowstorm has risen to 10.
The US is currently in the grip of a particularly cold period of weather, that has seen temperatures dip below freezing in all 50 states -- even Hawaii.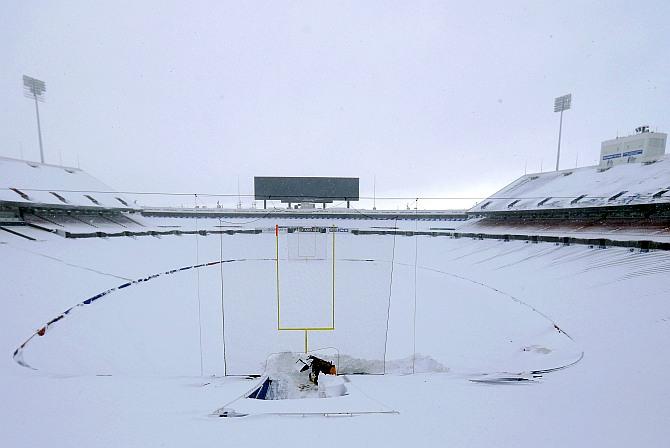 A general view of the football field and seating area of Ralph Wilson Stadium after a major snow storm hit the area. Photograph: Kevin Hoffman-USA TODAY Sports/Reuters
Driving was banned on many roads and 140 miles (225 km) of the New York State Thruway along Lake Erie and Lake Ontario were closed.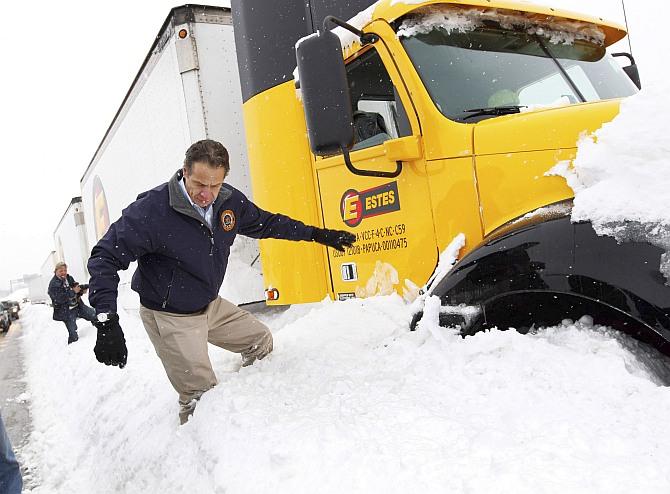 New York Governor Andrew Cuomo climbs over snow piled on the highway after talking with a stranded trucker on interstate I-190 while surveying an area in West Seneca, New York. Photograph: Sharon Cantillon/Buffalo News/Pool/Reuters
The disparity is typical of the so-called lake effect, which occurs when cold air moves across the relatively warm Great Lakes, drawing in moisture and dropping snowfall onshore, Thomas said. The phenomenon can create intense squalls but leave nearby locations virtually unscathed.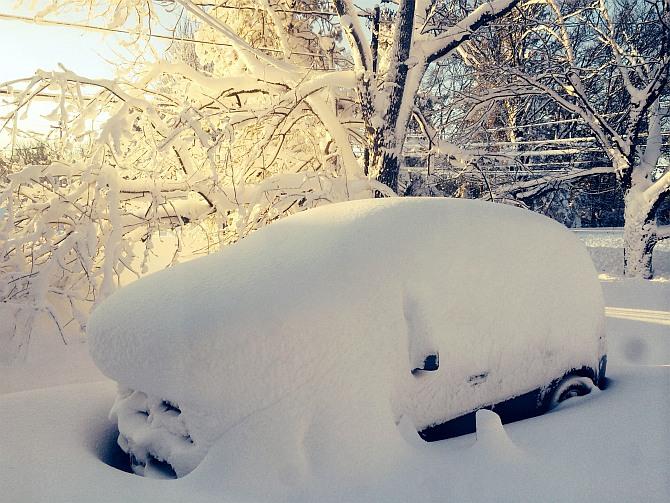 A car is covered in snow in Orchard Park outside of Buffalo, New York. Photograph: Judith Gros/Reuters
In south Buffalo, snowmobiles were being used to respond to emergency medical calls and rescue stranded motorists while some 5,000 tons of snow was removed from the area, Buffalo Mayor Byron Brown said at a news conference.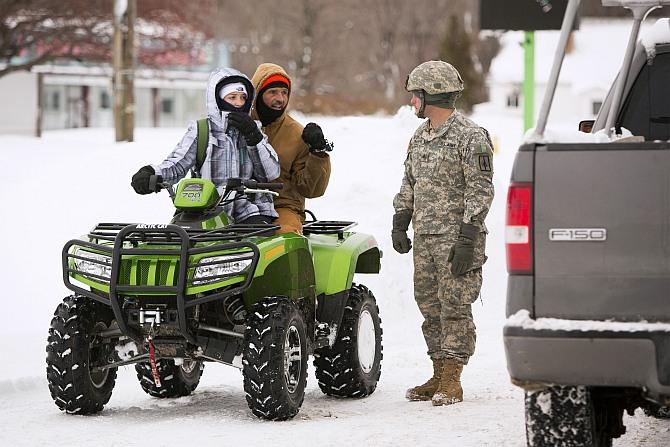 People on an all terrain vehicle talk with a member of the New York National Guard in the town of Cheektowaga near Buffalo, New York, November 20, 2014. Photograph: Lindsay DeDario/Reuters
New York Governor Andrew Cuomo has already declared a state of emergency for 10 counties, deploying National Guard troops to help residents.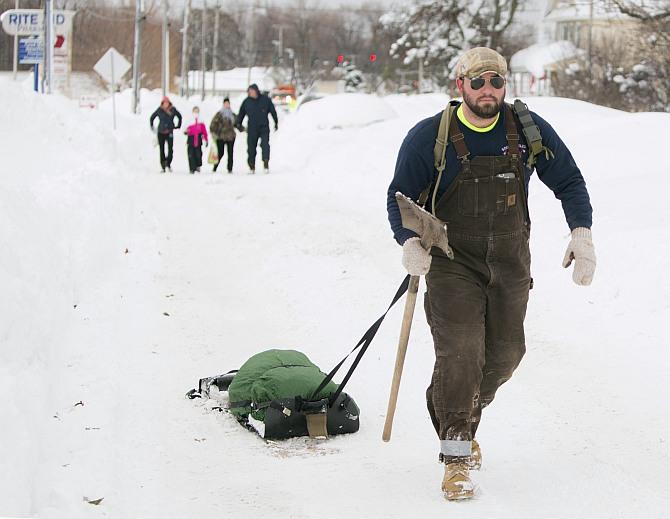 Mark Wilson pulls a sled full of groceries after a trip to the store in the town of West Seneca near Buffalo, New York, November 20, 2014. Photograph: Lindsay DeDario/Reuters