States across America are beginning the process of digging their way out of record-breaking snowfall on Monday after Winter Storm Jonas battered the nation's East Coast, wreaking havoc on millions and turning major cities into ghost towns.
Almost all areas hit by the storm will get to enjoy above-freezing temperatures and sunlight as the storm has headed out to sea, which should aid with clean-up in some states but in others lead to problems with flooding and ice once temperatures dip below freezing later in the evening.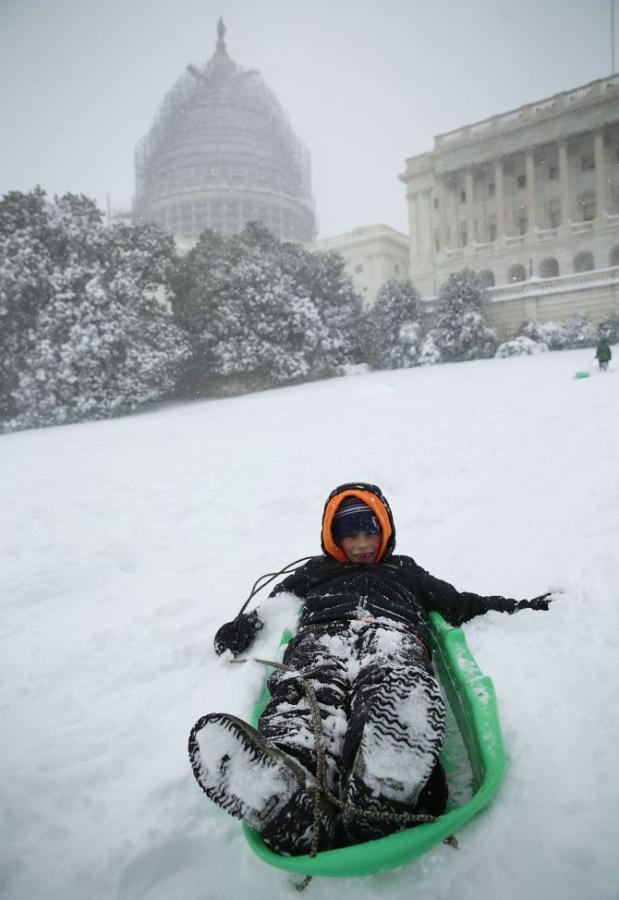 An eight-year-old sleds on the West Front Lawn of the US Capitol in Washington, DC. Children and adults alike enjoyed themselves after Congress officially lifted the decades-old ban that forbid sledding down Capitol Hill. Photograph: Alex Wong/Getty Images
The sun came out, travel bans slowly lifted, and the great dig-out of 2016 was in full force across much of the East after a brutal, record-setting snowstorm paralyzed much of the region.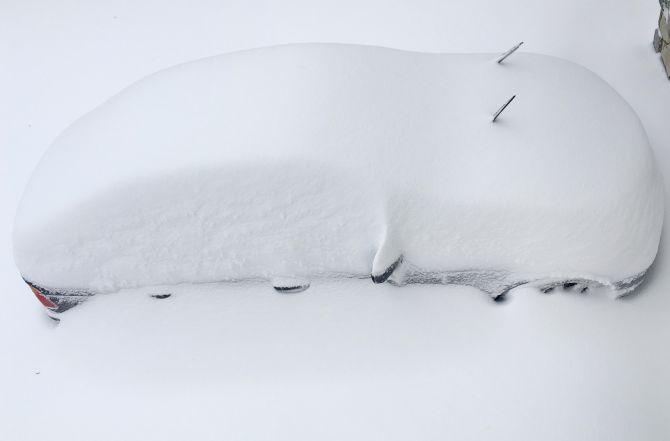 Can you spot the car? Yes, that's a vehicle being snowed in after a record blizzard hit the entire east coast. Photograph: Hyungwon Kang/Reuters
This has been the second biggest blizzard since 1869 for the Big Apple where 26.8 inches of snow was reported in Central Park and a record snowfall in Baltimore where residents got 29 inches of the white stuff. Glengary, West Virginia, topped the charts for the East Coast blizzard with an astonishing 40 inches of snowfall.

Washington, DC's Metro transit system is expected to reopen on a limited basis Monday morning. The region's airports are stuggling to handle traffic, and more than 12,900 flights have been cancelled.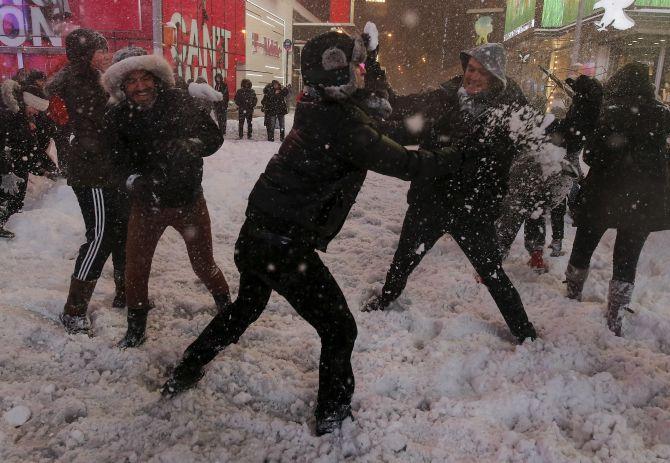 Dozens of people take part in an impromptu snow ball fight during a snow storm in Times Square in the Manhattan. Times Square, usually a bustling part of the city resembled a ghost town as cars and traffic were off the streets owing to the storm. Photograph: Carlo Allegri/Reuters
DC Mayor Muriel Bowser also announced that city schools and government would be closed Monday.
During the storm, the usually bustling New York City looked more like a ghost town, whereas in Washington, monuments that would typically be busy with tourists stood vacant.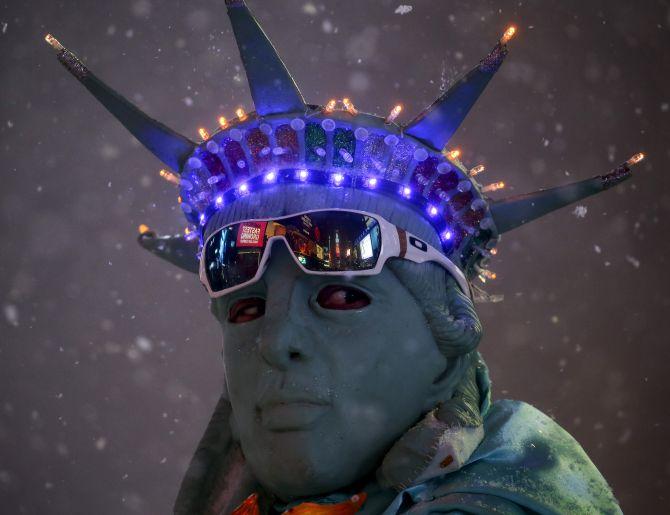 A man is seen posing as the Statue of Liberty during a snow storm in Times Square. Photograph: Carlo Allegri/Reuters
Airports in New York City, Philadelphia and Baltimore were resuming very limited service Sunday. The major airlines intended to resume service at all airports throughout the region by Monday.
Along with clearing snow and ice from their own facilities and equipment, airlines and train operators were dealing with how to get all their snowbound employees to work.
A resident shovels snow away from the entrance to his home in Union City, New Jersey, across the Hudson River from Midtown Manhattan. Photograph: Rickey Rogers/Reuters
Several seaside resort towns in New Jersey were temporarily isolated by close-to-freezing flood waters when the tide rushed in on Saturday, which hampered local firefighters in one town as they battled a restaurant blaze. As a result of the snow and flooding in the state 100,000 homes were left without power.
A man uses a sweeper to clear snow from in front of the Supreme Court after a major winter storm swept over Washington. . The National Weather Service said 17.8 inches (45.2 cm) fell in Washington, tying as the fourth-largest snowfall in the city's history. Photograph: Joshua Roberts/Reuters
The death toll has reached 29 -- with most people dying of heart attacks while shovelling snow or unknowingly inhaled carbon monoxide while inside their cars, officials said.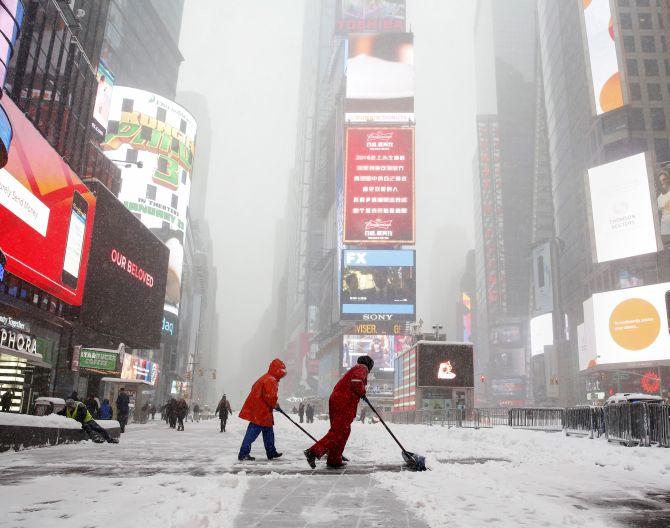 Workers shovel snow during a snowstorm at Times Square in the Manhattan borough of New York. Photograph: Shannon Stapleton/Reuters
A person walks a dog through blizzard-like conditions in Brooklyn. Multiple deaths from traffic accidents have already been reported as the storm makes its way up the coast. Photograph: Spencer Platt/Getty Images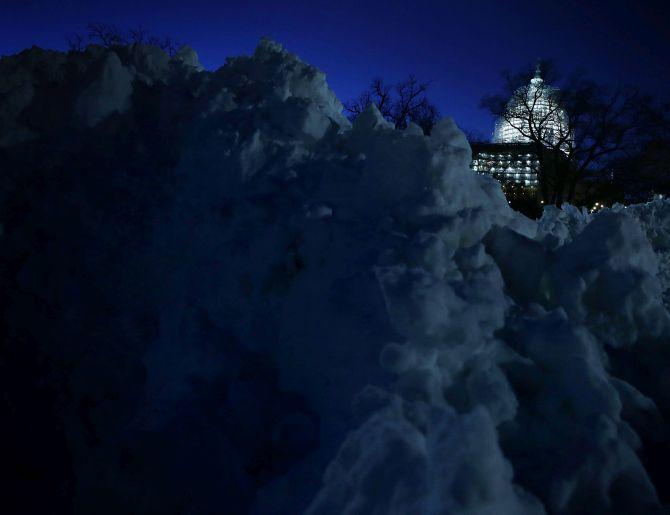 Piles of snow are seen in front of the US Capitol in Washington, DC. The blizzard that has brought massive snowfall and a standstill to the East Coast and the Mid Atlantic region has stopped. Photograph: Alex Wong/Getty Images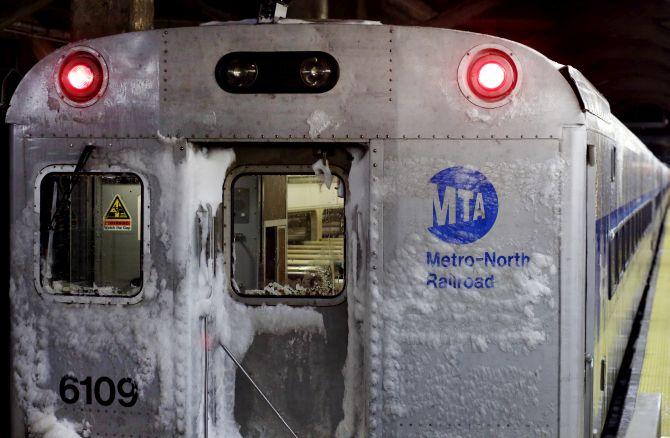 A Metro-North train, covered in snow, is seen at Grand Central Terminal in New York. Photograph: Yana Paskova/Getty Images