The last day of the budget session in the Delhi assembly witnessed uproar on Tuesday when Bharatiya Janata Party MLAs broke mikes and tore up the value-added tax bill.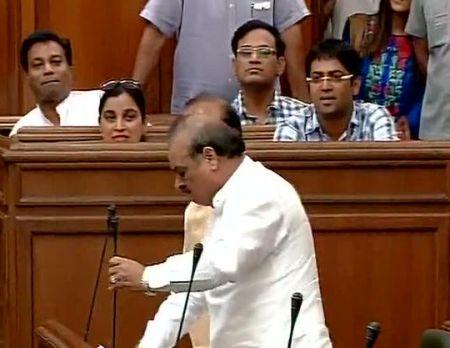 BJP MLA OP Sharma alleged that the speaker had prevented him from speaking and hence broke the mike. Photograph: ANI/Twitter
Bharatiya Janata Party MLA O P Sharma on Tuesday broke a mike at his table alleging that it had been turned off to prevent him from speaking.
An upset Sharma said he was not being allowed to speak in the assembly after the speaker ordered that his mike be switched off.
"Our mikes are switched off whenever we try to raise our question in the assembly. This is not acceptable," Gupta said.
The BJP legislator walked out of the assembly after breaking the mike and returned after sometime. Sharma has been marshalled twice out of the assembly during the Budget session, which started on June 23.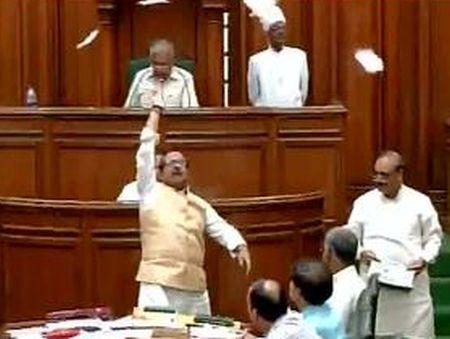 Vijender Gupta from the BJP after tearing the VAT amendment papers said he had no choice. Photograph: ANI/Twitter
Meanwhile, BJP's Vijender Gupt tore off the VAT amendment papers in the Delhi assembly. The bill increases the upper limit of VAT from 20 per cent to 30 per cent.
"We were not allowed an opportunity to speak. When we asked them to stop, they started voting. Since this was a decision against the public and a betrayal to the people, we were compelled. They are trying to increase prices of petrol, petrol products and soft drinks, this will increase inflation in Delhi," Gupta said.
"We wanted a healthy discussion but they were making anti-people decisions. That is why we had to protest," he added.
-- With inputs from Agencies