With an intention of pinching the opposition, Prime Minister Narendra Modi on Sunday launched a verbal attack, saying the Congress, Samajwadi Party and Bahujan Samaj Party believe in 'kuch ka saath kuch ka vikas'.


"Our motto is sabka saath sabka vikas, but Congress, SP and BSP have different culture of politics that believes in kuch ka saath kuch ka vikas," said Prime Minister Modi while addressing a rally in Varanasi after concluding his roadshow.

Hinting out at the fear of the three major political parties -- Congress, SP and BSP, Prime Minister Modi said all the three came together following his announcement to demonetise high-denomination currency notes of Rs 500 and Rs 1,000 on November 8 last year.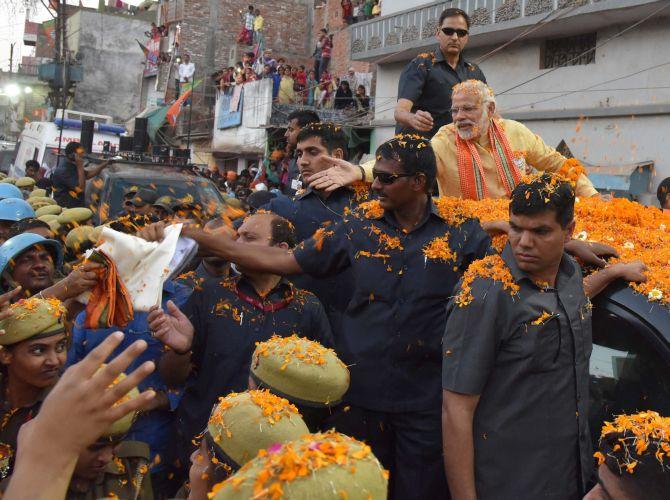 "When on November 8, Modi said 'My dear friends', all the three (BSP, SP, Congress) came together. The three always indulge in mud-slinging but united on the issue of demonetisation," he added.

Hitting out at the current ruling dispensation, the PM said development is being unable to take place in East Uttar Pradesh as the region has everything but a good government.

Continuing his tirade against the Samajwadi Party, Prime Minister Modi said the honest will not be acknowledged till the time the present government remains in power.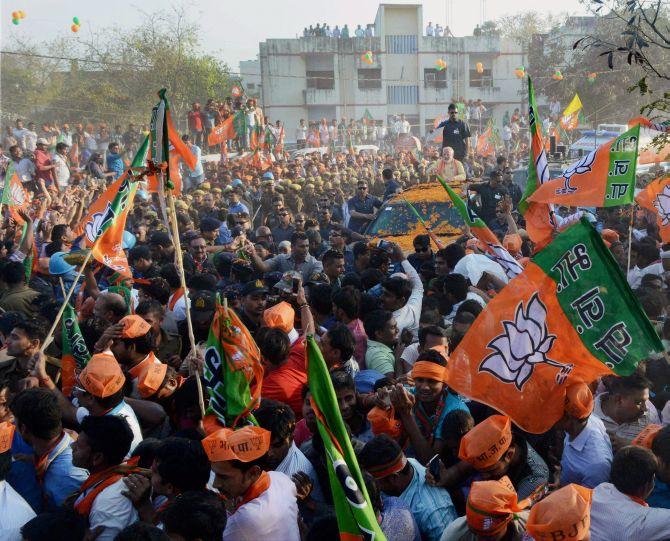 "I want to tell all honest citizens -- no one will ever trouble you under our government. The honest will be awarded," he said.

In a veiled attack on the Congress, the PM said the country has been looted by politicians and babus.

"For the first time in India, a government has come which is trusted by the country," he said.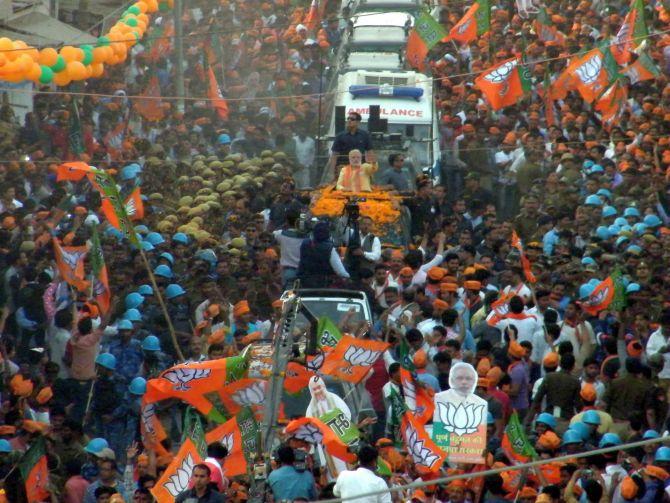 \
Prime Minister Modi lambasted the former government (Congress) for questioning the surgical strike and delaying the approval of the One Rank One Pension scheme for the past 40 years.

"Look at the misfortune of the country that it has such politicians and political parties which demand for proof of the surgical strike," he added.

Prime Minister Modi earlier in the day held a second roadshow starting from Pandeypur Chauraha which concluded at the Mahatma Gandhi Kashi Vidyapith.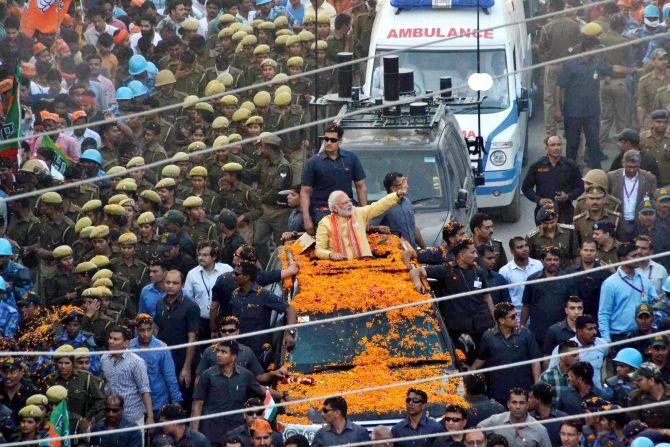 Photographs: PTI Photos