An Uttar Pradesh police officer was at the receiving end of a social media backlash after his video showering petals on Kanwariyas from a chopper went viral.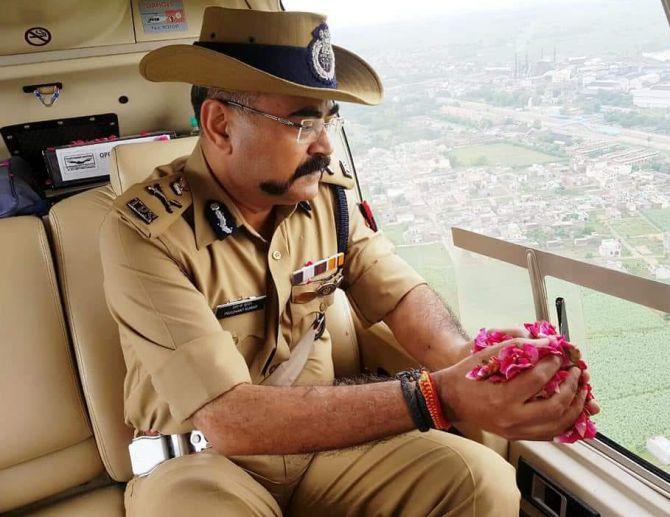 Several Twitter and Facebook users slammed the exercise as a waste of public money.
In the video, Additional Director General of Uttar Pradesh Police - Meerut Zone, Prashant Kumar and Commissioner Chandra Prakash Tripathi were seen showering rose petals on Kanwariyas below while on surveillance duty in a helicopter.
The cops were ostensibly surveying the deployment of troops after Kanwariyas turned violent in Delhi and smashed windows of a car with the passengers still inside.
Even though policemen were present, they did little to stop the mayhem.
The incident took place in the Moti Nagar area of Delhi.
"Who foots the helicopter bill for this? Why is public money wasted like this? Feel sorry for cops who bend over backwards to please their political masters," a Twitter user wrote.
However, Kumar defended his gesture, saying it should not be given a religious hue.
"No religious angle should be given to this; flowers are used to welcome people. Administration respects all religions and actively takes part, even in Gurupurab, Eid, Bakrid or Jain festivals," he said.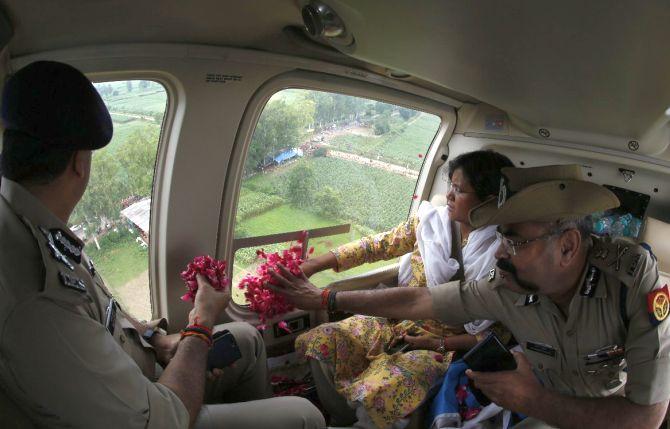 The plan to shower rose petals on Kanwariyas was announced by the Meerut district magistrate Anil Dhingra on July 25 to keep Kanwariyas in 'good spirits'.
The UP government has undertaken several measures to facilitate Kanwariyas along the route of the annual yatra as they fetch water from Ganges for Lord Shiva.
In fact, the cops were actually following in UP Chief Minister Yogi Adityanath's lead.
On July 28, the CM took an aerial survey of the yatra route during the first half of the Shrawan month.
He also showered flower petals from his chopper on the Kanwarias.
They responded by prostrating on the highway as the chopper passed and raised slogans in praise of the chief minister.
Photographs: ANI