Gunmen and suicide bombers on Wednesday launched twin assaults on Iran's parliament and the tomb of the country's revolutionary founder Ayatollah Ruhollah Khomeini in Tehran, leaving at least 12 people dead and scores of others injured.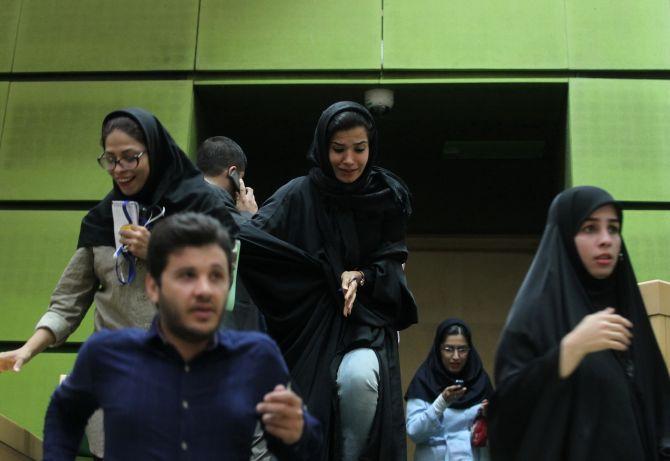 IMAGE: People are seen running out of the parliament. Photograph: TIMA via Reuters
The Islamic State group claimed responsibility for these attacks, marking the first time the Sunni extremists have taken responsibility for an assault in Shiite-majority Iran.
Assailants armed with Kalashnikov rifles stormed the parliament building. One of the attackers later blew himself up inside, where a session had been in progress, according to a statement carried by Iran's state TV.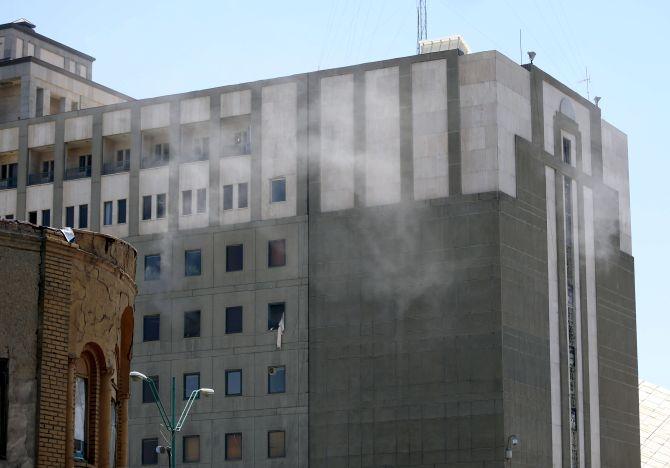 IMAGE: Smoke is seen during the attack on the Iranian Parliament in central Tehran. Photograph: Omid Vahabzadeh/TIMA via
Deputy Interior Minister Mohammad Hossein Zolfaghari told Iran's state TV the apparently male attackers wore women's attire.
Later, a news agency reported that the siege had ended with four of the attackers killed.
Soon after the parliament attack, a suicide bomber and other assailants targeted the shrine of Ayatollah Ruhollah Khomeini located just outside the capital, Tehran, according to Iran's official state broadcaster. It said a security guard was killed and that one of the attackers was killed by security guards. A woman was also arrested.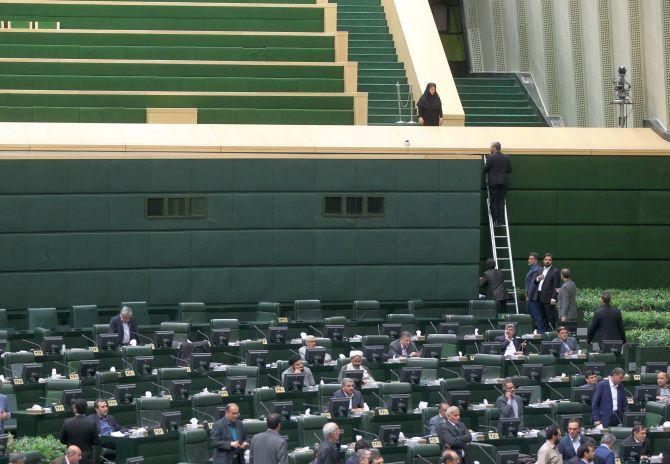 IMAGE: Iranian lawmakers inside the parliament during the attack. Photograph: TIMA via Reuters
Khomeini, who died in 1989, is a towering figure in Iran. He led the 1979 Islamic revolution that toppled the Western- backed shah and became Iran's first supreme leader.
Mizan Online, an Iranian state-run news website, quoting the head of Iran's emergency department, said 12 people were killed and 42 wounded in the two attacks.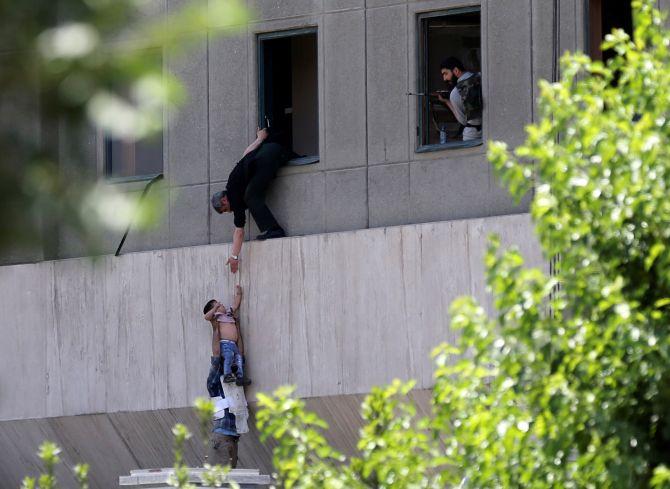 IMAGE: A boy is evacuated during the attack on the parliament. Photograph: Omid Vahabzadeh/TIMA via
The IS group's Aamaq news agency released a 24-second video purportedly shot inside the parliament building during the siege. The video, circulated online, shows a gunman and a bloody, lifeless body of a man lying on the ground next to a desk.
External Affairs Minister Sushma Swaraj spoke to Iranian Foreign Minister Javad Zarif and condemned the terrorist attacks on institutions of democracy and spirituality in Tehran.
External affairs ministry said that in a pre-scheduled telephone conversation, the minister offered sincere condolences on loss of innocent lives and expressed solidarity with the people and the government of Iran.