At least 28 people have been killed and 61 others injured in an explosion hit military vehicles at an intersection in the Turkish capital of Ankara, officials said.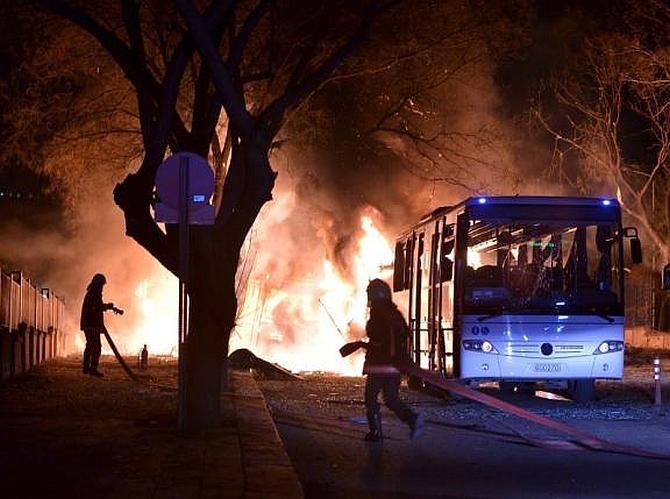 The explosion went off in the administrative heart of Turkey's capital Ankara. Photograph Reuters
Terming the explosion as a terror strike, the Turkish military condemned the "contemptible and dastardly" attack.
The explosion hit three military vehicles and a private vehicle in central Ankara, near Turkish parliament buildings, Turkey's semiofficial Anadolu news agency reported, citing Ankara Governor Mehmet Kiliclar. The vehicles were stopped for a traffic light at the time, the military said.
Authorities believe a bomb-laden vehicle caused the explosion, Kiliclar said, according to Anadolu.
Plumes of smoke were seen rising over the area and the powerful blast was heard all over the city, sending residents to their balconies in panic. Television footage showed an intense fire around a burned-out bus and emergency vehicles rushing to the scene.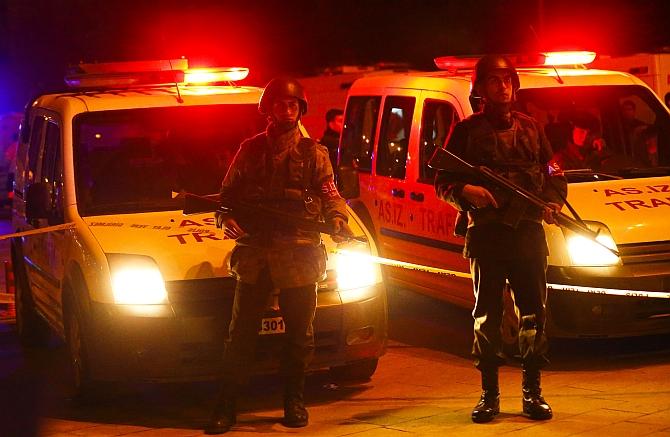 Turkish soldiers stand guard near the site of the explosion. Photograph: Umit Bektas/Reuters
There was no immediate claim of responsibility. Security sources told Reuters that "initial signs [indicated] that militants from Turkey's outlawed Kurdistan Workers Party (PKK) were behind the Ankara bombing on Wednesday that killed at least 18 people". This has not been confirmed.
Turkey has suffered a string of bloody terrorist attacks on its soil in the past 18 months, most of which were blamed on Islamic State militants. Other security sources told the news agency that Isis was behind the attack on the military convoy in Ankara.
Turkish police cordoned off the area and Turkey's broadcasting agency, RTÜK, issued a ban on showing footage or graphic images of the dead and injured.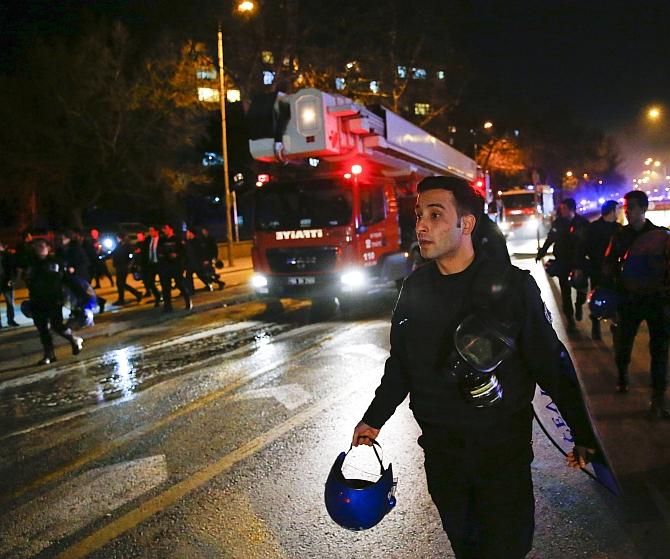 Cars of emergency services arrive after the explosion. Photograph: Umit Bektas/Reuters
Turkey's deputy prime minister says President Recep Tayyip Erdogan has canceled a planned visit to Azerbaijan following the deadly attack in the country's capital.
Numan Kurtulmus says Erdogan was due in Baku on Thursday for talks with his Azerbaijani counterpart.
Prime Minister Ahmet Davutoglu also canceled a visit to Brussels due to the attack in Ankara Wednesday that killed at least 28 people and wounded 61 others.