The US President and First Lady were accorded a red carpet welcome in the Forbidden City.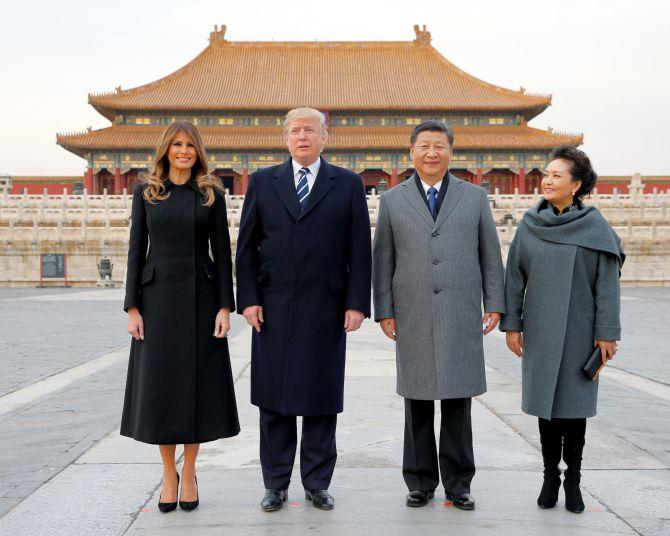 IMAGE: Trump

will be the first foreign leader to have an official dinner in the Forbidden City since the founding of the People's Republic in 1949.

Photograph: Jonathan Ernst/Reuters
United States President Donald Trump on Wednesday started his maiden visit to Beijing with both sides inking deals worth $9 billion as "King of China" Xi Jinping gave an imperial touch to the trip by hosting him at the iconic Forbidden city, home for successive Chinese emperors since 1420.
In a highly-choreographed event, Trump and his wife Melania were received by Xi and his spouse Peng Liyuan at the Forbidden City and entertained at the imperial museum palace, housing China's most treasured objects in its history spanning over thousands of years of Chinese culture.
Trump, who is in China on a three-day visit, was given a red carpet welcome on his arrival at the airport.
A traditional tea ceremony besides cultural shows like Peking Opera were also organised for the US president.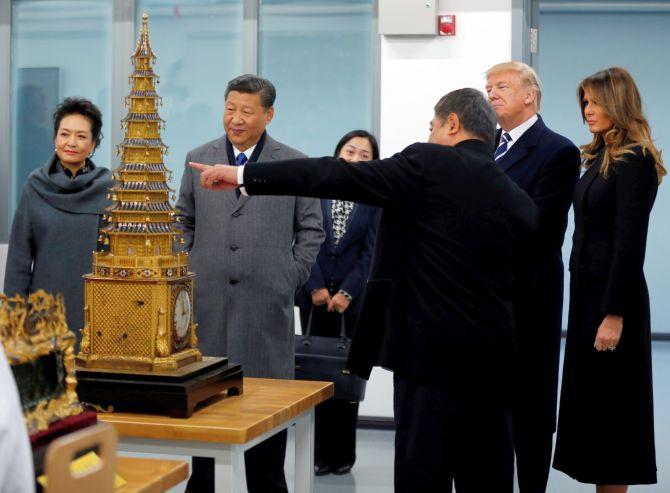 IMAGE: Trump and Chinese President Xi Jinping tour the Conservation Scientific Laboratory of the Forbidden City in Beijing. Photograph: Andy Wong/Pool/Reuters
Ahead of his visit, Trump, the first world leader to visit China after Xi kicked off his second term as the General Secretary of the ruling Communist Party, had acknowledged Xi's powerful status saying that he is the "king of China".
Terming his second tenure as "extraordinary elevation" by the CPC recently, Trump described Xi's elevation as something that had "really virtually never happened in China".
"He's a powerful man. I happen to think he's a very good person... Now some people might call him the king of China. But he's called president," Trump said.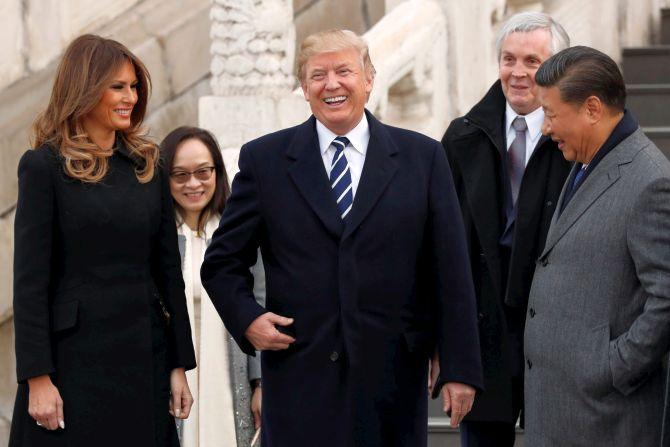 IMAGE: Ahead of his visit, Trump, the first world leader to visit China after Xi kicked off his second term as the General Secretary of the ruling Communist Party, had acknowledged Xi's powerful status saying that he is the "king of China". Photograph:

Jonathan Ernst/Reuters
Just as Xi entertained the Trumps in the vast empty imperial city, where the visitors were barred, US Commerce Secretary Wilbur Ross and China's vice-premier in charge of economic issues Wang Yang signed 19 deals worth about $9 billion to address Trump's concerns of over the massive $360 billion trade deficit.
Official media quoted Wang as saying that this is only the beginning and there will be more on Thursday when Xi and Trump hold their officials talks.
The US has been accusing China of violating international rules and norms by laying claims on the disputed South and East China seas. China claims sovereignty on almost all of the South China Sea which is disputed by Vietnam, the Philippines, Malaysia, Brunei and Taiwan.
Coming from a highly-surcharged visit to South Korea, where he warned North Korean dictator Kim Jong-un of dire consequences if he went ahead with the nuclear programme, Trump kicked off his China visit in his inimitable style accusing Beijing of not implementing United Nations Security Council sanctions against Pyongyang to restrict the nuclear and missile programmes.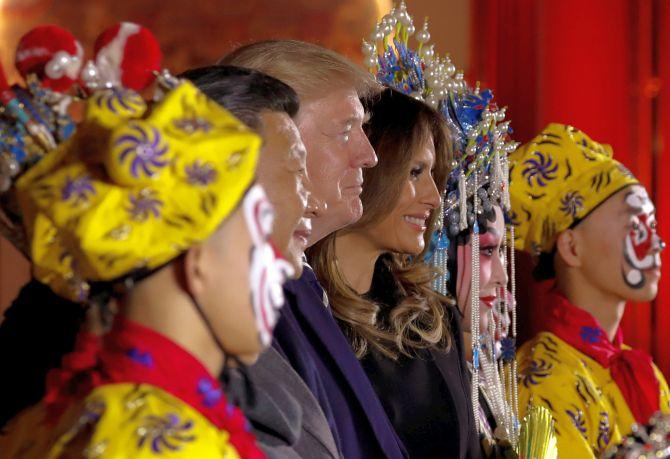 IMAGE: US President Donald Trump, first lady Melania and China's President Xi Jinping pose with opera performers at the Forbidden City in Beijing. Photograph: Jonathan Ernst/Reuters
As Trump flew to Beijing, a top US official told the media in his plane that China is not fully implementing the UNSC resolutions, a charge Beijing immediately denied.
"I think that if you look at the activity across that border, certainly there is still some trade taking place. There is still some financial links that exist that should not under those resolutions," the US official said.
Chinese Foreign Ministry spokesperson Hua Chunying refuted it, saying China is implementing the sanctions in the "most earnest and strict way", and Beijing will punish any violators.
"The outside world should not doubt China's resolve to follow through on UNSC resolutions," she asserted.
Trump will be extended a ceremonial welcome on Thursday at the Great Hall of the People followed by bilateral talks with President Xi. Later Trump would also take part in a business event followed by the joint media interaction.
He is scheduled to meet Premier Li Keqiang and attend a reception followed by a state dinner and cultural performance.
Trump's visit is expected to be a "historic" success with joint efforts being made by the two nations, senior diplomats of both sides said.
It will provide opportunities for Chinese President Xi and Trump to exchange in-depth views on issues that concern both sides, foreign ministry spokeswoman Hua had said on Tuesday.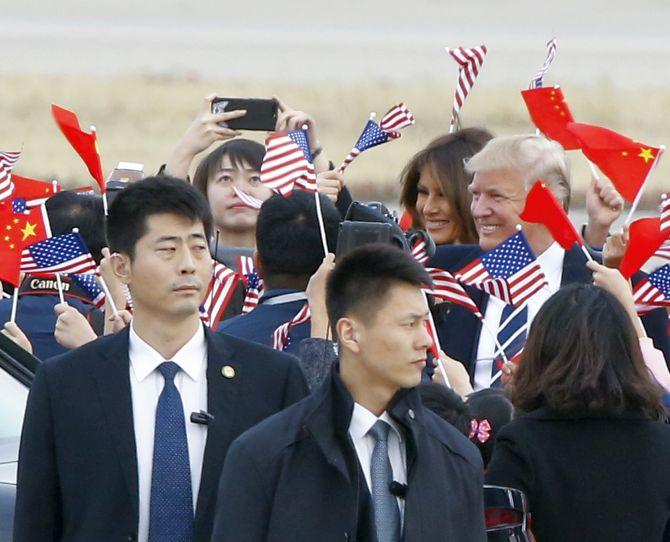 IMAGE: Donald Trump and Melani Trump were all smiles as they were given a warm welcome in Beijing after finishing their South Korea visit. Photograph: Thomas Peter-Pool/Getty Images
The visit is of great significance in pushing forward the steady development of Sino-US relations in the new era and promoting the prosperity of not only the Asia-Pacific region but also the world, she said, explaining why China was extending "state visit plus" reception for Trump.
US ambassador to China Terry Branstad said the meeting between the two presidents will be helpful in resolving "thorny issues".
"There is a lot of excitement and feelings that this could be very historic and significant for the Trump-Xi meeting here," he told official media.
"I think the chemistry between the two leaders is good, and that bodes well. If the two leaders can get along well and work out some of the differences, hopefully that can help the rest of us to work things out well," he said.
Since Trump took office in January, the two leaders have maintained close contact. They already have had two face-to-face meetings and eight phone conversations.
Chinese Ambassador to the US Cui Tiankai said last week that China will welcome Trump with arrangements constituting a "state visit-plus".
© Copyright 2021 PTI. All rights reserved. Republication or redistribution of PTI content, including by framing or similar means, is expressly prohibited without the prior written consent.