United States President Donald Trump and German Chancellor Angela Merkel shook hands at the G20 Summit in Hamburg, Germany, on Thursday -- less than four months after the president notably appeared to snub Merkel's request for a handshake during their first face-to-face meeting at the White House in March.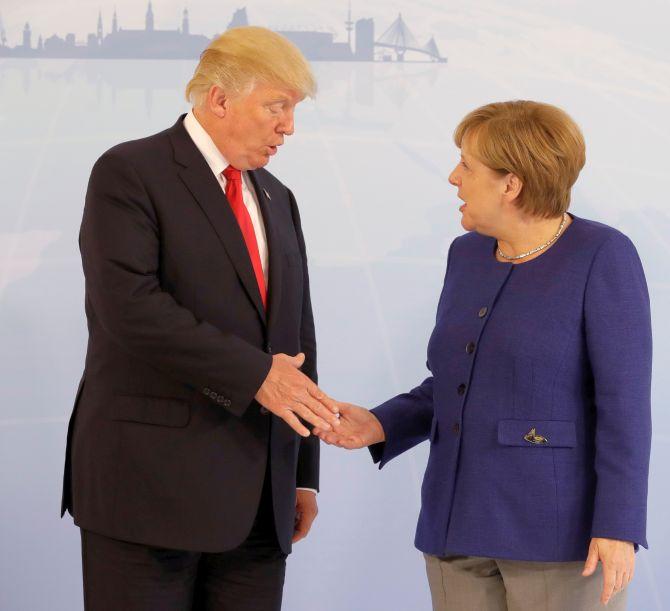 IMAGE: German Chancellor Angela Merkel showed she meant business when she thrusted out her hand at United States President Donald Trump for a handshake. Photograph:

Michael Kappeler/Pool/Reuters
Merkel shot her hand out toward Trump on Thursday as they stood before a G20 backdrop so that it was clear what she wanted. He did not botch the greeting again.
Trump arrived in Germany just before the meet and greet for an intense two-day stretch at the G20 summit that will put his diplomatic prowess to the ultimate test as he sits down with Russia's president, a former KGB spy, for the first time.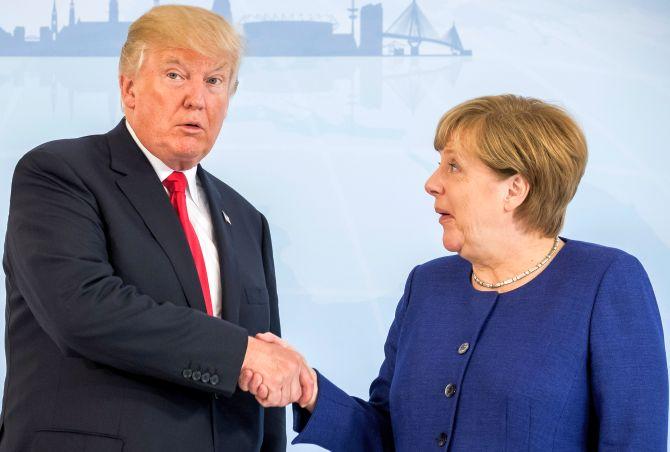 IMAGE: Merkel seems to be thrilled to bits that Trump finally gave in and shook hands with her! Doesn't her expression say it all? Photograph: Michael Kappeler/Pool/Reuters
The meeting with Merkel could turn terse as they speak about Trump's dramatic exit from the international climate accord known as the Paris agreement shortly after he and Merkel were last together and trade relations.

Trump made his way to Hamburg from Warsaw, Poland where he praised the nation's "will to survive" because they "have never, ever forgotten who they are".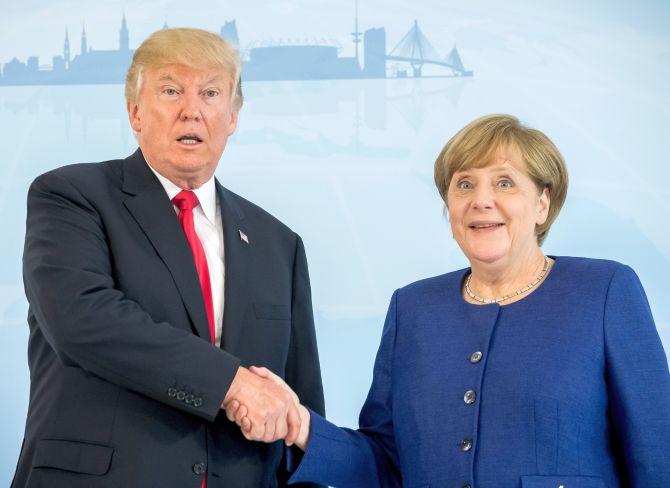 IMAGE: Merkel does look surprised that Trump known for the most 'awkward' handshakes didn't botch it up. Photograph: Matthias Schrader/Pool/Reuters
"The Polish experience reminds us -- the defence of the West ultimately rests not only on means but also on the will of its people to prevail," Trump said.
"Your oppressors tried to break you, but Poland could not be broken," he said.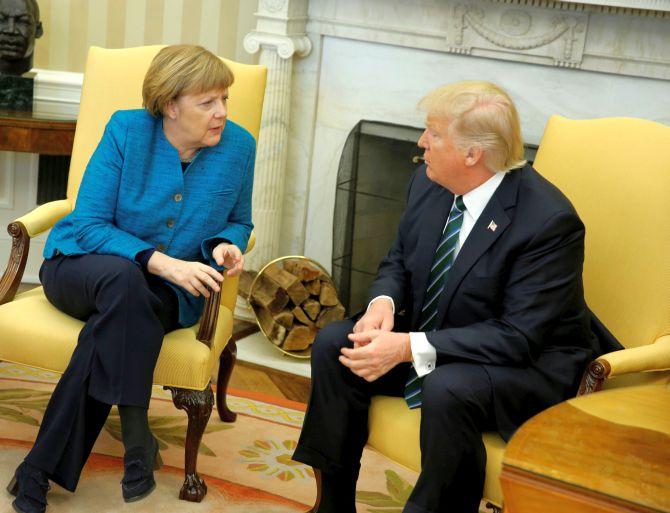 IMAGE: Back in March when Merkel visited the White House, Trump ignored her request for a handshake, which shocked the media and Merkel herself. A meme of that moment quickly went viral and the US president quickly came to be known for his wierd handshakes.
Photograph: Jonathan Ernst/Reuters
Back in March, a meeting at the White House in March went awry when the US president missed several verbal and situational cues and did not offer Merkel his hand.