Bharatiya Janata Party national president Amit Shah on Sunday accused the ruling Communist Party of India-Marxist in Tripura of "corruption and malpractices", saying the state did not witness development despite sufficient funds released by the Centre.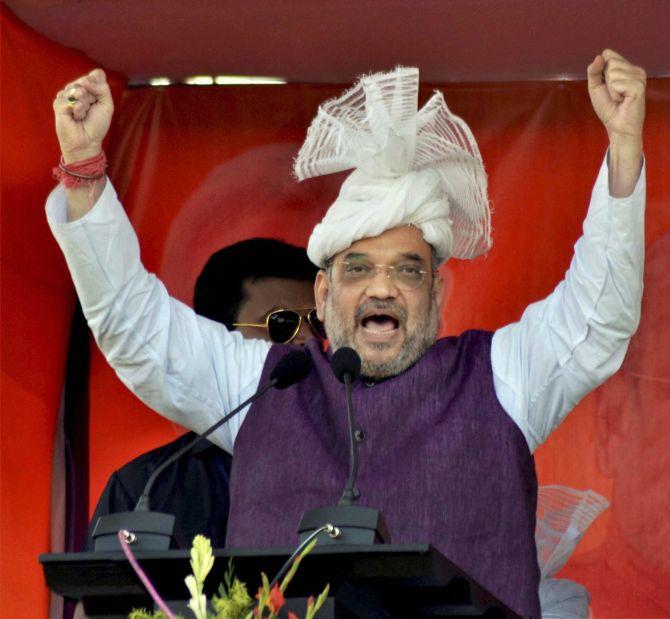 "While Tripura received Rs 10,000 crore during the United Progressive Alliance-II regime, the Narendra Modi government has released over Rs 25,000 crore during the past three years," he said at a rally in Kumarghat in Unakoti district.
Shah is on a two-day visit to Marxist-ruled Tripura to strengthen the party base in the north eastern state.
"Tripura remained deprived during Congress-led UPA regime as the Communists had an understanding with the Congress," the BJP leader said.
Attacking the ruling party leaders for their alleged involvement in the Rose Valley chit fund scam, Shah said, "If a CBI probe is ordered into it, money will be found from the homes of these leaders. Chief Minister Manik Sarkar must order a CBI probe on moral grounds."
Shah also promised that the BJP would implement recommendations of the seventh central pay commission for state government employees if voted to power.
"The first cabinet meeting will pass the decision for the welfare of the employees and pensioners," he said.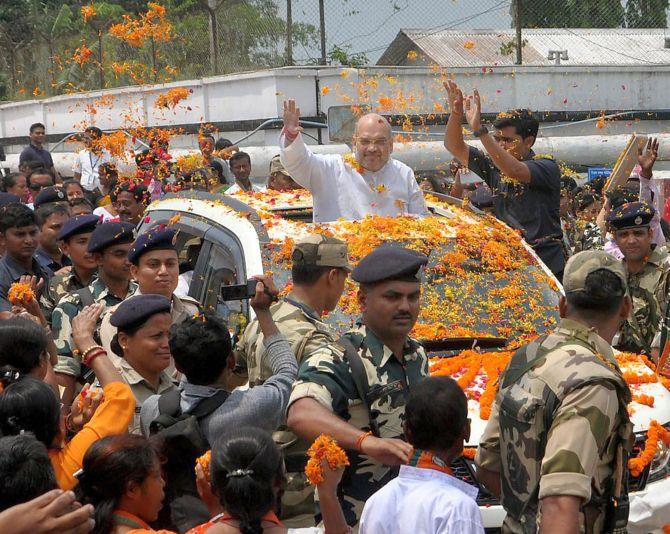 Talking about the availability of electricity and ambulance at people's door step in the BJP ruled states -- Gujarat, Madhya Pradesh and Maharashtra -- he asked if every hamlet in the state has electricity.
"Do you have ambulance facility at your doorstep? This facility will be available if BJP comes to power," Shah said.
Pledging that BJP would ensure Tripura's development if it wins the 2018 state assembly elections, he urged the people to vote for the party.
"I have been touring the entire nation and witnessing development but Tripura despite being blessed with natural beauty is still lagging. Corruption and nepotism are seen everywhere," he alleged.
Earlier, Shah visited Udaipur in Gomati district and offered prayers at Tripureswari temple.
BJP president Biplab Deb, state prabhari (observer) Sunil Deodhar and Union Minister of State for Health and Family Welfare Faggan Singh Kulaste also addressed the rally.
Photographs: PTI Photos
© Copyright 2020 PTI. All rights reserved. Republication or redistribution of PTI content, including by framing or similar means, is expressly prohibited without the prior written consent.