Seven persons, including a lawyer, were killed and 21 others injured on Tuesday when a group of heavily-armed Taliban suicide bombers stormed a court in Pakistan's volatile Khyber Pakhtunkhwa province, the latest in a wave of terror attacks in the country.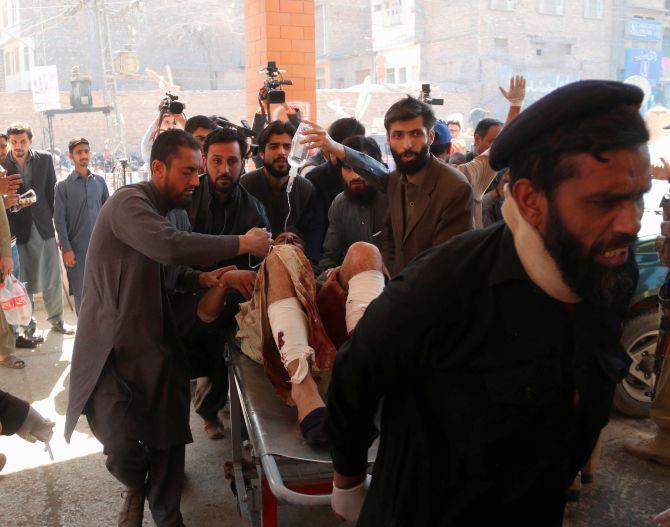 IMAGE: Hospital workers transport a man injured in the blast to a hospital in Peshawar. Photograph: Khuram Parvez/Reuters
The attackers opened fire and threw grenades as they attempted to enter the sessions court premises in Tangi, some 30 km away from the provincial capital Peshawar, prompting retaliatory fire by the security forces deployed there.
Jamaat-ul-Ahrar, a faction of the Pakistani Taliban, claimed responsibility for the attack.
"Several terrorists attacked the court and resorted to heavy firing at the main gate of the lower court," Sohail Khalid, district police chief, said.
"Bomb disposal experts said that each bomber was wearing seven to eight kilogrammes of explosives," he told reporters.
One bomber was killed in the firing at the gate and the second was killed as he entered the court. The third bomber died when he detonated his explosives, officials said.
"Seven people were killed and 20 others were injured during the attack," Sohail Khalid, district police chief Charsadda, said.
Provincial government sources said one lawyer is among the seven persons killed.
Khalid said due to tight security the bombers could not enter the court, but had they been successful in entering the premises it 'would have been a catastrophe'.
Director General Inter-Services Public Relations, Major General Asif Ghafoor tweeted, 'Chief of Army Staff lauds security forces' response to Charsada Blast. First tier Police response has saved many lives. Shares grief on loss of lives.'
A search and rescue operation was underway, he added.
District hospitals have been put on high alert.
Charsadda has been a target of terror attacks for nearly a decade.
Prime Minister Nawaz Sharif condemned the attack in a statement issued by his office.
'We are a steadfast nation and will not be deterred by such attacks. Our government will continue to fight against terrorists and we will succeed,' the statement said.
The latest attack came as security has been tightened across Pakistan after a recent wave of terrorist strikes killed more than 100 people.
On Thursday, a suicide bomber killed 88 people at a famed Sufi shrine in Sindh province. Following the attack, the army launched an offensive against terrorists and claimed to have killed more than 130 terrorists across the country.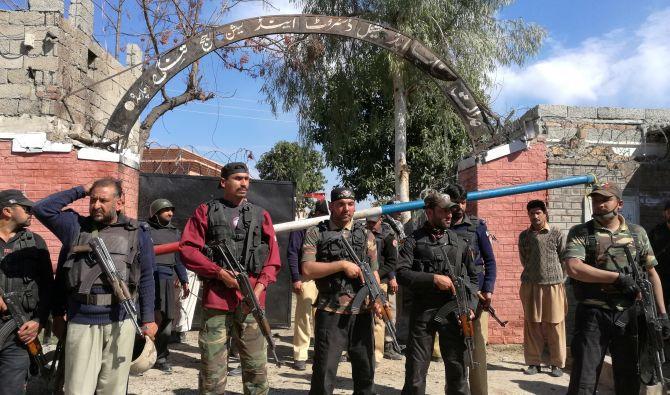 IMAGE: Policemen stand guard at the courthouse after the attack . Photograph: Fayaz Aziz/Reuters
In August last year, more than 70 people, mostly lawyers were killed in a bombing of a hospital in the south-western city of Quetta.
A suicide bomber had struck a local court in Charsadda's Shabqadar area last year in March, killing 17 people.
Later, Khalid said all the three bombers were Uzbek nationals. He said that considerable progress has been made in initial investigations.
Four suspects have been arrested and they have been taken to undisclosed location for interrogation, he said.
He said that three 9 mm pistols and five unexploded hand grenades have also been recovered from their possession.
Regional Police Officer Ejaz Khan said that the bombers used 8-10 kg of explosives during the assault.