The number of people killed in acts of terror reached a record high last year, with almost four in five of these deaths occurring in just five countries, new research shows.
Terrorism killed more than 32,600 people last year, an 80 per cent increase from 2013 and the sharpest yearly rise on record, according to the Global Terrorism Index 2015.
The statistical analysis was carried out by The Institute of Economics and Peace prior to Friday's attacks on Paris, but it nonetheless showed that the vast majority of deaths from terrorism occur in just five Muslim-majority countries -- Iraq, Afghanistan, Nigeria, Pakistan and Syria.
Let's take a look at the top 10 countries worst-affected by terrorism:
---
India: RANK 6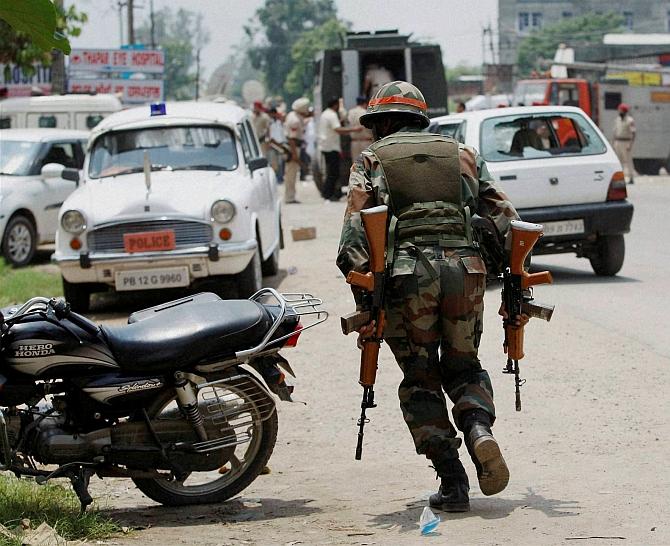 An Indian Army soldier takes position during an encounter with militants who attacked a police station at Dinanagar in Gurdaspur. Photograph: PTI Photo
What the report says: India had a slight increase in terrorist deaths, increasing by one per cent in 2014 to reach a total of 416. This is the highest number of terrorist incidents and deaths since 2010. There were 763 incidents which represents a 20 per cent increase
from 2013.
The majority of terrorist attacks in India have low casualties. In 2014 around 70 per cent of attacks were non-lethal.
Reflecting this, there were many groups which committed terrorist acts that didn't kill anyone. Of the 50 different terrorist groups that engaged in a terrorist act in 2014, 28 groups did not kill anyone. However, there were ten groups that were responsible for ten or more deaths.
Communist terrorist groups are by far the most frequent perpetrators and the main cause of deaths in India. Two Maoist communist groups claimed responsibility for 172 deaths in 2014, which constitutes 41 per cent of all deaths from terrorism.
---
Iraq: RANK 1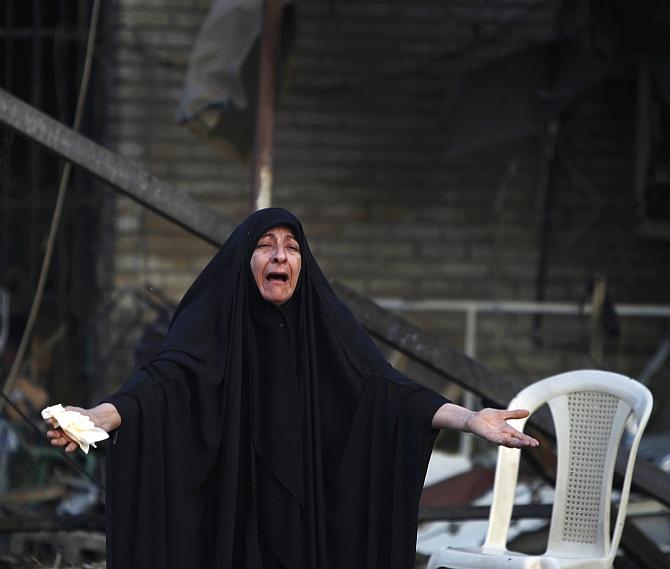 A woman reacts at the site of a car bomb attack, at the entrance to the neighbourhood of Kadhimiya in Baghdad. Photograph: Ahmed Saad/Reuters
What the report says: Iraq stands out as the worst-affected country, accounting for 30 per cent of all deaths from terrorism, according to the report. More than 9900 people died in 3370 attacks in Iraq last year.
"This is the highest number of terrorism incidents and fatalities ever recorded by a single country," the institute's press release reads.
Iraq saw the deadliest attack in June last year dreaded terror outfit Islamic State killed 670 people using explosives in the city of Badush.
2014 continued the deteriorating trend from 2013 when terrorist deaths jumped by 166 per cent to 6,397. In 2013 ISIL was responsible for 77 per cent of deaths from claimed terrorist attacks which resulted in 1,310 deaths. In 2014 this increased to 95 per cent of claimed attacks with 5,436 deaths. ISIL mainly targets private citizens using explosions.
---
Afghanistan: RANK 2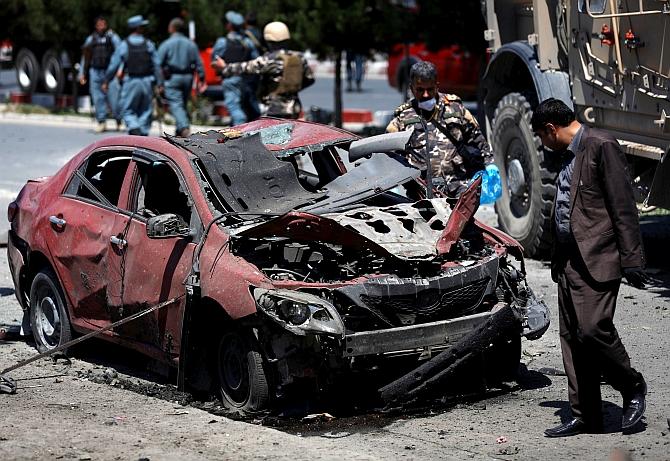 An Afghan security personnel inspects a damaged car at the site of a suicide bomb attack in Kabul. Photograph: Ahmad Masood/Reuters
What the report says: Afghanistan had the third largest increase in deaths in 2014 with 1,391 deaths, being 45 per cent higher than in 2013. The Taliban killed almost 50 per cent more people in 2014 than the previous year, largely targeting the police through explosions.
The Taliban remains one of the most deadly terrorist groups in the world. In 2012, 2013 and 2014 it was responsible for around 75 per cent of all terrorist fatalities in Afghanistan. The deadliness of attacks increased in 2014 with the Taliban killing 3.9 people per attack, over 200 per cent higher than 2013.
In 2014 there were terrorist acts in 515 different cities in Afghanistan clearly highlighting the breadth of terrorism across the country. However, the areas of the country where terrorism is most intense are within 100 miles of the border with Pakistan.
Suicide attacks account for ten per cent of all attacks; however, they are more lethal accounting for 18 per cent of all deaths and 32 per cent of all injuries. For every suicide attack there is on average five deaths and nine injuries. The majority of these attacks are bombings, constituting 93 per cent of all suicide attacks.
---
Nigeria: RANK 3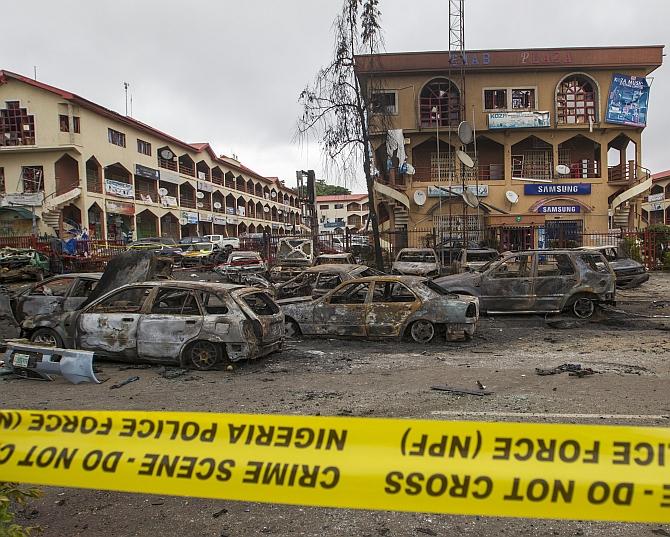 The scene of a bombing at the Emab business centre is pictured filled with wreckages of burnt cars, at the business district in Abuja. Photograph: Afolabi Sotunde/Reuters
What the report says: In 2014, Nigeria experienced the biggest yearly deterioration in terrorism on record. There were 5,662 more people killed from terrorism in 2014 than in 2013, an increase of almost 300 per cent. This is largely due to the increasing ruthlessness of Boko Haram, an Islamist terrorist group based in north-east Nigeria.
Boko Haram was the world's deadliest terrorist group in 2014 killing 6,118 people in Nigeria through terrorist attacks. In 2013, Boko Haram had killed 1,595 people. Despite this very large increase in deaths, the proportion of the total deaths that Boko Haram was responsible for fell slightly. In 2013 Boko Haram was responsible for 86 per cent of deaths in Nigeria, whereas in 2014 they were responsible for 81 per cent.
The nature of terrorism in Nigeria is different to Iraq and Afghanistan. Terrorist activity in Nigeria has more in common with the tactics of organised crime and gangs, focusing more on armed assaults using firearms and knives than on the bombings of other large terrorist groups.
Most terrorist attacks were in the northeast of Nigeria where Boko Haram is based, with 40 per cent of attacks in their home state of Borno. The most attacks were seen in Maiduguri, the regional capital of Borno State, and Kano in northern Nigeria which is the second largest city in Nigeria.
---
Pakistan: RANK 4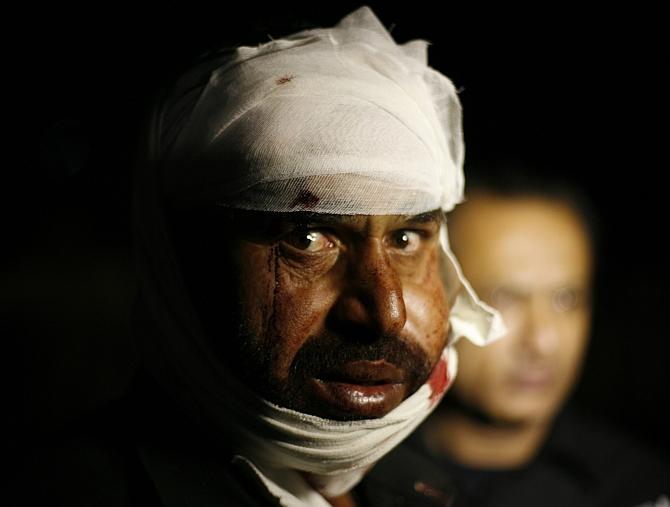 A Pakistani man wounded in a suicide bomb attack, reacts to the camera after received first aid in hospital in Wagah border, near Lahore. Photograph: Mani Rana/Reuters
What the report says: Pakistan was the only country in the ten most impacted countries that saw a decline in deaths and accordingly it dropped from third to fourth. In Pakistan, in 2013 terrorism killed 2,356 people whereas in 2014 1,760 people were killed, a difference of nearly 600 people.
This is due in part to the further fracturing of the Tehrik-i-Taliban following the death of leader Hakimullah Mehsud in November 2013.
Terrorism in Pakistan has a diverse array of actors. In 2014 there were 35 different terrorist groups, up from 25 groups in 2013. However, seven groups account for the majority of claimed attacks. While many of these groups are Islamist there are also other organisations such as separatist movements for Baloch, the Bettani tribe and Sindhi people.
Bombings and explosions continue to be the most common type of attack accounting for around 40 per cent of fatalities. However, the use of firearms and armed assault attacks has increased. In 2013 armed assaults were responsible for 26 per cent of fatalities whereas in 2014 this had increased to 39 per cent. The numbers killed by armed assaults rose 14 per cent to 685, up from 602 in 2013.
---
Syria: RANK 5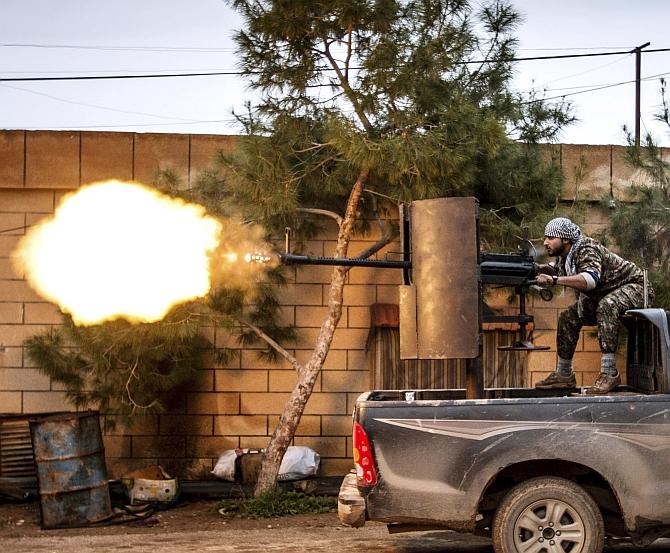 A fighter of the Kurdish People's Protection Units (YPG) fires an anti-aircraft weapon from Tel Tawil village in the direction of Islamic State fighters positioned in the countryside of the town of Tel Tamr. Photograph: Rodi Said/Reuters
What the report says: The continual impact of terrorism in Syria is a direct result of the Syrian civil war. There were no recorded acts of terrorism in the two years prior to the civil war commencing in 2011. In 2014 there were 1,690 deaths compared to 600 in 2012. Most of the deaths in Syria are accounted for as battlefield deaths.
It is estimated that over 200,000 people have been killed in the civil war. The majority of these deaths are classified as a result of conventional warfare rather than acts of terrorism. However, terrorism has been deployed as a tactic by some of the rebel forces to bring about a political, economic, religious, or social goal rather than purely military objectives. As of September 2015, there are 4.1 million Syrian refugees and 6.5 million people displaced within Syria.
A quarter of terrorist attacks in Syria are from unknown perpetrators. The biggest terrorist group in Syria is ISIL who killed 615 people, or 36 per cent. The second biggest group, the Sunni and Al Qaeda linked al-Nusra Front, claimed responsibility for 27 per cent of deaths or 461 people.
Whilst there were terrorist attacks in 76 cities in 2014, over half of all attacks occurred in just four cities. Damascus, the capital and second largest city in Syria, had 37 attacks which resulted in 63 deaths. Homs recorded the most fatalities with 345, representing 20 per cent of total deaths from terrorism in Syria. Palmyra, an area 215 kilometres north-east of Damascus, had 310 deaths.
---
Yemen: RANK 7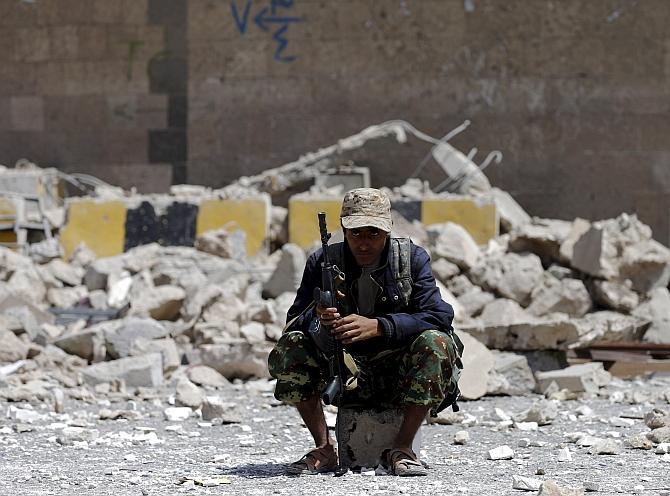 A Houthi militant sits outside the Houthi-controlled headquarters of the Yemeni army after it was being hit by Saudi-led air strikes in the capital Sanaa. Photograph: Khaled Abdullah/Reuters
What the report says: In 2014 the number of terrorist attacks in Yemen increased by 72 per cent and the number of fatalities increased by 123 per cent. There were 654 people killed from terrorism in Yemen in 2014 which represents the highest level recorded.
Previously, the worst year in terms of terrorism in Yemen was 2012, the year that President Ali Abdullah Saleh was ousted, when 372 people were killed.
Whilst there were ten different groups that committed a terrorist attack in Yemen in 2014, two major groups committed over 80 per cent of terrorist acts. These groups are the Houthis and Al Qaeda in the Arabian Peninsula.
---
Somalia: RANK 8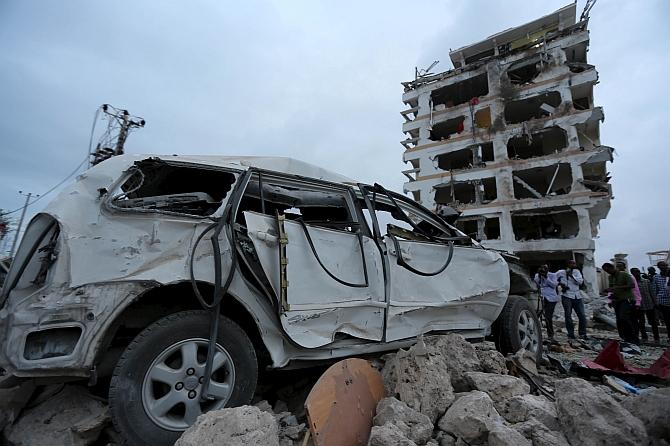 Somali government soldiers and journalists stand near a car destroyed in front of the Jazeera hotel after an attack in Somalia's capital Mogadishu. Photograph: Feisal Omar/Reuters
What the report says: Somalia has recorded an increase in terrorism for the fourth year in a row. There were twice as many attacks and deaths in 2014 than in 2013. In 2014, Somalia had the most attacks and deaths from terrorism in its history.
Somalia continues to face violence in the south with rebel forces and terrorist groups. As in previous years, the al Shabaab group were responsible for most claimed attacks.
This militant group is allied with Al Qaeda and has an estimated 7,000 to 9,000 soldiers. The only other group that claimed responsibility for attacks in 2014 was the Raskamboni Movement, a paramilitary group opposed to al-Shabaab and seeking to control the Jubbaland region.
As well as recruiting people from Kenya, al-Shabaab has staged numerous attacks in Kenya. This includes the Westgate shopping mall attack in September 2013 which resulted in 67 deaths and 175 injuries and the 2 April 2015 massacre at Garissa university where gunmen stormed a university and killed 147 people.
---
Libya: RANK 9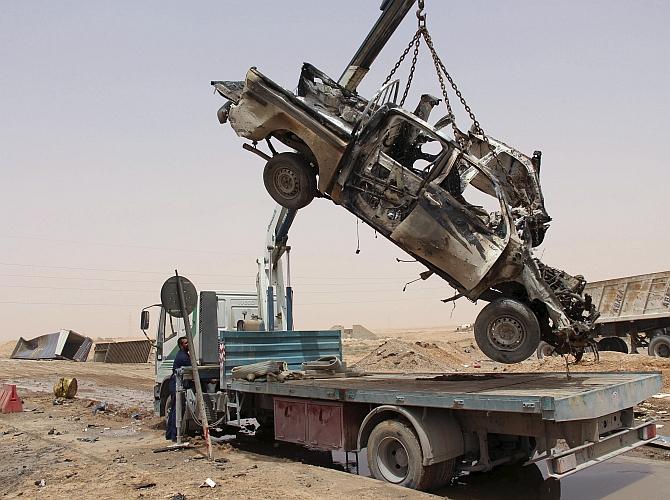 A wreckage of a vehicle is lifted by a crane after a suicide car bomber blew himself at a checkpoint near Misrata, Libya. Photograph: Reuters
What the report says:Libya recorded a 255 per cent increase in terrorist fatalities in 2014 compared to the previous year. Terrorism in Libya is linked to the Libyan crisis which began in 2011 after the Arab Spring and subsequent military battle to overthrow leader Muammar Gaddafi. However, levels of terrorism have increased drastically since the beginning of the second Libyan civil war in 2014.
There were no deaths from terrorism in Libya until 2012 when 28 people were killed in 51 separate attacks.
Although 60 per cent of attacks were from unknown groups, in 2014 there were still 30 groups that claimed responsibility for an attack, with 18 groups killing at least one person. In comparison in 2013 there were just 11 groups that claimed responsibility for attacks, and only five groups in 2012.
The most deadly group in 2014 was Ansar al-Sharia, a jihadi group which was responsible for the attack on the US consulate in Benghazi.
---
Thailand: RANK 10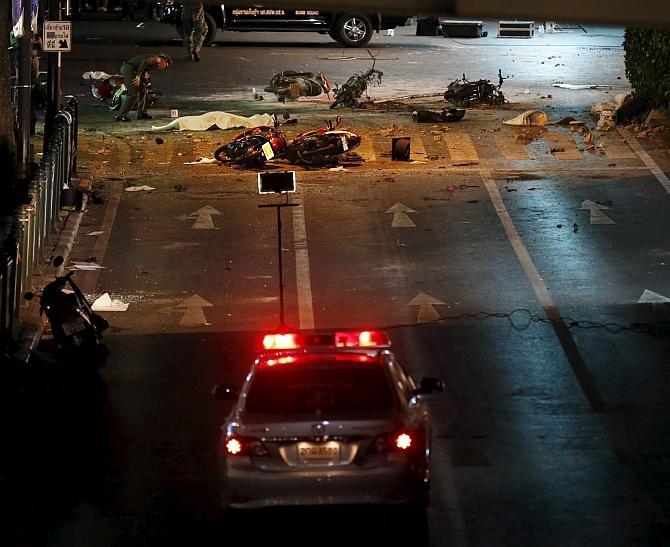 Security forces inspect the site of a blast in central Bangkok, Thailand. Photograph: Chaiwat Subprasom/Reuters
What the report says: In 2014 Thailand recorded the most terrorist incidents ever in the country with a 16 per cent increase on the previous year.
However there were fewer deaths than the peak recorded in 2009 of 255 people.
Terrorist activity is overwhelmingly confined to the south of the country where there is an ongoing insurgency between Muslim separatists and the Thai government, with Malay Muslims opposed to the Thai Buddhist minority and supporters of the government.
This conflict has been ongoing since 2004 with estimates of 5,000 deaths and 10,000 injuries. Terrorist activity is so localised that only 18 out of the 76 provinces of Thailand suffered from attacks. However, this is up from 11 provinces in 2013.
Two thirds of terrorism in Thailand is conducted by unknown actors. Of the known actors, Runda Kumpulan Kecil were the deadliest killing nine in 2014 up from three the previous year.