A five-storey 'weak' building collapsed in northwest Delhi on Wednesday, killing four children and two women, three weeks after the 20-year-old structure was inspected by a municipal team following complaints.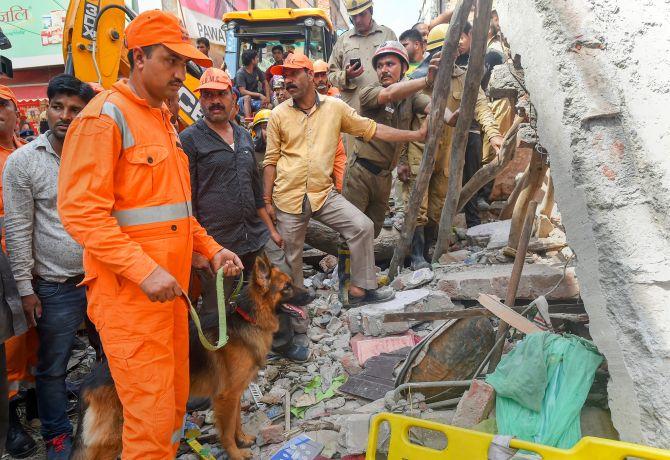 Police have registered a case under Indian Penal Code Section 304 (culpable homicide not amounting to murder), punishable with a maximum jail term of 10 years, against the owner Dharmender, who had rented out the building in Ashok Vihar.
A complaint was lodged about the building being dangerous on August 16, 2017 and a team of civic body had inspected the building around 20 days ago, the police said.
Two teams of the National Disaster Response Force were mobilised for rescue operations, its spokesperson said.
The ground floor of the building housed a shop, which was closed during the incident, while the second, third and fourth floors were occupied by tenants. The first floor was vacant.
There were 12 people inside the building when it collapsed. The injured were rushed to Deep Chand Bandhu Hospital.
A family lived on the second floor of the building. Two of the children, who were killed in the incident were siblings, Ashi, aged three, and Shaurya, aged two.
Their mother, Seema, succumbed to injuries in evening.
Two families were living on the third floor.
The deceased woman, Munni, was living in one of the houses on the third floor.
The second family living on that floor lost two children, Rajnesh, aged four, and Sumnesh, aged 12, the police said.
The fourth floor was occupied by a couple -- Narottam and Nisha. Nisha is critical, the police said.
Bimlesh, who was present at the hospital and whose sons were Rajnesh and Sumnesh, said, "As soon as I left home and had barely walked a few metres, I heard a loud noise and when I turned back, I saw the building collapse like a pack of cards. I am waiting to hear about the condition of my family members."
Locals claimed that along with the building, a sheesham tree, adjacent to the building, also fell.
A call about the incident was received at 9.25 am and six fire tenders were rushed to the spot near Sawan Park, an officer said.
A senior North Delhi Municipal Corporation official said the building was about 20 years old. Its structure was weak and in a deteriorated condition, the official added.
Chief Minister Arvind Kejriwal ordered a magisterial probe into the building collapse.
Kejriwal visited Deepchand Bandhu Hospital to the meet the victims and said the Aam Aadmi Party government will give compensation to the next of kin of the deceased and the seven injured persons.
"I have ordered magisterial probe in the matter. The Delhi government will also give compensation to the kin of deceased and injured," he told reporters.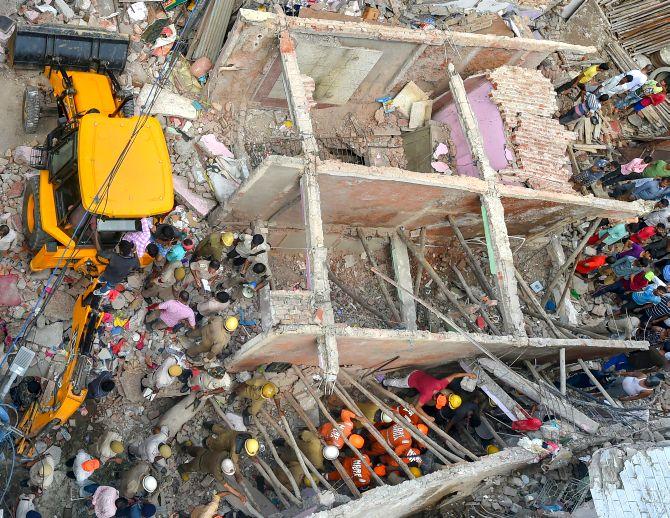 The chief minister also hit out at Bharatiya Janata Party-led North Delhi Municipal Corporation over the incident and said it will have to keep its system in order.
"Municipal corporation has the responsibility of safety of buildings...they will have to keep their system in order...they (MCDs) will have to strictly enforce their law," he also said.
Relatives of those who were killed in the incident said the owner of the building was informed about its poor condition many times, but he always assured them nothing would happen and that everything was fine.
The 20-year-old building collapsed days after it was inspected by a municipal body team following complaints that the building was in a 'dangerous' condition.
The second floor of the building was occupied by Umesh's family. He was inconsolable, while standing outside Deep Chand Bandhu Hospital where his wife Seema was admitted and his two children -- Ashi and Shaurya -- were declared dead.
Seema also succumbed later. Umesh was at work when the incident happened.
"I work at a men's salon nearby and had left for work. One of my daughters, Rishika, was at school, while Seema, Ashi, Shaurya, my wife's sister, Manju, and their brother Laxman, were at home," he said.
Umesh said it was two months ago, he had informed the owner's son that he would vacate the house since it was in a 'bad condition'.
"We had informed Sachin, the owner's business partner, that we would vacate the house since the building was in a bad condition. He convinced us that everything was fine," he recalled.
Umesh said the occupants of the first floor had vacated the house a few months ago because the building was not safe for living.
He said Seema, along with her three children, had gone to her mother's house in Majnu Ka Tila on Tuesday.
"Seema's mother wanted her to stay for a few days but she said Rishika's exams were underway and she could not stay back. Had she stayed there, everything would have been fine.
"Seema's sister Manju had come to our house from Dwarka on Tuesday and was injured in the incident," he said.
Umesh used to pay a rent of Rs 8,000.
The third floor of the building was occupied by Bimlesh's family and his nephew Raj Bahadur's families.
Bimlesh works as a mason under the building's owner Dharmender, and lost his two sons -- Rajnesh, 4, and Sumnesh, 12 -- in the tragedy.
The building's owner did not pay heed to his complaints about the building being weak, Bimlesh said.
"20 days ago, after a MCD team inspected the building, I had informed Dharmender that the building has developed cracks and had even asked him to shift us to some other building he owned. But he said, 'Everything is fine and if anything happens, I will get it repaired'," he added.
Raj Bahadur, his wife Sangeeta alias Munni, and two men, Kamlesh and Vijay, who were their guests were inside the house when the incident happened.
"My brother's three children were in school while his 14-year-old daughter, who works as a maid, was also out for work. I stay a few houses away in the same locality. We heard a loud noise when the building collapsed," Bahadur's sister Sunita said.
© Copyright 2020 PTI. All rights reserved. Republication or redistribution of PTI content, including by framing or similar means, is expressly prohibited without the prior written consent.