If you can name it, someone collects it. Here's a gallery of collectors and their (unusual) obsessions.
1) Seeing spots
Karen Ferrier, a 44-year-old secretary, is a Dalmatian-obsessive woman who owns a collection of 3,500 spotty items she has been accumulating over 17 years.
---
2) Superman crazy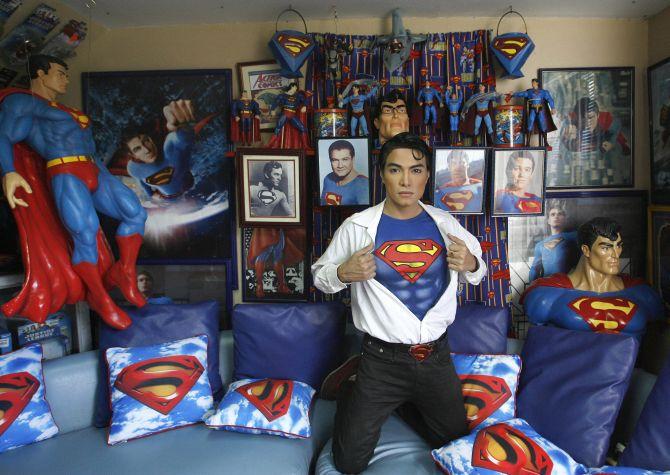 Talk about being obsessed. Herbert Chavez, from Calamba City, Philippines, has over 1,253 items of Superman memorabilia. However, what sets this Filipino apart is his wish to look like Superman. Chavez has undergone 19 surgeries over 16 years.
Photograph: Cheryl Ravelo/Reuters
---
3) Keeping time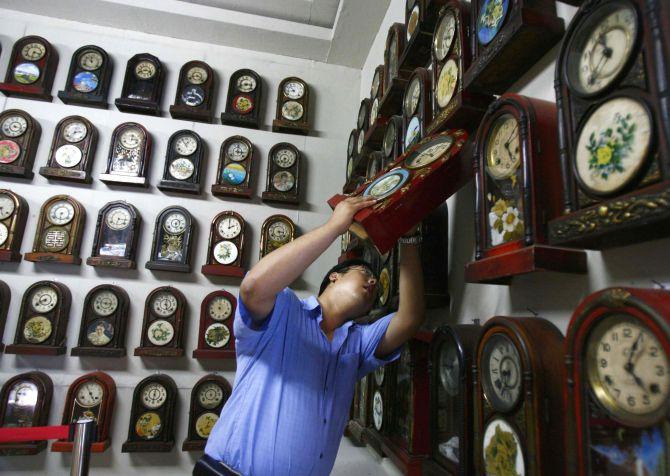 Li Tao from northeast China's Liaoning province owns the ShenyangAntiqueClocksMuseum. His love for clocks began when he was 10 years old and his collection now includes more than 100 timepieces from 11 countries.
Photograph: Reuters
---
4) In his Barbie world
Jian Yang has a collection of more than 6,000 Barbie dolls. His Barbie collection began at age 13 when he bought the 'Great Shape' model in a turquoise Spandex gym outfit and striped leg warmers. The rarest Barbie he owns is a model sold only in boutiques of the Comme des Garcons fashion label.
Photograph: Edgar Su/Reuters
---
5) Ringing in the fun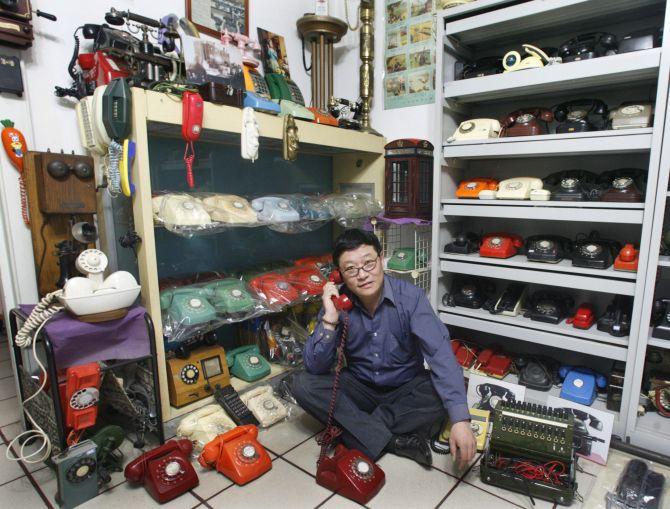 Most people in China today are chasing after the latest cell phone models, but for Zhang Dafang, the older the phone, the better.
Over the past seven years, Zhang has spent thousands of dollars collecting over 600 phones from all over the world. His oldest phone, discovered at a flea market in Russia, was made in 1900 and cost him $3,000 -- which is about what a receptionist could expect to make in a year in Beijing.
Photograph: Claro Cortes IV/Reuters
---
6) Just do it!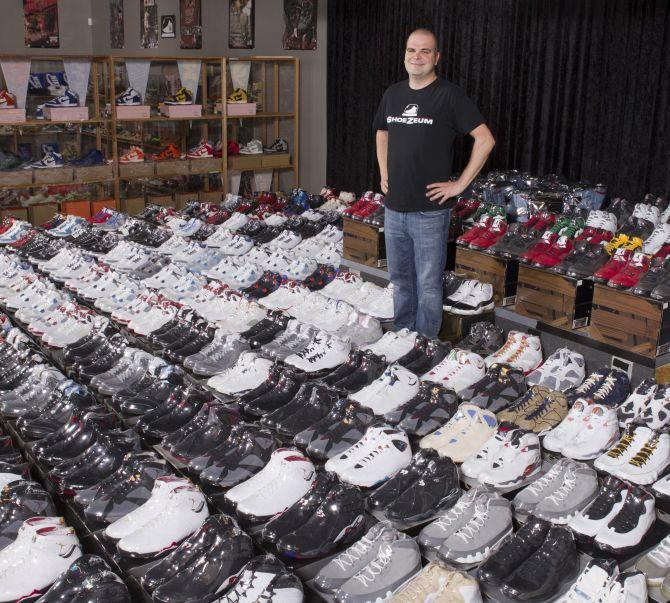 Jordan Michael Geller is the biggest sneakerhead you'll ever meet, and the Guinness World Record Books agree. Geller opened his Las Vegas "Shoezeum" in 2010 and it housed the history of Nike in the form of more than 2,500 pairs of sneakers, including every model of Air Jordans ever made.
Photograph: Steve Marcus/Reuters
---
7) Spare some change!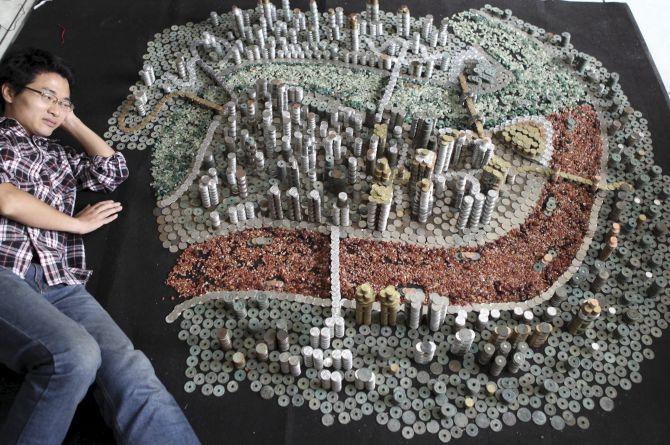 A Chinese man has created a spectacular model of his sprawling hometown by painstakingly stacking up 50,000 coins -- without using glue.
He Peiqi spent a month piling up both ancient and modern coins from 11 different currencies to make a model of Southwest China's ChongqingCity, the largest city of the country with a population of over 30 million.
The artist, from the Yongchuan District of the city, worked for at least two hours a day, kneeling down to create skyscrapers, roads and bridges.
Photograph: Reuters
---
8) Royal fever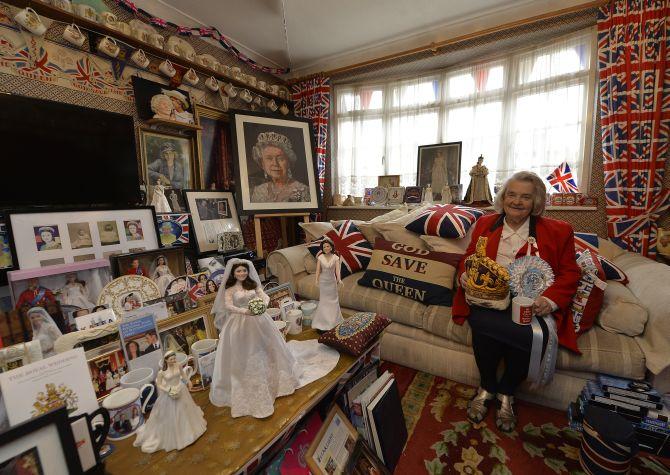 From solar-powered models of the Queen to a Princess Diana bag, there's no item of royal memorabilia too big or too small for royalist Margaret Tyler. The pensioner, 71, has been collecting royal-themed knick-knacks for more than 40 years and now boasts a collection worth £10,000 (Rs 9.8 lakh). Her gargantuan collection now fills four whole rooms, including one dedicated to Princess Diana alone.
Photograph: Toby Melville/Reuters
---
9) Piecing it together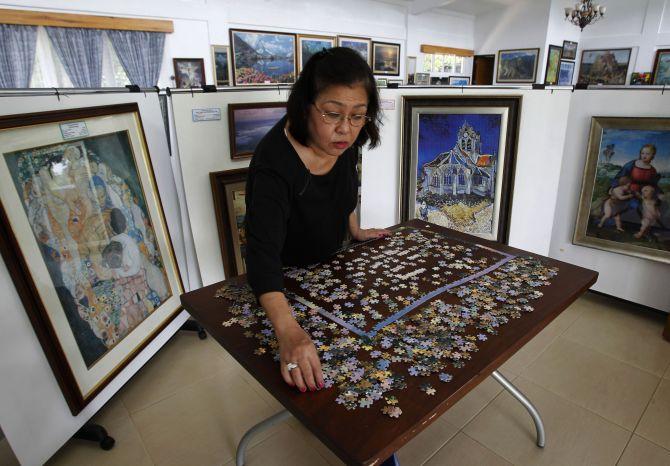 Gina Gil-Lacuna is the "puzzle queen", having made 1,028 jigsaw puzzles which are now on display at the PuzzleMuseum in Tagaytay, Manila. Lacuna collects and pieces together jigsaw puzzles to add to her collection of 473 completed jigsaw puzzles.
Photograph: Romeo Ranoco/Reuters
---
10) Be a doll, won't you?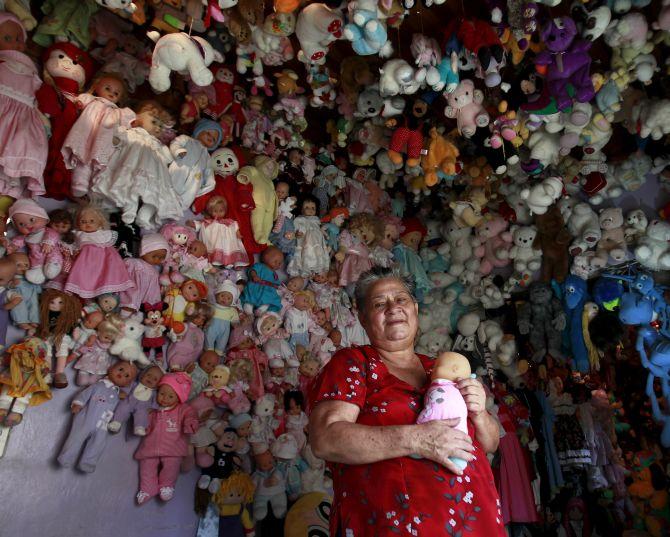 Adela Rojas, 70, poses with her collection of dolls at her home in Heredia. Rojas has been collecting dolls for over twenty years and has more than 4,500 dolls.
Photograph: Juan Carlos Ulate/Reuters
---
11) Panda-monium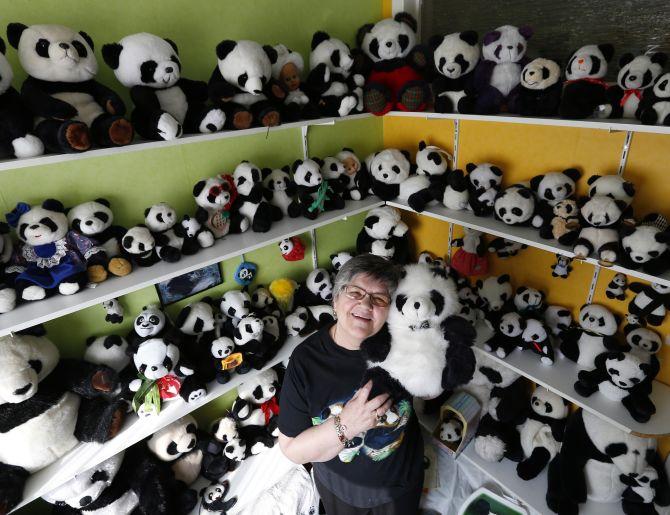 They really like pandas! Celine and Andre Cornet started their panda collection in 1978 when he gave her a panda souvenir bought in Italy, where he had travelled as a truck driver. The couple live in Belgium and own about 2,200 pieces of panda collectables. Celine says she plans to donate her pandas to ill children after her death.
Photograph: Yves Herman/Reuters
---
12) Pocket monsters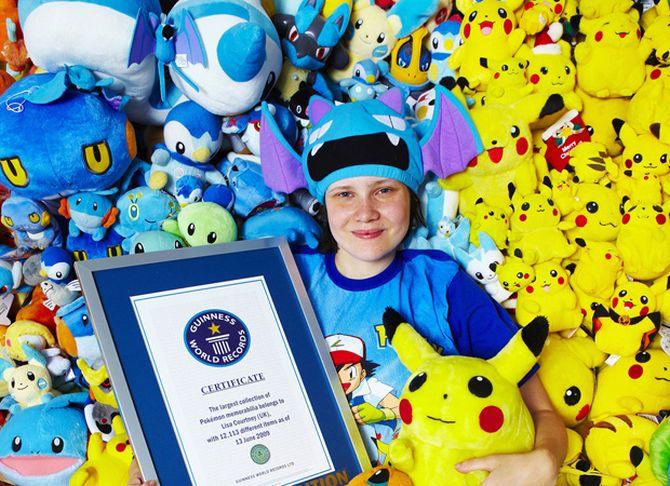 Featured in the Guinness World Records 2010 Gamer's Edition, Lisa Courtney's Pokemon memorabilia collection includes 12,113 items.
---
13) Milking it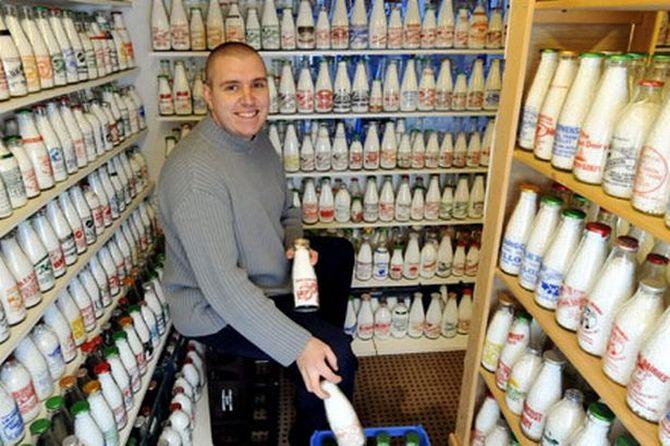 Life's just crate for Paul Luke -- as he shows off his collection of 10,000 milk bottles. The former milkman from Essex has a collection of more than 10,000 bottles over the years -- with some of the rarest dating back to the 1890s.
---
14) Ho, ho, ho!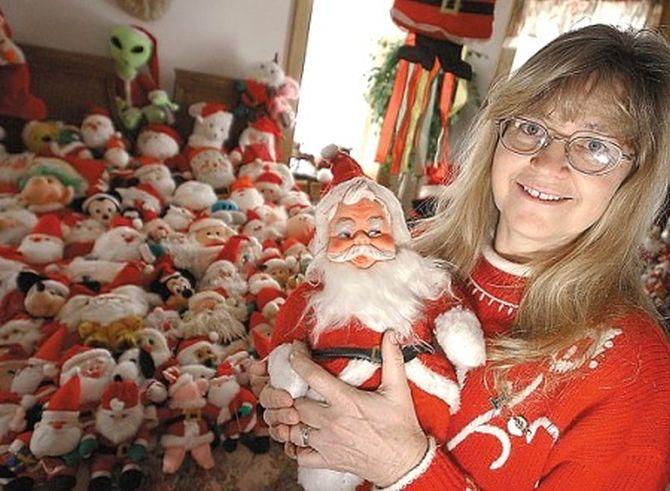 It's pretty easy to guess what Sharon Badgley's favorite holiday is. With her collection of more than 6,000 Santa Clausdolls, Sharon takes over 3 weeks to put all of her toys out on display before Christmas.