The Pulitzer Prize is the highest award in newspaper and online journalism awarded each year in twenty-one categories.
Two teams of photographers working for The New York Times and Reuters received the Pulitzer Prize for breaking news photography on Monday for documenting the journeys of migrants and refugees.
The photographers followed thousands of migrants engaged in an exodus from Africa, Asia and the Middle East to Europe over the past year, in an effort to escape a sense of seemingly perpetual desperation in the region.
Among the winners were Yannis Behrakis, Alkis Konstantinidis and Alexandros Avramidis, three Greeks working for Reuters who captured the fight for survival within their own country's borders.
Their work took them from the shores of the Aegean islands to the port of Piraeus to the Greece-Macedonia border.
Rediff.com presents a selection of the stunning images that won the prestigious award.
A Syrian refugee holds onto his children as he struggles to walk off a dinghy on the Greek island of Lesbos, after crossing a part of the Aegean Sea from Turkey to Lesbos. Photograph: Reuters/Yannis Behrakis
---
Hungarian policemen stand over a family of immigrants who threw themselves onto the track before they were detained at a railway station in the town of Bicske, Hungary. Photograph: Reuters/Laszlo Balogh
---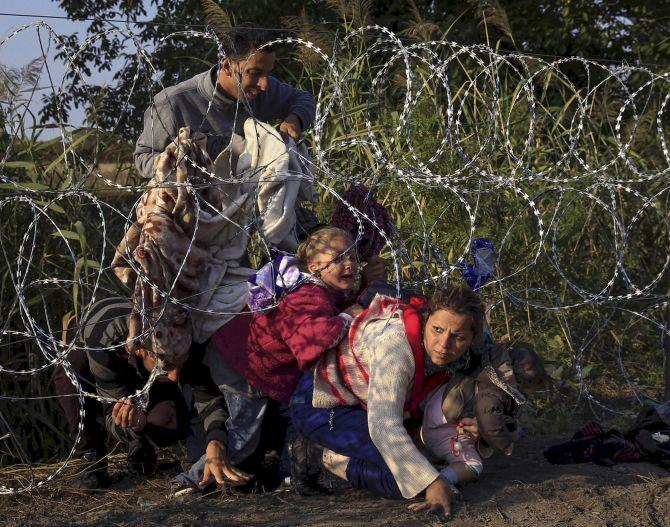 Syrian migrants cross under a fence as they enter Hungary at the border with Serbia, near Roszke. Photograph: Reuters/Bernadett Szabo
---
A Macedonian police officer raises his baton towards migrants to stop them from entering into Macedonia at Greece's border near the village of Idomeni, Greece. Photograph: Reuters/Alexandros Avramidis
---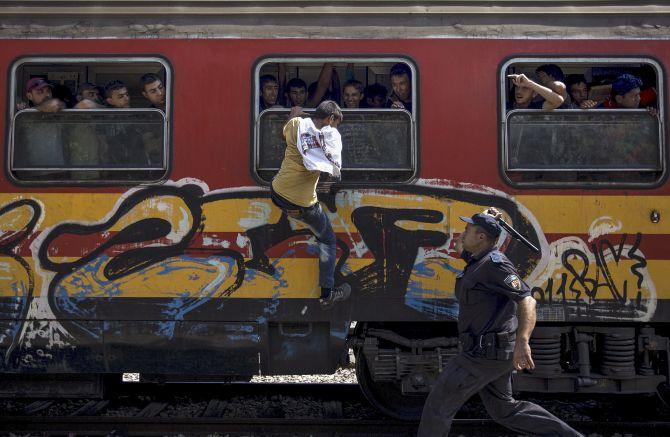 A policeman tries to stop a migrant from boarding a train through a window at Gevgelija train station in Macedonia, close to the border with Greece. Photograph: Reuters/Stoyan Nenov
---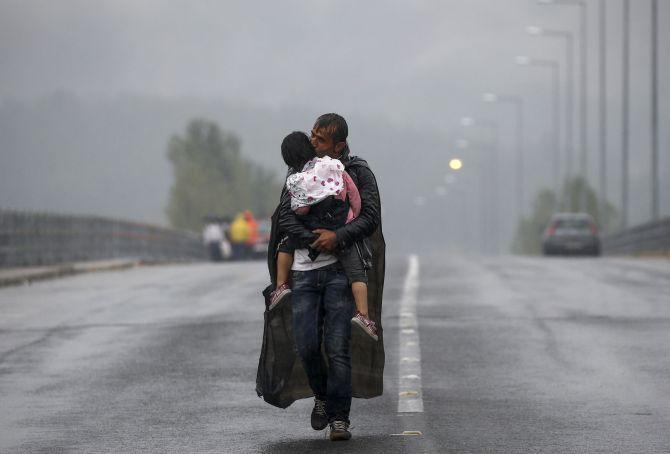 A Syrian refugee kisses his daughter as he walks through a rainstorm towards Greece's border with Macedonia, near the Greek village of Idomeni. Photograph: Reuters/Yannis Behrakis
---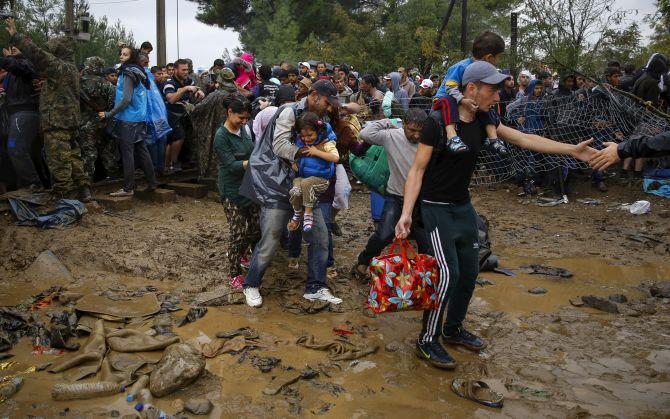 Syrian refugees walk through the mud as they cross the border from Greece into Macedonia, near the Greek village of Idomeni. Photograph: Reuters/Yannis Behrakis
---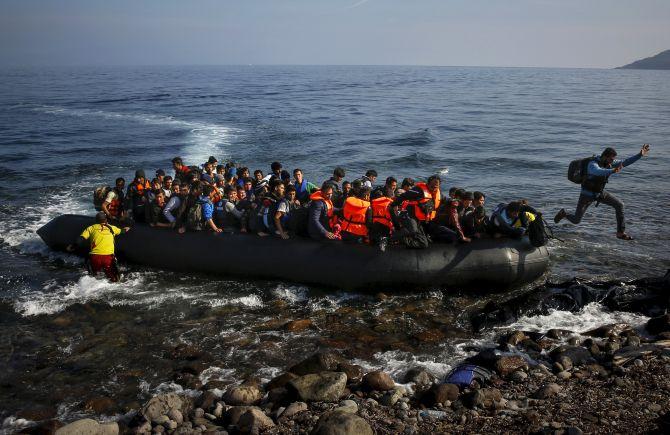 An Afghan migrant jumps off an overcrowded raft onto a beach at the Greek island of Lesbos. Photograph: Reuters/Yannis Behrakis
---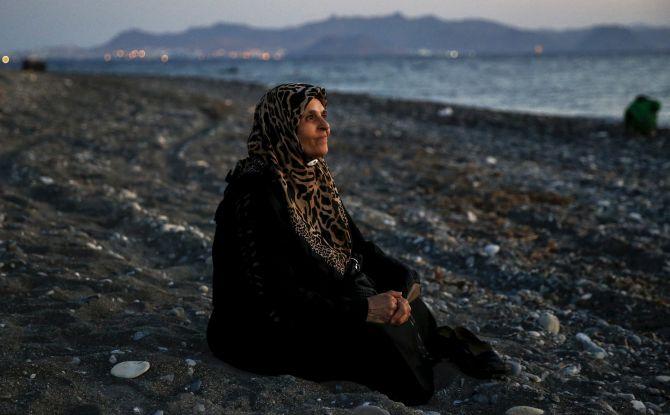 Amoun, 70, a blind Palestinian refugee who lived in the town of Aleppo in Syria, rests on a beach moments after arriving along with another forty on a dinghy in the Greek island of Kos, crossing a part of the Aegean Sea from Turkey to Greece. Photograph: Reuters/Yannis Behrakis
---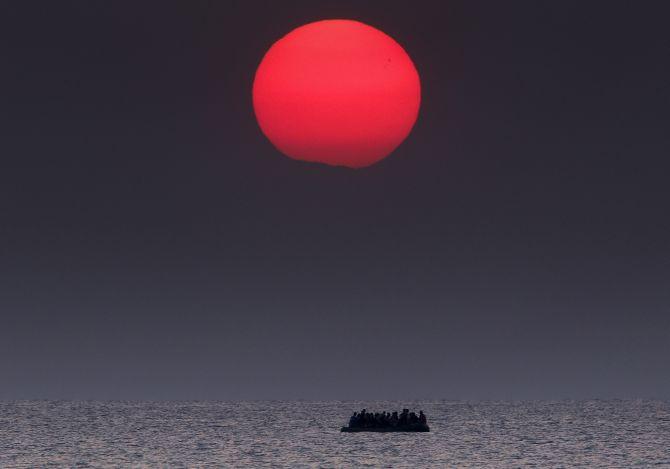 An overcrowded inflatable boat with Syrian refugees drifts in the Aegean sea between Turkey and Greece after its motor broke down off the Greek island of Kos. Photograph: Reuters/Yannis Behrakis
---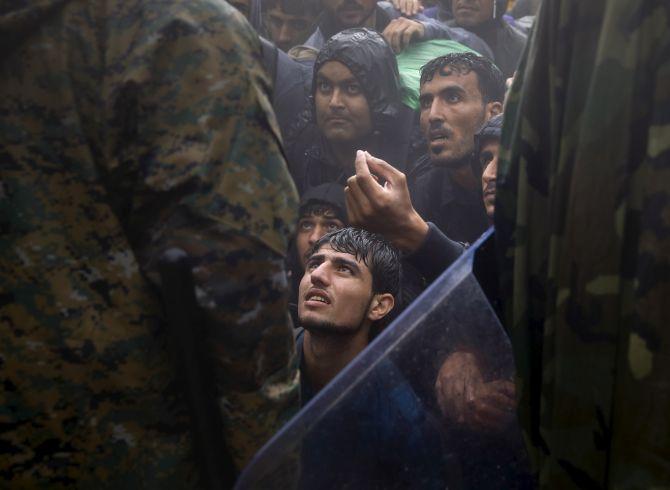 Migrants and refugees beg Macedonian policemen to allow passage to cross the border from Greece into Macedonia during a rainstorm, near the Greek village of Idomeni. Photograph: Reuters/Yannis Behrakis
---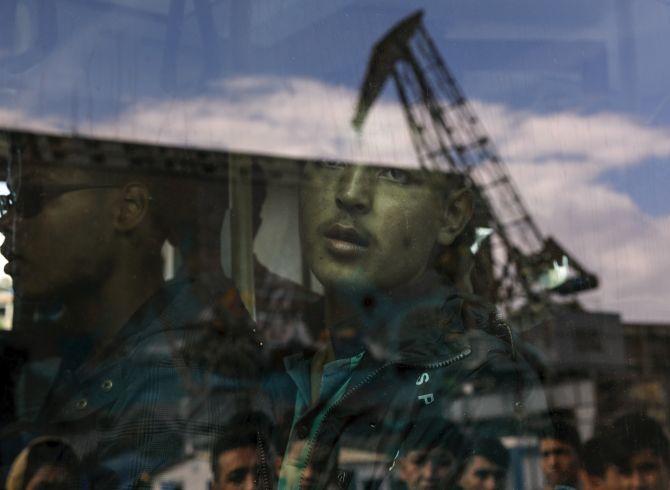 An Afghan migrant is seen inside a bus following his arrival by the Eleftherios Venizelos passenger ferry with over 2,500 migrants and refugees from the island of Lesbos at the port of Piraeus, near Athens, Greece. Photograph: Reuters/Yannis Behrakis
---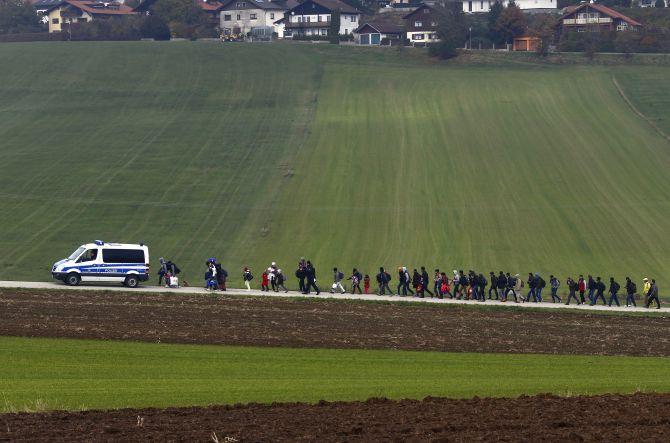 Immigrants are escorted by German police to a registration centre, after crossing the Austrian-German border in Wegscheid near Passau, Germany. Photograph: Reuters/Michael Dalder
---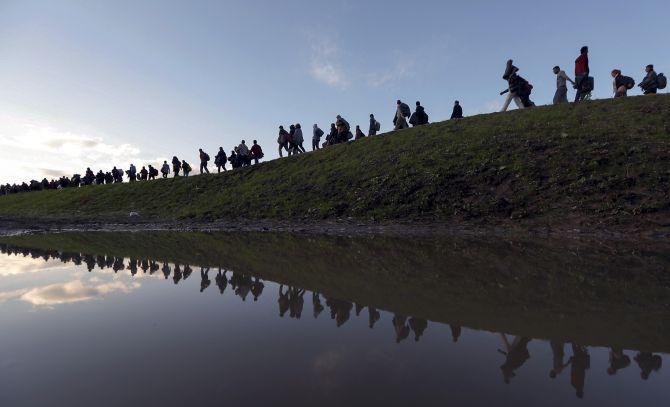 Migrants make their way on foot on the outskirts of Brezice, Slovenia. Slovenia's interior ministry raised the possibility on Tuesday of setting up physical barriers along its southeastern border if the numbers of migrants increased. Photograph: Reuters/Srdjan Zivulovic