In a scene straight out of the 2009 Pixar movie UP, Daniel Boria, a Canadian flew over the city of Calgary on a lawn chair tied with over 100 helium-filled balloons -- strapped a parachute last week.
"It was the most fun thing I've ever done," he told the media.
But there have been many others before him who have lived by the same mantra.
Let's take a look at some of them: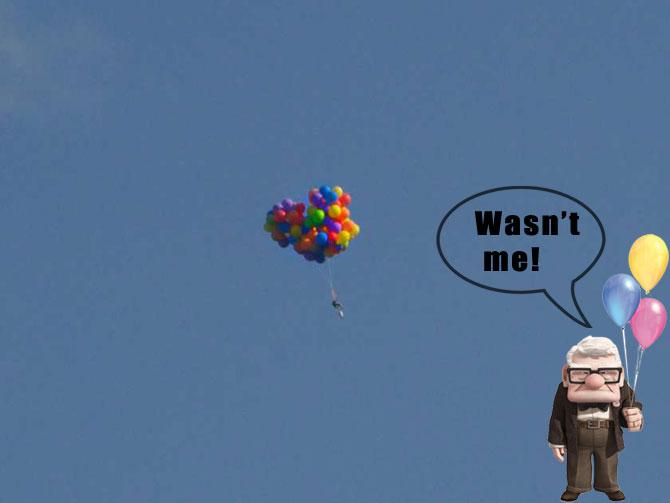 UP, up and away!
We start with Daniel Boria himself. Boria, 26, owns a cleaning products company and thought of the stunt in an attempt to draw attention to his company.
So, Boria purchased a $10 (approximately Rs 635) plastic chair from a local store, bought the balloons online, and decided to parachute from the lawn chair into the Calgary stampede, a local event.
But the weather wasn't as cooperative as planned, so he parachuted prematurely and landed approximately two kilometer from his intended target, with just sprained ankles. He now faces police charges.
The lawn chair and the balloons are still at large.
Residents watch from their balconies as Wallenda walks along a wire, slightly more than a half inch in diameter, blindfolded, between the towers of the Marina City condominium buildings following his walk from the west tower to the top of the 671-foot-tall Leo Burnett building on November 2, 2014 in Chicago, Illinois. Photograph: Scott Olson/Getty Images
The Daredevil
Daredevil aerialist Nik Wallenda created history last year in November when he successfully walked between skyscrapers on high wires suspended over 600 feet above Chicago without a harness or a safety net and blindfolded.
"I live by three words: never give up," said Wallenda after his jaw-dropping feat which was witnessed by nearly 60,000 people.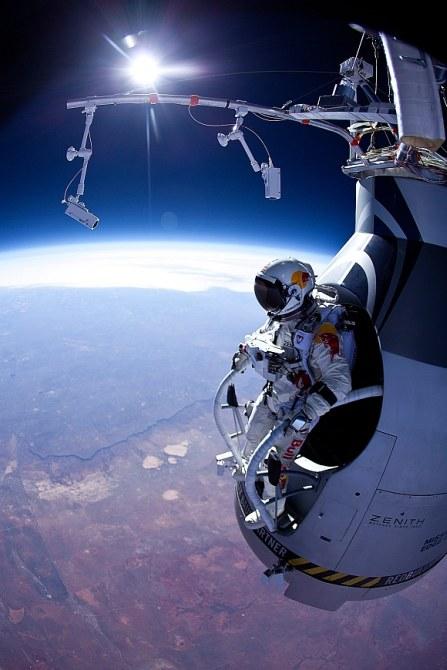 Baumgartner is seen before his jump. Photograph: Jay Nemeth/Red Bull via Getty Images
The Man who broke the sound breaker
Austrian daredevil Felix Baumgartner on October 5, 2012 broke the sound barrier during a word-record-breaking jump from a balloon floating nearly 37 kilometre above the earth.
That amounts to Mach 1.24, which is faster than the speed of sound. No one has ever reached that speed wearing only a high-tech suit.
"Travelling faster than sound is hard to describe because you don't feel it. With no reference points, you don't know how fast you travel," Baumgartner said after the jump.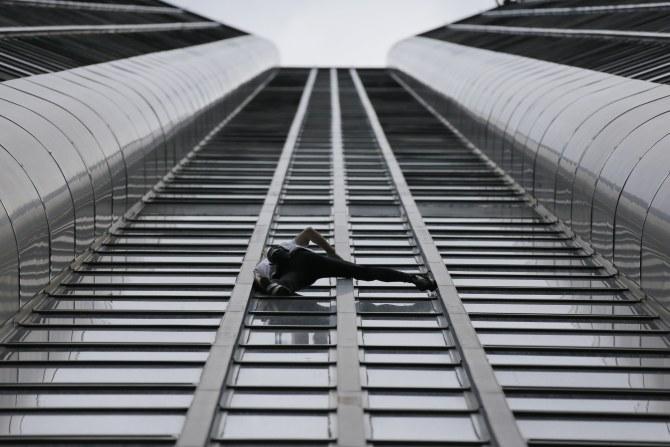 Robert scales the Tour Montparnasse, a 210-metre (689 ft) building in central Paris, France April 28, 2015. Robert scaled the tower with a flag of Nepal in tribute to the victims of the earthquake. Photograph: Gonzalo Fuentes/Reuters
The French Spiderman
Alain Robert, who is popularly known as the 'French Spiderman', scaled the 2,716 feet-tall Burj Khalifa, the world's tallest tower in Dubai, in a record-clinching feat in March 29, 2011.
Rober has climbed more than 70 skyscrapers, including the EmpireStateBuilding, Chicago's WillisTower and the PetronasTowers in Kuala Lumpur.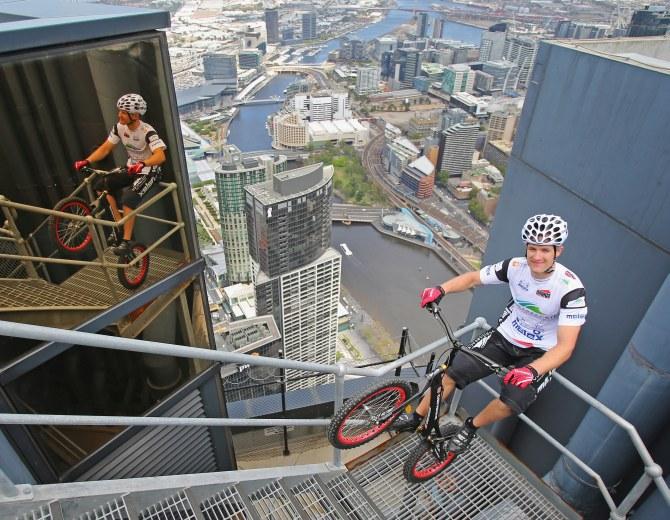 Herba jumps up the steps of Eureka Tower on a bicycle as he breaks a Guinness World Record at Eureka Tower in this photograph taken on February 4, 2014 in Melbourne, Australia. Photograph: Scott Barbour/Getty Images
The extreme cyclist
Krystian Herba, a Polish stunt cyclist has climbed more 3,000 steps by bicycle in Taipei to set a new World Record for the most stairs climbed on a bike at one time.
Earlier, Herba jumped up 2,919 steps on his bicycle in 1.45 hours without supporting himself with his hands or feet to break his own Guinness World Record.
Herba, 33, is a high school teacher from the city of Rzeszow, has already climbed nine other skyscrapers around the world.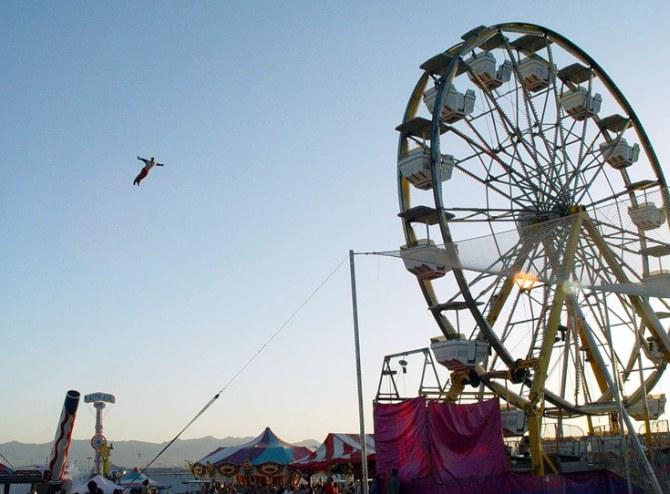 The human cannonball
David 'The Bullet' smith Jr has made a name for himself for getting shot out of cannons – literally! And he has been doing this for 11 years.
But being shot out around 5,000 around the world doesn't give him frequent-flyer miles, unfortunately.
He holds the world record for the longest human cannonball shot – at more than 200 feet. Not surprisingly, the previous record was held by his father.
Skydiving without a parachute!
Gary Connery is a British skydiver, a BASE jumper, who has performed stunts in movie franchises such as James Bond, Indiana Jones, Harry Potter, and Batman.
He is acknowledged to have become the first skydiver to land after a wingsuit jump without using a parachute on May 23, 2012. He jumped from a helicopter at 2,400 feet and successfully landed without the use of a parachute.
The 'deepest' man on earth!
Herbert Nitsch is an Austrian freediving world record champion and 'the deepest man on earth'.
This title was given to him when he set a world record in the 'No Limits' discipline at the depth of 214 meters (702 feet). To date, he has achieved 32 official World Records, and one world record in the traditional Greek discipline of Skandalopetra 107 m (351 ft).
He surpassed his own no limits depth with a world record dive in June 2012 to 253.2 meters (831 feet).