A treat for bird lovers!
The National Audubon Society announced the winners of the 2020 Audubon Photography Awards. Known the for highlighting some of the most spectacular bird photography in the world, this year's contest winners did not disappoint.
This year's winners were selected from over 6,000 submissions that came in from photographers across all 50 United States, Washington DC, and seven Canadian Provinces. The goal of the awards is to highlight images that "evoke the ingenuity, resilience, and beauty of birds small and large, terrestrial and aquatic."
We'll let you decide if they succeeded.
(Please click on the images to view them full-screen)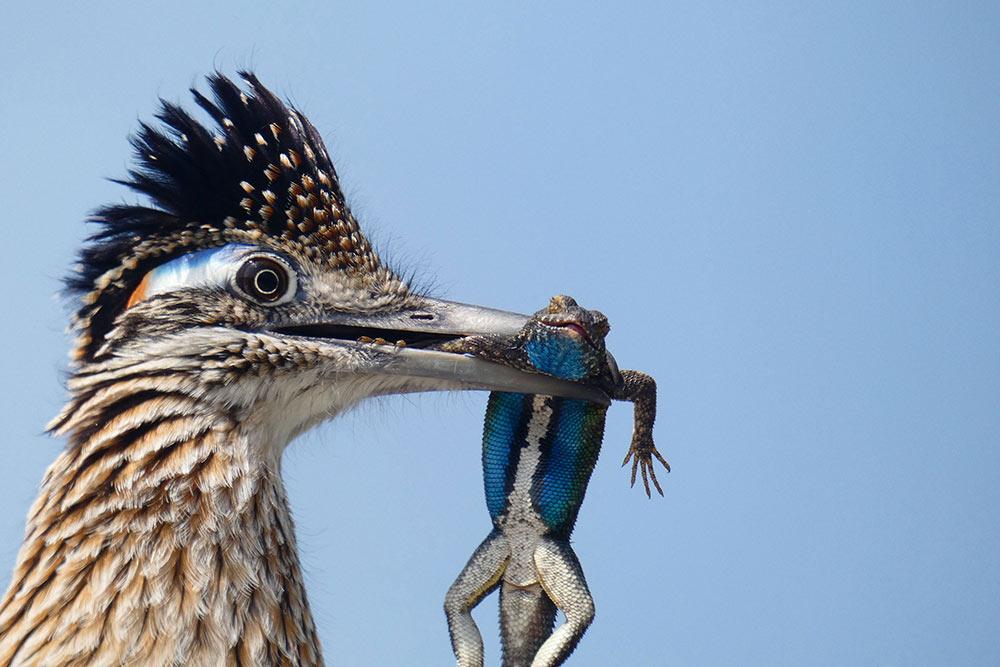 While on a walk through a nature preserve in Fresno, I heard a roadrunner cooing to its mate. I followed the sound to find the bird clutching a gift for its partner: a really big fence lizard! The roadrunner perched on a post above me for nearly 10 minutes. The lighting was harsh and it was difficult to get the proper camera setting, but I managed to take this shot. I like how the photograph shows a small predator with its prey.
Photograph: Christopher Smith/Audubon Photography Awards/Youth Honorable Mention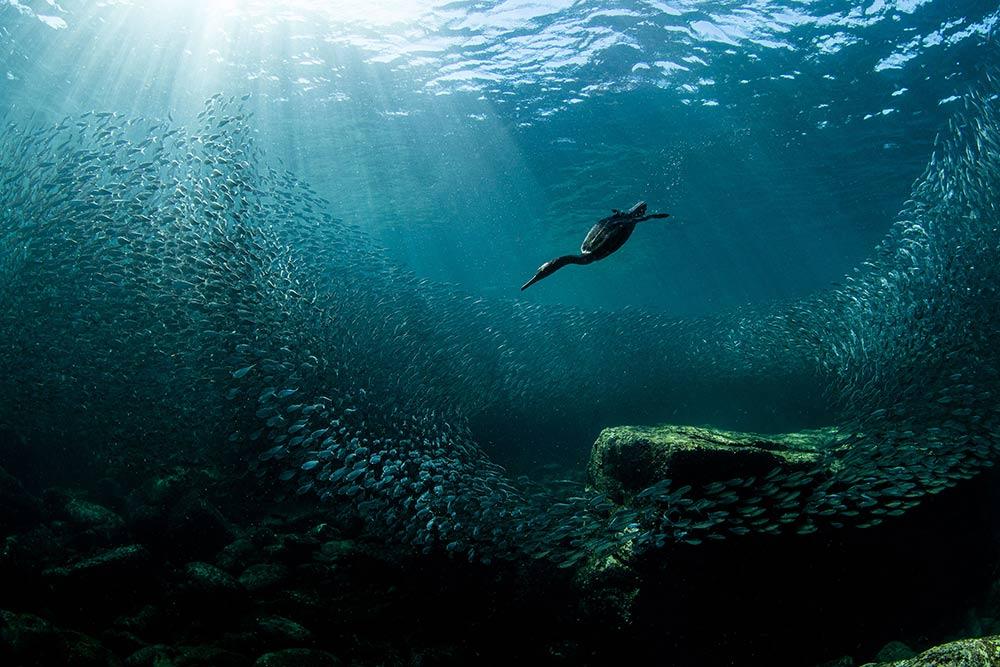 I've spent many hours underwater at this California sea lion rookery in the Bay of La Paz, but I had never before encountered diving cormorants there. Shifting my focus from the playful sea lions, I watched in awe as the cormorants plunged beak-first into the sea to snap at the sardines swimming by. Although I spent a long time admiring these birds, I didn't see a single one catch a fish. Adding insult to injury, curious sea lion pups would zip by the hunting birds and nip at them from behind.
Photograph: Joanna Lentini/Audubon Photography Awards/2020 Grand Prize Winner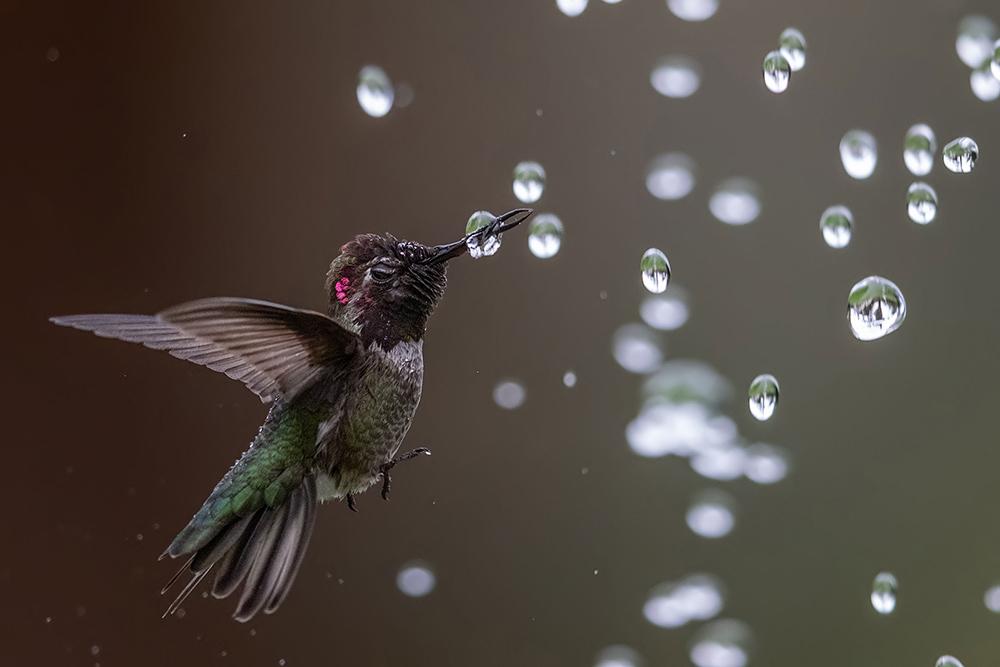 Near my home in Fremont is a historic farm with a water fountain that's a magnet for birds. I was by the fountain looking for warblers and other migrants when I saw this hummingbird, a year-round resident, exhibiting some very interesting behaviour. It swooped in for a drink and then stuck around to play in the water, as if trying to catch a droplet. After several frames, I finally captured the bird
succeeding at its game.
Photograph: Bibek Ghosh/Audubon Photography Awards/2020 Amateur Honorable Mention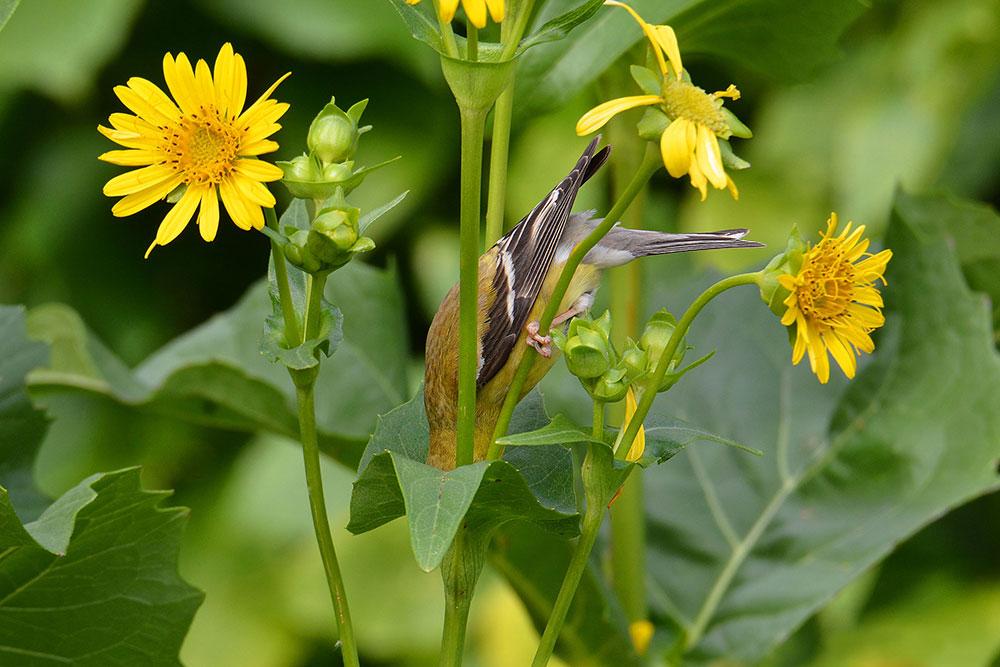 Through frequent visits to North Mississippi Regional Park, an area restored with native plants, I became familiar with the cup plant and learned that its leaves can hold rainwater, as the name suggests. I read that birds and other wildlife like to drink from these plants, so I always keep an eye out for bird activity when I pass by them. Finally one late July day I was lucky enough to witness a female American Goldfinch plunge her head into a plant.
Photograph: Travis Bonovsky/Audubon Photography Awards/2020 Plants for Birds Winner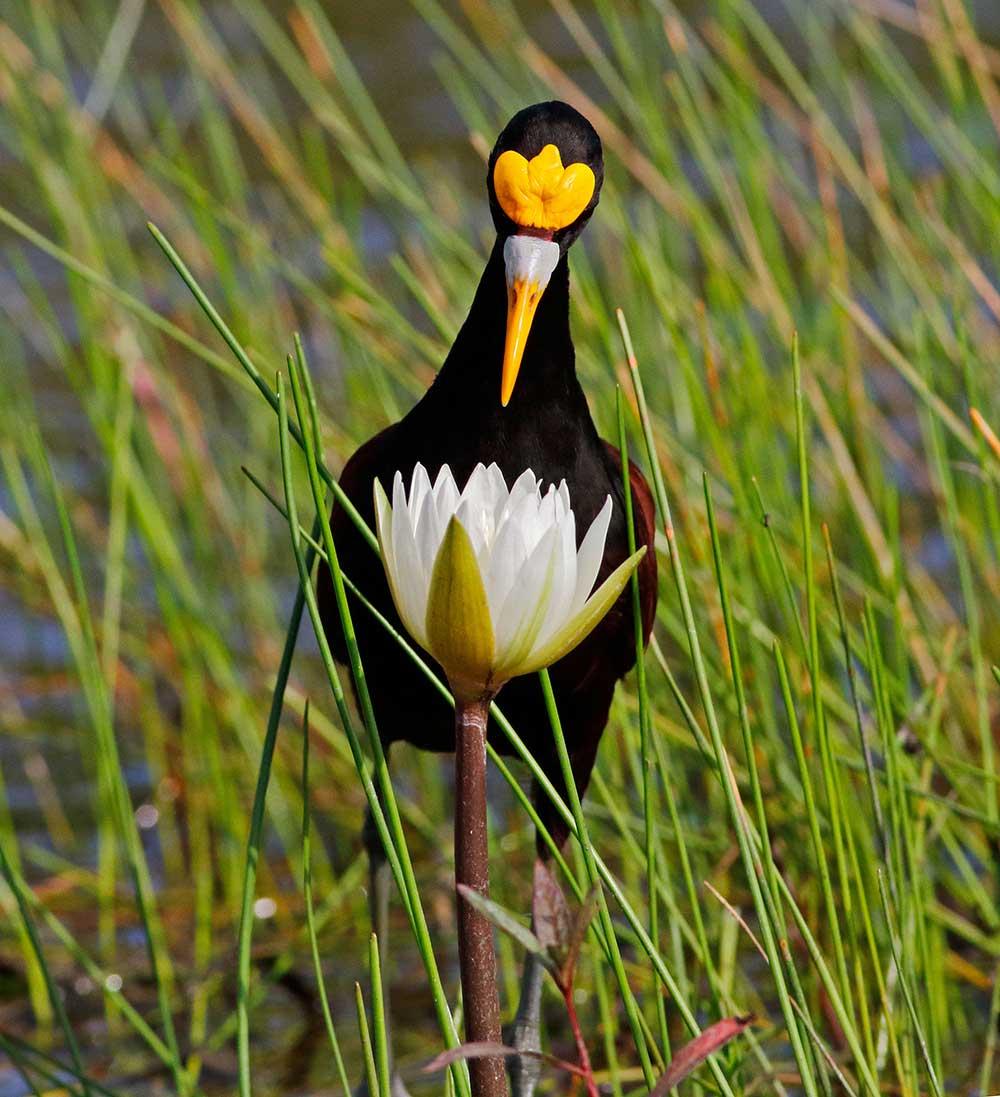 On a boat ride on the New River, I noticed a few Northern Jacanas on a patch of water lilies and asked the captain to stop. I hoped our vessel wouldn't scare away the birds. I couldn't believe my luck when one walked closer and closer to us. The boat was rocking, but when the bird stopped for a ­moment to peer into a water lily, I was able to set up and get this special shot.
Photograph: Vayun Tiwari/Audubon Photography Awards/2020 Youth Winner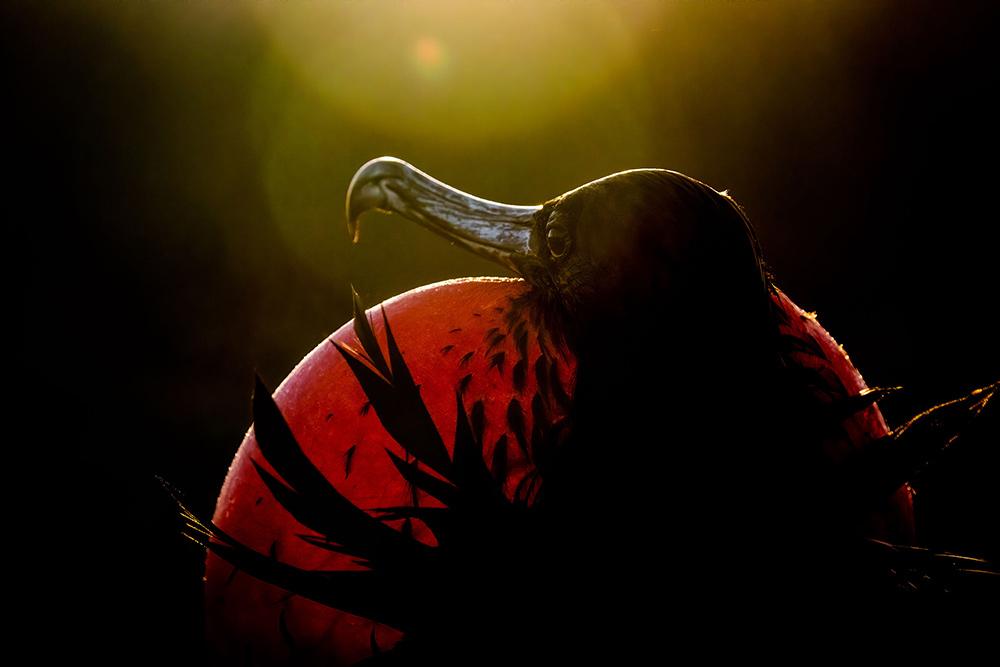 The sun was setting behind a frigatebird breeding colony in the Galápagos. The birds were very active and stunningly close, and the experience was all the more special because I was with great friends who were equally mesmerised by the scene. We got on the sand, lying on our bellies and handholding our cameras, composing silhouettes and starbursts on birds' wingtips. I noticed this male, with his throat pouch lit up by the sun, and zoomed in to capture his portrait.
Photograph: Sue Dougherty/Audubon Photography Awards/2020 Professional Winner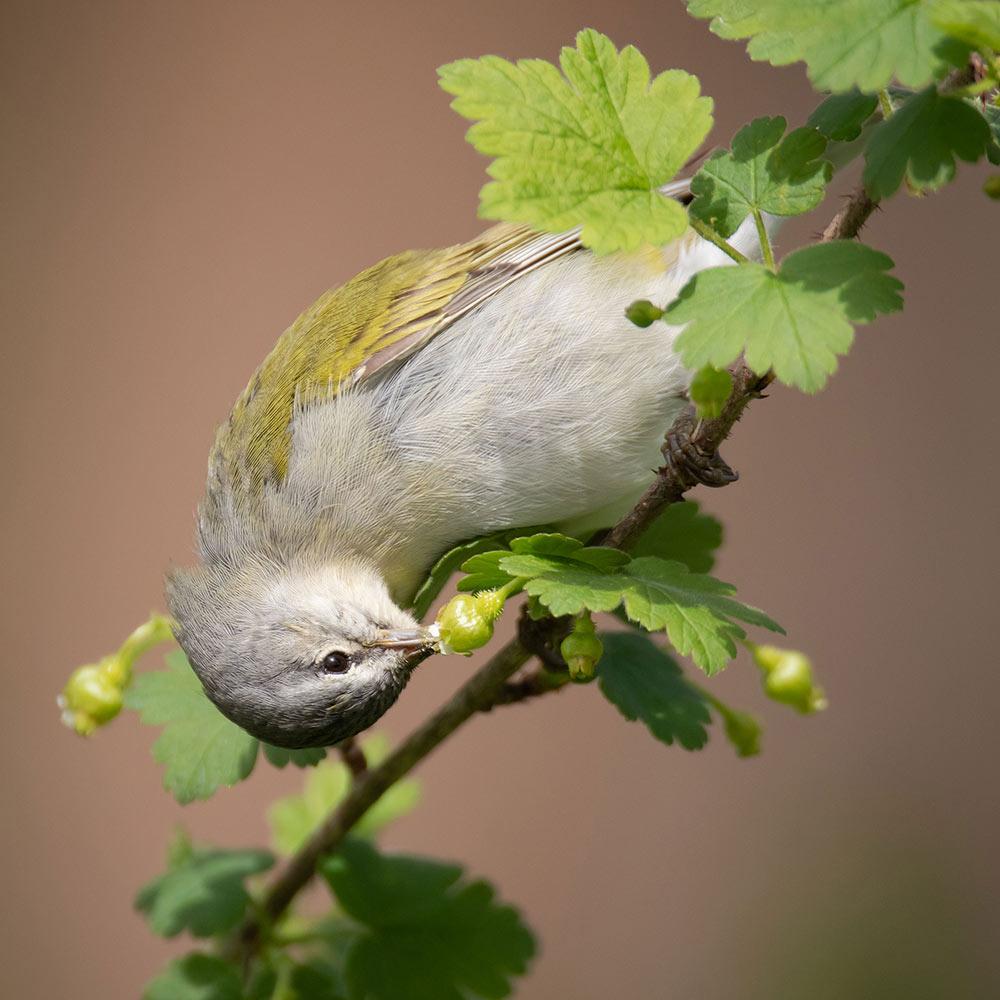 This warbler was difficult to photograph as it frantically hopped from branch to branch while foraging on a native gooseberry -- one of the plants that flower in early spring in this part of Canada. Gooseberries are an important source of food for exhausted songbirds migrating north over the Great Lakes, and I was thrilled to get a clear image of this warbler drinking nectar from the tiny flowers.
Photograph: Natalie Robertson/Audubon Photography Awards/2020 Plants for Birds Honorable Mention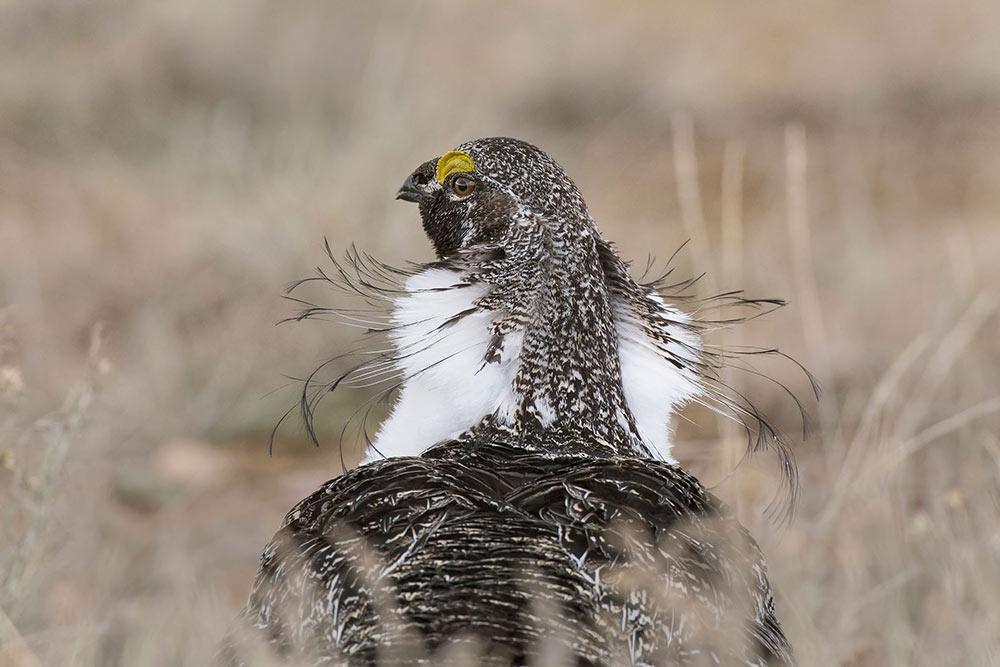 In spring 2019 I made my first venture to watch the Greater Sage-Grouse perform its courtship ritual. Late one afternoon I set up my camera at the edge of a rural road and used my car as a blind. This male was the first bird I saw, and he proved to be a great model. As he faced away from me, he provided a nice profile pose, and I thought it was a neat perspective to get his photo from behind.
Photograph: Gene Putney/Audubon Photography Awards/2020 Professional Honorable Mention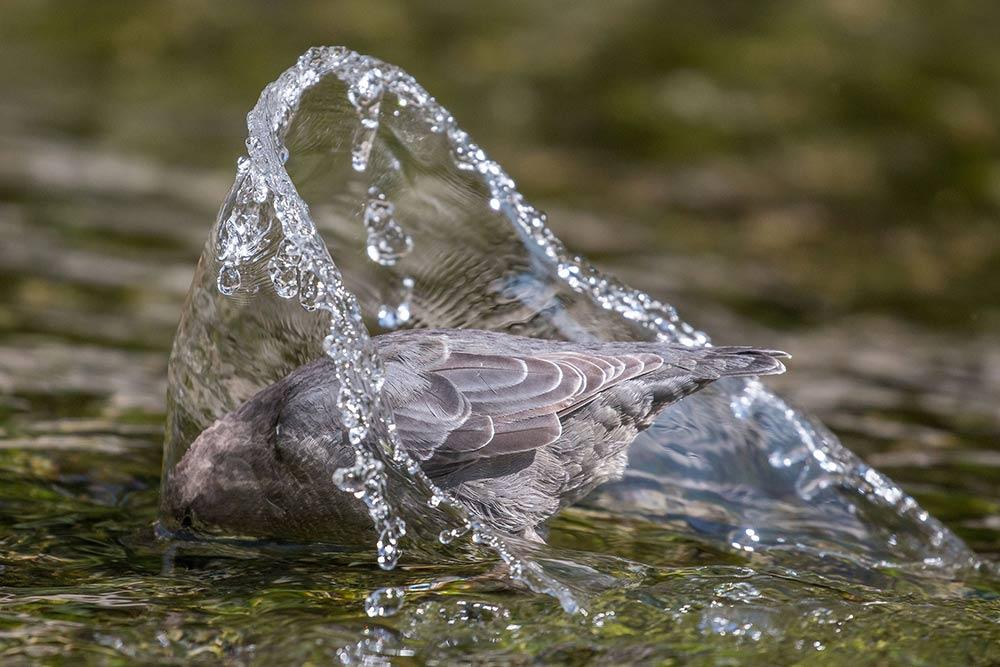 I followed a little-known trail in Yosemite to the top of a small waterfall and sat at the edge of the pool. A moment later, a dipper flew in. The river was -- moving quickly, but it wasn't too deep. So instead of diving, the bird stuck its head underwater in search of prey. I thought the spectacular splash would make an awesome photo. The bird kept getting closer and closer as I sat snapping -- hundreds of shots of that splash. I will treasure that afternoon as one of my favourite moments in Yosemite!
Photograph: Marlee Fuller-Morris/Audubon Photography Awards/2020 Fisher Prize Winner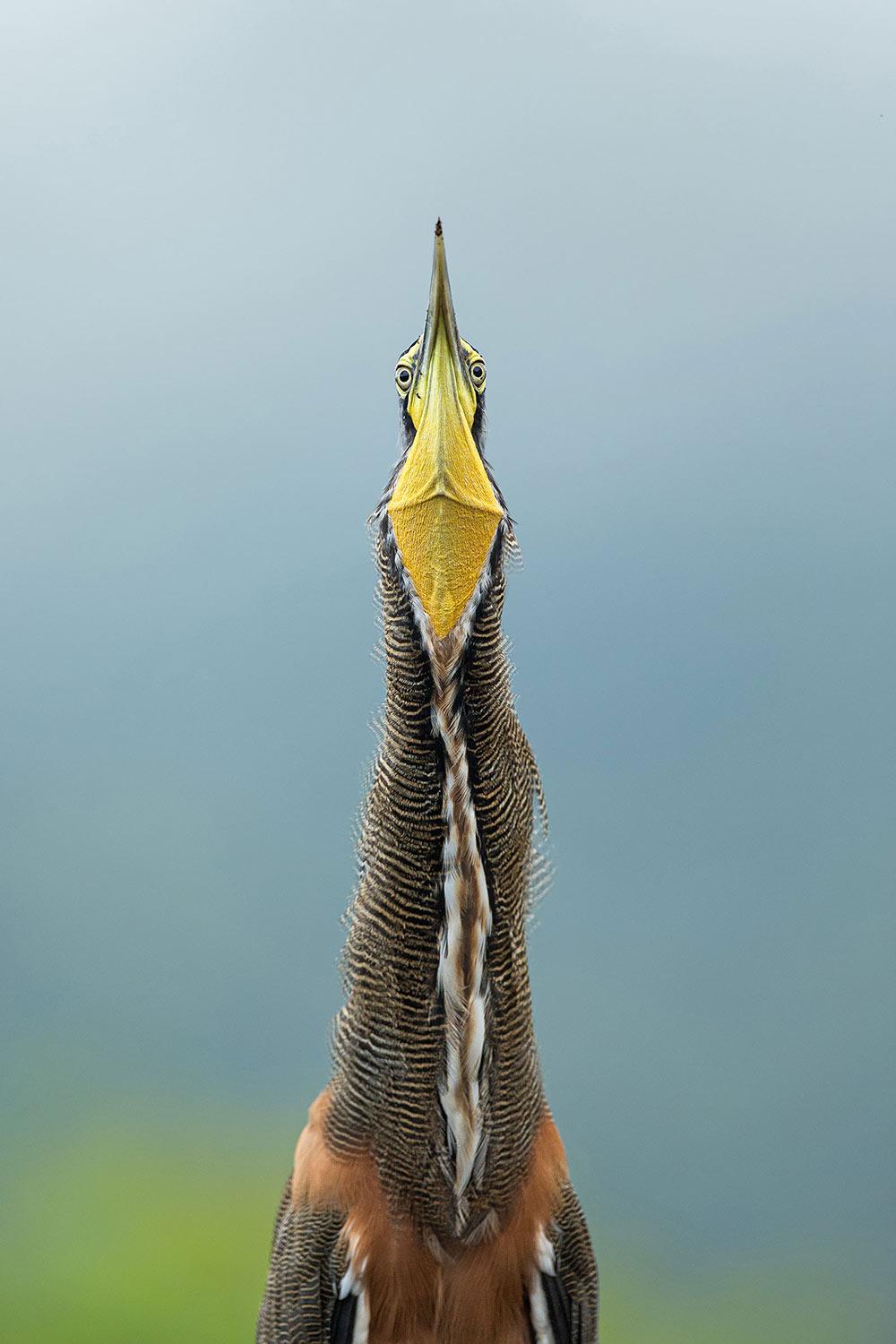 After a torrential rainstorm, I went out on a late-afternoon boat trip on the Tárcoles River. It was still raining when we left the boat ramp, but once the sky finally cleared, we spotted this Bare-throated Tiger-Heron walking along the river. As the boat drifted by, the bird leaned over the bank to watch us. I raised my camera and quickly switched to a portrait orientation to capture the beautiful post-storm sky behind it.
Photograph: Gail Bisson/Audubon Photography Awards/2020 Amateur Winner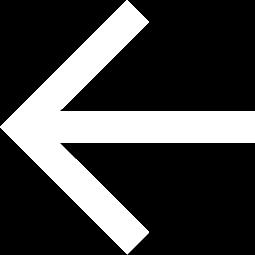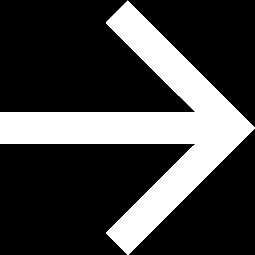 X