Winter has tightened its grip across North India and many parts of the world with fresh bouts of snowfall. The national capital recorded the season's lowest temperature on Tuesday.
Snow covered many parts of Jammu and Kashmir and Himachal Pradesh. Here are some of the beautiful snow pics from across the globe.
(Photographs: PTI Photo and Umar Ganie/Rediff.com)
Jammu and Kashmir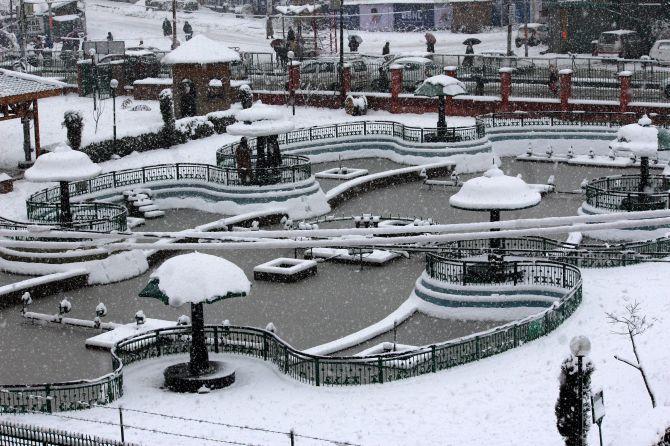 The mercury has gone down to the freezing point in Kashmir and Ladakh regions, with most places experiencing the coldest night of the season so far.
Temperature in Pahalgam hill resort in south Kashmir went down from -6.2°C to -12.4°C.
Gulmarg -- the famous ski-resort in north Kashmir -- also recorded the season's lowest night temperature as the mercury there settled at a low of -13°C.
The north Kashmir town of Kupwara recorded -6.2°C, Kokernag, in south Kashmir, registered a low of -5.9°C. Both places experienced the coldest night of the season.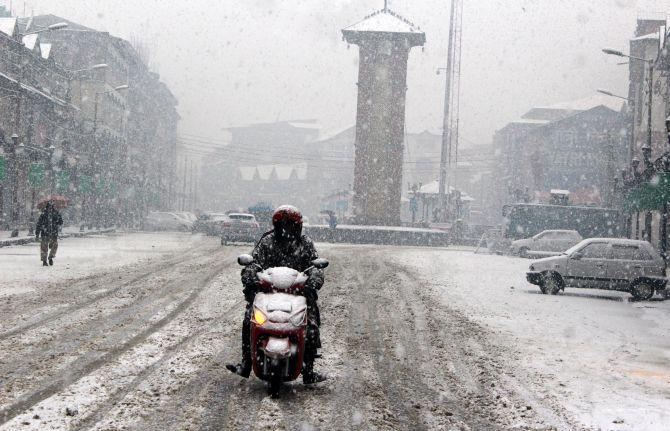 Leh town, in Ladakh region, was the coldest recorded place in Jammu and Kashmir as it shivered at the low of -16°C, which was also the season's lowest.
The nearby Kargil town also recorded the coldest night of the season so far as the mercury there settled at a low of -14°C.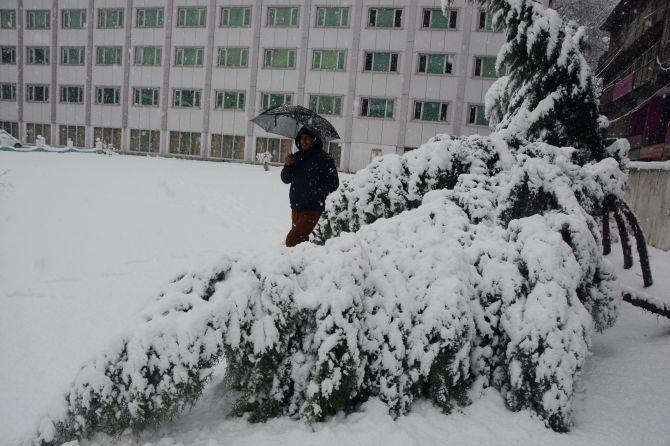 Srinagar -- the summer capital of Jammu and Kashmir -- recorded -4.1°C and mercury in Qazigund -- the gateway town to KashmirValley -- settled at a low of -4.2°C.
Kashmir is currently under the grip of 'Chillai-Kalan' considered the harshest period of winter, when the chances of snowfall are most frequent and maximum and the temperature drops considerably.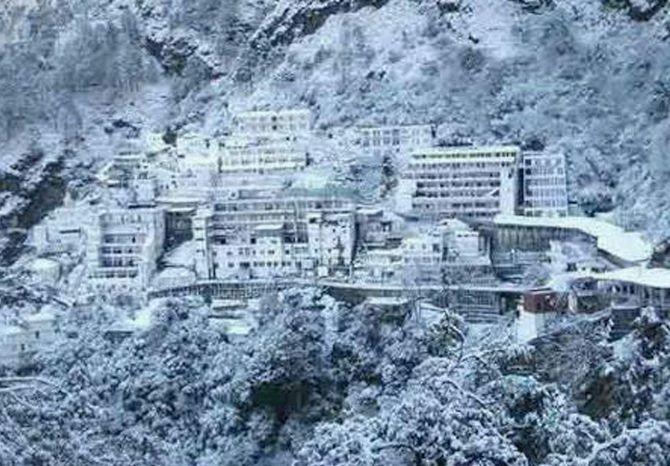 The region also witnessed heavy snowfall.
'Chillai-Kalan', which, began on December 21 last year, ends on January 31, but the cold wave continues even after that.
The 40-day period is followed by a 20-day long 'Chillai-Khurd' (small cold) and a 10-day long 'Chillai-Bachha' (baby cold).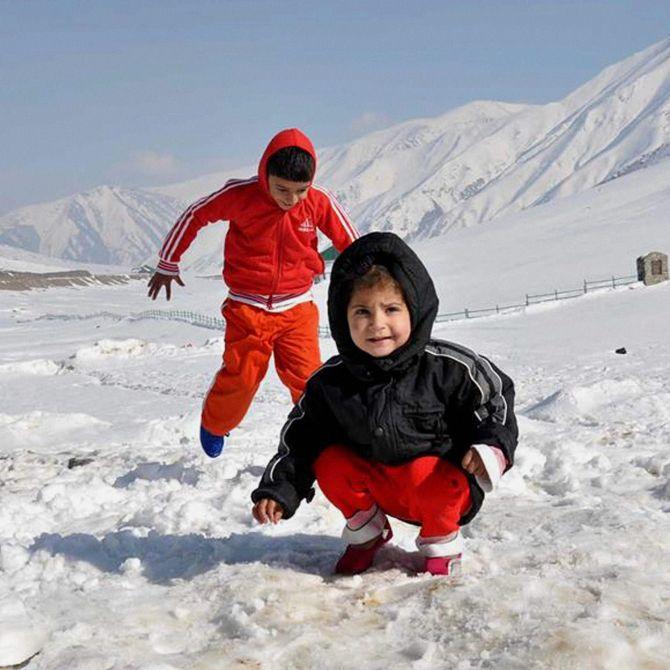 The Meteorological Department has forecast mainly dry weather over the state for the next three days, after which it said there is possibility of isolated or scattered snowfall or rains for a few days.
Himachal Pradesh
While weather remained mostly dry in Himachal Pradesh, Keylong and Saluni recorded 1 cm and 3 cm of fresh snowfall respectively.
Himachal MeT department director Manmohan Singh said 85cm snowfall has been recorded in Shimla, which is a record in itself. "This much snowfall has happened after many years," he said.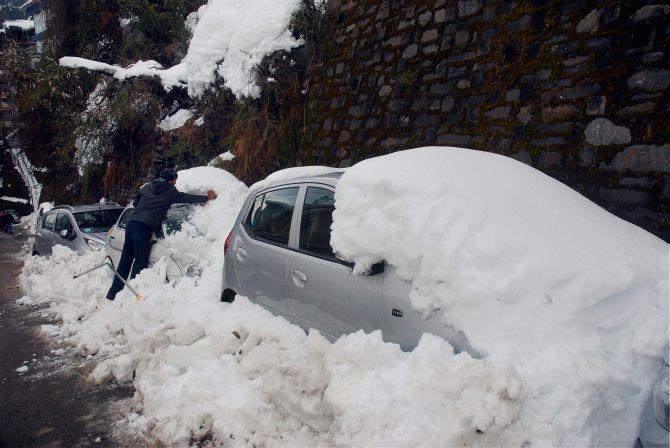 About 400 roads, mostly in Shimla and Kullu district, were blocked due to precipitation, while normal life was paralysed in Lahaul and Pangi valleys with all roads covered under a thick blanket of snow.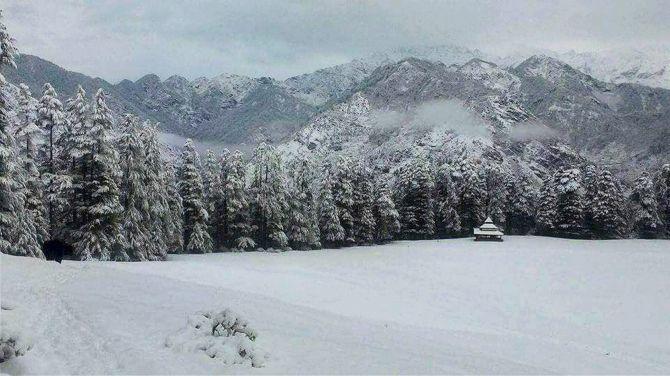 Upper areas of Shimla, Kinnaur and Lahaul and Spiti remained cut off from the rest of the state as vehicular traffic was disrupted due to slippery road conditions.
Strong icy winds swept Shimla, where several places remained without power for the fifth day. Traffic jams added to the woes of people in the city. However, water supply was partially restored.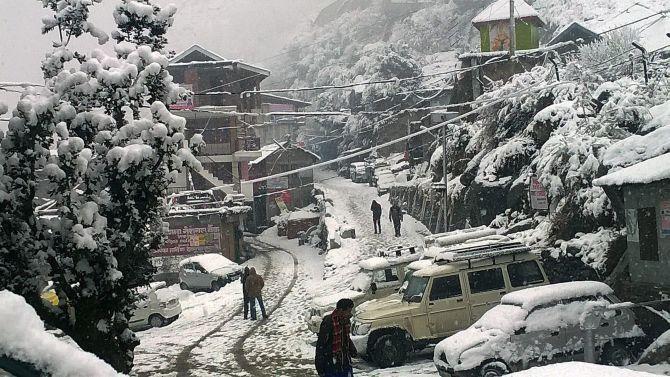 Tribal areas and upper hills in the state reeled under biting conditions. Water pipes froze and burst at numerous places in higher hills.
High-altitude tribal areas gauged minimum temperatures between -16 and -22°C, while Keylong and Kalpa in tribal Lahaul and Spiti and Kinnaur districts had a low of -9.7 and -7°C.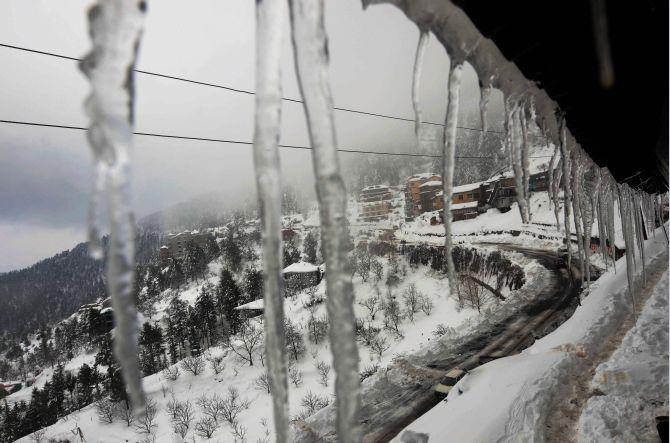 Other parts of India
Strong, chilly winds swept the national capital causing the mercury to drop to 5.2°C.
Punjab and Haryana also reeled under the grip of intense cold conditions with minimum temperatures dipping below normal in both states. Though the sun shone bright in most parts, icy winds swept across the region.
Amritsar in Punjab was the coldest place in both states, recording a low of 1.7°C. Chandigarh shivered at 5°C.
With many parts of Haryana reeling under the cold conditions, Ambala recorded a minimum of 5.7°C, while Hisar braved cold weather at 3.5°C.
In Punjab, minimum temperature in Ludhiana, the industrial hub of Punjab, settled at 5.3°C and Patiala recorded a low of 4.9°C.
In Rajasthan, which continued to shiver under cold conditions, Pahodi was the coldest place at -0.5°C, while Mount Abu quivered at 1°C.
AROUND THE WORLD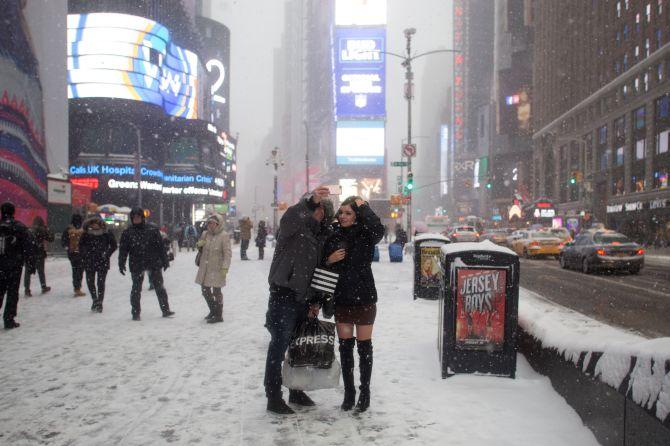 People take a selfie in Times Square on a snowy day in New York City. Photograph: Alex Wroblewski/Reuters
People pull their sledges after heavy snowfall in Berlin, Germany. Photograph: Hannibal Hanschke/Reuters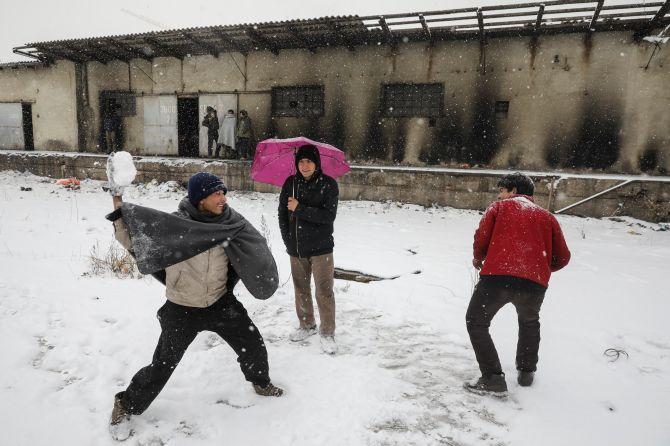 Migrants throw snowballs during a snowfall outside a derelict customs warehouse in Belgrade, Serbia. Photograph: Marko Djurica/Reuters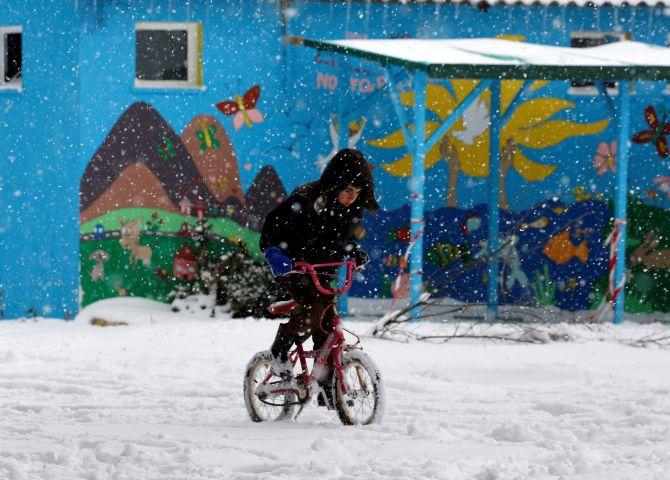 A stranded refugee boy rides his bicycle through a snowstorm at a refugee camp north of Athens. Photograph: Yannis Behrakis/Reuters
People walk along ice covered pier in Sopot, Poland. Photograph: Adam Stepien/Agencja Gazeta/Reuters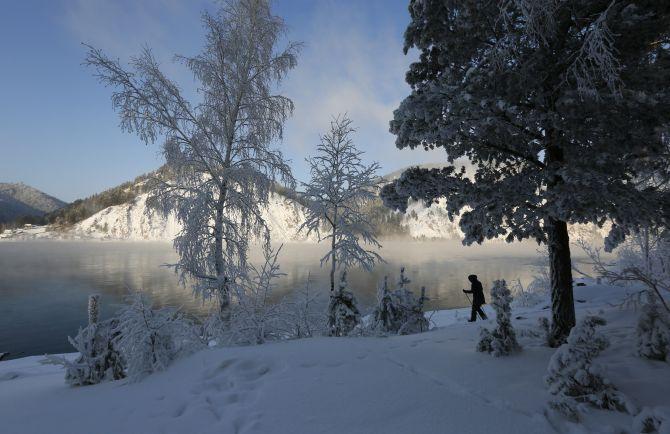 A person walks along a bank of the Yenisei river on a frosty winter day outside Krasnoyarsk, Siberia, Russia. Photograph: Ilya Naymushin/Reuters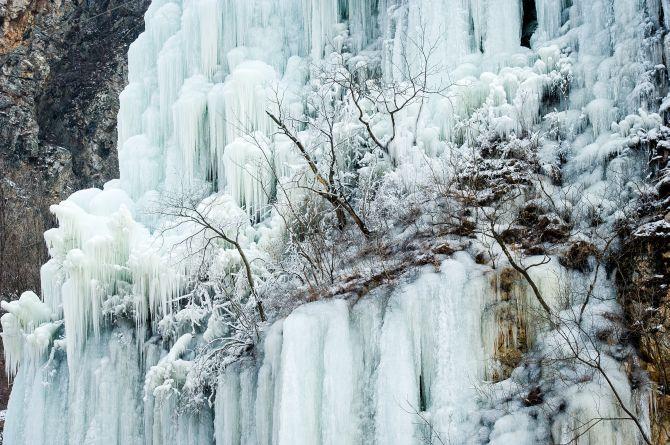 Waterfall freezes in winter at Tianmenshan Ice and Snow World in Dalian, Liaoning Province of China. Photograph: VCG via Getty Images