The US president's four-day tour will feature talks with British PM Theresa May, tea with the Queen, and mass protests including a giant Trump baby blimp being flown over Westminster.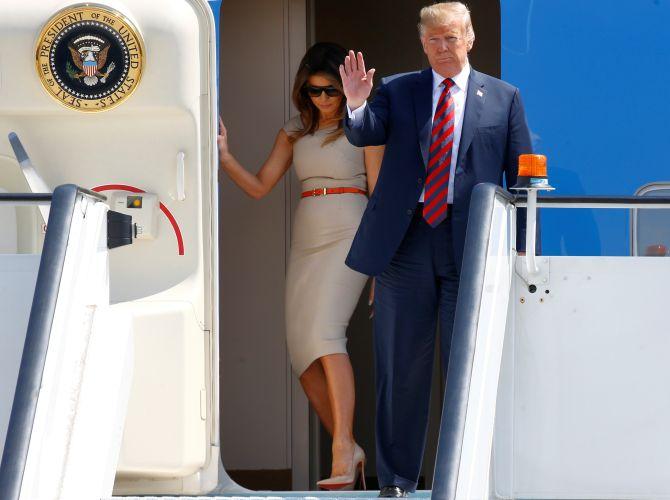 United States President Donald Trump arrived in London on Thursday on his maiden visit to the United Kingdom during which he will hold bilateral talks with British Prime Minister Theresa May over closer post-Brexit ties, amid mass protests planned around Britain against his controversial policies.
Protests are expected against Trump, whose policies -- including a travel ban on a number of predominantly Muslim countries, the detention of child migrants on the US-Mexico border and the imposition of tariffs on European Union steel and aluminium exports -- have all been criticised by the UK.
Trump and US First Lady Melania Trump touched down in their Air Force One at StanstedAirport in the east of England from the NATO summit in Brussels.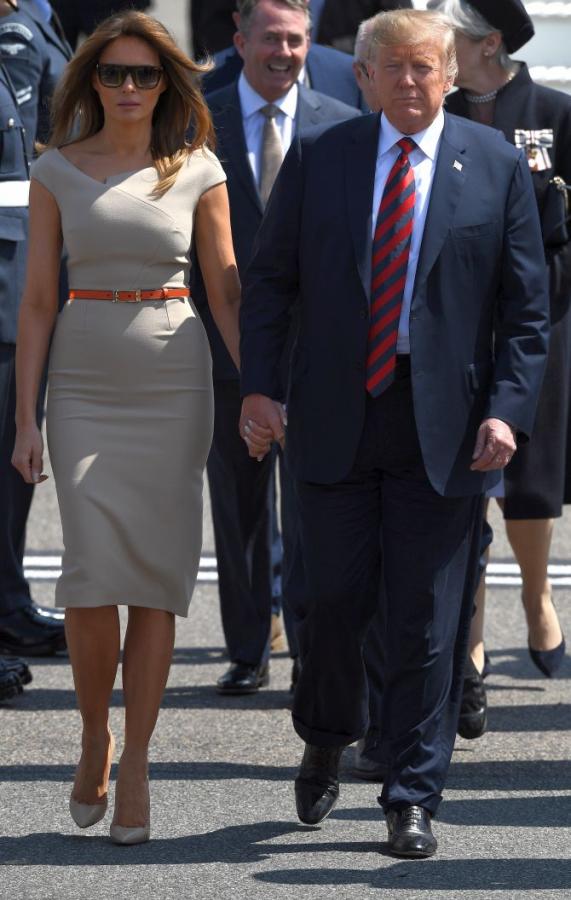 Trump's visit to the UK, the 12th US president to make such a tour, comes amid what he described as "turmoil" for the UK government, as Prime Minister May faces down rebellion from within her own party over her Brexit strategy.
Earlier this week, Trump said it was "up to the people" whether the prime minister stayed on after two senior Cabinet ministers resigned within hours over her Brexit policy. The visit is seen as crucial at setting the course for a closer trading relationship between the two countries.
Along with trade and security links, Downing Street has said the other key areas to be discussed between the two leaders will include Brexit and the Middle East.
A brief visit to the newly-relocated US Embassy at Nine Elms in south-west London is also believed to be on the cards. Trump had infamously dubbed the new site as a "lousy location" when he decided to cancel a planned visit for its official opening earlier this year.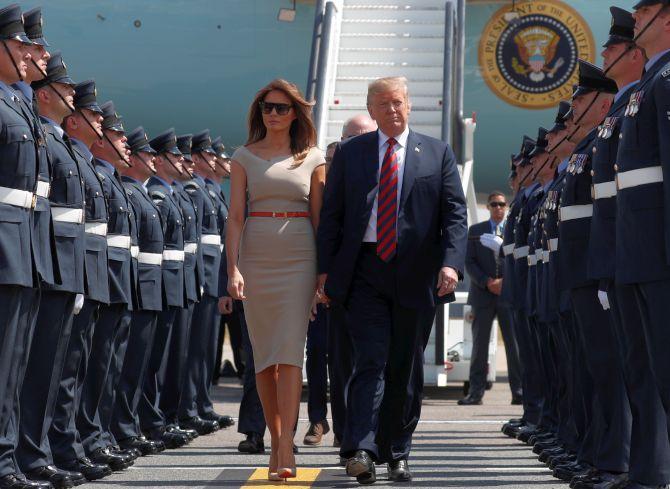 While the visit has not been accorded the formal State Visit grandeur, May will seek to make up for it with a gala black-tie dinner hosted by her for around 100 guests in the spectacular setting of BlenheimPalace in Oxfordshire.
The Trumps, as the guests of honour, will interact with leaders of UK business sectors such as financial services, travel, creative industries, food and drink, engineering, tech, infrastructure, pharmaceuticals and defence.
Downing Street has said that the dinner, at the birthplace and ancestral home of Britain's war-time prime minister Winston Churchill, is intended to "celebrate the strong business links between our two countries" at a time when the UK is hoping to strike a free trade deal with the US following Brexit.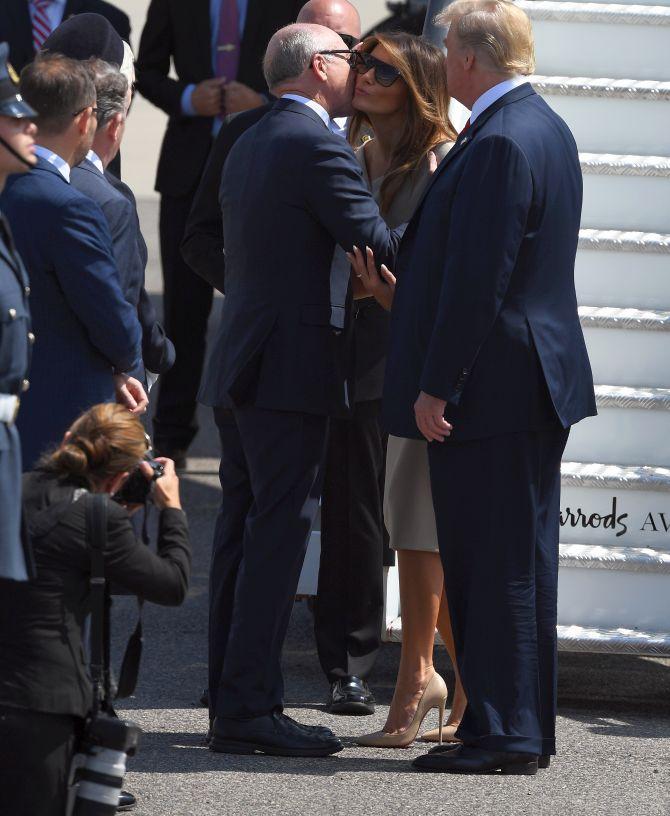 Following the gala event at the 18th century country house, Trump and his wife will come to central London to spend a night at US Ambassador Woody Johnson's official London residence, Winfield House, in Regent's Park.
An all-night noise protest -- "Keep Trump Awake in London" -- is due to take place outside Winfield House from 8 pm local time on Thursday, with the intention of causing a sleepless night for Trump. Protesters have been encouraged to bring pots, drums and vuvuzelas.
But besides that, the US president is set to avoid much of the mass protests as most of his official engagements have been planned outside London. His wife, who will spend Friday with the prime minister's husband, Philip May, is likely to experience some of it when she visits a school in the city.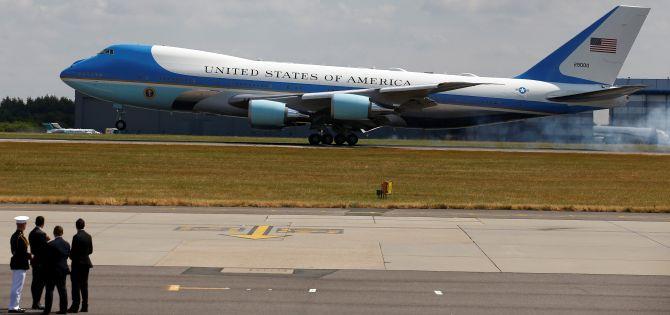 On Friday, May and Trump will visit an unnamed defence site to view a demonstration of UK military capabilities, as a showcase of integrated UK-US military training. They will then move on to Chequers, the prime minister's country retreat in Buckinghamshire, for a working lunch and "bilateral talks on a range of international issues".
Trump will then join wife Melania as they head to WindsorCastle for their audience with the Queen before flying out to Scotland, where they are expected to visit both Trump Turnberry and Trump International Golf Links Scotland.
After a weekend break in Scotland, they are expected to move on to Finland for Trump's much-hyped summit with Russian President Vladimir Putin in Helsinki on July 16.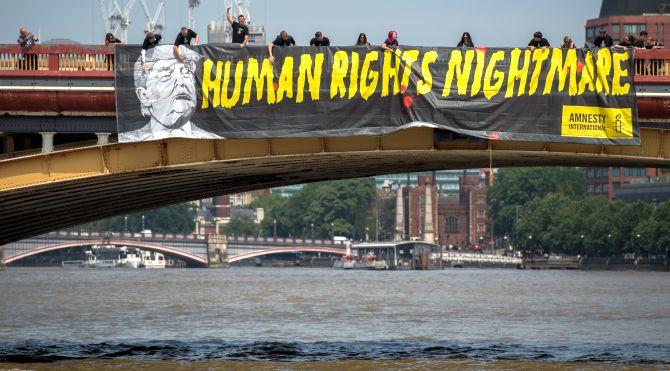 The UK's Police Federation has warned the visit will put "unquestionable pressure" on police forces as tens of thousands of people are expected to protest against Trump in London on Thursday and Fridayand in Glasgow on Saturday.
A rally, to be attended by thousands, takes place outside Downing Street on Thursday evening. The largest protest is planned on Friday afternoon, when over 50,000 protesters are expected to march from the BBC building in Portland Place to Trafalgar Square in the heart of London.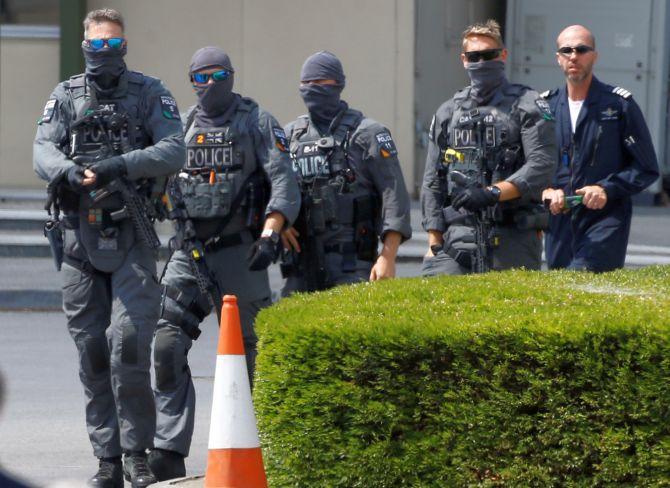 The Together Against Trump procession will be joined by a splinter protest called Trumpets Against Trump, which aims to "provide a wake-up call against the normalisation of fascism". Participants are encouraged to "find, borrow or steal" a trumpet, with lack of musical skill not considered an impediment.
Police forces from across the country have been asked to send officers to assist the Metropolitan Police. Smaller demonstrations are also expected to be held around the UK, including cities like Devon, Dundee, Edinburgh, Belfast, Norwich, Manchester, Leeds and Liverpool.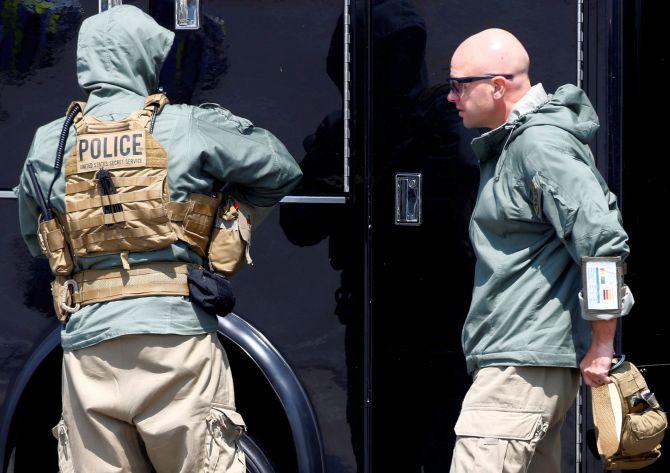 A giant 20-foot balloon depicting an orange and angry baby Trump in a nappy will rise above Parliament Square Gardens for two hours on Friday morning after London Mayor Sadiq Khan led Greater London Authority gave permission for it to fly. The move came after more than 10,000 people signed a petition calling for the permission, which now rests with Air Traffic Controllers on the day.
The US embassy in London has warned Americans in the UK to "keep a low profile" during Trump's visit.