The underwater world has never looked so magical, mysterious and mesmerising.
These photographs are some of the stunning medal winners in the Underwater Photographer of the Year 2021 contest.
The overall winner is Renee Capozzola from California, whose picture of blacktip reef sharks cruising beneath gulls at sunset in French Polynesia left the judges' jaws on the floor. She triumphed over 4,500 underwater pictures entered by photographers in 68 countries.
Here's a look at some of the winning images.
(Tap on the image to view the photos in full-screen resolution)
Sharks' Skylight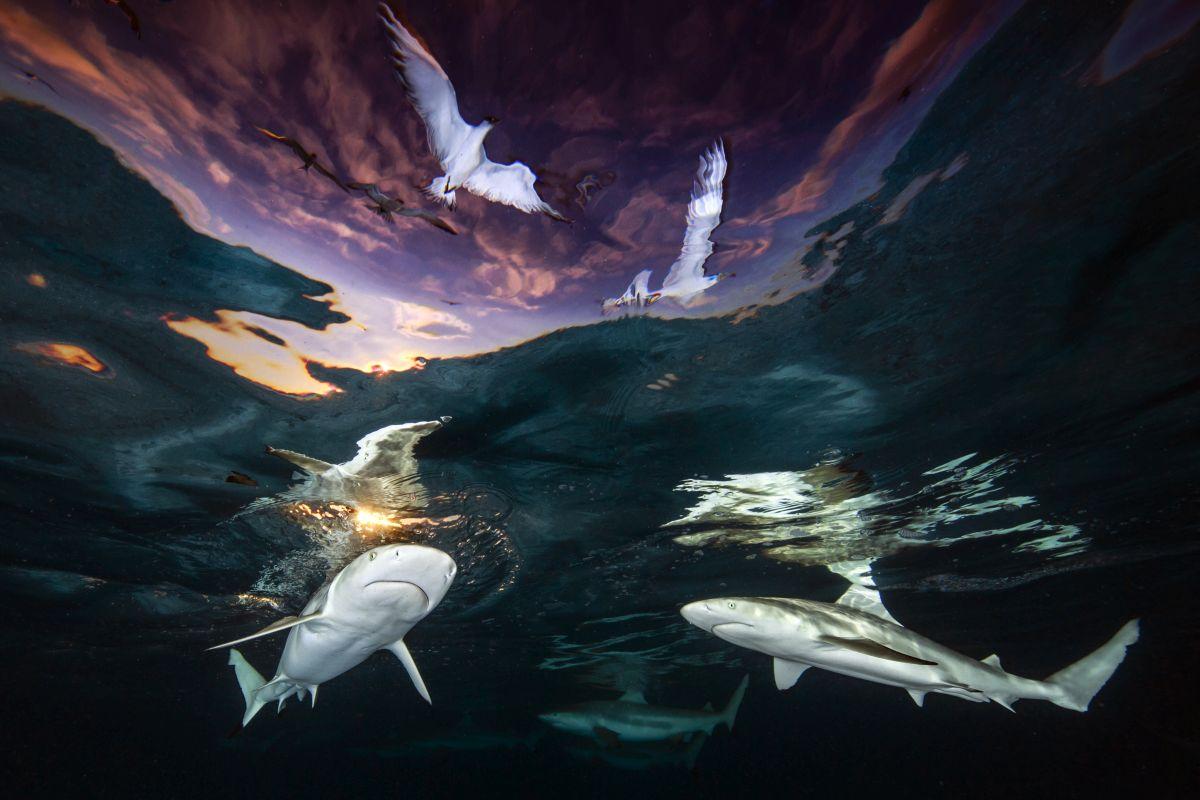 In August, 2020, I visited the island of Moorea, which was not only open to visitors but also happens to be my favorite place to photograph sharks. During this trip, I spent several evenings in the shallows at sunset, hoping to capture something unique. Instead of focusing on split-level images that I am known for, I decided to try something different. I envisioned and aimed to capture the sharks underwater with the sunset seen through Snell's window. It took many attempts, but on this particular evening the water was calm, the sharks came into a nice composition, and I got lucky with the birds as well. Since many shark species are threatened with extinction, it is my hope that images of these beautiful animals will help promote their conservation. Photograph: ©Renee Capozzola/UPY 2021
Gothic Chamber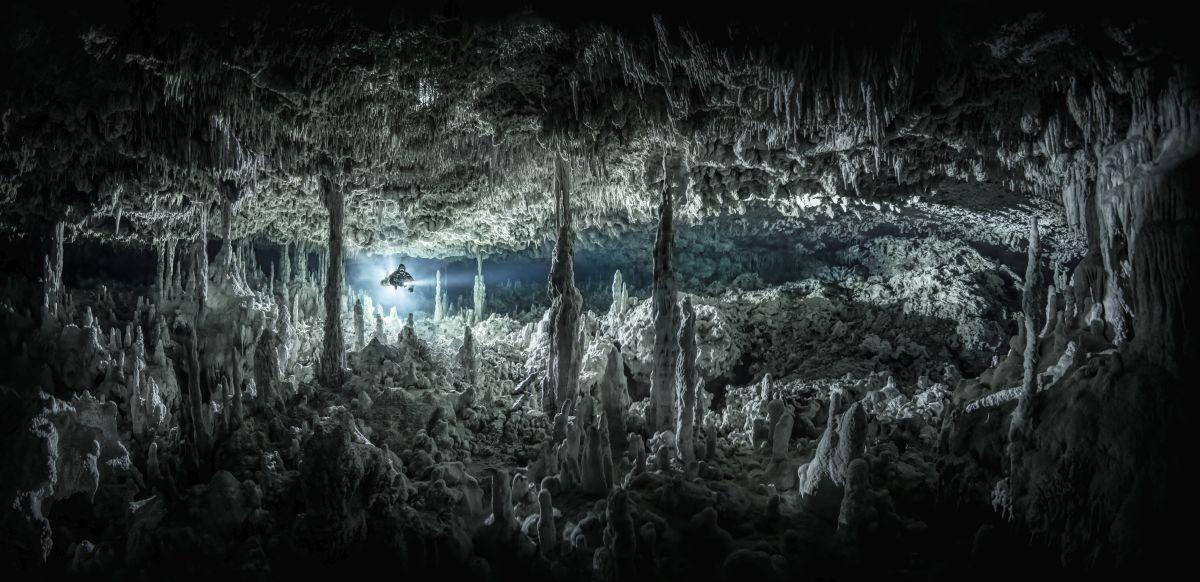 The riviera Maya in Mexico host the world's largest underground river systems filled with clear water, never-ending tunnels and amazing halls with decoration that can compete with the best gothic cathedrals of the world. The challenge of capturing this beautiful hall in cenote Monkey Dust was not only the huge dimensions but the fact that is pitch black. Photograph: ©Martin Broen/UPY 2021
Bowlander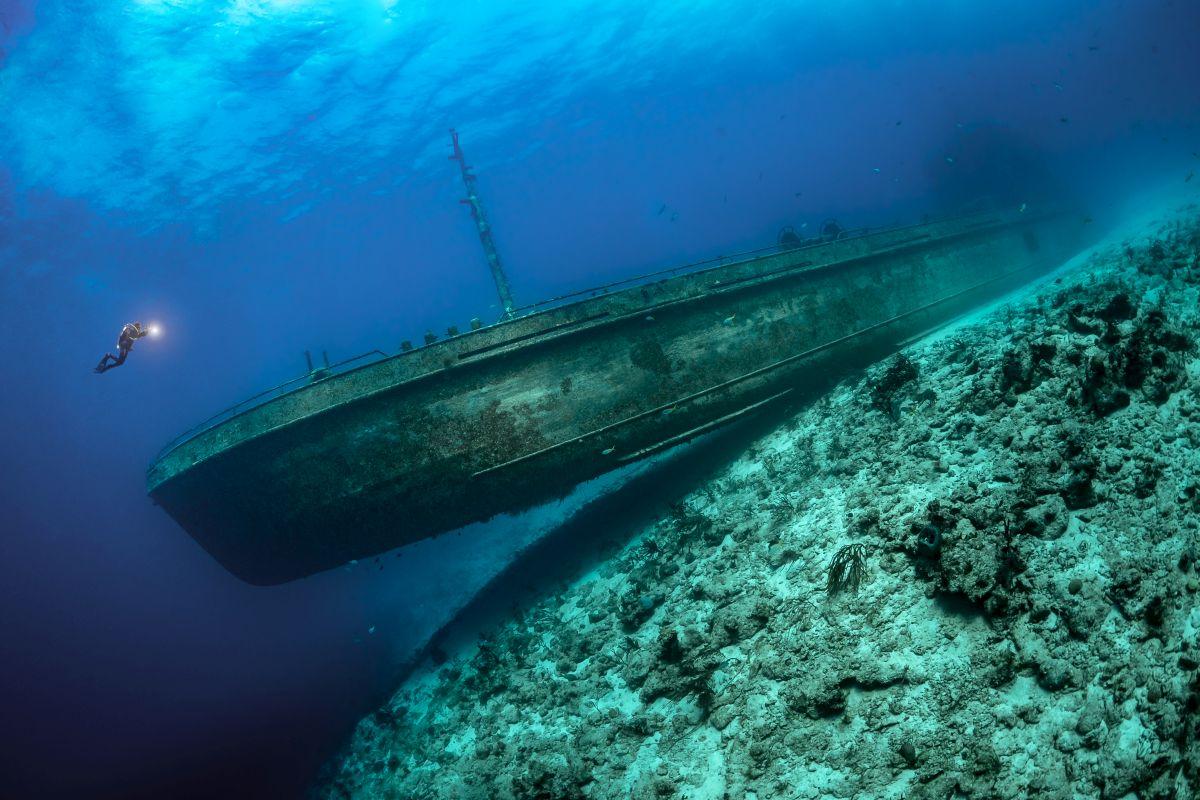 Due to bad weather at Tiger Beach and in Bimini we had to look for shelter near Nassau in the Bahamas and do some regular dives. This wreck was totally new to me and a big surprise when we descended as the bow is hanging almost completely over a sandy overhang. ©Tobias Friedrich/UPY 2021
A striped marlin in a high speed hunt in Mexico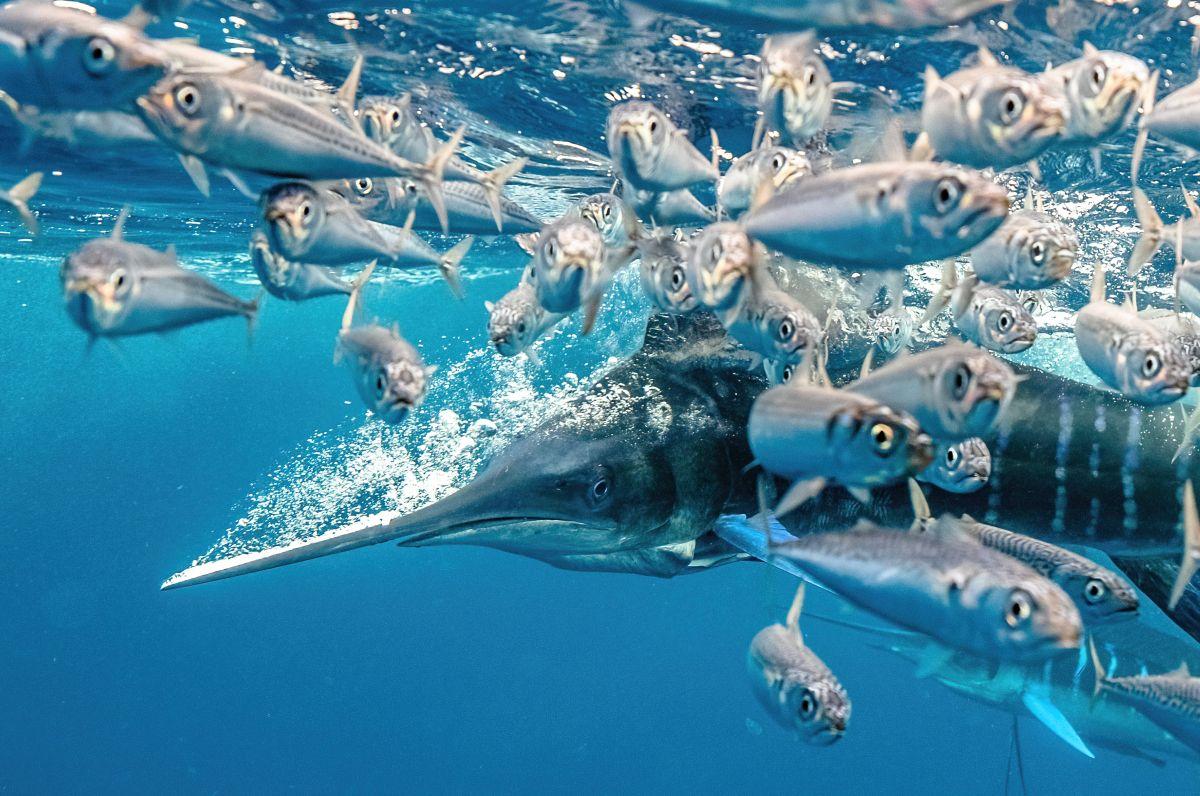 This is a terrifying scene for the small fish, fleeing for their lives as a striped marlin hunts them. The slightest mistake means life or death. There are often birds hunting from above and sometimes a dozen other marlin and sea lions attacking from all sides. Marlin are one of the fastest fish in the sea, a terrifying predator for a small fish in the great blue desert. I went to Mexico to document these feeding frenzies but was not expecting such a fast paced hunt, almost too fast for my brain to process. For a brief moment, this scene unfolded before me and I had to rely on all my instincts and practice underwater to take this photo. Photograph: ©Karim Iliya/UPY 2021
Face to Face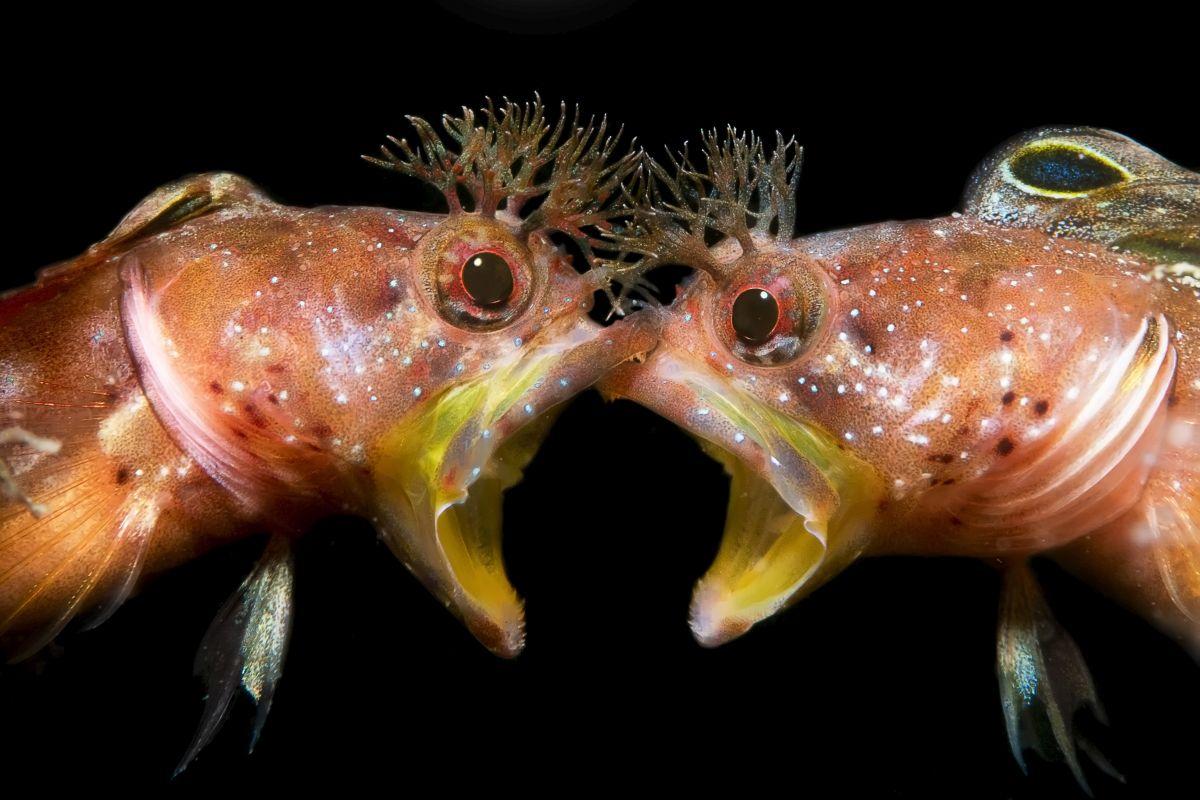 This is a picture of blenny in a fight. It is a species of chaenopsid blenny found around Japan and South Korea. Its most distinctive feature is its very cool hairstyle, which is often referred to as Punk Blenny or Mohican Blenny. In fact, this kind of Blenny fight scene is very rare because they usually just stay in their lair and don't interact with other individuals. But during the breeding season, if an area is too densely populated, the blenny will engage in fierce fights for a mate, and these fights are often quickly settled. Photograph: ©JingGong Zhang/UPY 2021
Grey Seal Gully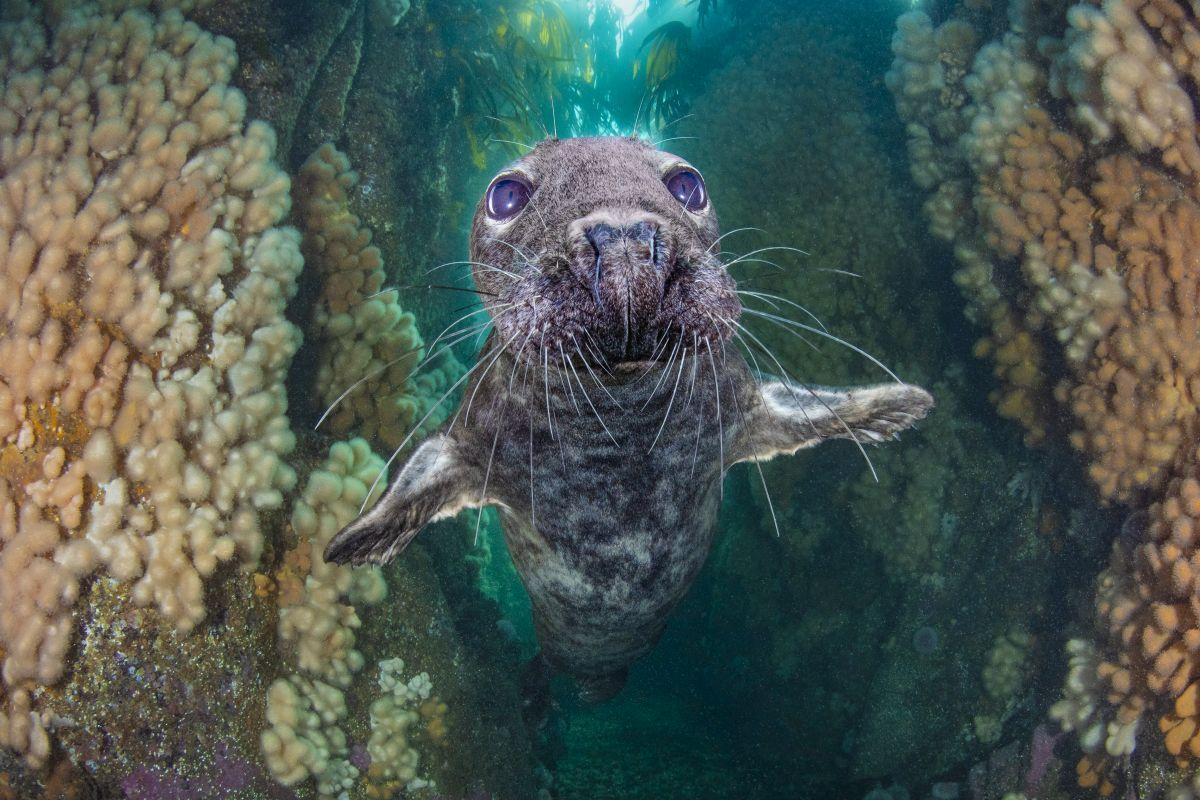 Grey seals are wonderful to photograph but I particularly like this shot because of the background. My buddy showed me this pretty gully full of dead man's fingers and light coming down through kelp. I waited there for a little while, hoping a seal would turn up. In the end I only had one quick pass from one shy seal, but I was able to take this pleasing portrait. Photograph: ©Kirsty Andrews/UPY 2021
Dream Ship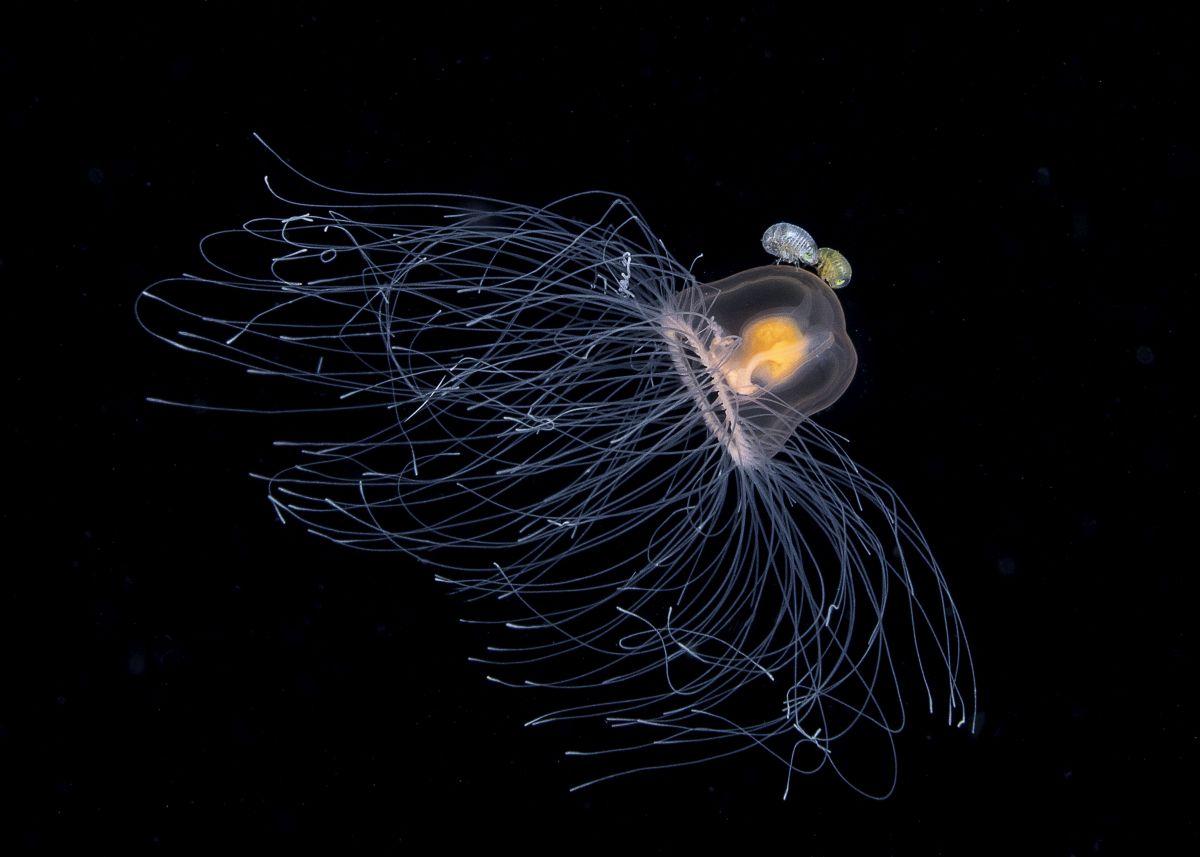 When I dived at night and saw this jellyfish it looked very cute. It looked like an alien creature had appeared in front of me. It has a lot of tentacles so sometimes looks very messy. But I really wanted to take a picture of his tentacles that are vertical, so I waited for a while and finally took the picture, but when I replayed the picture, I found two bugs on it's body. They were like taking a spaceship to go traveling in space. Photograph: ©Chien-Ting Hou/UPY 2021
Jellyfish Galore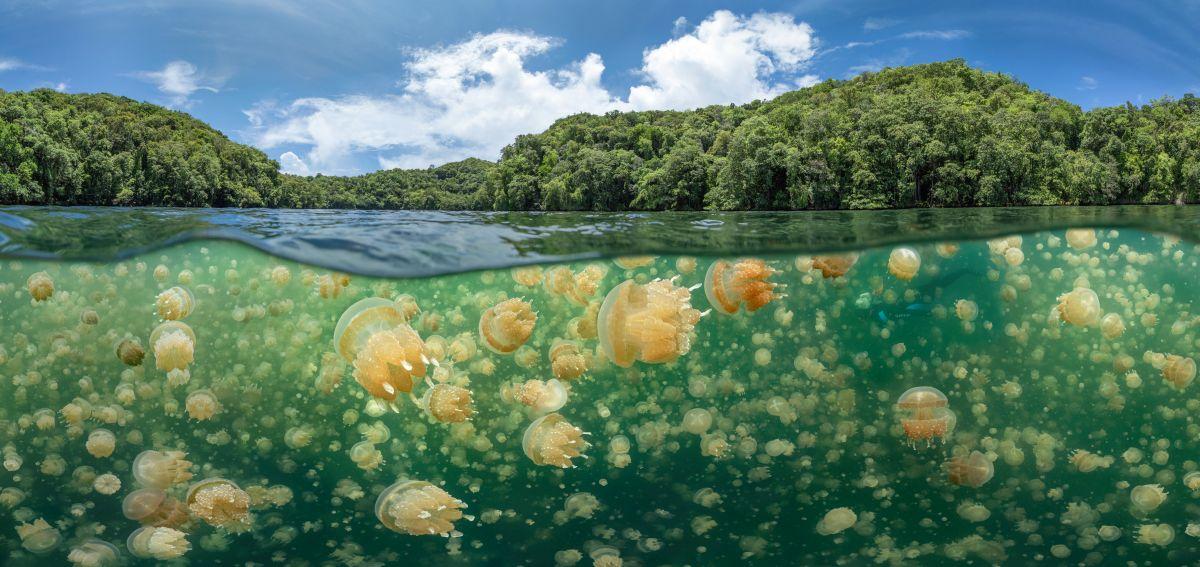 In March 2020, I flew to Palau for two weeks of diving. When I was there, the borders closed because of Covid-19, so I was able to fly back only after 3 months. It was a good time. Dive sites where you could previously meet 50 people, I visited alone. I have been to the jellyfish lake 4 times. Usually, a snorkeling session lasts 45 minutes due to the large number of tourists. But as I was alone, I could swim for 3-4 hours. Before the first dive, the guide told me: swim to the center of the lake, there you will see jellyfish. In the center, I found only a dozen jellyfish and was upset. The second time I took a drone with me and quickly flew around the entire lake. 2 million jellyfish, about which I read in Wikipedia, gathered in a small group near the shore at the far end of the lake, which was about 500 meters away. I took the camera and swam. I had to work with fins for 20 minutes until I ended up in real jellyfish soup. That's where I shot this panorama. Photograph: ©Oleg Gaponyuk/UPY 2021
While You Sleep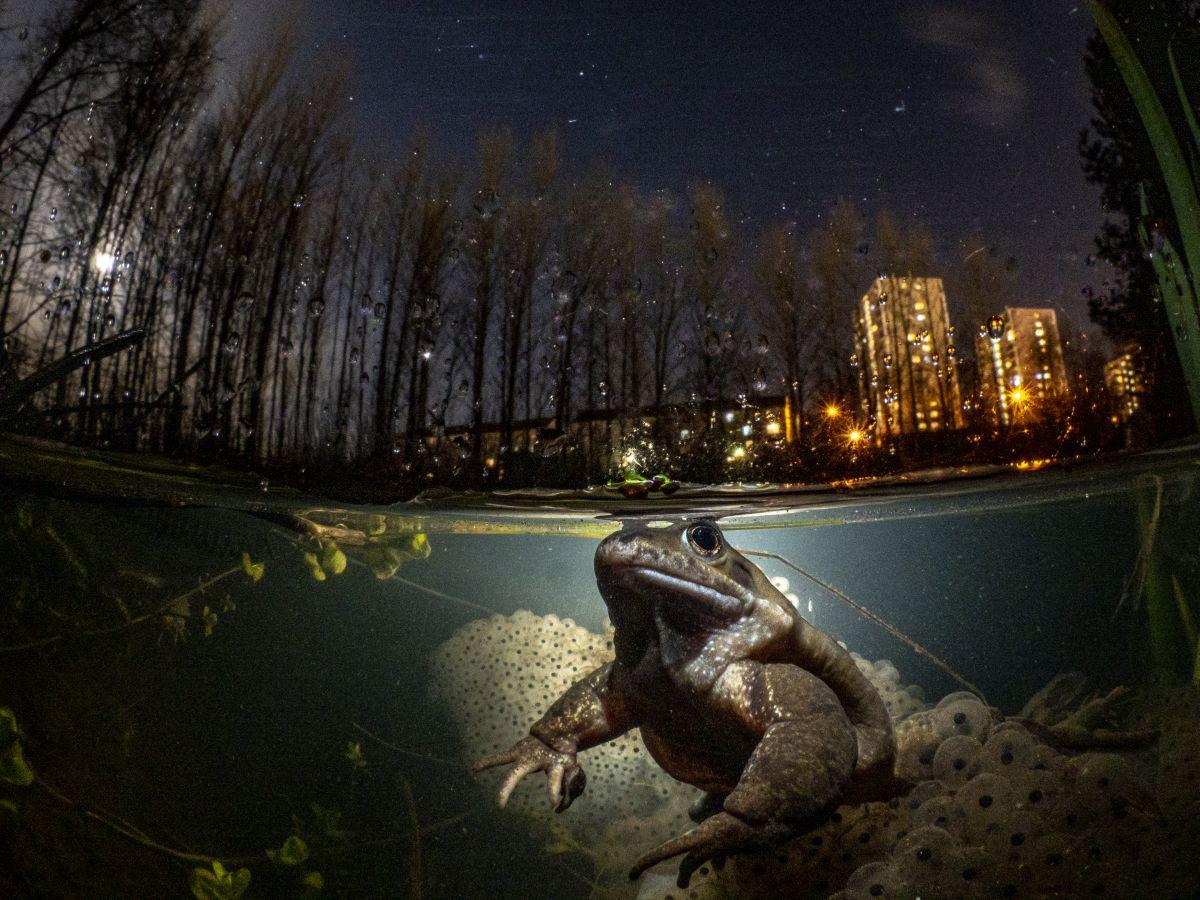 Malls Mire -- small woodland in Glasgow, between a housing estate, supermarket and factory -- is an unlikely haven for wildlife. As winter thaws, for a few nights each year one of it's small muddy ponds comes alive with Common Frogs. This final shot is a culmination 25 hours over 4 nights of lying in darkness, covered in mud, waiting on natures unpredictable elements to align. Time well spent? Absolutely. Photograph: ©Mark Kirkland/UPY 2021
Tying In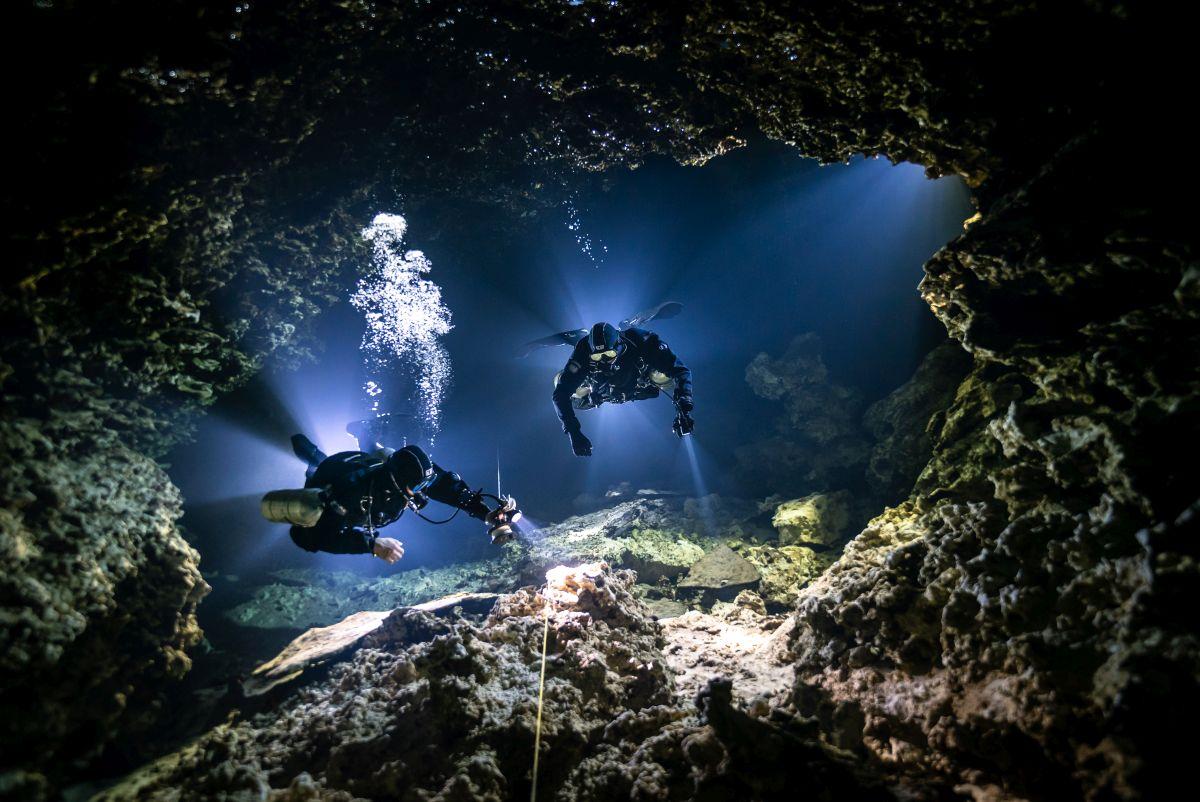 As this shot was taken during cave training, we had a pretty intricate plan in place, which is not usually how I run caves shoots. However, the plan failed miserably as the cave student, Max, had multiple equipment failures before even making it past the cavern zone. I swam ahead and waited just beyond the beginning of the permanent mainline watching the team swim towards me, followed closely by the lighting assistants creating those beautiful halo effects. Suddenly everything just lined up perfectly, so I pressed the shutter just as Max turned to tie into the mainline. Photograph: ©S J Alice Bennett/UPY 2021
Pontohi pigmy seahorse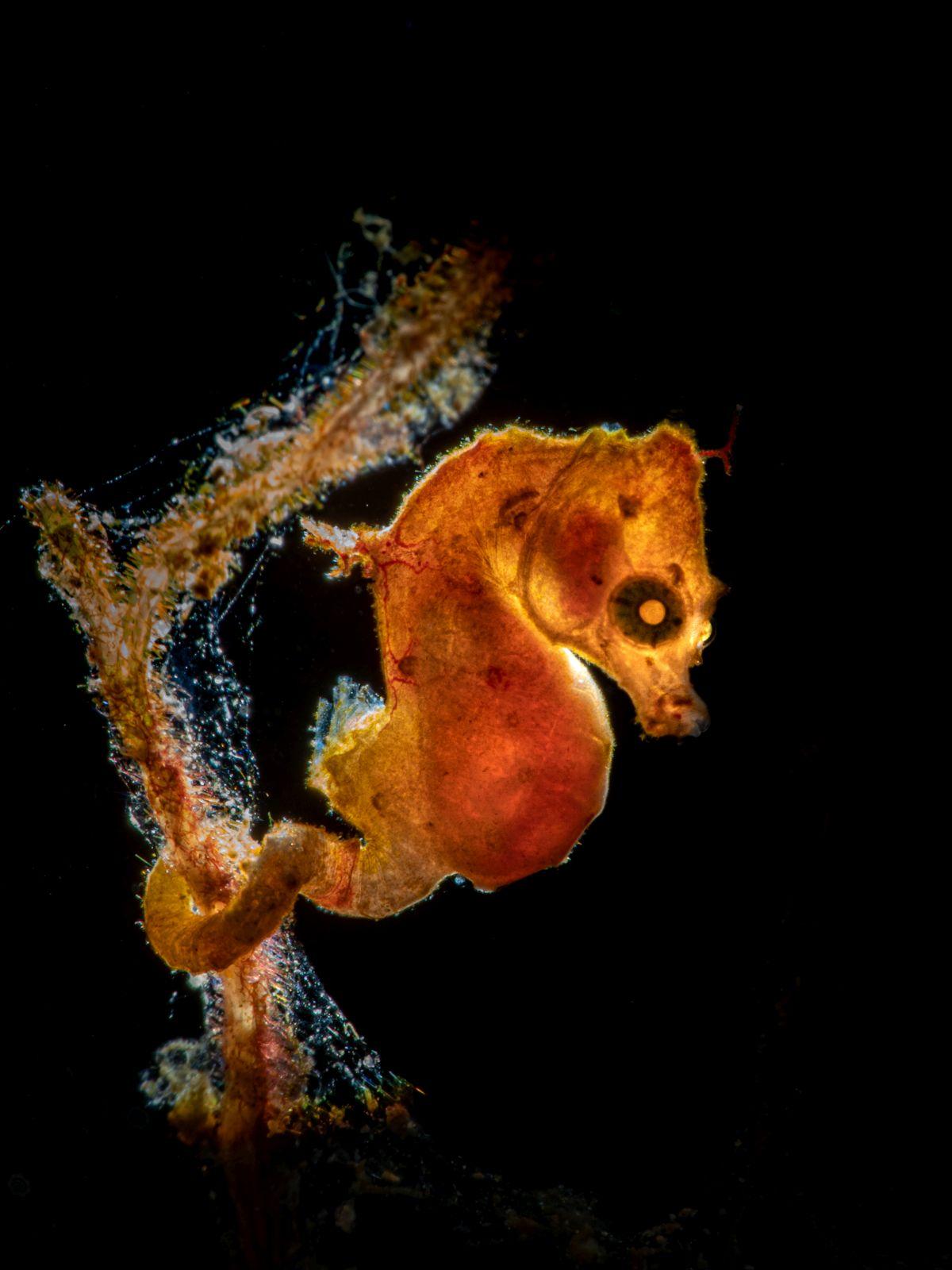 Pontohi pygmy seahorse (Hippocampus pontohi) is one of the smallest and most recently discovered seahorses. They usually live on reef walls and can be hard to find. We had found two during the morning dive so I decided to dedicate the afternoon to getting a backlit photo. We were lucky to find this particular individual hanging out from the wall, allowing the use of a snoot to backlight it with the help of Rando, my dive guide. Photograph: ©Galice Hoarau/UPY 2021
Golden Hour at the Georgios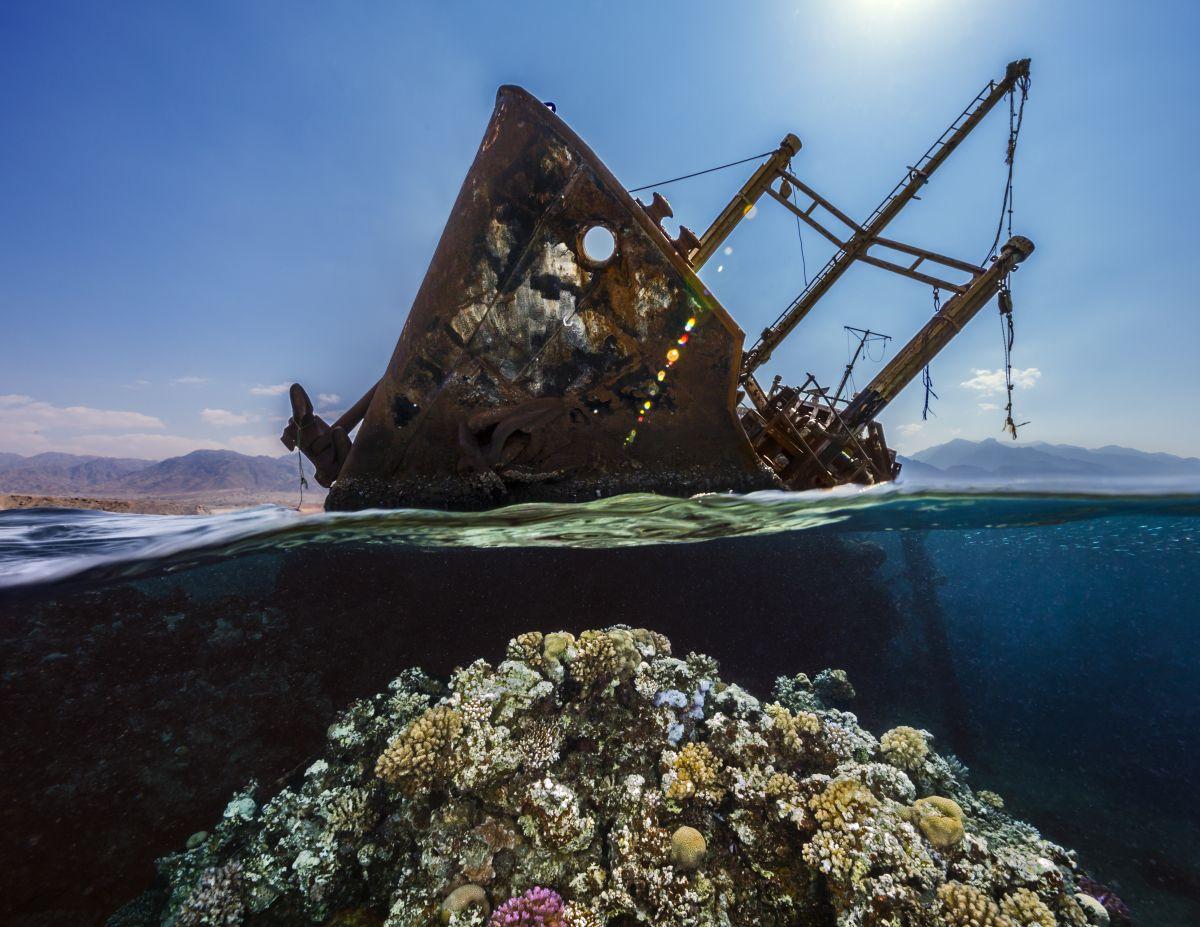 This split shot of the Georgios shipwreck was taken in Neom, Saudi Arabia along the Gulf of Aqaba in the Red Sea. In 1978, this large cargo ship originally from England became stranded on a shallow coral reef at night and then suffered from a large fire. Now serving as an artificial reef for many marine organisms, this wreck sits halfway out of the water on the bow side and in roughly 80 feet of water on the stern side. Some locals refer to this site as the "Saudi Titanic." Photograph: ©Renee Capozzola/UPY 2021
The Cut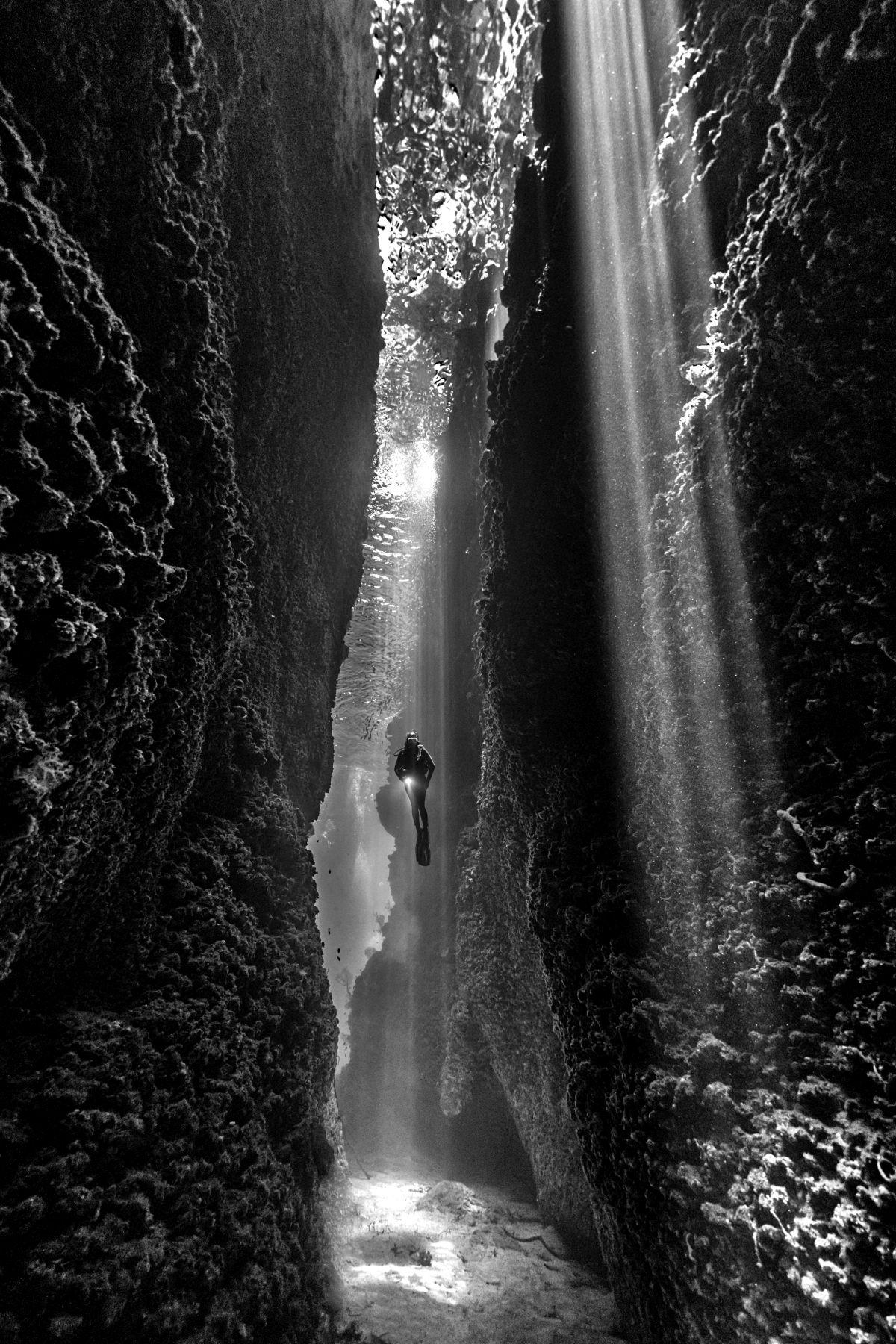 This photograph was taken at Leru Cut in the Solomon Islands. I was lucky enough to have won a 10-day trip on the Solomons PNG Master liveaboard and was very excited to have the opportunity to visit this site again. Having dived these waters on two previous occasions I knew what to expect. However, I needed an elegant model as an essential element for this composition and my immediate companions could not be classified in any way as elegant! Fortunately, there was another photographer in my dingy group whose beautiful model wife was the perfect subject. Somewhat cheekily I managed to capture a few shots of her as she posed for her husband!!! Photograph: ©Diana Fernie/UPY 2021
Rainbow Goby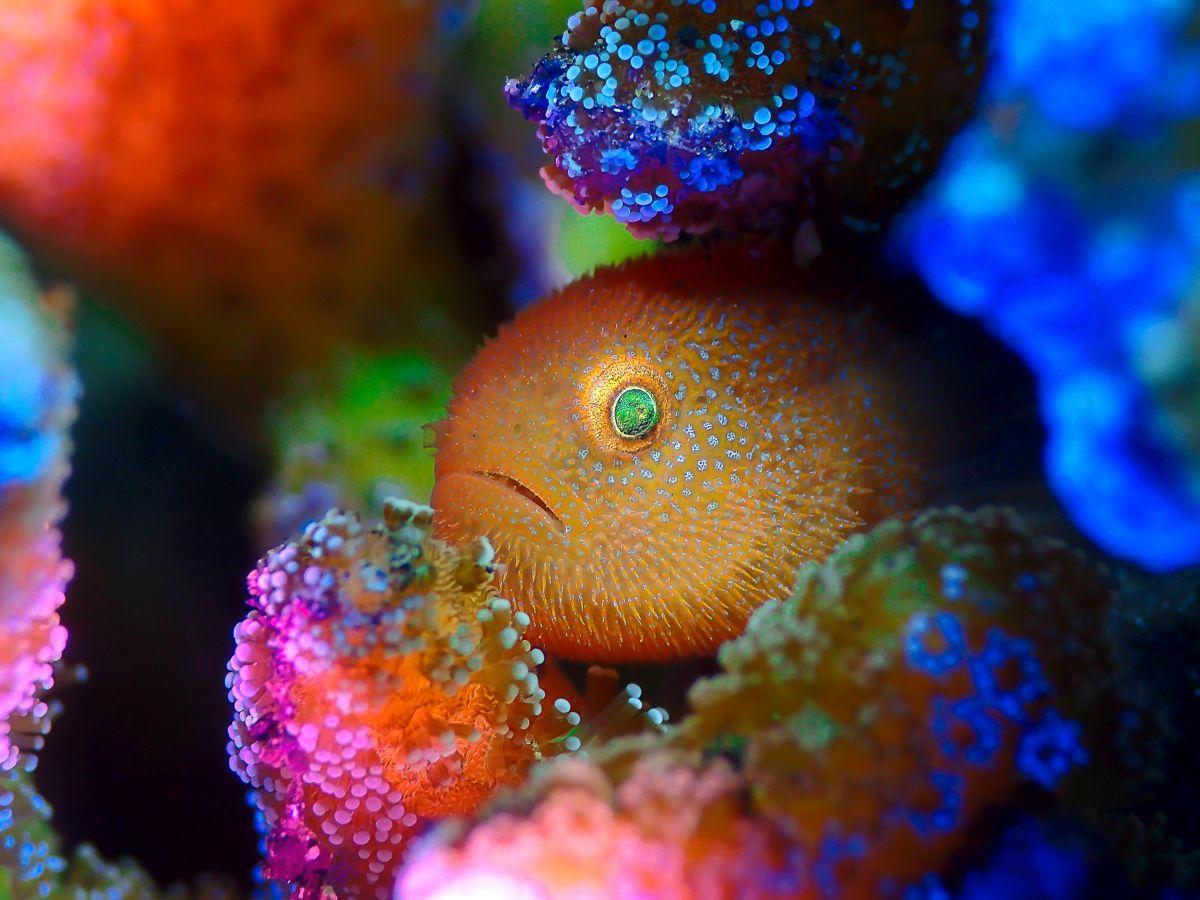 When I was underwater with this Hairy Panda Goby, he was very shy so it took a long time for it to be comfortable before it popped it's head out. While waiting, I set up my coloured torches and align them to illuminate the coral, but not the goby. Then to produce a sharp picture of the goby I had to use another snoot with white light, so that it is recorded correctly and surrounded by all the colours. Photograph:©ManBd/UPY 2021
Pelagic Stingray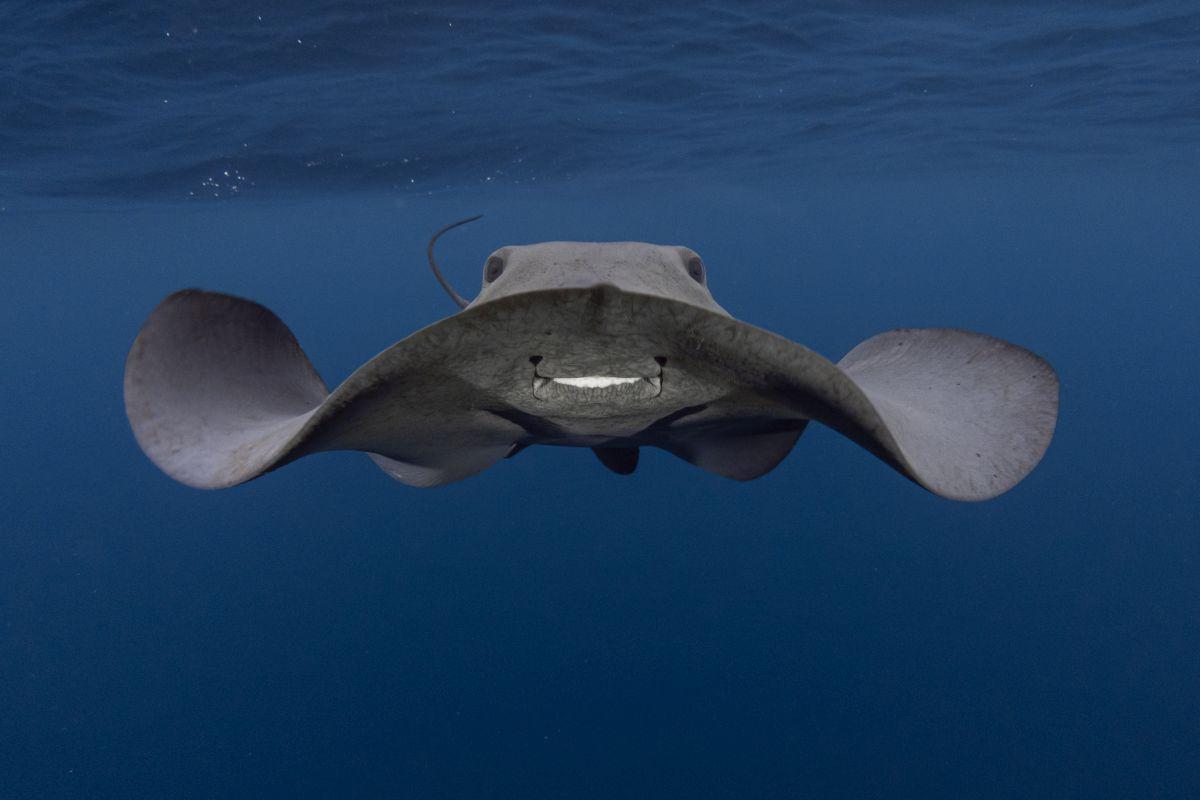 This image was taken in summer, offshore from Bermeo, while doing a shark dive. Being sorrounded by 3 blue sharks, this pelagic ray appeared to check the bait. It was a very rare encounter, this animal was not been sighted before in this waters, and I too had never seen this animal before. It was going in and out from the bait, so I tried to get close to it calmly, then it come right to my dome and I took the photo. Photograph: ©Isaías Cruz/UPY 2021
Resplendence - Black browed Albatross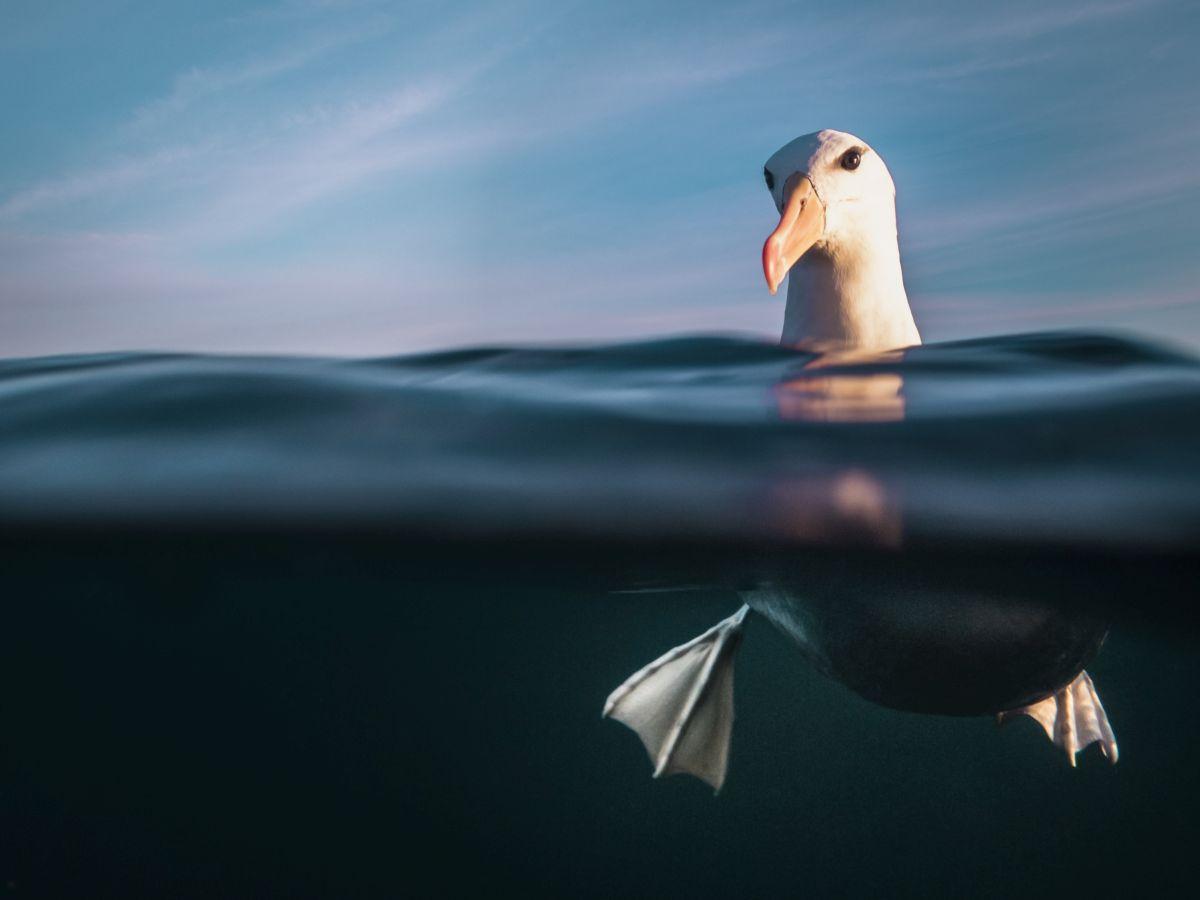 Whenever I see an Albatross I get excited! Their sheer size and beautiful features make them a joy to photograph. I have been working on a series of split shots of the various species of Albatross that visit Tasmanian waters for a few years now. Getting good eye contact as well as good feet symmetry is a challenge as they are generally quite shy Birds. Photograph: ©Danny Lee-Submerged Images Tasmania/UPY 2021
The Great Migration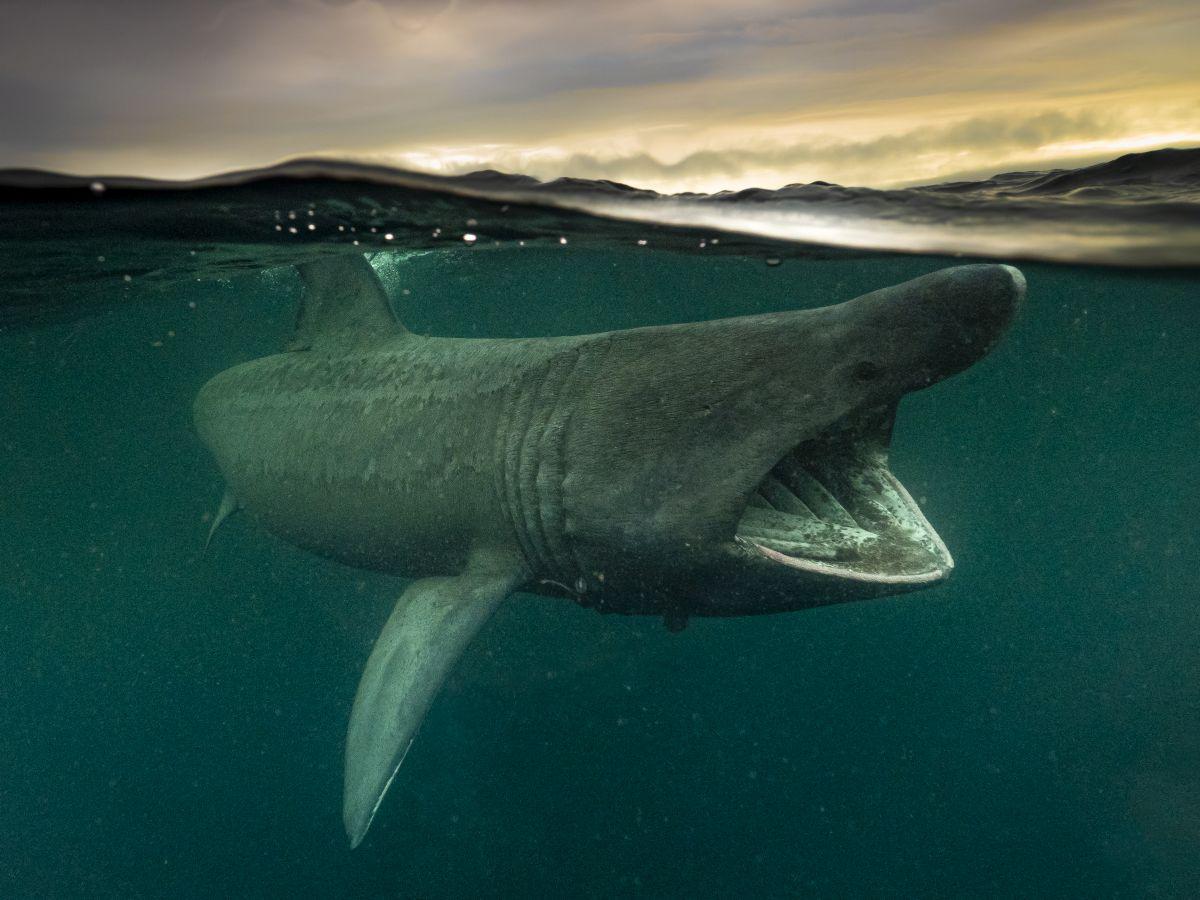 It's the microscopic plankton which draws the massive Basking Shark up the west coast of Britain and into the narrow channel between the Isles of Coll and Tiree. While their migration is predictable, to share the water with them still requires that element of luck and to spend a late summer evening with them (in 2020 of all years) was a dream. I've photographed Basking Sharks before and never managed that classic 'head-on' shot, so decided to try for something completely different instead. Photograph: ©Mark Kirkland/UPY 2021
Portrait of a variable blenny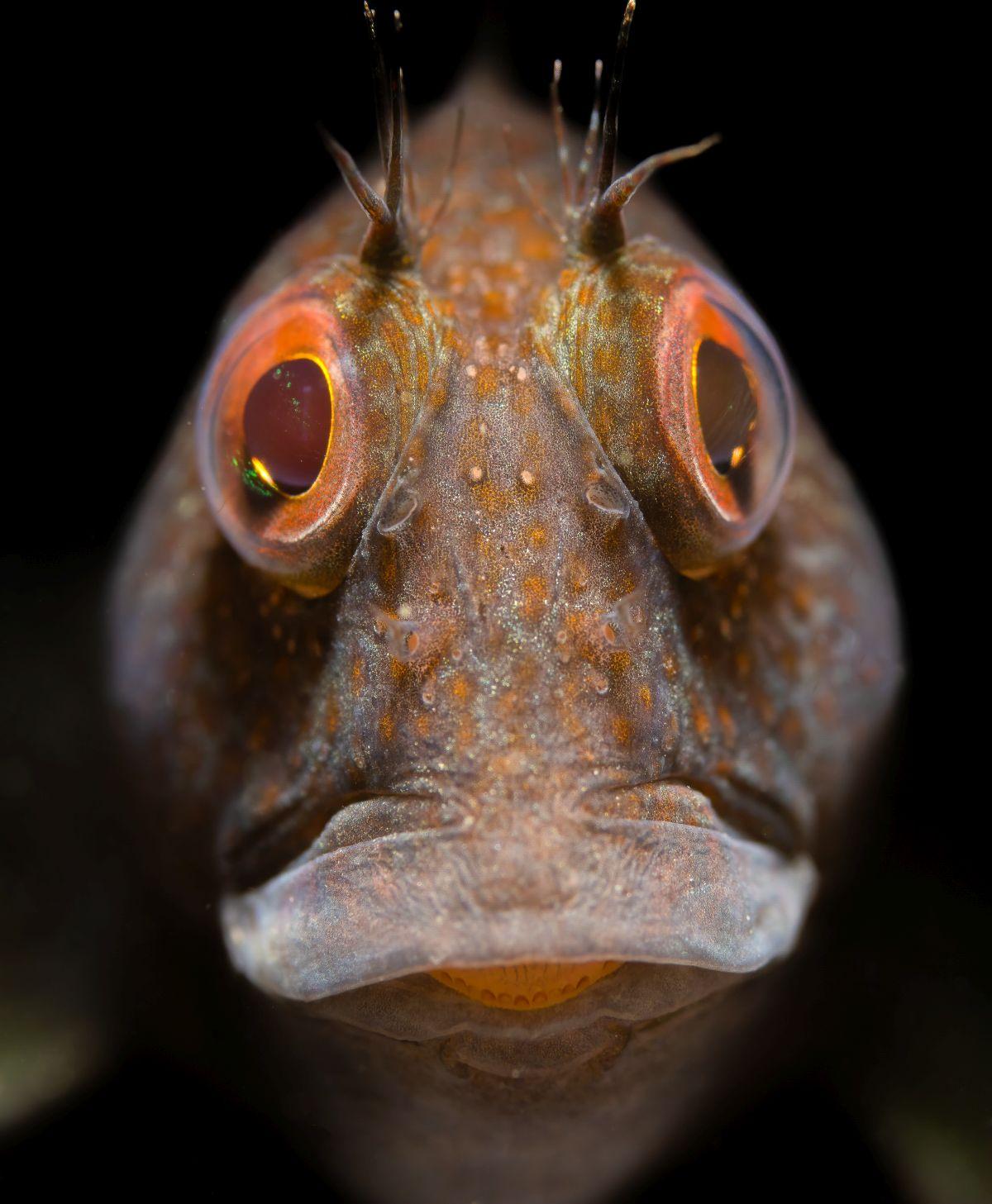 The variable blenny (Parablennius pilicornis) is a relatively new arrival to UK coastal waters, with its origins from more southerly waters (it has been recorded throughout the Mediterranean Sea). This species may appear in a number of different colour forms. The current image is of a male and was taken in Plymouth Sound, July 2020. This particular blenny was standing out proud on a reef ledge, making it an ideal subject. The image was captured using snooted lighting to emphasise only the face of the blenny, with the snooted light being positioned from above the head enhancing the facial features. ©Malcolm Nimmo/UPY 2021
Sunrise Mute Swan Feeding Underwater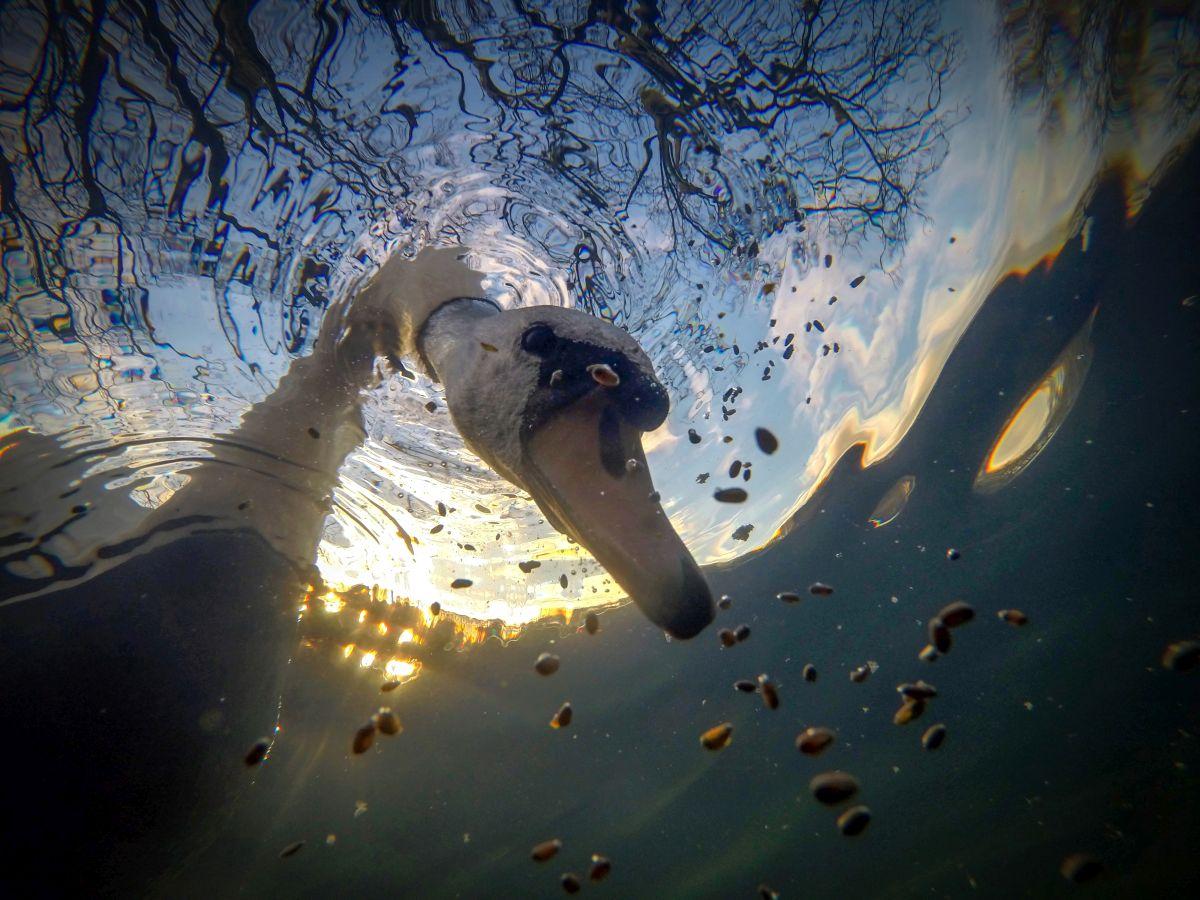 I had been watching a couple of Mute Swans at my local lake. They seemed to be following people around looking for food. I decided to attach a small weight to the back of my GoPro and threw it into the lake a short distance from me. The small weight would mean the GoPro always fell on its back, so I could shoot at an almost vertical angle. The GoPro hitting the water had attached the swan's interest and they swam over. I waited until one of the swans was in the correct position and with its head underwater and shot a high-speed burst of images enabling me to capture this picture. Photograph: ©Ian Wade/UPY 2021
The Yellow Candy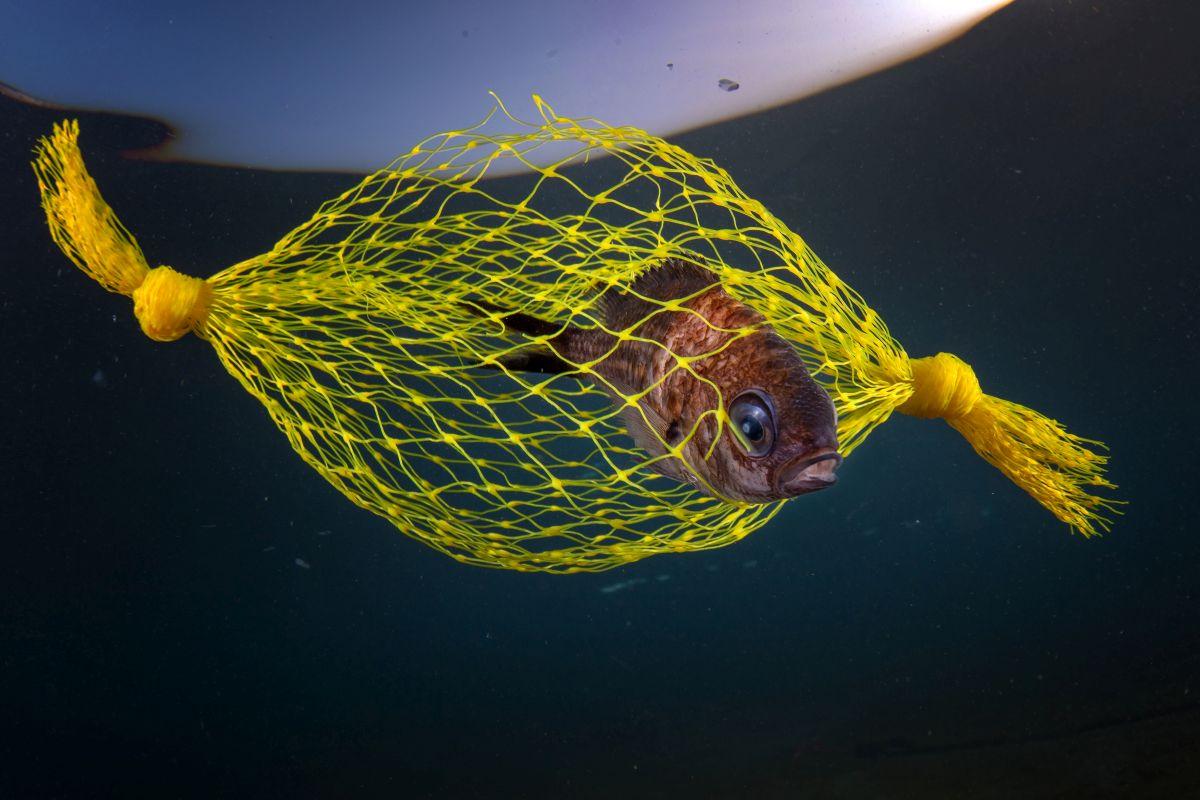 During one of my trips to the sea, I noticed a strong presence of these yellow nets closed like "candy". I could not understand their purpose. In the following days, with the help of some local fishermen, I discovered that the candy is the heart of a trap. It is filled with dead fish and inserted into another net. Thanks to the smell of the remains of dead fish, it attracts some small molluscs - to be precise Nassarius mutabilis - that once they enter the trap they are unable to get out. Once the contents of the trap have been recovered, the candy is often abandoned in the sea, causing plastic pollution and, as visible in the shot, a trap for other organisms. Photograph: ©Pasquale Vassallo/UPY 2021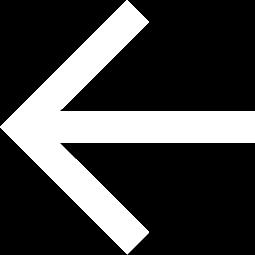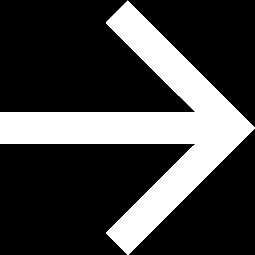 X