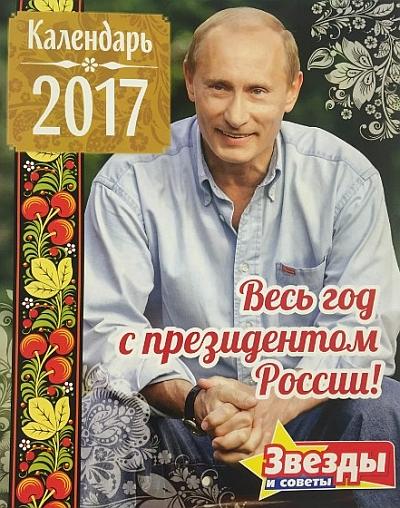 Vladimir Putin likes to be in the thick of action, even when he is not discharging his duties as the Russian president.
His off-the-grid adventures are well documented. But if there's something that really grabs worldwide attention, it's his very own calendar.
Hoping to double the circulation over last edition's 200,000 calendar copies, the 2017 edition -- published by Russian publication Zvezdi I Soveti -- shows Putin lounging in a tree, in a flight gear, in a wet suit, in a ski gear and, of course, on horseback. And each photo comes paired with a quote from the Russian leader extolling certain virtues.
Scroll down to see: (The translation of Putin's quotes is given below each photo). Photographs: Kind Courtesy Zvezdi I Soveti.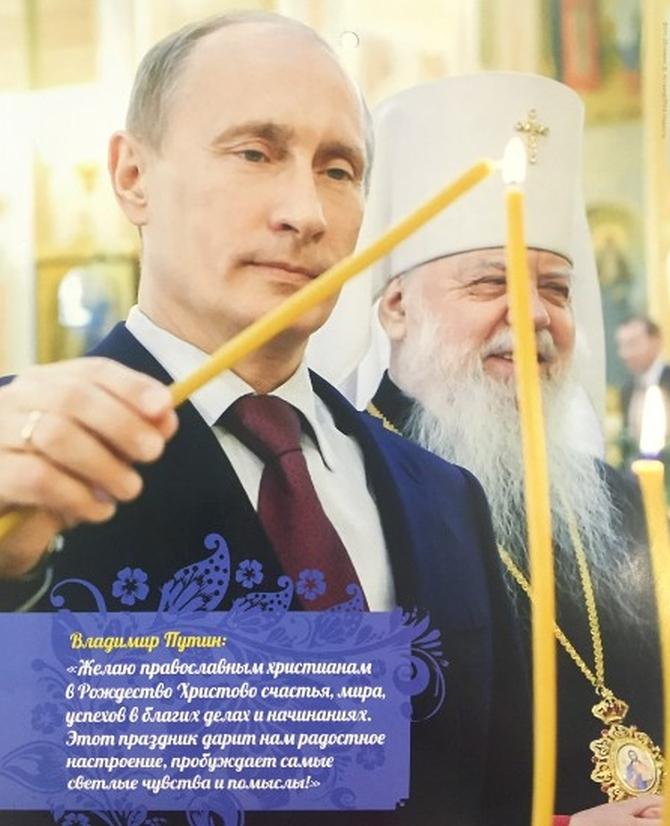 January: "I wish Orthodox Christians at Christmas happiness, peace, success in good deeds and their endeavors. This holiday puts us in a joyful mood and evokes the brightest feelings and thoughts!"
---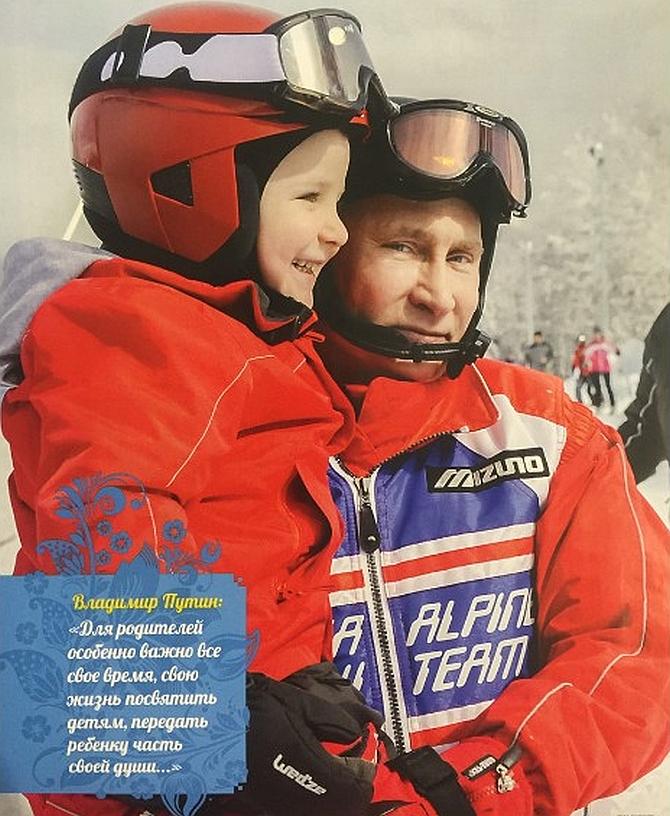 February: "It is especially important for parents to devote their whole life to their children, to give their child a part of their soul."
---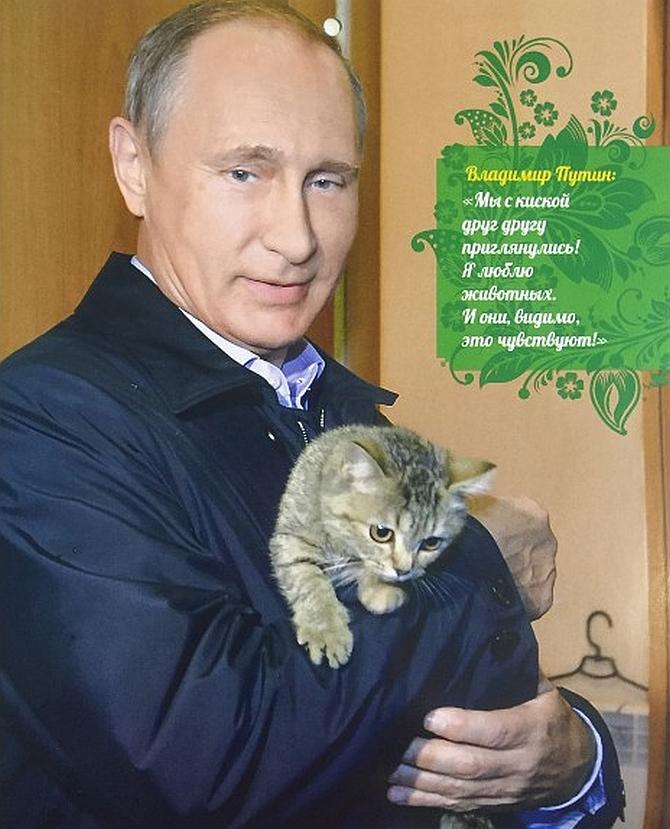 March: "Me and pussy liked each other instantly. I love animals and they evidently feel this too!"
---
April: "I spent the day walking. I walked almost nine kilometers in the mountains, everything is still hurting!"
---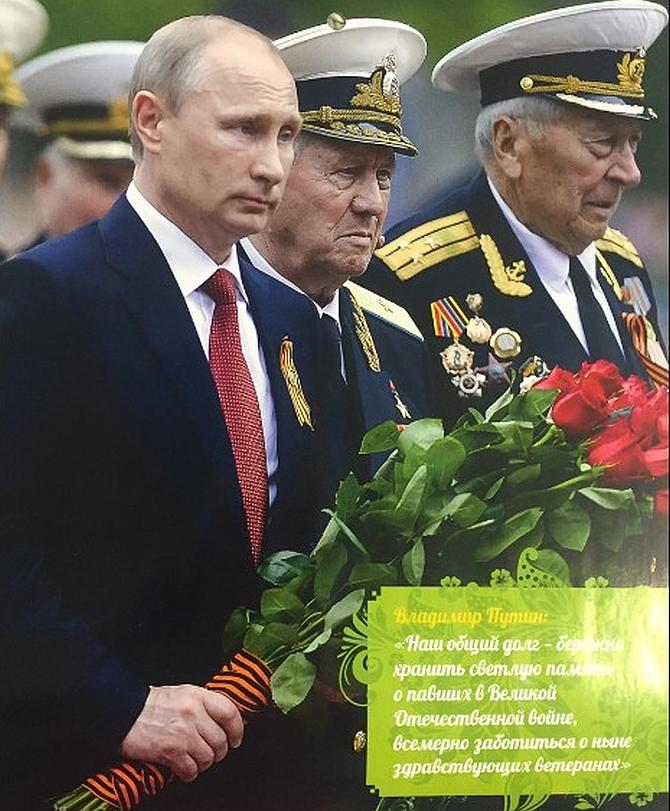 May: "Our common duty is to cherish the holy memory of the fallen during the Great Patriotic War and to take care, in every possible way, of the surviving veterans."
---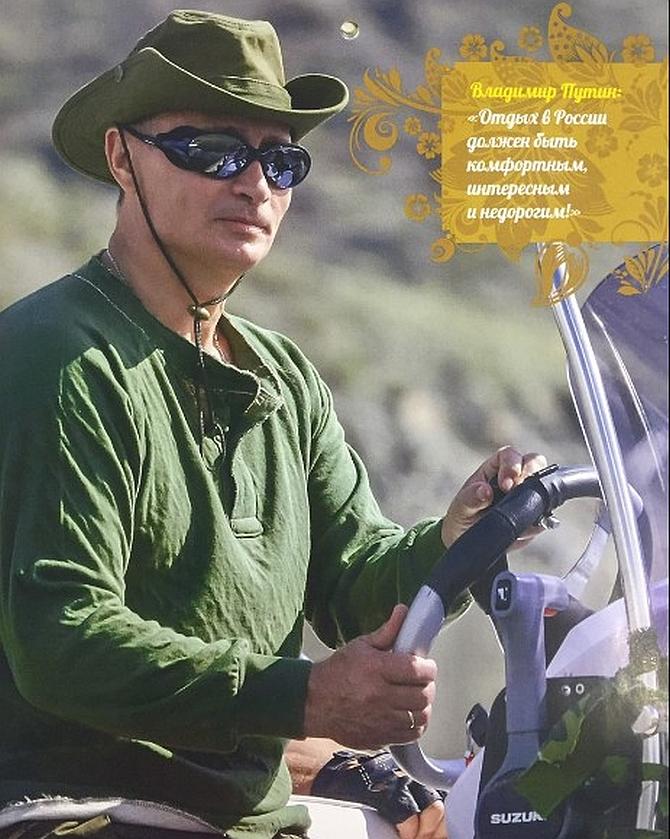 June: "Going on holiday in Russia should be comfortable, interesting and not expensive!"
---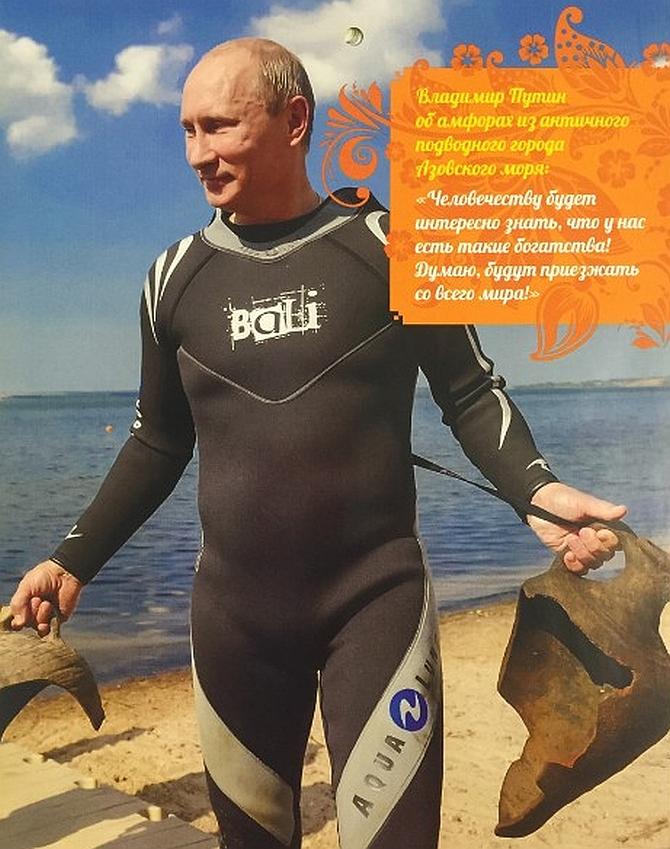 July: "Mankind will be interested to know that we have such riches! I think people will come from all over the world!"
---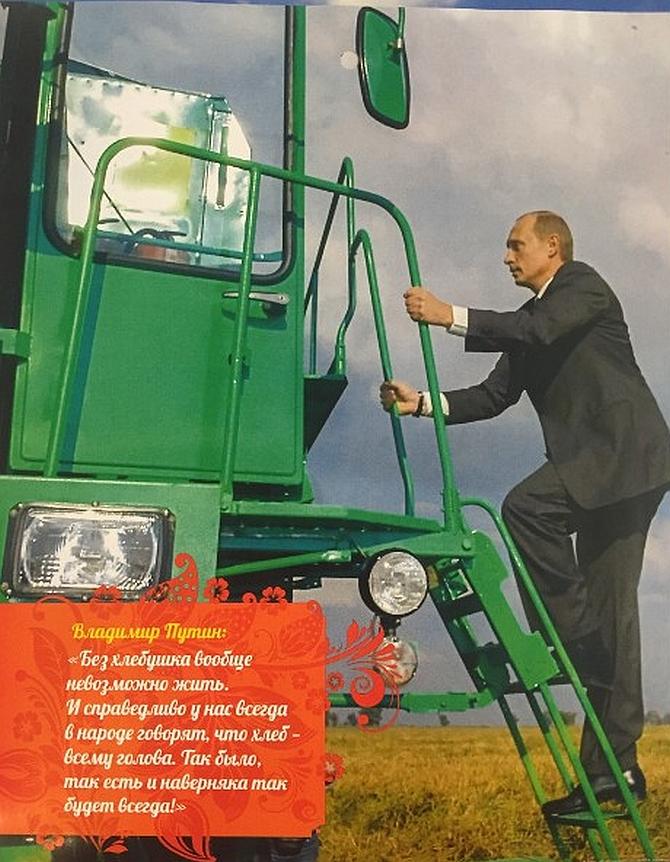 August: "Without bread it is impossible to live. It is correct to say -- bread is the staff of life. That's how it was, that's how it is and that's how it probably will always be."
---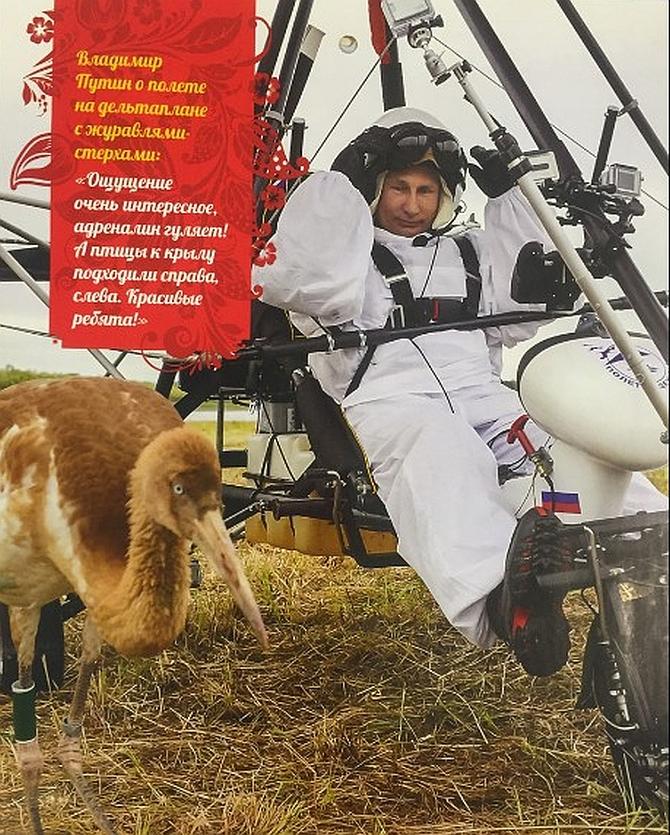 September: "The feeling is very interesting and the adrenaline is pumping! The birds followed from the left and the right, they are very beautiful!"
---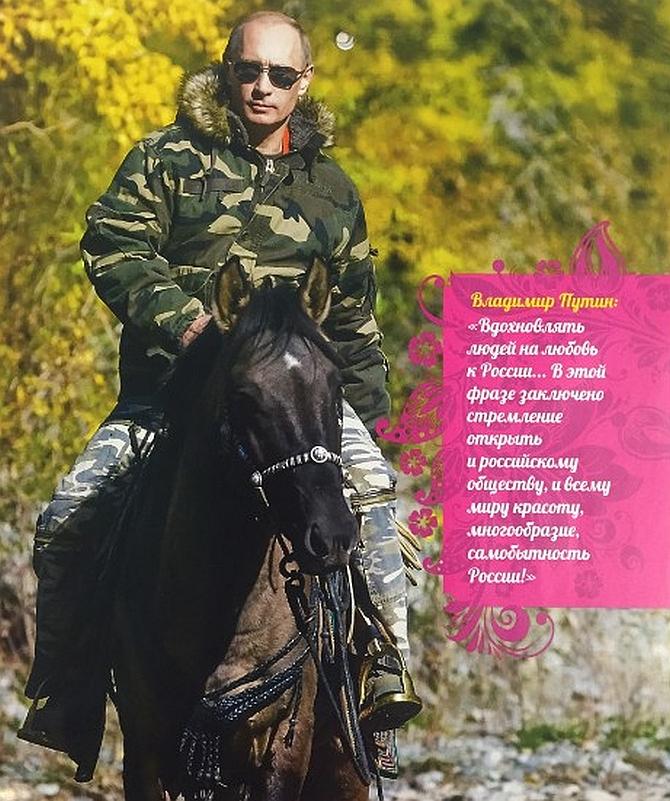 October: "To inspire people to love Russia ... in this sentence lies the desire to discover the beauty, the diversity and originality and show it to Russian society and the whole world!"
---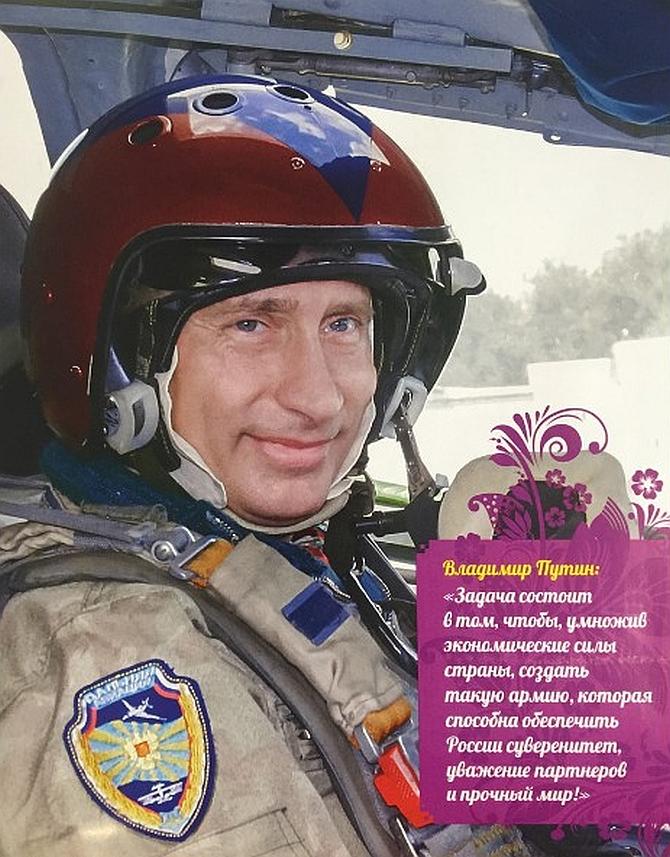 November: "The challenge is, having multiplied the economic forces of the country, to create an army which is capable of securing Russia's sovereignty, respect for partners and lasting peace."
---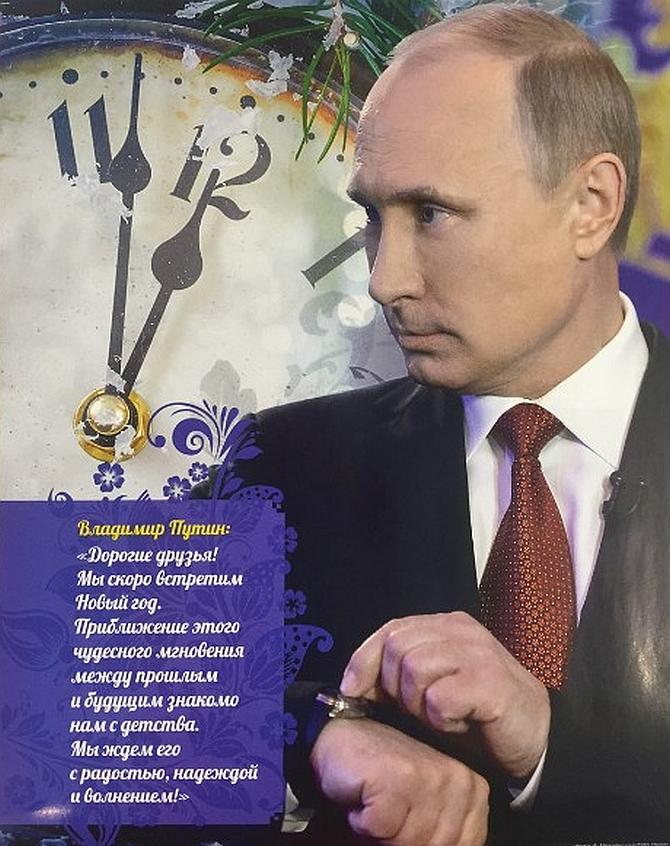 December: "Dear friends! We will soon welcome New Year. The approach of this wonderful moment between the past and future is familiar to us from childhood. We await it with joy, hope and excitement!"