Five people have died after Hurricane Harvey made a landfall on Friday


Texas has experienced a record breaking 50 inches of rain in parts


More than 250 water rescues have been conducted by officials


At least 200 Indian students at University of Houston are marooned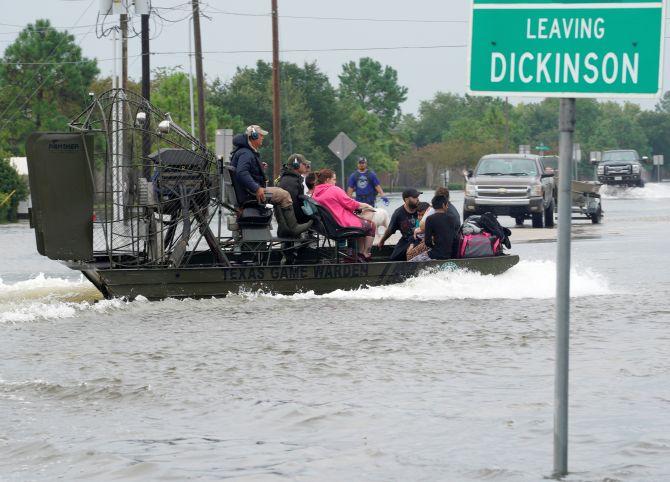 IMAGE: People are rescued by airboat as they evacuate from flood waters from Hurricane Harvey in Dickinson. Photograph: Rick Wilking/Reuters
Around 13 million people continue to battle "catastrophic" flooding and torrential rains in storm-ravaged Texas where Hurricane Harvey has wreaked havoc, turning streets into raging rivers and claiming at least five lives.
United States President Donald Trump will travel to Texas on Tuesday to get first-hand information on the flooding from Hurricane Harvey, the most powerful hurricane to hit America in 13 years.
The hurricane left a trail of destruction as it swept through Texas on Sunday, pummelling the region with heavy rains and forcing hundreds of trapped residents to climb onto rooftops after its landfall on the US' GulfCoast.
According to the Indian Consulate in Houston, at least 200 Indian students at University of Houston are marooned due to widespread flooding. Houston is home to a sizable Indian population.
The hurricane has now turned into a tropical storm and is dumping rain on southern Texas. The National Weather Service said the final tally could top 50 inches, setting an all-time rainfall record for the state. Streets in Houston and many other cities are flooded.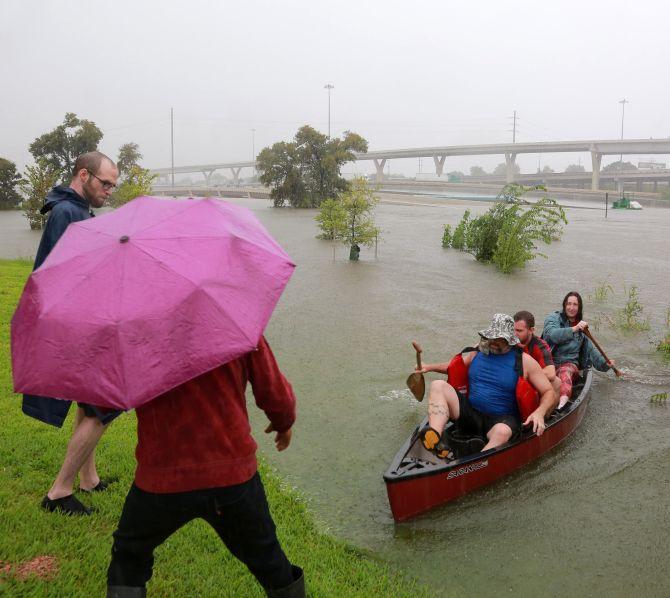 IMAGE: Residents use a kayak to rescue motorists stranded on Interstate highway 45 which is submerged from the effects of Hurricane Harvey. Photograph: Richard Carson/Reuters
The National Weather Service called the flooding in Texas "unprecedented" as the state experienced a record breaking 50 inches of rain in parts of the city.
"The breadth and intensity of this rainfall are beyond anything experienced before. Catastrophic flooding is now underway and expected to continue for days," the service said in a statement.
Harvey has been hammering Texas since Friday, when it first made landfall as a Category 4 hurricane. At least five people have died and the death toll is expected to rise as the storm has triggering record floods, tidal surges and tornadoes.
The last Category 4 storm to hit the US was Hurricane Charley in August 2004 in Florida.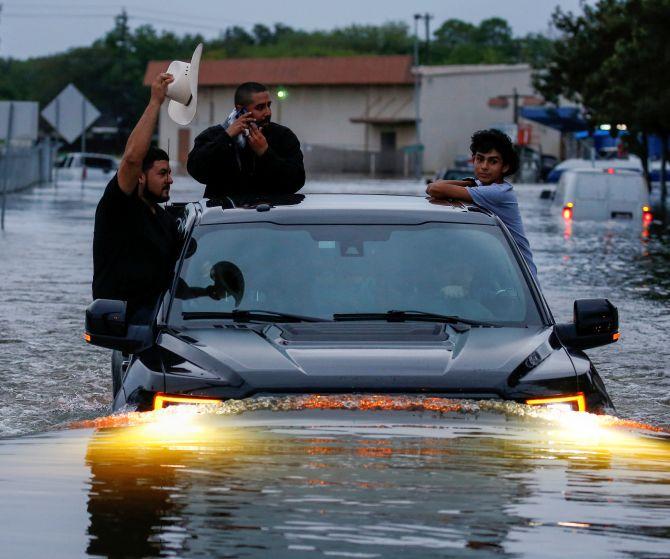 IMAGE: Schools, offices and other major institutions, including major refineries have shut down in the area owing to the heavy rain. Photograph: Adrees Latif/Reuters
Over the next few days, Harvey is forecast to head back into the Gulf of Mexico, where it will pick up moisture before moving back over Galveston and into Houston again, CNN meteorologist Karen Maginnis said, meaning at least four more days of rainfall.
Officials say they have conducted more than 250 water rescues and rescued more than 1,000 people.
Major refineries are closing down, cutting at least 1 million barrels per day out of production, and the Houston Ship Channel, the busiest in the nation, is closed.
Officials have closed Houston schools for the week and shuttered William P Hobby Airport until at least the middle of the week.
Southwest Airlines airlifted around 500 of its customers out of Hobby Airport on Sunday, according to airline and US government sources with knowledge of the operation.
"It's scary. I've been through many storms in my city, but it has never been this terrible. This city is completely underwater," Guatzin, a local resident, said.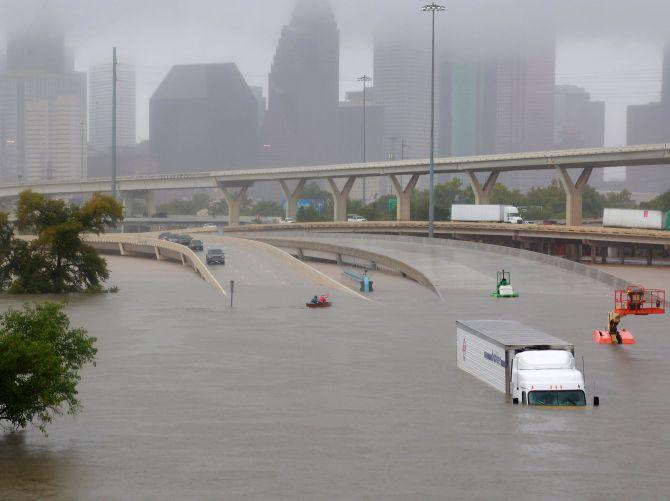 IMAGE: Interstate highway 45 is submerged from the effects of Hurricane Harvey.
Photograph: Richard Carson/Reuters
"We have nowhere to go. I have a 2016 Chevy Silverado and the water is up to the door panels. The water keeps rising," said Jake Lewis, who was in Houston on business and woke up to ankle-deep water in his Houston hotel room.
"The water keeps rising. We have called already to several numbers but no luck," said Janet Castillo, who was trapped at home with little children as the water crept up to their knees.
In Washington, officials said President Trump will travel to Texas on Tuesday to take stock of the situation.
The US President will travel to Texas on Tuesday, said White House press secretary Sarah Huckabee Sanders.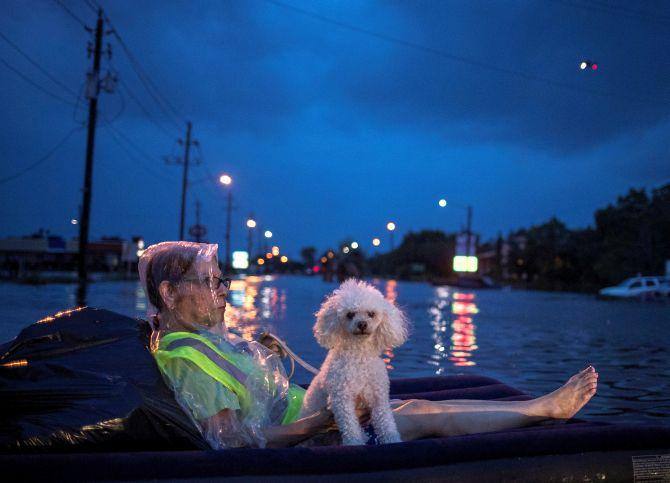 IMAGE: An elderly woman and her poodle use an air mattress to float above flood waters from Tropical Storm Harvey while waiting to be rescued from Scarsdale Boulevard in Houston. Over 1000 people have been rescued till date. Photograph: Adrees Latif/Reuters
The visit will be a test for Trump, as it's the first major natural disaster to strike the United States under his presidency. Former US President George W Bush faced widespread criticism after the federal government was slow to respond in the wake of Hurricane Katrina, which caused major floods in New Orleans in August 2005, local media reported.
Trump held a second Cabinet meeting on Hurricane Harvey to shore up response and recovery efforts on Sunday, according to the White House.
The federal government has 5,000 people on site in Texas and Louisiana, where the storm continues to bring torrential rains and flooding.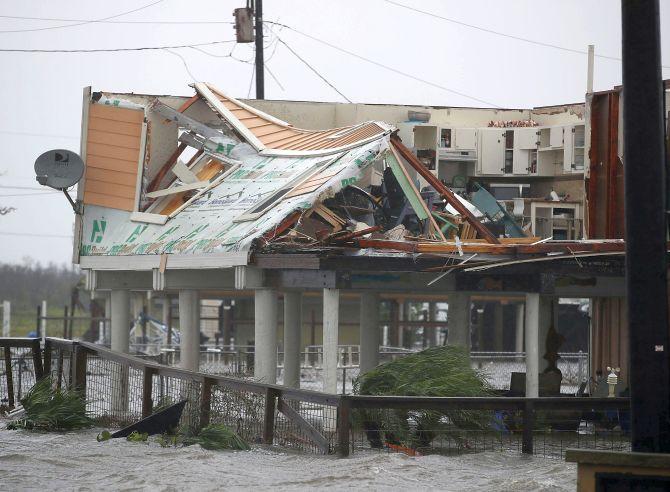 IMAGE: A damaged home is seen after Hurricane Harvey passed through Rockport, Texas. Hurricane Harvey is believed to be the strongest hurricane to hit the United States since Wilma in 2005. Photograph: Joe Raedle/Getty Images
Earlier on Sunday, Texas Governor Greg Abbott praised the federal government's response to Hurricane Harvey.
Amid dire warnings, Abbott praised the response to the crisis.
The director of the Federal Emergency Management Agency said recovery efforts would take years.