Four civilians were also killed and dozens of others injured in clashes that broke out between protestors and security forces following three separate encounters.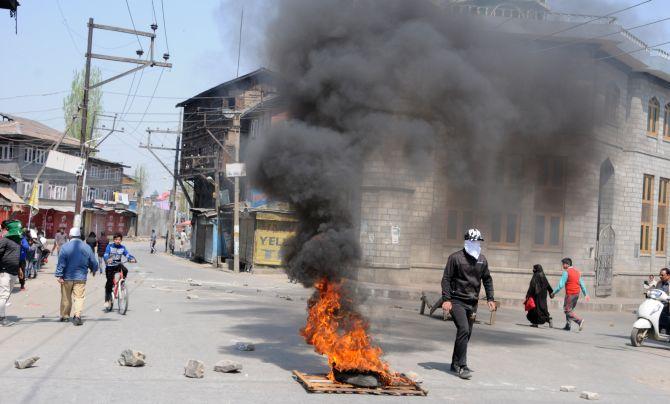 IMAGE: Clashes erupt in Srinagar between locals and security forces following the encounters in Shopian and Anantnag. All Photographs: Umar Ganie/Rediff.com
Terror groups in the Valley suffered a major setback as 12 terrorists were gunned down in counter-insurgency operations in three different areas in South Kashmir in which three Army jawans and four civilians were also killed.
At a hurriedly called joint press conference of army, police and Central Reserve Police Force, Jammu and Kashmir Police chief S P Vaid said this is one of the biggest counter-offensives in recent times against terror groups operating in the Kashmir Valley.
The operations by security forces rendered a severe dent to terror groups such as the Hizbul Mujahideen and the Lashker-e-Tayiba, officials said in Srinagar.
Three army jawans have lost their lives in the operations at Kachdooru in Shopian, officials said, adding three bodies of terrorists have been recovered from the debris so far.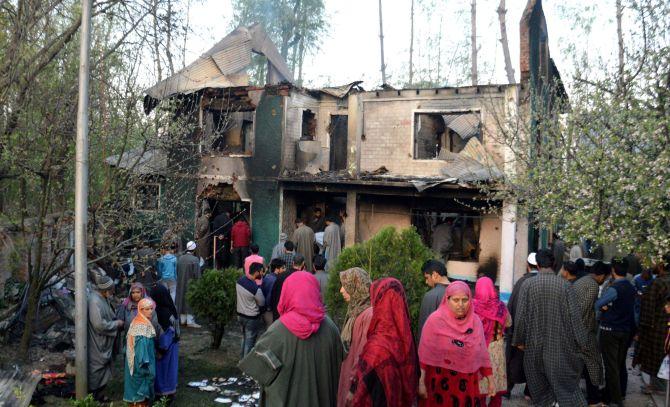 IMAGE: The house in Shopian where terrorists were hiding.
The operation has been called off at Kachdooru and the security personnel were search the debris on Monday again, the officials said.
Earlier, at a press conference called at Victor Force headquarters at Awantipura, around 33 km from Srinagar, Corps Commander of XV Corps, Lt Gen A K Bhatt, termed it one of the biggest operations in recent times and said the death of Lt Umar Fayaz, who was brutally killed in Shopian last year, had been avenged.
"Among the terrorists killed are Ishfaq Malik and Rayees Thokar. They were responsible for his death," Bhatt said.
Fayaz, 22, was killed by terrorists in May last year. His body was found with bullet wounds in the Hermain area of Shopian district in south Kashmir.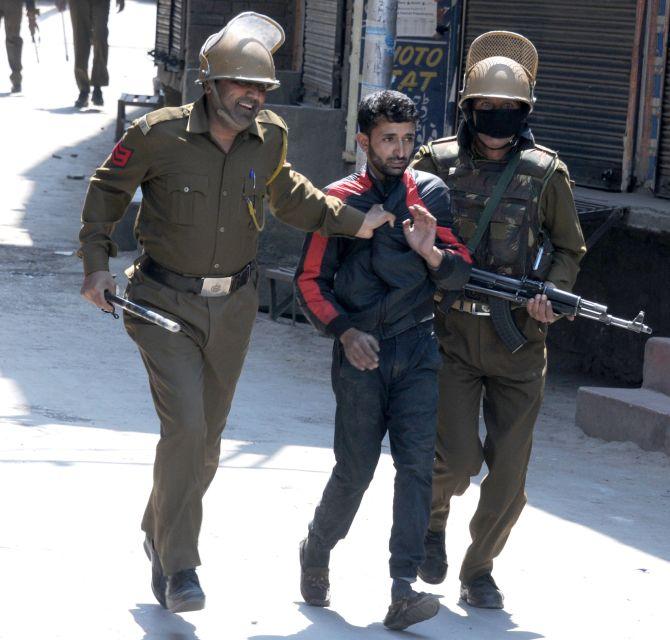 IMAGE: A protester taken away by the security forces in Srinagar.

The DGP also made a special mention of a Senior Superintendent of Police's efforts to convince a militant to surrender during the Dialgam encounter.
"I would like to make a special mention about the Dialgam encounter where our Senior Superintendent of Police (SSP) made a special effort, which is unheard of in any part of the world.
"He called the family members of one of the terrorists. They spoke with him for 30 minutes, to convince him to surrender," the officer said.
"Unfortunately, he did not heed the advice of his family. During the talks, the district SSP tried to get him over. Instead he fired on the police leaving the police with no option other than to retaliate. He was killed. The other one was caught alive," he said.
On the operations at Kachedoora, the DGP said there was information about the presence of four to five terrorists, but 'we will be able to give a clear picture only after the debris is cleared'.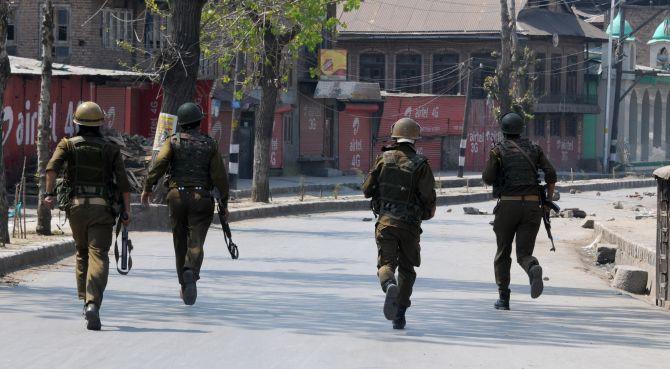 IMAGE: Security personnel during the clashes.

One civilian death was reported from Draggad and the other at Kachudoora, both in Shopian district, the police chief said.
Violence broke out at the Kachedoora encounter site in which 25 civilians received pellet injuries while six others suffered bullet injuries, the police chief said.
The DGP said that all the seven terrorists killed in the Draggad encounter were locals and their bodies have been claimed by their families.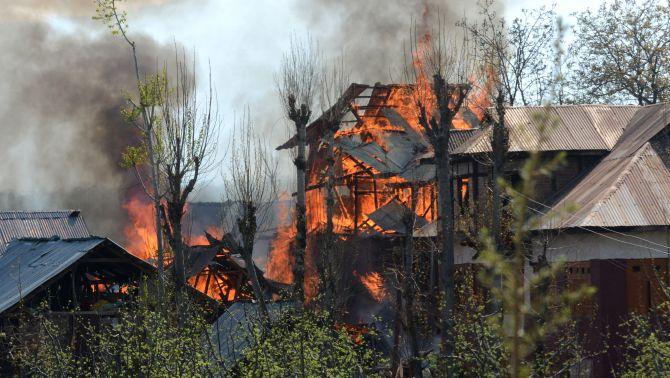 IMAGE: Corps Commander of XV Corps Lt Gen A K Bhatt termed it one of the biggest operations in recent times and said the death of Lt Umar Fayaz had been avenged.

Inspector General of CRPF Zulfikar Hassan pointed out that people came in large numbers at the encounter site in Shopian.
"The operations will not stop and we will have to take all offensive measures in case they do not refrain from throwing stones at the jawans engaged in the counter-insurgency operations," he said.
It was painful to see young boys getting killed in this manner, the DGP said.
"I urge all the parents to appeal to their children to shun the path of violence and join the national mainstream," Vaid said.
Mobile internet services suspended in Valley
IMAGE: J&K DGP S P Vaid said, 'It's unfortunate that stone pelting around encounter site cost four civilian deaths.'

Mobile internet services were suspended in the Kashmir Valley on Sunday as a precautionary measure following the encounters, officials said.
Internet services on mobile devices were snapped shortly after clashes broke out at many places in south Kashmir and some parts of the city on Sunday afternoon, an official said.
He said the decision to snap internet services was taken as a precautionary measure to prevent mischievous elements from creating law and order problems.
The authorities also suspended train services in Kashmir as a precautionary step. Miscreants have targeted trains during law and order situations in the past.
Separatists call 2-day strike
Separatists called for a two-day strike in Kashmir over the killings of terrorists and four civilians.
Separatists, under the banner of Joint Resistance Leadership, called for a two-day strike from Sunday across Kashmir to protest the killings, a spokesman of the JRL said.
He said the JRL, comprising Syed Ali Shah Geelani, Mirwaiz Umar Farooq and Yasin Mailk, asked people to suspend business and other activities and offer funeral prayers in absentia across the valley.
Meanwhile, Hurriyat leaders Syed Ali Shah Geelani, Mirwaiz Umar Farooq, and Yasin Malik have been put under house arrest, and restrictions have been imposed in parts of Kashmir.
With ANI inputs.
© Copyright 2021 PTI. All rights reserved. Republication or redistribution of PTI content, including by framing or similar means, is expressly prohibited without the prior written consent.