The first funeral for a victim of AirAsia Flight QZ8501 was held on Thursday, as officials vowed an 'all out effort' to recover the other passengers' bodies from the sea.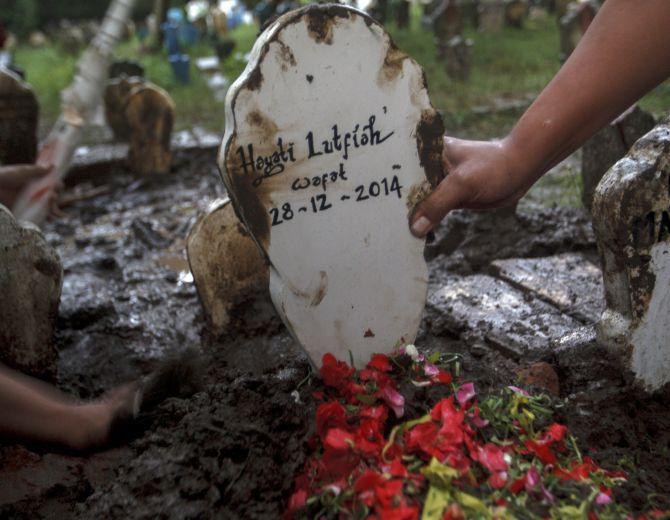 The grave marker of Hayati Lutfiah, a passenger of AirAsia QZ8501 at the Surabaya cemetery. Photograph: Sigit Pamungkas/Reuters
The first body to be formally identified, Indonesian woman Hayati Lutfiah Hami, was handed to her family in Surabaya, who held prayers at her home before moving the body to a Muslim cemetery nearby.
"I am grateful to God that my sister-in-law was found and I hope the rescuers find the others as soon as possible," Agung Wahyu Darmono, 38, said.
Police said body B001 was identified by surgical scars, fingerprints, a necklace containing her initials, and a red name badge pinned to her uniform.
Hayati Lutfiah Hamid, 47, was a school teacher who was travelling to Singapore for a family holiday with her daughter, husband and mother-in-law.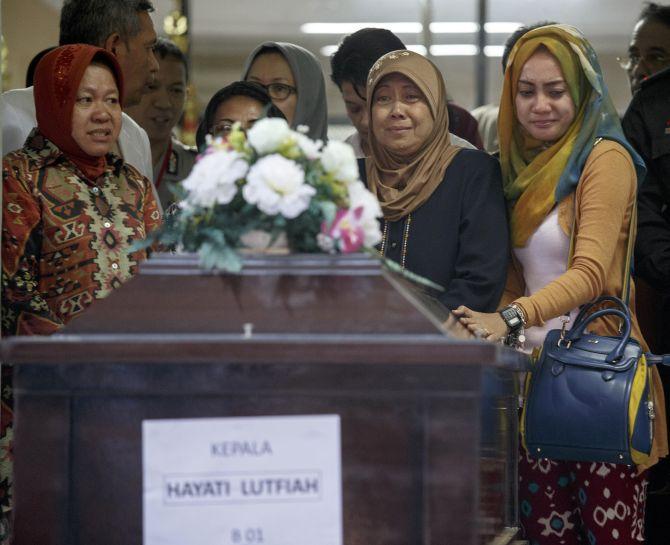 Mother and other family members of Lutfiah weep upon receiving the remains at the . Bhayankara Hospital. Photograph: Athit Perawongmetha/Reuters
Search teams recovered a further six bodies, bringing the total to 14, after they resumed operations following bad weather which has so far hampered efforts.
Crews have been unable to investigate an object resting 100-165ft below the sea which is believed to be the remains of the Airbus A320-200, as officials have warned it could be a week before the plane's black box recorder can be recovered.
Indonesian police officers carry the coffin of Hayati Lutfiah, a passenger of AirAsia QZ8501, at Bhayankara Hospital in Surabaya. Photograph: Athit Perawongmetha/Reuters
AirAsia Flight QZ8501 disappeared on Sunday while on route between Surabaya to Singapore shortly after the pilot radioed to report stormy conditions.
Workers began finding wreckage on Tuesday, with 14 bodies pulled from the water near BorneoIsland, including one wearing a life jacket and two others reported to be holding hands.