In the middle of opposing demonstrations in London over the weekend, a Black Lives Matter protester placed a bloodied counter-protester in a 'fireman's lift' and carried him to the police.
It's a photo that has resonated with many as a moment of humanity that jarred with the broader narrative of violent scuffles between clashing demonstrators.
For those in the dark, let's do a recap of what's happened...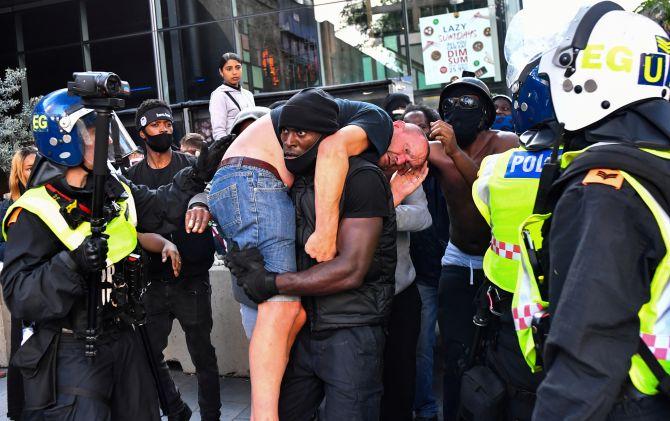 On Saturday, hundreds of protesters from far-right groups and the Black Lives Matter movement gathered for separate demonstrations in London. The anti-racism protests were in reaction to the death of African American man George Floyd, who died last month as a white police officer knelt on his neck for nearly nine minutes.
Violence broke out on June 13 when hundreds of demonstrators attended a protest at Parliament Square, organised by far right groups, including Britain First.
They claimed they were gathering in central London around the statue of Winston Churchill and the Cenotaph in order to protect the historical monuments from vandalism.
However, violence soon broke out between protestors and police - with flares, smoke grenades and missiles being hurled at officers wearing riot gear.
Police have confirmed that 23 officers were injured and 113 arrests were made.
Amid this melee, Reuters photographer Dylan Martinez heard the words "That's not what we do!"
Then he saw the man who had uttered them - a black protester emerging from the melee carrying an injured white man in a 'fireman's lift' over his shoulder.
The picture he took has gone viral on social media and featured in news bulletins, capturing a moment of high drama.
"The crowd parted right in front of me. I was in the right place at right time, and incredibly lucky from that point of view. He came towards me walking briskly."
After the images went viral, British media identified the black man as Patrick Hutchinson, a personal trainer. On his social media account, he wrote: "We saved a life today".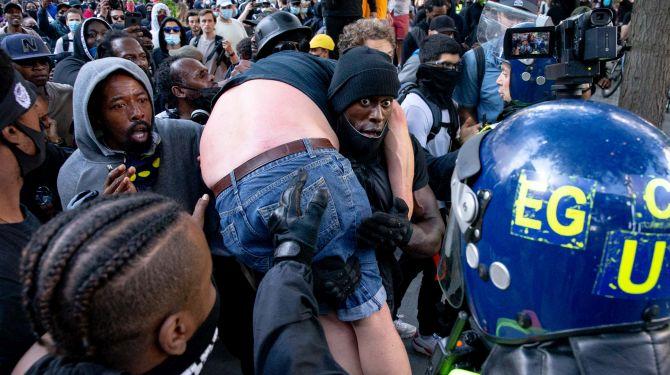 Hutchinson said it was a "scary" moment when the protests descended into violence.
"It was pretty hectic, it was almost like a stampede," he said.
"There was a bit of an altercation at the top of the stairs, between the far-right... football hooligans, whatever you want to call them, and some of the Black Lives Matter protesters.
"It looks as though the hooligans got dispersed, leaving one man standing, and unfortunately for him everybody set upon him.
"There was a bit of a melee on the stairs, the guy ended up on the floor, and these guys rushed in to stop him from getting trampled."
Hutchinson said he was concerned the man would be trampled or set upon if he remained where he was.
"There were people trying to protect him, but unsuccessfully," he said.
"The guys went in there, they sort of put a little cordon around him to stop him receiving any more physical harm … his life was under threat.
Speaking to Channel4 News, the personal trainer said, "If the other three police officers that were standing around when George Floyd was murdered had thought about intervening, and stopping their colleague from doing what he was doing, like what we did, George Floyd would be alive today still."
"I just want equality for all of us. At the moment, the scales are unfairly balanced and I want things to be fair for my children and my grandchildren."
He concluded, "It's not black versus white, it's everybody against racism."