The 4/20 event is a massive free protest festival, with tens of thousands of revellers gathering to celebrate a drug that remains illegal in much of North America: marijuana.
April 20, or its stylised rendition as 4/20, is cherished by marijuana users around the world as a reason to toke up with friends and massive crowds each year and celebrate the drug.
Although many creation myths exist for this festival's inception, from a bunch of cool 70s kids getting high to 'medical' articles suggesting 4.20 pm as the right time to get high, one thing's for sure: These folks love their pot.
With day-long music, public speakers and the world's only open-air public cannabis farmer's market where people sell all kinds of cannabinoids, extracts and edibles while educating the crowd about medical marijuana, political involvement and activism.
But as support for marijuana legalisation grows festivities are going mainstream.
Rediff.com takes a look at this epicentre of reefer madness as we come across some of the interesting characters that roll up their spliffs or munch on their brownies.
TOKE THAT: A man smokes marijuana during an annual 4/20 rally on Parliament Hill in Ottawa, Canada. Photograph: Chris Wattie/Reuters
---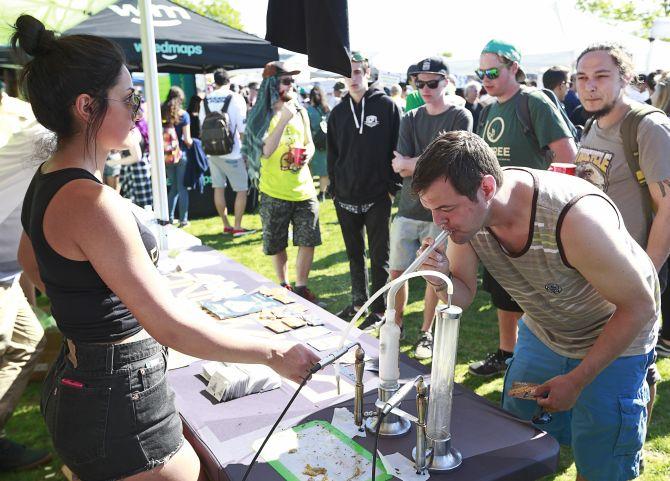 I'M SHATTERED: A man smokes shatter from a bong in Vancouver. Photograph: Jeff Vinnick/Getty Images
---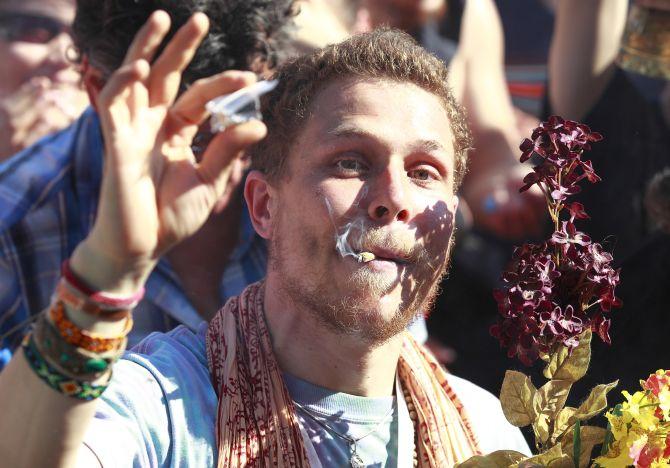 ITS JUST A HERB: A man smokes casually smokes marijuana during the 4/20 celebrations. Photograph: Jeff Vinnick/Getty Images
---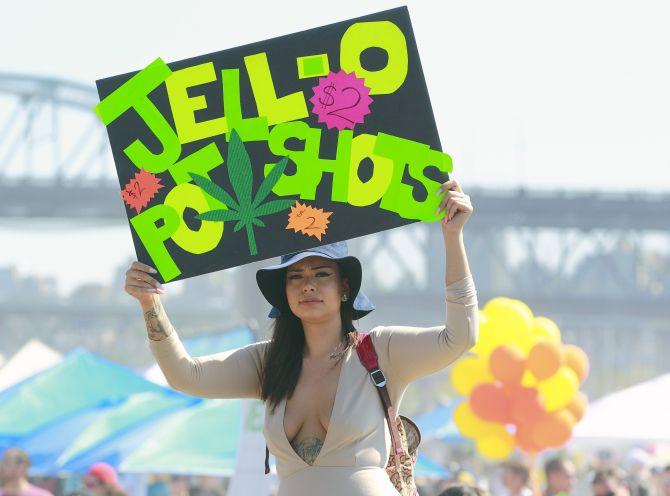 JELLO SHOTS AND THEN SOME: A vendor sells Jell-o pot shots, a form a edible marijuana. Take that munchies. Photograph: Jeff Vinnick/Getty Images
---
HERE WE GO AGAIN: A man smokes marijuana in a pipe. That towel's probably a good idea. Photograph: Jeff Vinnick/Getty Images
---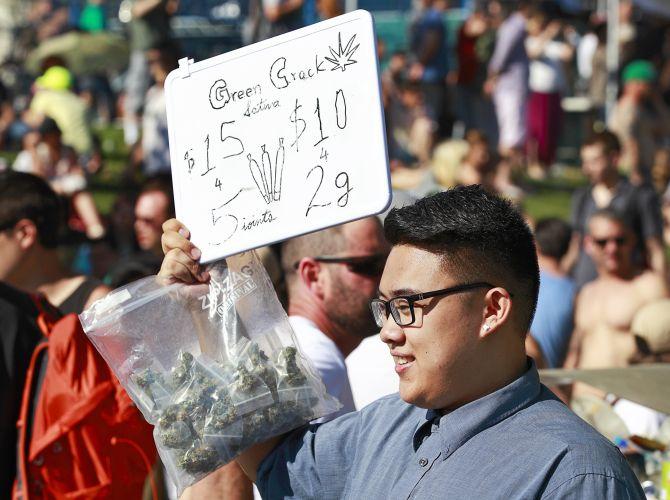 THIS ISN'T MY DAY JOB: A young man sells a bag of the sativa variant of marijuana. If you're into business at least put on a suit. Photograph: Jeff Vinnick/Getty Images
---
JUNGLE JUNGLE PATA CHALA HAI: This man clearly loves his marijuana. Get a room brah. Photograph: Jeff Vinnick/Getty Images
---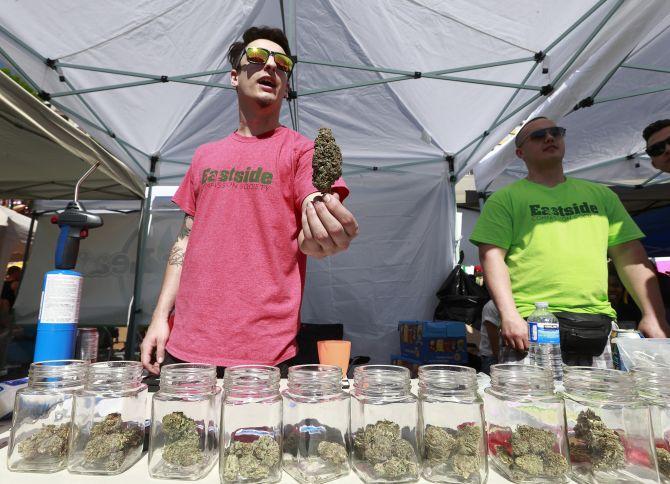 NOT THREE CARD MONTY: This vendor clearly did not understand the difference between a saleable product and a failed high school science experiment. Photograph: Jeff Vinnick/Getty Images
---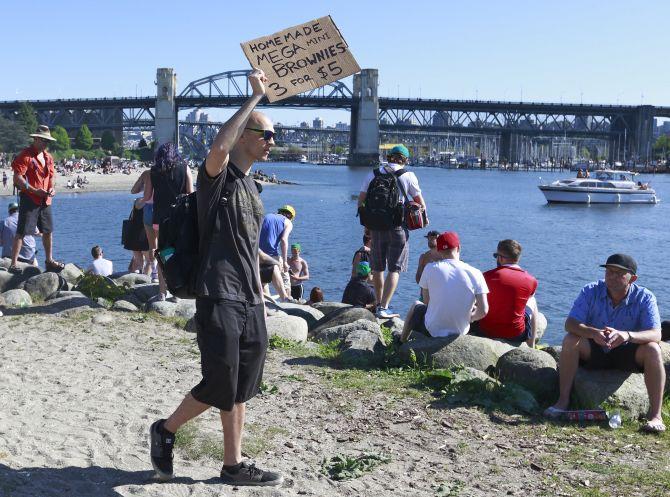 BETTER THAN GRANDMA'S BROWNIES: This fellow sells hash brownies, an edible drug, as thousands of people gather at 4/20 celebrations. Photograph: Jeff Vinnick/Getty Images
---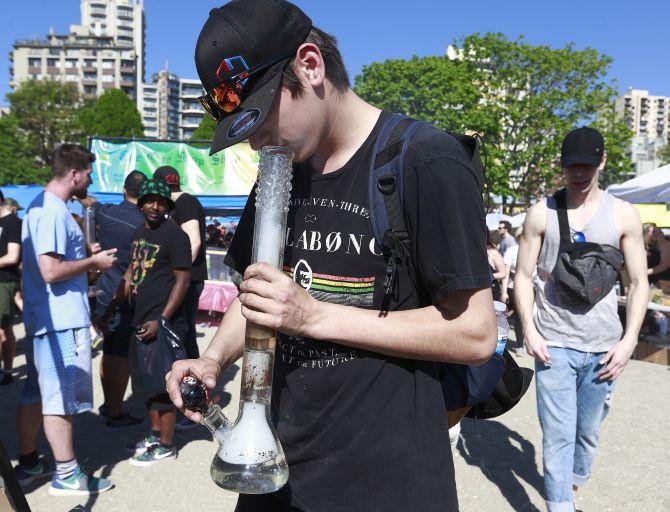 BIG BONG: This man takes his bong seriously. Look, its even printed on his shirt. Photograph: Jeff Vinnick/Getty Images
---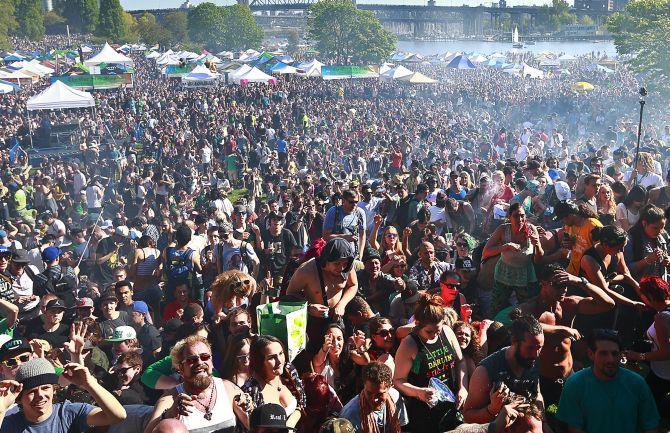 WE WILL ROCK YOU: Smoke billows over a crowd of thousands as they smoke at 4.20 pm to celebrate 4/20 in Vancouver. Photograph: Jeff Vinnick/Getty Images
---
CAPTAIN OBVIOUS: This man clearly thinks that the other people at the 4/20 celebration came in for the music. Long term effects of marijuana use, anyone? Photograph: Rick Wilking/Reuters