First it was Lenin, then Periyar, followed by Ambedkar.
In what is being seen as a statue vandalism wave, an idol of Mahatma Gandhi in Kerala's Kannur district and a bust of Baba Ambedkar in Periyar Nagar, Tiruvottiyur, in Chennai were vandalised on Thursday morning.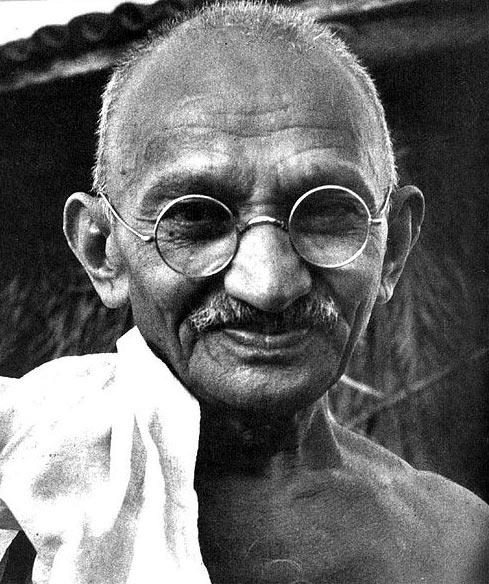 IMAGE: The spectacles on the Gandhi bust were broken.
The spectacle carving was damaged and a garland on the statue was lying nearby, an official said.
The Gandhi statue was close to the Taliparamba Taluk office, the official said, adding that a probe was on to identify those behind the incident.
A CCTV visual showed the suspected man behind the incident walking away from the site.
Some locals on the spot were reported as saying that they saw a man hurling a stone at the statue before fleeing the spot.
A complaint was received from Deputy Tahsildar C V Prakasan, based on which investigations are on, the official said.
The attacks come a day after a statue of Sangh ideologue Syama Prasad Mookerjee was damaged in Kolkata. The bust was defaced with black ink and de-shaped with a hammer and the right side of the face damaged.
On Wednesday, following the incidents, Prime Minister Narendra Modi 'strongly disapproved' incidents of vandalism of statues in certain parts of the country and spoke to Home Minister Rajnath Singh on the matter.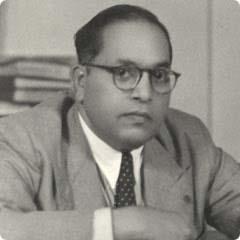 IMAGE: Red paint was splashed over the Ambedkar bust in Chennai.
Prime Minister Narendra Modi strongly condemned the incidents of vandalism of statues and warned of stern action against those found guilty.
The prime minister also spoke to Union Home Minister Rajnath Singh about it and expressed his strong disapproval of such incidents, according to an official statement in New Delhi.
The home ministry said it has taken serious note of such incidents of vandalism and has directed state governments to take strong action.
Bharatiya Janata Party chief Amit Shah termed the desecration of Lenin's statues in Tripura and Periyar's bust in Tamil Nadu "extremely unfortunate", and asserted that any party member found involved in destroying a statue will face severe action.
All of this began on Monday with the destruction of two Lenin statues in Tripura following BJP's historic win in the state. It was followed up by the vandalism of a bust of Dravidian movement founder E V Ramasamy Periyar in Tamil Nadu's Vellore after a Facebook post by a senior BJP leader.
On Wednesday, seven people belonging to a Left-leaning group called 'Radical' vandalised the bust of Mookerjee in south Kolkata. All the seven, including a woman, were arrested, Kolkata police commissioner Rajiv Kumar said.
A statue of Dalit icon Dr B R Ambedkar was also vandalised and replaced later in Meerut district of Uttar Pradesh.
-- With inputs from PTI