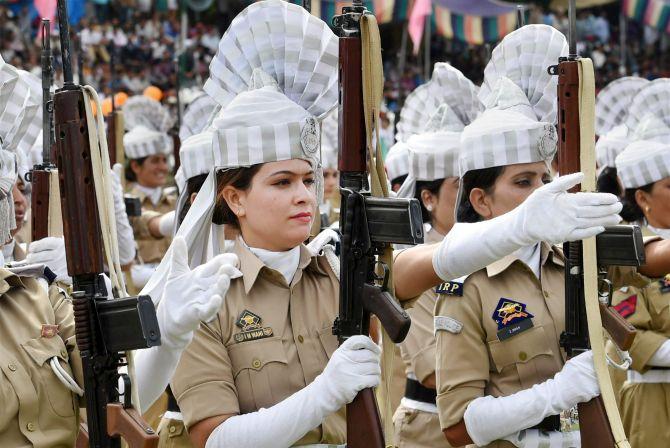 IMAGE: Women contigent of Indian Reserve police at the march past during the celebration of 70th Independence day at Bakhshi stadium in Srinagar on Monday. Photograph: S Irfan/PTI Photo

The Independence Day was celebrated in all states and Union territories on Monday with chief ministers announcing development initiatives, flagging the challenges ahead and pledging to take their states forward on the path of peace and progress.
Barring Assam, Manipur and Jammu and Kashmir, the celebrations, marked by unfurling of tricolour, colourful parades and other events, passed off peacefully amid tight security.
Soaked in patriotic fervour, hundreds of people took part in the events to mark 70th Independence Day in state capitals, district headquarters and other cities and towns.
Delhi Chief Minister Arvind Kejriwal, in his Independence Day speech at Chhatrasal Stadium, made a strong pitch for statehood and attacked the Centre, alleging that it was chipping away at the elected government's power through a system which was akin to the national capital being governed by the colonial 'Government of India Act, 1935'.
He claimed the citizens of Delhi were being made to feel that the value of their votes were less as compared to other states where electors have the 'right to choose governments with powers'.
He said despite being left with 'very less powers', his government has delivered on several fronts which were being discussed across the globe.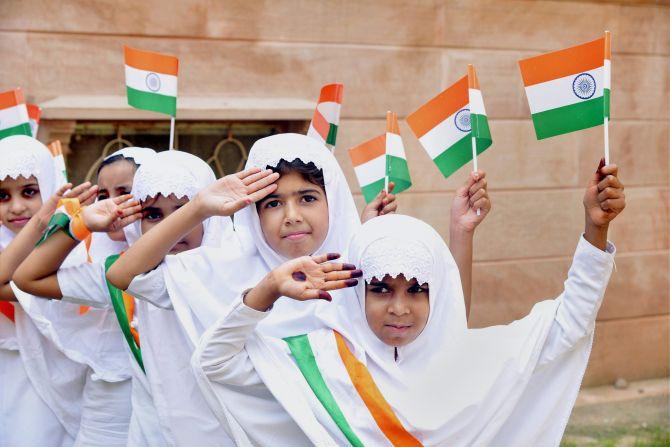 IMAGE: Students of Maulana Abul Kalam Azad school in Jodhpur. Photographs: PTI Photo

In Jammu and Kashmir which has been rocked by violence for over a month, Chief Minister Mehbooba Mufti made an emotional appeal to the agitating youths not to be misled by vested interests who want to keep the valley burning and maintained that dialogue is the only way to resolve issues.
In her maiden Independence Day address as chief minister, Mehbooba cautioned that Kashmir should not be allowed to become another Syria or Afghanistan where there is instability and absence of safety of life and urged the people to give her time so that she could work on the plans and programmes she had charted for peace and progress of the state.
She blamed the successive central leaderships, starting from Jawaharlal Nehru, for the problems of Kashmir and hoped Prime Minister Narendra Modi will address the issues, completing the process started by Atal Bihari Vajpayee.
Mehbooba faced a deeply embarrassing moment when the national tricolour fell off the post when she attempted to hoist it at Bakshi stadium. She pulled the string attached to the post only to see the tricolour fall from the post and land on the ground.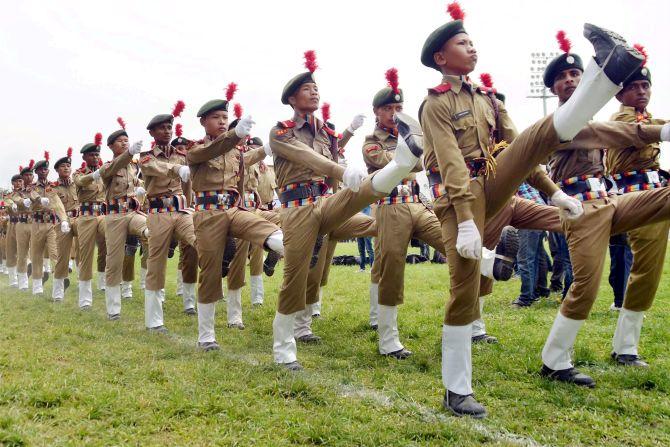 IMAGE: National Cadet Corps cadres during Independence Day celebration at Nurul Amin Stadium in Nagaon, Assam.

In Assam, Chief Minister Sarbananda Sonowal said his government is committed to freeing the state from foreigners, corruption, terrorism and pollution.
"We are committed to make Assam one of the top five states in the country," he said and appreciated the youths for celebrating Independence Day despite a boycott call by anti-social forces. He said his government is adopting a policy of zero-tolerance towards militancy and insurgency.
He also said the much-awaited update of the National Register of Citizens will be completed by 2017.
Mizoram CM Lal Thanhawla, after unfurling the national flag, exhorted the people of the state to re-dedicate themselves to the cause of peace so that the state could be an example for others to emulate.
In Arunachal Pradesh, Chief Minister Pema Khandu said he would ensure peace for speedy development of the state.
"Our government shall ensure that for the sake of development, there is peace in the state and any fringe elements attempting to disrupt peace will be dealt with an iron hand," Khandu said.
He said the government would lay special emphasis on modernising the police force and equipping them with latest equipment and technology.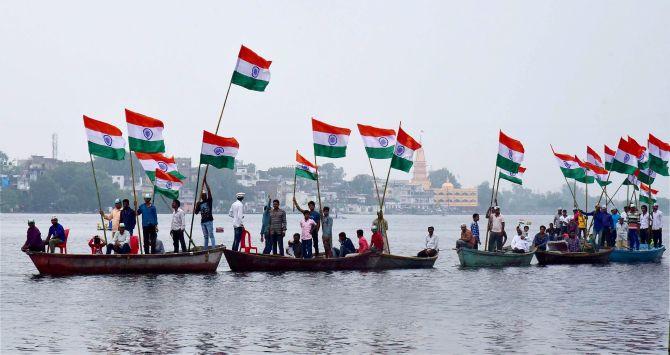 IMAGE: Fishermen community takes out Tiranga Yatra on boats in Lower Lake in Bhopal.

In West Bengal, Chief Minister Mamata Banerjee unfurled the tricolour at an event on Red Road. Cultural programmes were held by school children and various artistes at the venue showcasing the cultural heritage of the country.
As the colourful tableaux and marching contingents went past, a helicopter showered flower petals on people gathered to witness the celebrations.
On the occasion, Tripura Chief Minister Manik Sarkar appealed to the people to maintain communal harmony and peace.
Hoisting the tricolour at the Assam Rifles ground, he said, "The forces, which are against communal harmony and peace are active. We have to maintain and protect the communal harmony and peace at any cost and have to be vociferous against the divisive forces."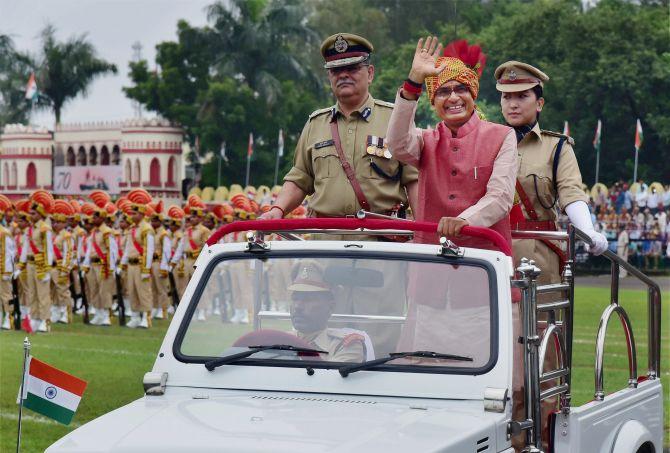 IMAGE: Madhya Pradesh Chief Minister Shivraj Singh Chouhan waves at crowd during Independence day celebration at Motilal Nehru Stadium in Bhopal.
In Madhya Pradesh, Chief Minister Shivraj Singh Chouhan said the state has set an ambitious target of generating 22,000 MW power by 2022 and plans to invest nearly Rs 9,000 crore in strengthening the power infrastructure in the next three years.
Highlighting the state's financial condition, Chouhan said, "It is because of able financial management that MP has remained a revenue-surplus state in the past 11 years and in last financial year, its GDP (Gross Domestic Product) growth rate was 16.62 per cent."
On the occasion, Andhra Pradesh Chief Minister N Chandrababu Naidu launched yet another attack on the Narendra Modi government saying it 'failed to honour the promises' made to the state and vowed to not rest until he drew the 'last paisa' from the Centre.
Addressing a gathering after hoisting the national flag at Neelam Sanjeeva Reddy grounds, Naidu said, "They (the Centre) are not releasing funds to bridge our revenue deficit (caused by the state bifurcation). They are not releasing funds for the Polavaram irrigation project nor are they trying to resolve the contentious issues between the two states (AP and Telangana)."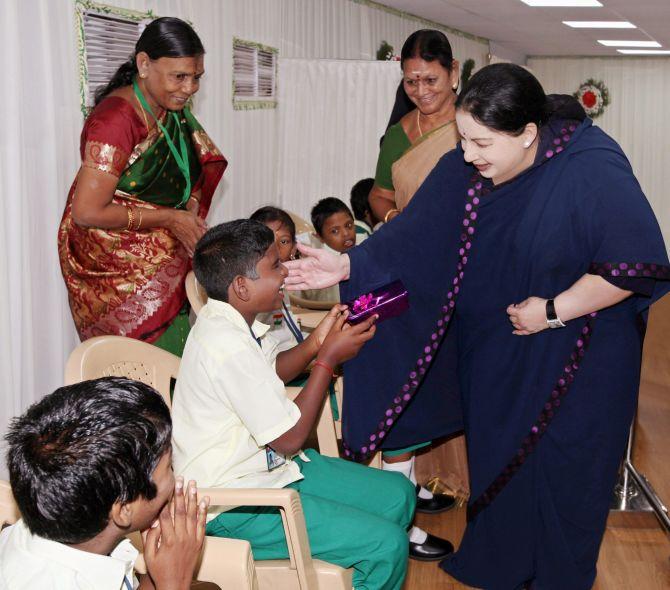 IMAGE: Tamil Nadu Chief Minister J Jayalalithaa presents gifts to children at Fort St George in Chennai. Photograph: R Senthil Kumar/PTI Photo

In Tamil Nadu, Chief Minister J Jayalalithaa asserted that her government was taking measures for development of key sectors to ensure growth and said the state's foodgrain production touched a record 130 lakh tonne last year while its higher education enrolments went up by 44.8 per cent.
She said the All India Anna Dravida Munnetra Kazhagam government was taking measures for the development of all sectors including priority sector, industrial sector and services sector.
Addressing the people in Mumbai on 70th Independence Day, Maharashtra Chief Minister Devendra Fadnavis announced the commencement of 34 cyber laboratories in various parts of the state as part of the government's efforts to crack down on cyber-crime.
He also highlighted his government's achievements and reaffirmed its commitment to work for all-round development of the state.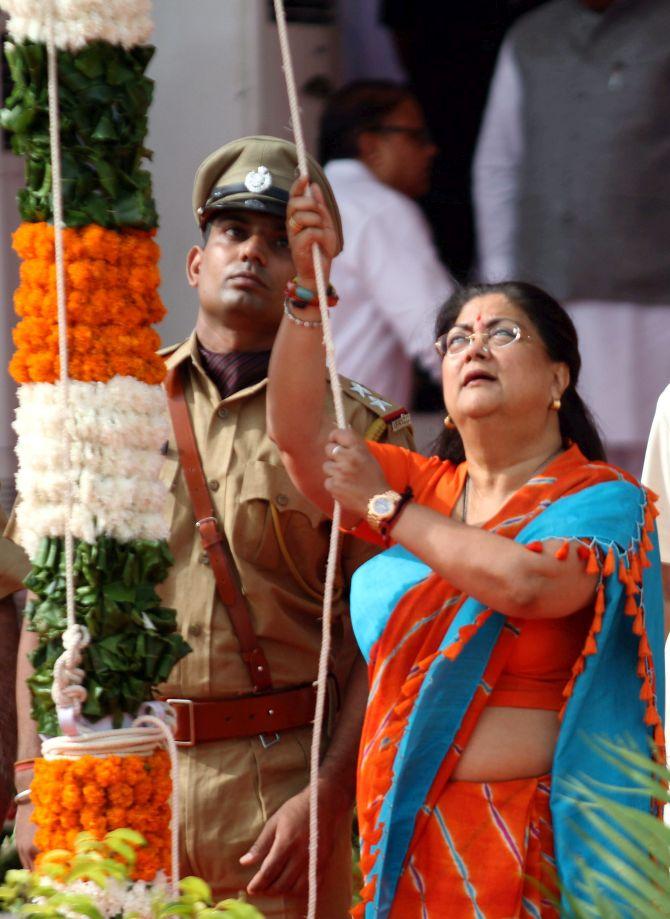 IMAGE: Rajasthan Chief Minister Vasundhara Raje hoisting national flag in Ajmer, Rajasthan.
In Hyderabad, Telangana Chief Minister K Chandrasekhar Rao aid his government would maintain cordial relations with neighbouring states as well as the Centre for faster development of the state.
After unfurling the tricolour, Karnataka Chief Minister Siddaramiah termed as 'shameful' the recent incidents of atrocities on Dalits, minorities and women in the country and said a movement akin to the freedom struggle needed to be launched to fight divisive forces.
In Kerala, Chief Minister Pinarayi Vijayan said people should be cautious against efforts by terror outfits to convert religious beliefs into communal hatred, apparently referring to some youths from the state going missing and suspected to have joined terrorist organisation Islamic State.
"It is a time when terrorists groups are vehemently trying their best to convert spirituality and religious beliefs into communal hatred. We have to be vigilant and ensure that our children, who go to schools and places of worship, are not reaching the hideouts of terror and communal forces," he said.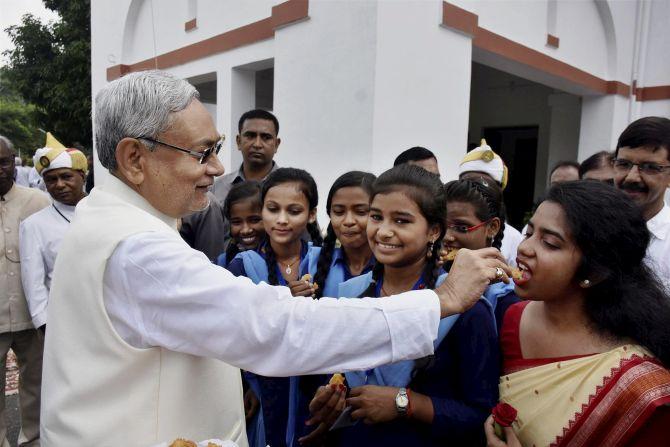 IMAGE: Bihar Chief Minister Nitish Kumar distributes sweets to schoolchildren at his residence in Patna.
In Bihar, Chief Minister Nitish Kumar announced a slew of development projects and schemed regarding the 'seven resolves' adopted by his government for the next five years and said that rule of law prevailed in the state.
On the occasion, Jharkhand Chief Minister Raghubar Das expressed happiness that the state is marching in tandem with the nation in its 'Vikas Yatra'.
"I feel elated that in the country's 'vikas yatra', Jharkhand is also marching in tandem, contributing an important role in the development," Das said after unfurling the tricolour at the historic Morahbadi ground.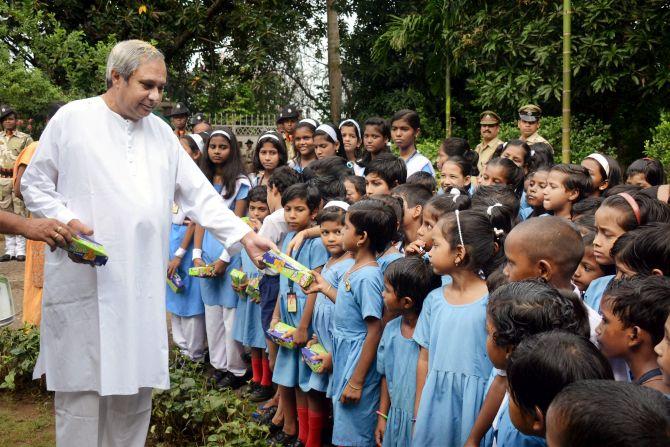 IMAGE: Odisha Chief Minister Naveen Patnaik distributes biscuits to schoolchildren in Bhubanewar.
Noting that the road to development is not easy, Uttarakhand Chief Minister Harish Rawat said a strong will power alone can steer people of the state to the ambitious development goals set by his government.
Amid tight security, Independence Day was celebrated in Punjab, Haryana and their joint capital Chandigarh. Patriotic fervour marked the occasion across the two states and Union Territory Chandigarh as flag hoisting ceremonies were held at district headquarters and educational institutes.
Independence Day was celebrated across Odisha with gaiety and enthusiasm amid tight security as the state government showed optimism that efforts to resolve the Mahanadi river water issue would be successful and state's rights would not be compromised.
Himachal Pradesh Chief Minister Virbhadra Singh hoisted the national flag at Jawahar Park in Solan district.