United States President Barack Obama said on Tuesday that Donald Trump tapped into a "troubling" strain of rhetoric playing on Americans' fears of globalisation to win the presidency.
Obama was speaking after talks with Greek PM Alexis Tsipras in the capital, Athens, as part of a final tour that also takes in Germany and Peru.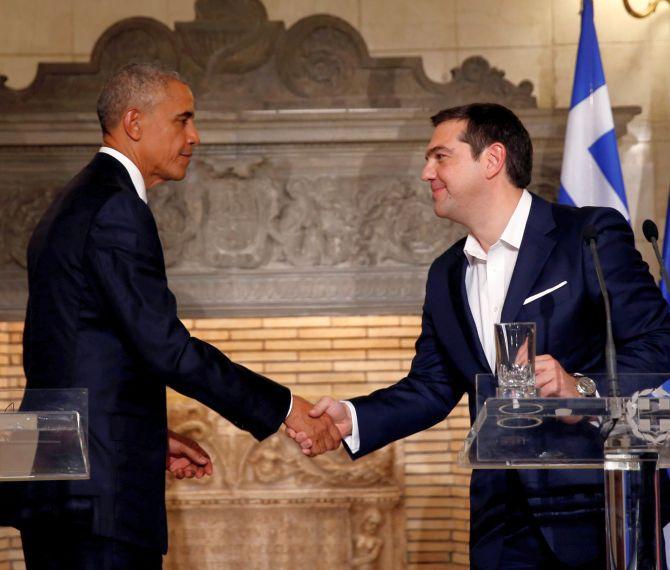 IMAGE: US President Barack Obama and Greek Prime Minister Alexis Tsipras shake hands at the end of a press conference at Maximos Palace in Athens, Greece. Photograph: Kevin Lamarque/Reuters
"You've seen some of the rhetoric among Republican elected officials and activists and media. Some of it pretty troubling and not necessarily connected to facts, but being used effectively to mobilize people," Obama said, adding, "And obviously President-elect Trump tapped into that particular strain within the Republican Party and then was able to broaden that enough and get enough votes to win the election."
The US president said that both Trump's election and the British vote to leave the European Union reflected the need to deal with "people's fears that their children won't do as well as they have."
"Sometimes people just feel as if we want to try something and see if we can shake things up," Obama said. And he said that in times of stress, people are going to be looking for something. "They might not know what they're looking for," Obama said, "and they may opt for change, even if they're not entirely confident what that change will bring."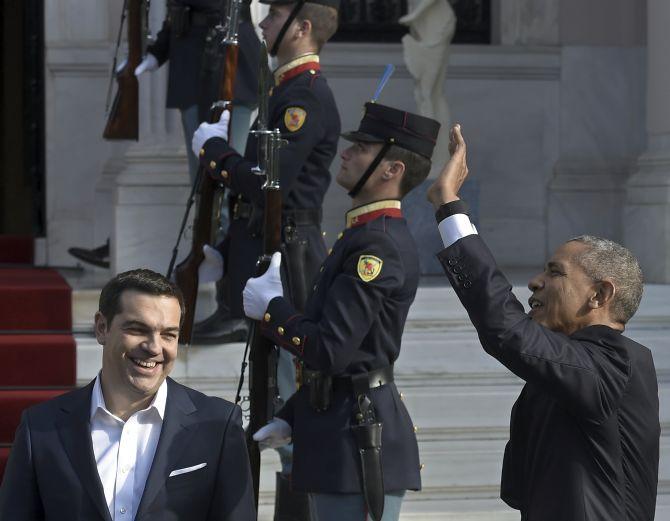 IMAGE: Greek Prime Minister Alexis Tsipras welcomes US President Barack Obama before their meeting in Athens. Photograph: Aris Messinis/Pool/Reuters
The US president also called Greece a "reliable ally" in its commitment to NATO, even under tremendous strain from the country's debt crisis.
"We are proud to count Greece as one of our closest allies and one of our greatest friends," Obama said at the news conference, commending the country's ability to meet its financial obligations to NATO despite austerity measures.
Global leaders have expressed concerns over President-elect Donald Trump's suggestion on the campaign trail that the US might not keep its current level of international commitments, including to NATO.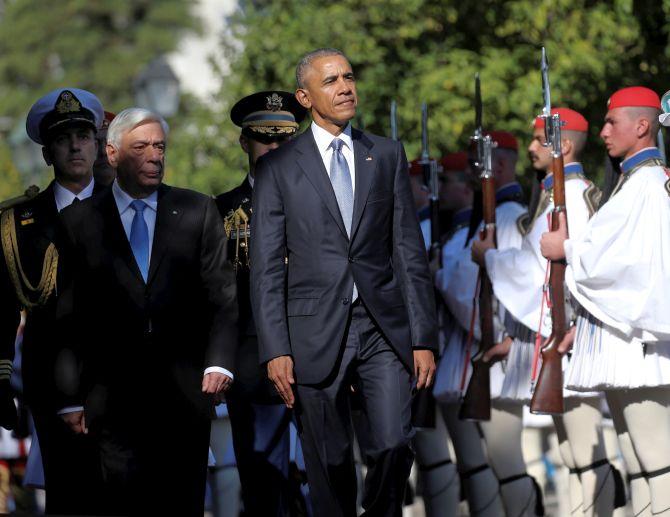 IMAGE: US President Barack Obama and Greek President Prokopis Pavlopoulos inspect a guard of honour at a welcome ceremony in Athens. Photograph: Alkis Konstantinidis/Reuters
Obama also praised Greece for showing "extraordinary compassion" to hundreds of thousands of migrants, many of them fleeing war, in what has become an enormous challenge for the entire European Union.
"I want to thank Greek people for their humanitarian response" and their "extraordinary compassion," Obama said.
Over a million people passed through Greece last year, and the crisis-hit country has struggled to accommodate over 60,000 refugees left stranded on its territory when Balkan states farther north shuttered their borders earlier this year.