Oktoberfest, the world's largest beer festival, came to end on October 3.
First held in celebration of the marriage of the Bavarian crown prince Ludwig with Princess Therese von Sachsen-Hildburghausen, in the year 1810, the 183rd edition of the event took place under heightened security this year due to fears over terrorism.
Every year, millions of people from all over the world head to Munich, Germany to partake in the festivities that last for 17 days.
Scroll down to see glimpses of the smashing fun revellers had:
---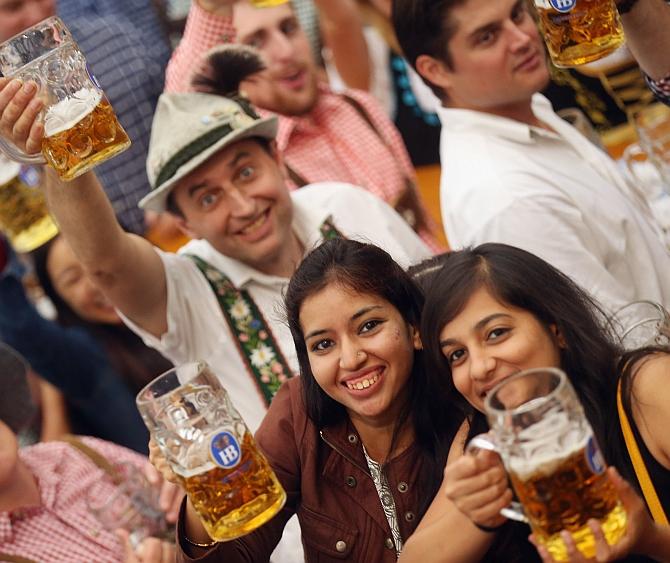 The historical background: The first Oktoberfest was held in the year 1810 in honour of the Bavarian Crown Prince Ludwig's marriage to Princess Therese von Sachsen-Hildburghausen. The festivities began on October 12, 1810 and ended on October 17 with a horse race. In the following years, the celebrations were repeated and, later, the festival was prolonged and moved forward into September. Photograph: Johannes Simon/Getty Images
---
By moving the festivities up, it allowed for better weather conditions. Because the September nights were warmer, the visitors were able to enjoy the gardens outside the tents and the stroll over "die Wiesen" or the fields much longer without feeling chilly. Historically, the last Oktoberfest weekend was in October and this tradition continues into present times. Photograph: Johannes Simon/Getty Images
---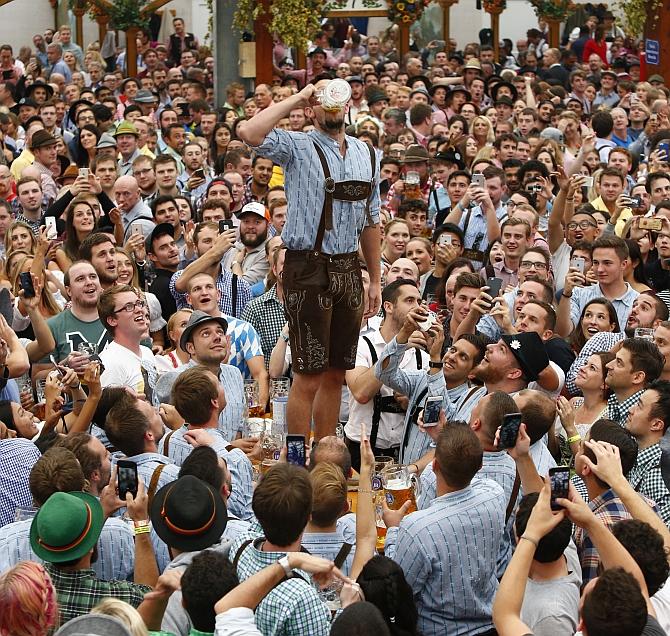 The 183rd Oktoberfest started with the traditional "O'zapft is!" cry, meaning "It (the barrel) is tapped!" by Munich's prime mayor Dieter Reiter in the Schottenhamel tent. In the picture: Visitors drink beer during the opening day of the 183rd Oktoberfest in Munich, Germany. Photograph: Michaela Rehle/Reuters
---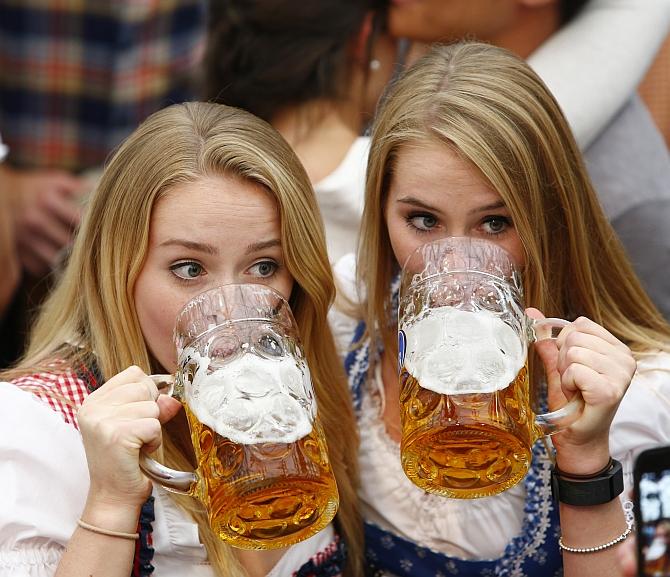 As usual, over 6 million litres of beer was served this year. Photograph: Michaela Rehle/Reuters
---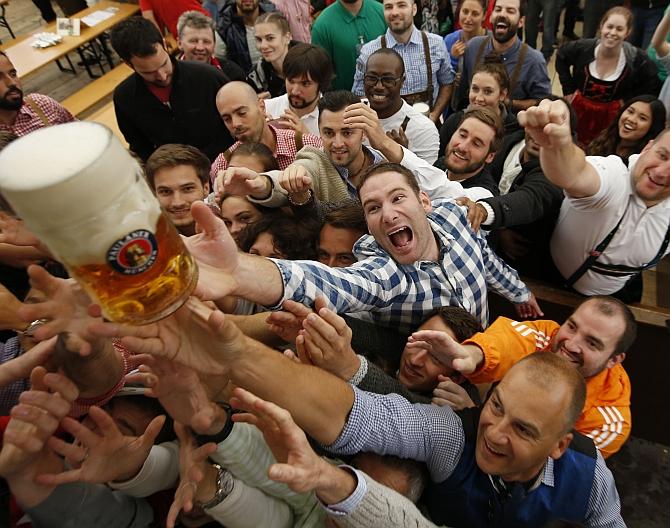 Visitors reach for the one of the first mugs of beer during the opening day of the 183rd Oktoberfest. Photograph: Michaela Rehle/Reuters
---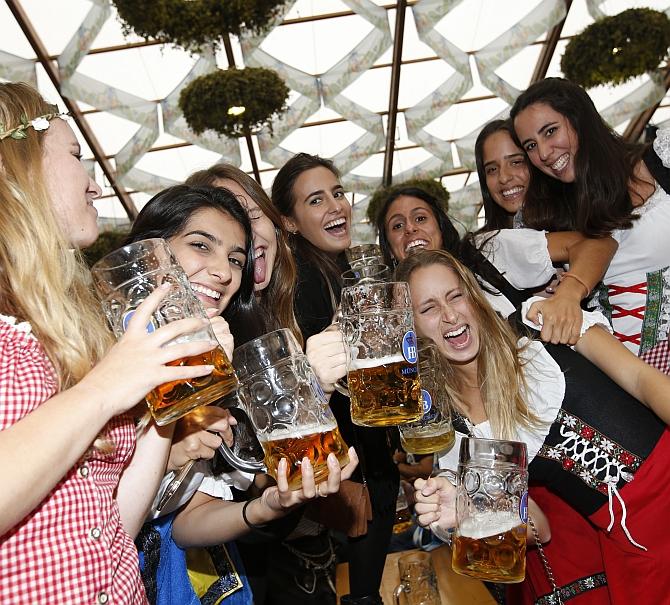 Bavaria has the best beer in the world. One of the oldest laws concerning food and drink are the Bavarian Purity Requirements, decreed by Duke William IV. in 1516: Only water, hops and barley should be used to brew Bavarian beer. Photograph: Michaela Rehle/Reuters
---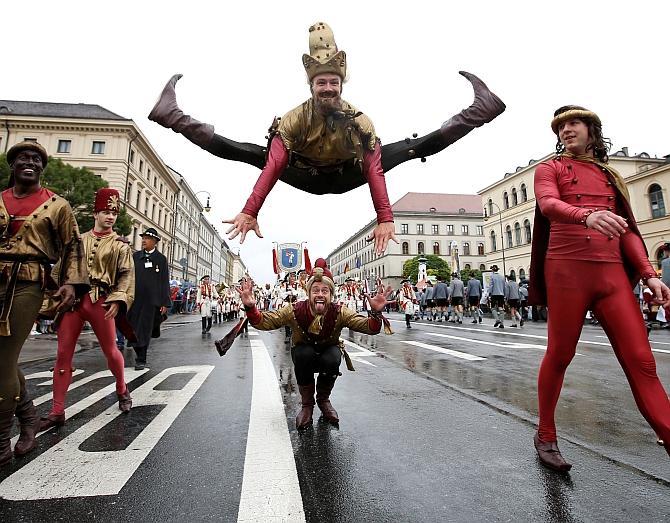 Actors perform during the Oktoberfest parade. Photograph: Michaela Rehle/Reuters
---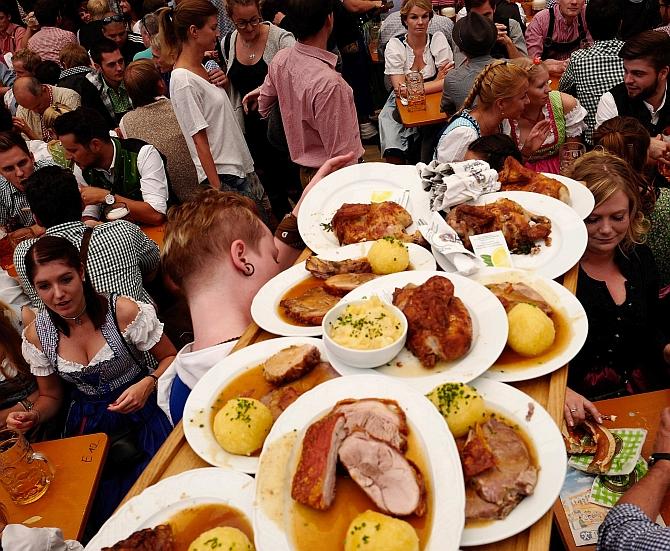 A waitress carries roast pork during day 6 of the 2016 Oktoberfest beer festival in the Hofbraeu tent at Theresienwiese. Photograph: Johannes Simon/Getty Images
---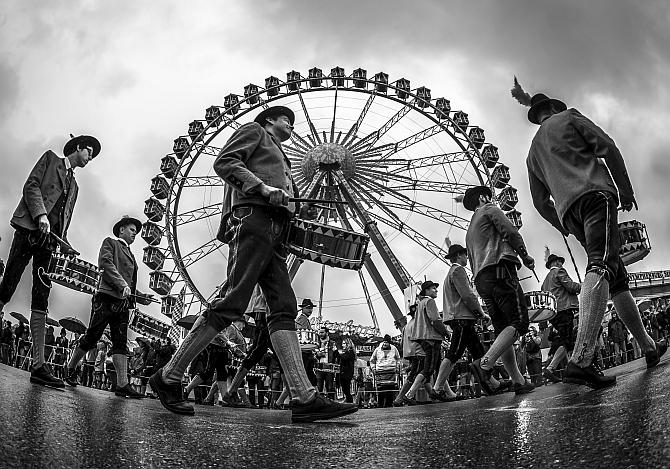 Members of traditional Bavarian costume associations (Trachtenverein), Bavarian bands and riflemen's associations participate in the annual riflemen's parade during the 2016 Oktoberfest beer festival. Photograph: Joerg Koch/Getty Images
---
While light and refreshing beer might be the ticket to a long day of drinking, Oktoberfest sticks with tradition, brewing a a specialty Bavarian beer known as Oktoberfestbeir (guess what that means?) especially for the festival. It weighs in at about 5.7 to 6.1-percent alcohol content, meaning that a litre can knock you, pretty quickly. Photograph: Michaela Rehle/Reuters
---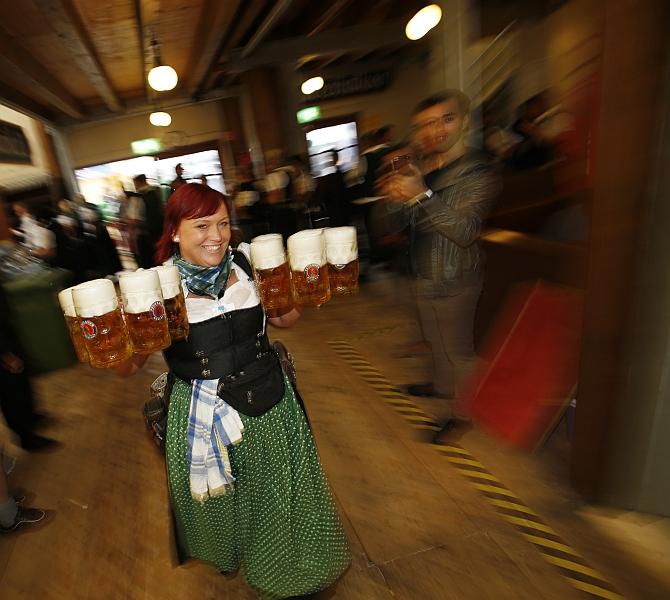 A waitress carries beer in a tent during the 183rd Oktoberfest. Photograph: Joerg Koch/Getty Images
---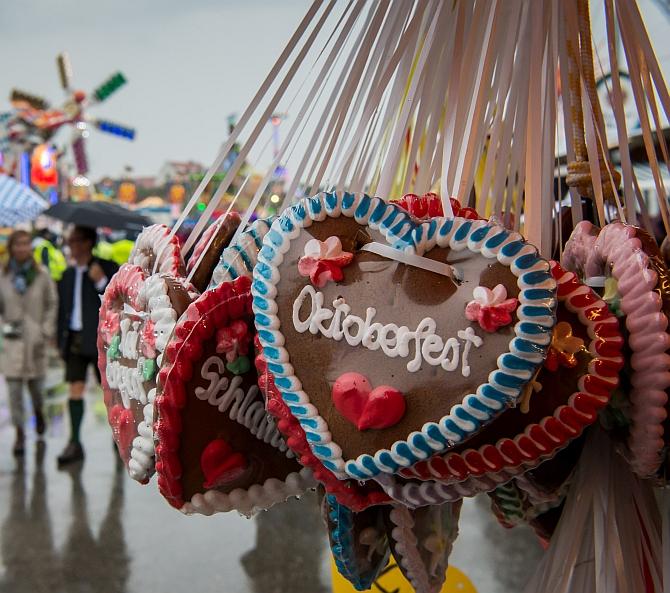 Visitors in the rain with umbrellas pass by Oktoberfest gingerbread hearts during the 2016 Oktoberfest beer festival at Theresienwiese. Photograph: Joerg Koch/Getty Images
---
With 14 big tents to choose from, with each one more awesome than the other, picking up a favourite is going to be difficult! But the more the merrier, right? That's why they also have the small tents offering a variety of food and drinks. Photograph: Johannes Simon/Getty Images
---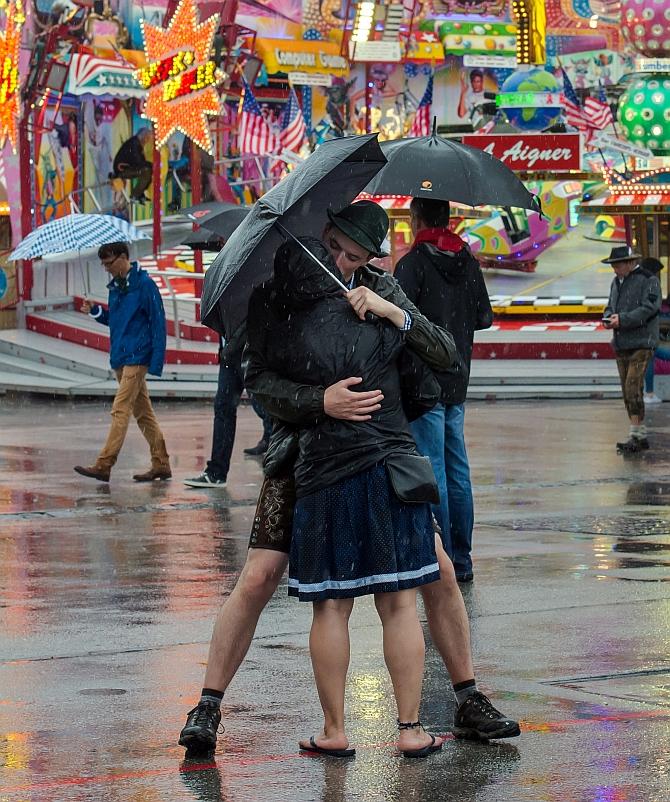 There are so many drinkers, that you actually have to make a reservation for one of the large beer tents unless you're willing to show up early in the morning to claim a spot. Photograph: Joerg Koch/Getty Images