Two persons were held on Wednesday for allegedly barging into the Communist Party of India-Marxist head office in New Delhi and trying to manhandle party general secretary Sitaram Yechury in an episode the Left party was quick to blame the Rashtriya Swayamsevak Sangh for.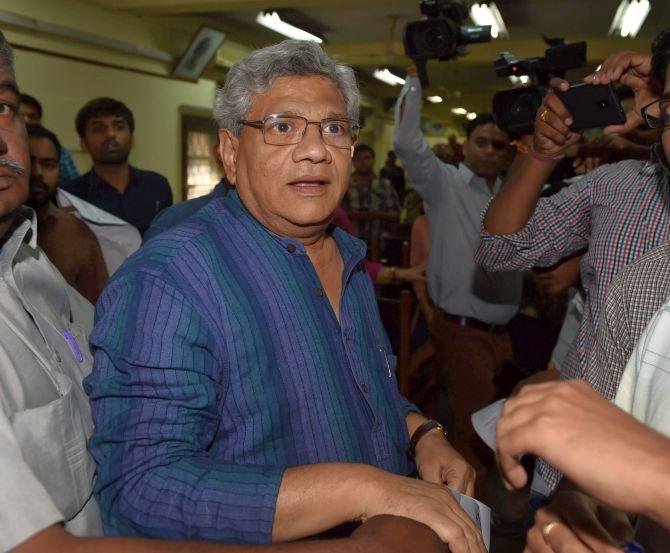 IMAGE: CPI-M general secretary Sitaram Yechury reacts after a Hindu Sena activist tried to disrupt his press briefing at the party headquarters in New Delhi. All photographs: Manvender Vashist/PTI Photo
The CPI-M said it will not be cowed down by the "Sangh's 'goondagardi' (hooliganism)" aimed at silencing the Left party and that it will win the battle for "the soul of India".

The incident took place when Yechury was about to enter the central committee hall on the first floor of the CPI-M office to address the press on conclusion of the party's two-day politburo meeting.

The identity of the two men, who also shouted slogans of "CPI-M murdabad" and "Hindu Sena zindabad", could not be immediately known.

However, the Left alleged the duo owed allegiance to an RSS outfit and entered the office "masquerading as journalists" in an attempt to disturb the press conference, which was later held as scheduled.
IMAGE: CPI-M workers thrash the man as police take him away. Photograph: Manvender Vashist/PTI Photo
"They also tried to manhandle comrade Yechury, but we came in their way and the comrade was safe," a party worker present at the spot said.

The trespassers were thrashed by the CPI-M activists before they were handed over to cops.

Speaking to reporters on the incident, Yechury said the two men "would have got adequate responses had they reached close enough to manhandle me."

"Without violence, without terror, the RSS has never been able to increase its political influence. And these tactics have been answered by the people of India in the past and we will be answering it again," he said in a video message.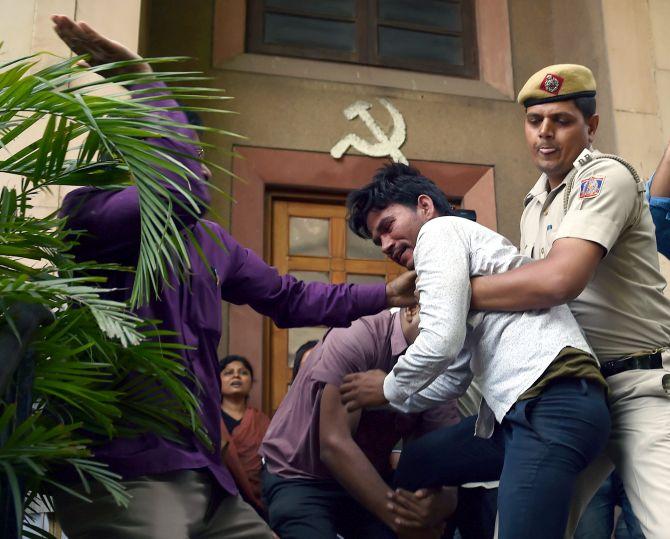 IMAGE: The identity of the two men, who also shouted slogans of "CPI(M) murdabad" and "Hindu Sena zindabad", could not be immediately known.
The Left leader also tweeted, "We will not be cowed down by any attempts of Sangh's goondagardi to silence us. This is a battle for the soul of India, which we will win (sic)."

The Delhi Police had deployed heavy security in view of Kerala Chief Minister Pinarayi Vijayan's presence at the meeting, which began on Tuesday, anticipating protests by cow vigilante groups.

Vijayan has been facing flak from some right-wing organisations over his criticism of the Centre's recent notification relating to cattle slaughter.

The southern state of Kerala has also seen many incidents of political violence in the recent past involving CPI-M and RSS workers.
© Copyright 2022 PTI. All rights reserved. Republication or redistribution of PTI content, including by framing or similar means, is expressly prohibited without the prior written consent.