With five more people losing their lives in the deluge in Assam, the toll due to monsoon misery in the state reached 44, while several places in neighbouring Arunachal Pradesh, including state capital Itanagar, were cut off by floods and landslides.
On Tuesday, five persons had been killed and nine went missing as a massive landslide triggered by incessant rains hit eight dwellings in Papum Pare district of Arunachal.
Many parts of North India are also flooded.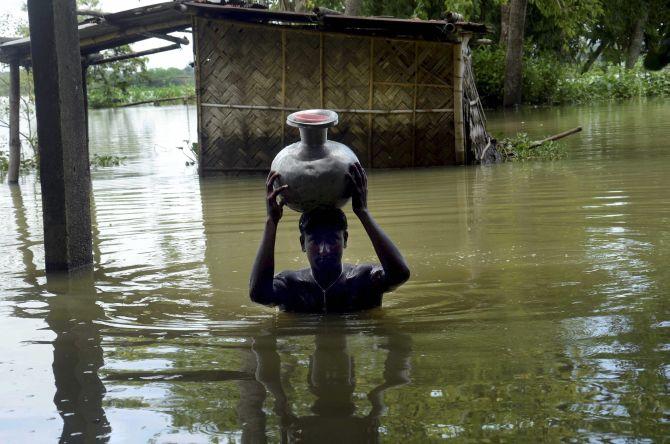 IMAGE: A boy carries fresh drinking water on head as he wades through flooded water at Padder parr village in Karimganj district, Assam. Photograph: PTI Photo

With all the districts of Manipur too reeling under rains and floods, the Centre on Wednesday dispatched a team led by Union minister Kiren Rijiju to oversee rescue and relief operations in affected areas in the entire region.
The south-west monsoon, meanwhile, continued its advance, as it entered Punjab and parts of Haryana -- a week later than its expected arrival -- bringing moderate to heavy rains in the region.
The maximum temperature dropped sharply after showers lashed the region.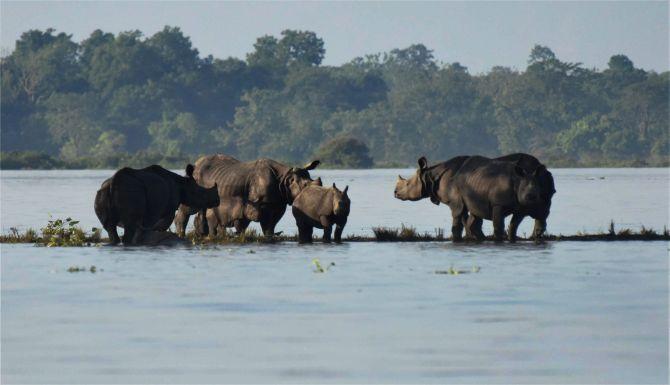 IMAGE: Rhinos with their calves standing on an elevated land in the flooded Kaziranga National Park in Assam. Photograph: PTI Photo

In Punjab, Amritsar recorded a high of 30.5°C, five notches below normal, after receiving a heavy downpour (153 mm). Ludhiana, too, was lashed by heavy showers (48 mm) and the maximum temperature in the industrial town settled at 30.3°C, four notches below normal.
In Haryana, Karnal recorded a maximum of 28.2°C, down five notches, after being lashed by showers. Ambala, which received heavy rain, recorded a high of 27.6°C, down seven notches.
IMAGE: Rescue operation for flood affected people being carried on by the PAC personnel as many areas remain submerged under water after heavy rainfall at Meerapatti area in Allahabad. Photograph: PTI Photo

Yamunanagar, Panipat, Jhajjar, Faridabad, Rewari, Rohtak, Panchkula, Bhiwani, Gurugram and Kurukshetra were among the other areas in Haryana that saw rains.
Back in Assam, the mighty Brahmaputra and its tributaries submerged 2,500 villages, destroyed 1.06 lakh hectares of cropland, damaged infrastructure by breaching embankments and overrunning roads and bridges -- disrupting surface communication, an Assam State Disaster Management Authority official said.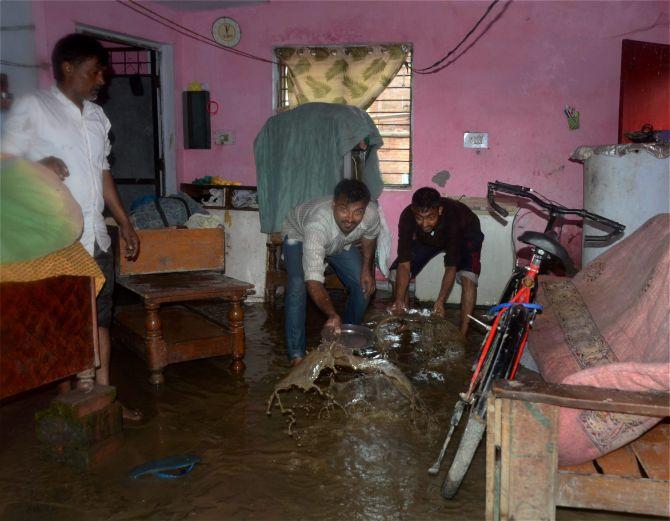 IMAGE: People throw out water from their house in a flooded locality in Dehradun. Photograph: PTI Photo
With the fresh deaths, the toll in the state caused by the floods -- a yearly recurrence -- has gone up to 44. Nearly one lakh people have been forced to take shelter in 231 relief camps.
Nearly 75 per cent of World Heritage site Kaziranga National Park has been inundated leading to the drowning of two female hog deer and one male swamp deer in its Northern Range.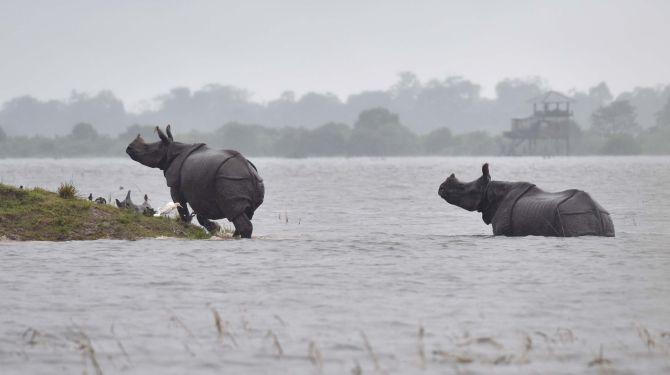 IMAGE: Rhinos at flooded Kaziranga National Park. Assam Chief Minister Sarbananda Sonowal has ordered setting up of a coordination committee for wild life protection.

Manipur, meanwhile, has suffered a loss of around Rs 131 crore in the floods since cyclone Mora hit the state in late May, leading to floods and related incidents like landslides.
More than 20 per cent of its total paddy fields in five districts of the Imphal valley have been hit by the deluge.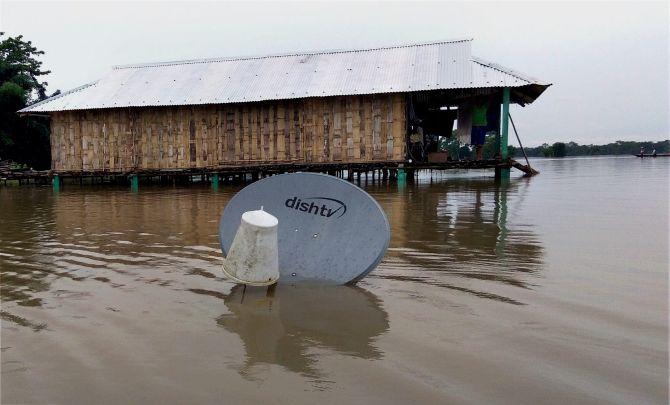 IMAGE: A submerged house in Narayanpur area of Lakhimpur in Assam. Photograph: PTI Photo
In Arunachal Pradesh, Chief Minister Pema Khandu has directed the administration to issue orders for evacuation of people living in vulnerable areas of Itanagar to safer areas and appealed to people in such places to shift to relief camps.
The state capital was virtually cut off with its lifeline NH 415 getting totally eroded at the entry point, while the alternate road via Jullang remained blocked, leaving only one road -- through Hollongi enroute Lakhimpur district in Assam.
Across Bihar, temperatures rose marginally as rains receded today but major towns of the state continued to face water-logging due to previous downpours.
Though the rains subsided in Uttar Pradesh, several areas in Allahabad were flooded after showers on Wednesday.
IMAGE: Villagers take services of a boat to reach to a safer place as incessant rains created a flood-like situation at Kureni Bori in Morigaon district of Assam. Photograph: PTI Photo
Heavy to very heavy rains continued to lash several parts of Himachal Pradesh as the monsoon remained active in the region. Water entered some low-lying residential areas in Una which received more than 140 mm of rains in past two days. The local Met office has predicted a wet spell in the region till July 17.
It was a typically humid day in the national capital as the maximum and minimum temperatures settled at 33.2°C 26°C -- both below the normal levels.
While 24.7 mm rainfall was recorded till 8.30 am on Wednesday, no rain was received in the city during the day.
The local Met office has forecast overcast skies along with the possibility of light and moderate rains and thundershowers on Thursday.
In Rajasthan, light to moderate rainfall occurred at a few isolated places in Udaipur, Jaipur, Bharatpur, Jodhpur and Bikaner divisions in last 24 hours. PTI TEAM
IMAGE: Rescue work in progress after eight houses were buried under the debris caused by a massive landslide at Laptap village under Toru Circle of Papum Pare district in Arunachal Pradesh.
Photograph: PTI Photo
Assam Chief Minister Sarbananda Sonowal visited the flood affected Kaziranga National Park in upper Assam and ordered setting up of a coordination committee for wild life protection.
Undertaking an extensive visit within 20 km radius of rhino habitat Kaziranga National Park in its Bagori Range, Sonowal assessed the impact of the current wave of floods on the World Heritage Site and its flora and fauna.
The chief minister directed to form a coordination committee involving deputy commissioners, superintendents of police and divisional forest officers of five districts with a mandate to maintain close vigil on the movement of animals and their probable threats from poachers during the floods.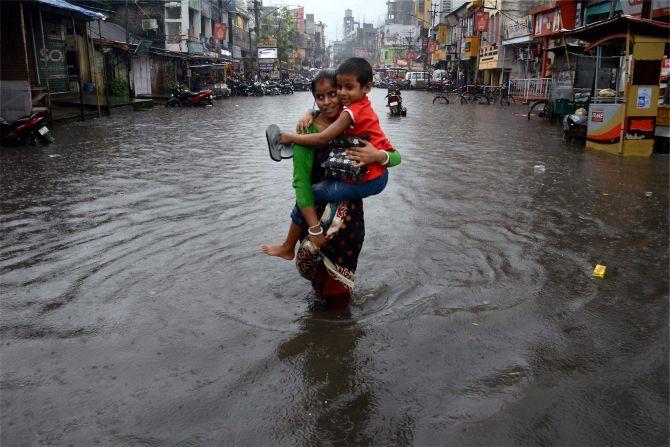 IMAGE: A woman with her child wades through a flooded street in Agartala. Photograph: PTI Photo
Taking stock of the prevailing flood situation and its resultant damage in KNP, Sonowal took a boat ride to oversee the extent of damage in Bagori Range, and said the Coordination Committee involving functionaries of five districts of Nagaon, Golaghat, Karbi Anglong, Sonitpur and Biswanath will report to the Forest minister on a day to day basis on the flood situation and protection measures being adopted for the animals.
Sonowal asked the DCs and SPs of Nagaon, Golaghat and Karbi Anglong to take stringent action against possible attempt of poaching.
He also asked the Environment and Forest Department to provide fodder and medical attention to the animals taking shelter on high lands.
IMAGE: A flooded street in Balurghat in Dinajpur district of West Bengal. Photograph: PTI Photo
While visiting the flood affected areas of Kaziranga, the chief minister interacted with the forest guards on duty.
Later on holding a meeting at Bagori, Sonowal asked the civil and police administration to be innovative and find ways and means to provide protection to animals in Kaziranga and asked the forest guards to be on high alert to thwart any poaching attempts.
He also asked the Veterinary and Forest department to fortify the highlands and plant saplings on them.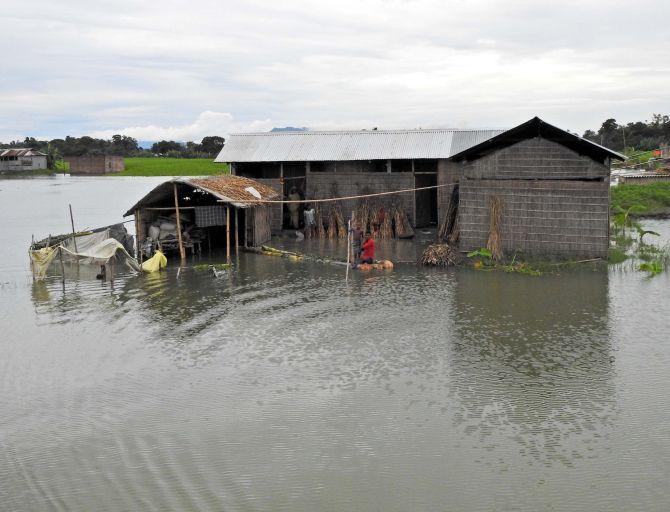 IMAGE: In Assam, Nearly one lakh people have been forced to take shelter in 231 relief camps.

During the meeting, Sonowal directed Health and Public Health Engineering departments of the districts concerned to spray DDT at the flood affected areas and provide halogen tablets to the affected people. He also asked power company APDCL to check electric wires and transformers to prevent accidents.
Directing the DCs to reach out to the affected people on a daily basis and allot land to those affected by erosion, Sonowal said steps have already been taken to repair minor breaches on embankments.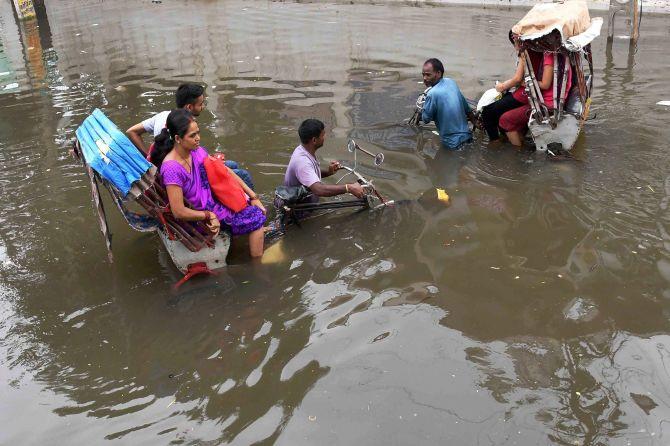 IMAGE: Rickshaw pullers wade through a flooded street in Patna. Photograph: PTI Photo
Sonowal also visited two flood relief camps at Hatikhuli at Kohora in KNP and interacted with the inmates there.
Environment and Forest minister Pramila Rani Brahma, Water Resources minister Kesab Mahanta and Agriculture minister Atul Bora accompanied Sonowal during his visit.