A choking sandstorm swept through the alleys and streets of Beijing and much of the northern China, making residents uncomfortable as dark and gray clouds hung over the high-rises in the Chinese capital.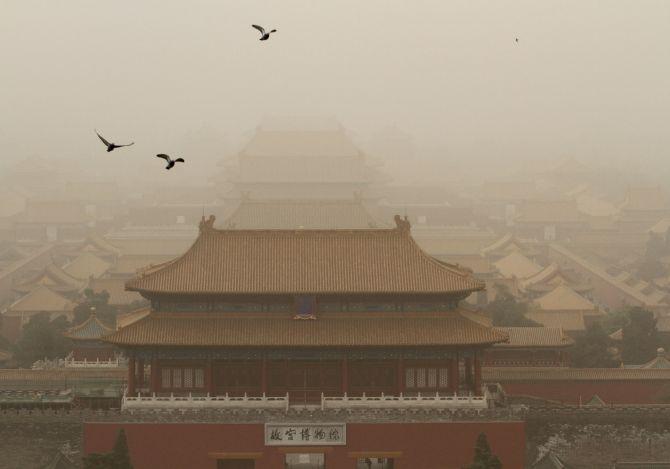 IMAGE: The Forbidden City is seen during a sandstorm in Beijing. Photograph: Reuters
Many pedestrians in downtown Beijing were seen wearing protective masks as the winds carried sand and dust.
Beijing's sky was gloomy and the ground largely deserted.
Visibility dipped to a low of a kilometre in many parts of the capital city and was expected to fall further.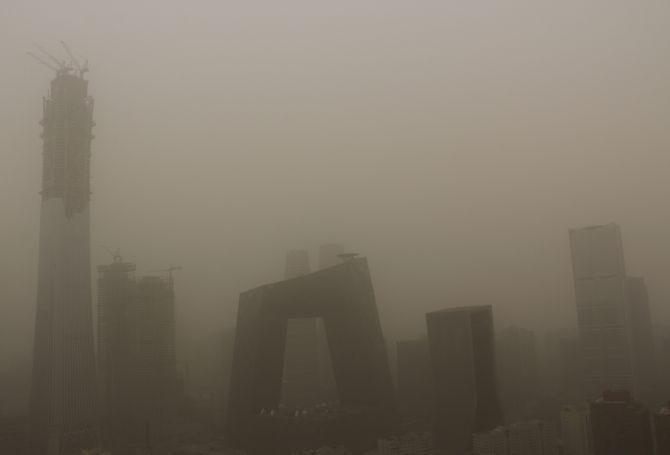 IMAGE: Buildings are seen during a a sandstorm in Beijing. Photograph: Reuters
Most monitoring stations showed PM10 and PM2.5 readings of more than 1,000 microgrammes per cubic metre and over 400 microgrammes per cubic metre respectively at noon, according to the Beijing Municipal Environmental Monitoring Centre.
The city's meteorological centre had issued a blue alert for sandstorm on Thursday morning. China has a four-tier colour-coding system for severe weather, with red being the most serious, followed by orange, yellow and blue.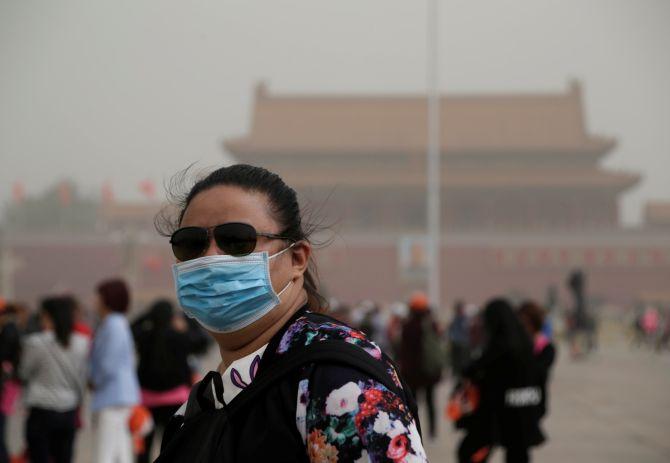 IMAGE: A visitor wears a mask at Tiananmen Square as a sandstorm hits Beijing. Photograph: Jason Lee/Reuters
Neighbouring Tianjin Municipality was also hit by dust and sand, which darkened the sky and slowed traffic.
"The sky turned gray and the smell of dust and sand crept into my room in the morning. My child felt uncomfortable after staying outdoors for a while," said a Tianjin resident.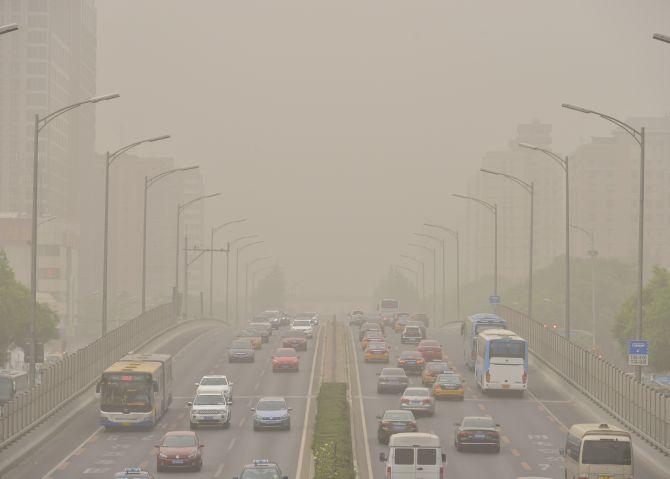 IMAGE: Vehicles are seen on roads during a sandstorm in Beijing. Photograph: Reuters
Traffic police advised drivers to slow down and turn on their fog lights when driving.
According to a forecaster at the Tianjin meteorological station, the sandstorm in Tianjin is expected to disperse Friday night.

IMAGE: A combination picture shows the skyline of Beijing's central business area on a sunny day (left) December 22, 2016, and during a dust storm (right) May 4, 2017. Photograph: Jason Lee/Reuters
Parts of Beijing, as well as Gansu, Hebei, Heilongjiang, Jilin, Shaanxi and Shanxi provinces and the autonomous regions of Inner Mongolia, Ningxia and Xinjiang will see sandstorms until tomorrow, the National Meteorological Centre said.
Zhu Jiang, head of the Institute of Atmospheric Physics of the Chinese Academy of Sciences, said the sandstorms originated in Mongolia, state-run Xinhua news agency reported.