Prime Minister Narendra Modi and Iranian President Hassan Rouhani on Saturday held "substantive" talks on key issues of terrorism, security, trade and energy, after which the two sides inked nine pacts, including a lease contract for a part of Chabahar port's operation for 18 months.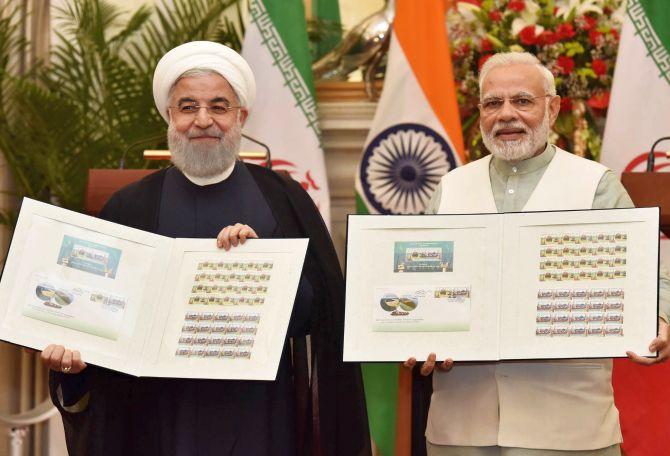 Image: Prime Minister Narendra Modi and Iran's President Hassan Rouhani release the commemorative stamp celebrating India-Iran relations at Hyderabad House in New Delhi. Photograph: Press Information Bureau
The two leaders also deliberated on the regional situation during wide-ranging talks, with both asserting that there was a need for a peaceful, stable, prosperous and a pluralistic Afghanistan.
Addressing a joint press event with Rouhani, Modi said the two countries want a terror-free world and they were committed to stopping the expansion of those powers which encourage terrorism, extremism, drug trafficking, cyber crimes and other international crimes.
On his part, Rouhani said,"We are determined to combat terrorism and extremism."
Image: The two leaders held 'substantive' talks to boost cooperation in key areas of security, trade and energy. Photograph: Manvender Vashist/PTI Photo
The Iranian leader also said that regional conflicts must be resolved through diplomacy and political initiatives, but did not specifically name any regional dispute.
The two sides also inked nine pacts, which included lease contract between Iran's Port and Maritime Organization and India's Ports Global Limited to take over operation of existing facilities at the Shahid Beheshti Port -- Phase 1 of Chabahar -- for 18 months.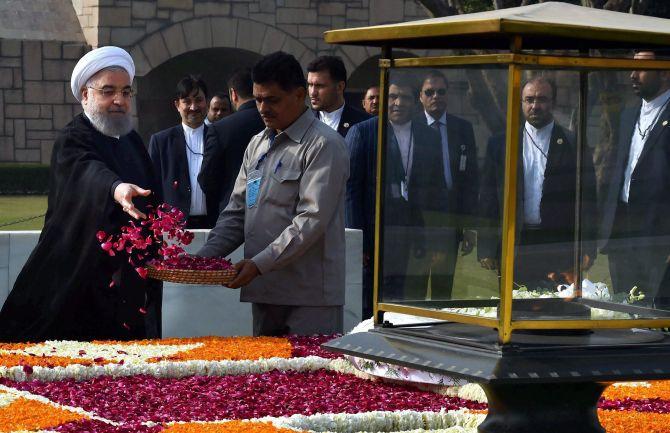 Image: During his visit, Hassan Rouhani also pays his tributes at Mahatma Gandhi's memorial at Rajghat. Photograph: Manvender Vashist/PTI Photo
Other pacts included avoidance of double taxation and the prevention of fiscal evasion with respect to taxes on income, ratification of extradition treaty, exemption from visa requirement for holders of diplomatic passports, traditional systems of medicine and establishment of an expert group on trade remedy measures.
In addition to these nine pacts, four more pacts were inked on the sidelines of Rouhani's visit between the two countries, officials said.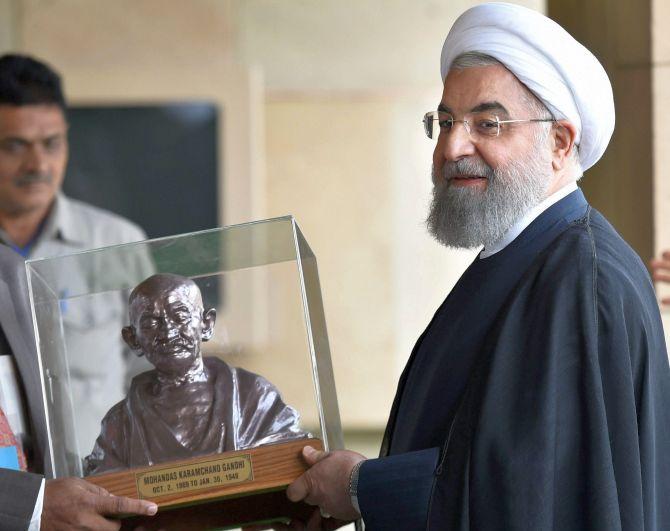 Image: Rouhani being presented with a bust of Mahatma Gandhi after paying homage at Rajghat. Photograph: Manvender Vashist/PTI Photo
Modi said the visit by the Iranian president shows how the two sides want to deepen cooperation in key areas, including connectivity, and described the strategically-important Chabahar as a "golden gateway", development of which will help in reaching out to land-locked Afghanistan and central Asia.
The prime minister also appreciated the way the Iranian leader provided leadership in developing the Chabahar Port.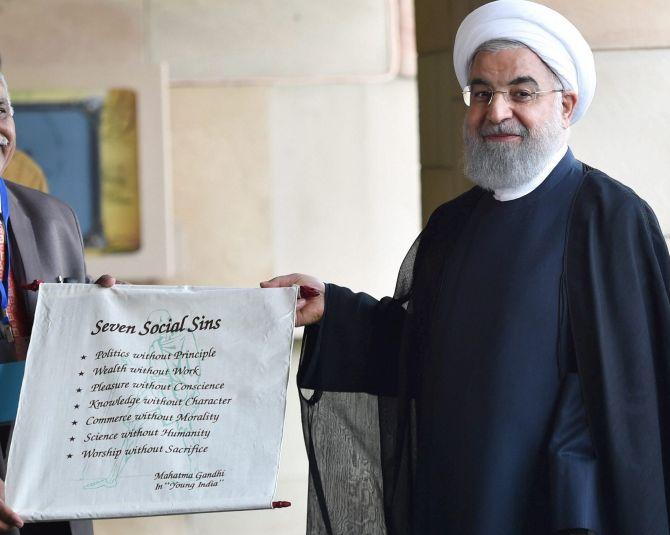 Image: Rouhani also receives a scroll bearing Gandhian views on social sins during a visit to the Mahatma Gandhi memorial. Photograph: Manvender Vashist/PTI Photo
Noting that they had "positive talks" on tariff-related issues and banking relations, Rouhani said,"We have decided to expand cooperation in natural gas and petrochemical sector."
Earlier, Rouhani was given a ceremonial welcome at the Rashtrapati Bhavan.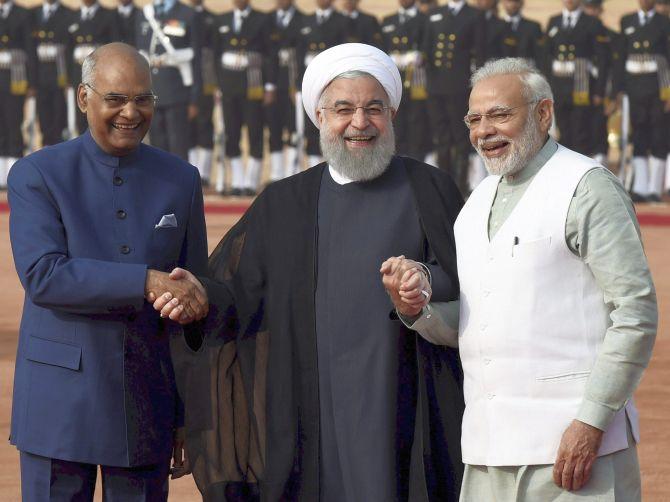 Image: President Ram Nath Kovind and PM Modi shake hands with the Iranian President during his ceremonial reception at the forecourt of Rashtrapati Bhavan. Photograph: Kamal Singh/PTI Photo
In the morning, External Affairs Minister Sushma Swaraj called on Rouhani and discussed various issues with him.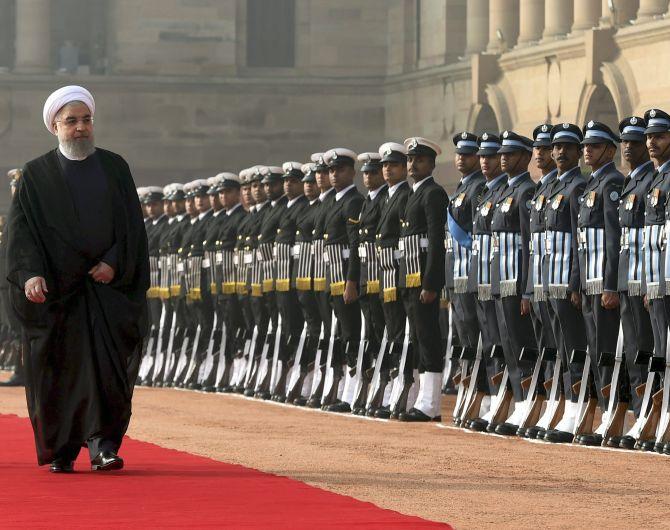 Image: Rouhani inspects a guard of honor during his ceremonial reception. Photograph: Kamal Singh/PTI Photo